Best Sonic Ice Maker For Prime Ice Pellets & Ice Nuggets
Have you ever eaten ice from a hotel ice maker and wondered why you couldn't have that kind of ice at home? Well, you can if you buy a Sonic Ice Maker! These unique appliances aren't just for hotels or restaurants any more, as many at-home models are being produced for general use these days.
If you're interested in buying one, though, you need to do a little research to ensure that you find an option that makes the most sense for your needs. We'll highlight the 10 best Sonic Ice Makers on the market today and discuss a few other elements to keep in mind when buying.
What is a Sonic Ice Maker?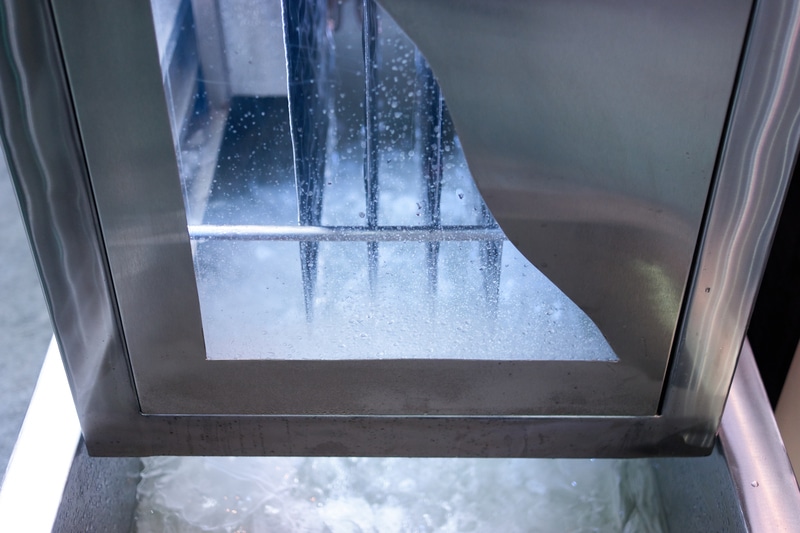 Sonic Ice Makers produce that uniquely soft and cheweable ice that you can find in hotel ice makers and in many restaurants. This ice may also be called pearl, nugget, pellet, or cubelet ice. So, if you're searching for a Sonic Ice Maker and you run into these terms, understand that they basically mean the same thing. There's no real difference between them and they shouldn't affect your purcahse choice.
Sonic Ice Makers don't produce normal cubed ice, though you can freeze these smaller cubelet ices in a traditional freezer after preparation. Instead, these machines produce only pearl ice, though they may provide various sizes and shapes for different uses. Most at-home devices of this type should easily fit into your home, including on a spare counter or even installed underneath a counter for easy access.
That said, some ice makers may be larger or more commercial-oriented devices that can work in a home with a little adjustment. The type you purchase should vary based on these factors, though you may find yourself selecting an option that requires adjusting some element of your home, such as expanding your counters and making more room for the installation process.
How Sonic Ice Makers Work
Sonic Ice Makers work by running water through a cooled metal cylinder. As water moves through this machine, it will freeze in small sheets that come out the side of the cylinder. Once enough ice freezes (typically a very small amount), an auger turns to scrape the interior walls of the cylinder to create simple ice flakes. These ice flakes are than pushed through a tube and cut into smaller bits.
Typically, it takes at least 6-15 minutes for an ice maker to produce its first few cubes. After all, the water has to freeze and the flakes need to collect enough to create the small cubes. Thankfully, most ice makers will let you know how quickly you can expect the first 9-10 cubes. When we talk about ice production time in our reviews, we're referring to how quickly it produces those initial cubes.
In most Sonic Ice Makers, these cubes then collect in a storage bin. Most use an ice bucket that you can utilize to remove and distribute your ice. However, some may use a dispenser-based design to provide a quick burst of ice into your cup. These machines do cost more money, however, so we've only highlighted a few of those on this list.
Benefits/Best Features of a Sonic Ice Maker
If you're interested in buying a Sonic Ice Maker, it is worth understanding the different benefits that they may provide you after buying one. These simple advantages also highlight things you should look for when buying a machine, allowing us to combine two sections into one for maximum efficiency! Things you should look for when buying one of these machines include the following:
Quick Delivery Speed: Sonic Ice Makers produce ice more quickly than normal freezers, meaning that you can get fresh ice for your drinks without waiting for hours.
High Storage Capacity: Some ice machines can make up to 26-300 pounds of ice per day and store it in a high-capacity area, including between 2-10 pounds or so.
Power Consumption: Surprisingly, a Sonic Ice Maker is surprisingly compact and energy efficient, as it only runs when it needs ice and doesn't keep ice cool indefinitely.
Fairly Compact Size: Most Sonic Ice Makers are fairly compact in their overall size and design, meaning that they shouldn't be too hard to install in a home.
Multiple Features and Extras: Some Sonic Ice Makers utilize a variety of different extra features, including Bluetooth connectivity, timers, alarms, delayed starts, and even scoops or buckets.
When seeking out the best ice maker for your needs, pay attention to these benefits and any other elements that make sense for you. For example, your budget should always be a deciding factor. The cheapest machines we could find were still around $120, while the most expensive were closer to $4,000. Choose wisely and decide which features make the most sense for you.
The Best 10 Sonic Ice Makers
In our list, we break down the various types of Sonic Ice Makers available on the market today. We'll give an in-depth review of each model, examining its features and design elements, to help make your purchasing decision easier. Then, we'll highlight a few pros and cons of each model to help narrow your search down further and minimize any potential purchasing mistakes you may make.
As a bonus, we'll rank each machine based on what kind of specialized purpose it may serve. For example, we have the best model on our list for overall use, a runner-up that may work for many other people, a portable option, a commercial ice machine choice, and much more. By the time you're doing reading this list, you should feel very comfortable with your purchasing decision.
Though each of the Sonic Ice Makers on this list are worth your time and money, we think this option is the topic pick and should work well for most people. Why is that the case? It simply offers a staggering array of different options, a high-quality of construction, and a fairly high overall capacity. While other options may do some things better, this machine simply does all the little things the best.
First, it produces up to 16 hours a day, which should be more than enough for most at-home use. You will have to store any extra in a freezer, as it is not designed for long-term storage. However, the three-pound capacity basket should work well for just about any party situation, allowing you to bring fresh ice to your guests quickly and efficiently, making your parties more enjoyable.
What we particularly loved about this model, though, were its quality-of-life additions. The easy water connection method you can use to hook the machine up to a sink or water supply makes it easy to keep your machine full of water at all times. Or you can use a manual option if you plan on putting the machine outside or only use it occasionally, such as when serving at parties.
Best of all, the ice doesn't come with the distinct plastic aftertaste you might get with other ice machines. That issue did affect our ratings on a few other ice machines here. While most people should be able to stomach that taste, others cannot. Thankfully, you won't have to worry about that problem with this machine, as it lacks that sharp undertone that you might get from other ice makers.
Pros
It provides a consistent flow of ice
The model should fit comfortably in most homes
The overall construction is very durable
Cons
The price may seem a little high for some
The machine's capacity could be higher
In some ways, this ice machine may seem better than our top option. First, it has a higher capacity (about 30 pounds per day), which could appear to be a much better deal. Secondly, it has a no-touch design that makes it easier to use than our top model. However, there are a few things that hold it back and keep it as just the second-best model on our list: which is still nothing to laugh about here!
First, let's talk about the good stuff. This machine is the first self-dispensing nugget ice machine, meaning that it can create and dispense ice automatically, as you need it. The touch-less design minimizes the risk of disease spread and other concerns, which is a great deal when you're serving to multiple guests from your machine and you're worried about any sickness.
The interior can hold up to two pounds of ice at a time, meaning that you should almost always have more than enough ice for your day. The compact size also makes it very simple to place in just about any home, including fairly small apartments. At under two-feet square, it can easily sneak into just about any countertop and provide you with a steady flow of ice 24-hours per day.
Now, let's talk about a few small things that might make you think twice about buying this machine. They aren't anything major, thankfully. First, the no-touch design may not always work smoothly for some people. While we had no difficulty with it, a few reviews online stated that it sometimes struggled to operate properly. Perhaps this issue was just a few defective models, as it was by no means a persistent concern.
Some people may also find its water demand a little specific. You need to use distilled, bottled, or RO purified water or tap water with a hardness below 100 PPM or you may damage the machine. Such conditions aren't uncommon with these machines, of course, but some don't require such specific water types. It's something to consider when debating this option.
Pros
The two-pound ice storage is very convenient
The no-touch option should work well for most
We loved the self-cleaning design
Cons
The higher ice output results in a steeper price
Some people complained about the no-touch design
If you want a small, compact, and easy-to-use Sonic Ice Maker you can take just about anywhere, this machine should work well for you. Its overall size makes it easy to take just about anywhere. For instance, if you plan on going to a Super Bowl or New Year's Eve party and want a good supply of high-quality sonic ice, you might want this item for your party collection.
First, it includes a large water tank you can fill up at any time to produce 26 pounds of ice in a 24-hour period. It should produce at least nine ice cubes in as little as seven minutes, meaning you can get your party started just about any time. The three-quarter water tank does tend to add a little more weight to the machine, but you can always fill it up once you get to your destination.
Beyond these benefits, we loved the machine's overall look and design. It has a striking metallic red look that is both retro and modern. The sleek angles on the machine help it fit into just about any kitchen. Best of all, it is powerful enough to work as an at-home unit, as well, meaning that you won't need to purchase a second ice maker option for travel and personal use.
Another thing that we loved about this unit was its simple LED control panel. The simple design makes it easy to pick how much ice you want to produce without making mistakes. Simplicity is always appreciated in any kitchen appliance, and a machine that uses a touch-based option with simple illustrations always tends to work best for the average person.
Lastly, we enjoy the clear lid, which should make it easy to track how much ice you are producing. The machine will automatically turn off when your unit is filled, meaning you don't have to worry about overflow. However, the clear lid can help you keep track of just how much ice you've already produced, allowing you to serve while you wait or give the machine time to produce ice.
Pros
The price is fairly reasonable
We loved its portable design
The LED panel is easy to use
Cons
The unit's overall weight is surprisingly high
Some may not like the lower-yield design
Do you have a need for a high-volume of ice every day and aren't sure which machine you want to purchase? You may want to consider this option for your home or office. It produces up to 44 pounds every day, which is the highest yield on our list. It's the kind of machine that you might install in a home bar or in an apartment complex with a shared kitchen or dining area.
Beyond its high-yield design, this machine has many other benefits. First, its self-cleaning function lets you sterilize the interior and keep it safe from mold and mildew. Just add a 1:1 mixture of water and vinegar to to the tank, press the self-cleaning button, and wait for the machine to cycle this fluid through its system. Remove any residue from the tank and wipe it down before using again.
The ice-making speed is also fairly quick with this maker, though not the fastest that we could find. You should get nugget ice as quickly as 15 minutes, which is about average for Sonic Ice Makers. While other machines may be a bit faster (we found some that made ice as quickly as seven minutes after adding water), the sheer volume of ice you get with this machine makes it a great option.
What is particularly surprising about this machine is its portable design. While it may not be as easy-to-haul as our top portable design, its compact look and feel makes it easy to fit into just about any home or room. For example, we can see people installing this machine next to their favorite chair in their living room to get fresh ice for their drinks at any time.
Pros
The high-yield design will keep you well-stocked with ice
A surprisingly compact overall size
An overall appealing visual design
Cons
A slight plastic aftertaste
Some users complained about the controls
As technology improves and nice concepts unveil, more and more people are finding themselves drawn to these devices. For example, this higher-priced Sonic Ice Maker includes Bluetooth connectivity that makes it unique among our options. Is this gimmicky design option worth the higher cost? Well, it's on our list, so we definitely think that it's a model worth trying.
First, let's get the Bluetooth stuff out of the way first. You can connect this ice maker up to any device with Bluetooth connectivity, such as your phone, a tablet, and more. You need to download the free control application, first, which should take up minimal room on your phone. Once you do, you can use it to create a variety of unique benefits that make this machine interesting.
You can schedule ice creation, focusing it on times when you're asleep (to minimize noise) or when you plan on having parties. You can also monitor the ice maker's status, including whether it needs a new filter or other upgrades. Best of all, you can order various accessories to help improve your machine's operation by upgrading its overall use in various ways.
Beyond this control option, is this machine worth your time? Absolutely. While it's overall production level is a bit lower than average (24, rather than 26, pounds), it should still produce more than enough ice for the average person. The large-capacity bin will keep three-pounds of ice available at all times, giving you a steady supply of high-quality and easy-to-enjoy nugget ice for your drinks.
This machine is also fairly portable, meaning that you can take it most places, fill up its container, and get a good supply of ice with minimal difficulties. It should also be suitable enough for personal use, creating another good portable ice maker. However, its larger overall size makes it a better option for at-home situations, particularly as an in-bar ice making machine.
Pros
The Bluetooth connectivity is beneficial
A portable design that many may enjoy
An easy-to-clean overall feel
Cons
The initial ice production is somewhat slow
Some people may balk at the price
Are you interested in a Sonic Ice Maker but don't feel like you can afford one? That's an understandable concern, as many of the machines on this list are $300-500, which might be a bit outside of many people's budget for what can be a rather niche machine. However, budget options do exist on the market. And Frigidaire produces one of the most reliable and high-quality options.
First, it can produce up to 26 pounds of ice every day, which puts it right up there with most of the machines on this list. We honestly expected the capacity to shrink when examining budget models and were pleasantly surprised by this factor. However, there were other things that we definitely enjoyed about this machine, particularly its diverse options.
Simply put, you can choose the cube size fairly easily using the LED control screen. Though many models also utilize this element, we were pretty happy to see it on a budget model. There are some more expensive options we listed here that didn't include size adjustments! Even better, you can use the clear window on the machine's top to gauge ice level at any time.
Beyond those benefits, we were also happy that Frigidaire stayed committed to a non-polluting design by not using harsh chemicals or Freon. Instead, it uses a compressor cooling system that can provide cold ice as quickly as seven minutes. This unique range of benefits makes it not only an affordable ice maker but one that could easily serve as your sole ice-making tool.
Now, even though we've praised this machine so far, there are a few things to keep in mind that may not work for our needs. First, the storage bin is just 1.5 pounds. Honestly, that should be more than enough ice for personal use. However, some people may want to use their machine for parties or multiple people and may find that 1.5 pounds isn't going to be enough for their needs.
Pros
The price feels very fair
Ice production is fairly consistent
It includes many unique design options
Cons
The storage bin is a bit small
Ice may have a slight plastic aftertaste
Are you trying to find a commercial Sonic Ice Maker or one that you can install in your home permanently? Many of the options listed here are designed as more portable choices and typically sit on top of your counter. However, this Scotsman device can install directly under your counter and hook to your waterline to produce a consistent and steady supply of sonic ice for your needs.
This machine possesses a 65-pound production capacity, which is pretty on-par with most machines on this list. Its stainless steel color and design make it attractive and strong, minimizing the risk of replacement. You may also install it outdoors or in your home bar, which makes it one of the most diverse options on our list. Outdoor bars often do particularly well with these machines.
One important thing to keep in mind with this device is its overall size and weight. It weighs about 100 pounds and is over two to three feet wide, long, and tall. While this means it can store up to 26 pounds of ice consistently throughout the day, it might be harder for some people to fit into their home. After all, it is technically for commercial purposes, though you could easily adjust it to your home if desired.
Thankfully, this machine also includes two built-in water pumps that make installation easier. Once you hook up and turn on this machine, it will continually create ice until the storage bin is filled. You may also turn it off manually if you want to cut back on ice production. Even better, you can select ice cube size and shape to produce a consistent and high-quality level of ice for your home.
Pros
The high-product capacity keeps businesses well stocked with ice
The air-cooled design is Energy Star-approved
You may find installation surprisingly easy
Cons
The high price goes beyond many homeowner budgets
It could produce too much ice for some people
When hooking up a Sonic Ice Maker in your home, you may end up attaching it permanently to a water source. Wouldn't it be nice if you could use that machine for more than one thing, as it's taking up such a prominent spot in your kitchen? Thankfully, this machine provides three different uses, including ice creation, ice crushing, and even water dispensing to meet your home's needs.
First, let's go over a few simple elements. This machine can produce up to 33 pounds of ice in 24 hours and uses a stainless steel design and a line-in overall structure. Line-in structures let you draw water directly into the device from an outside source. In this way, the machine should continually produce ice without needing special maintenance or other types of water filling processes.
However, this unit also has a three-in-one design that makes it useful for a variety of situations. For example, it not only produces ice as quickly as 10 minutes after hookup (a respectable speed) but also works as a water dispenser. Simply pus the button behind the machine to produce a steady flow of fresh water that you can mix with your sonic ice to create a delicious and cold drink.
The overall design is also streamlined, compact, and easy to add to just about any room of your home. Many people install them in offices, dorm bedrooms, home living rooms, break rooms, and other areas that may need a consistent supply of ice. In this way, this machine is a surprisingly powerful option that should give you the kind of ice that you need for your home or commercial use.
Pros
A beneficial three-in-one design
The small size makes it easy to install
Your ice serves reasonably quickly
Cons
It may have a plastic taste for the first few uses
It lacks a portable design
If you want fast ice, this option might be the best choice for you. It is advertised as delivering ice as quickly as 5-6 minutes after turning on the machine. That kind of incredible speed sets this machine apart from others like it. While others may hit the 7-8 minute range, few provide the fast delivery speed that you would get with this unique and powerful ice-making machine.
This machine also comes with a two-pound bucket that helps to make your ice easier to distribute for drinks or parties. Even better, it can produce about 26 pounds of ice every day, which is pretty standard for machine of this type. However, it can also produce three different ice sizes, including small, medium, and large cubes. In this way, you can get the exact cube type you want with minimal issue.
If you want a stylish model, this option is a good choice as well. It includes a fairly compact design with contemporary curves and colors, meaning that it can fit into a surprising array of situations. For example, it's not uncommon to see such ice machines on boats, RV shelves, studio apartment kitchens, and in other areas where space is at a premium.
And while it doesn't have a line-in option, the included water tank should be easy enough for most people to fill in just a few minutes. Even better, the lack of a line-in option makes it a fairly portable option. So, if you like traveling and need fast ice for any party situation that comes up, this machine might be the best best for your overall needs.
Pros
A surprisingly affordable overall cost
An attractive design and color
Produces almost no pollution
Cons
It may seem a bit basic to some users
The delivery speed may slow over time
Now, if you're looking for a truly high-capacity and luxurious Sonic Ice Maker for your home or business, you can't do any better than this option. It is easily the most expensive option on our list and is also incredibly high-yield. While we think it is a fantastic machine, its high price and more niche use limit its appeal to those who have the money to spend on appliances.
When hooked up properly, this air-cooled and self-contained unit will produce 315 pounds of nugget-style ice in just 24 hours. That amount makes it, by far, the most high-yield option on our list. It can also hold up to 10 pounds of ice at once, making it a higher (but not the highest) storage option. What truly sets this option apart is its unique dispenser-style design.
This style lets you place a glass or storage bin under the dispenser and press a lever to get the ice that you want for your drink. You can also push the water dispenser button to get a nice glass of fresh agua. Like other dispensers, it includes filters and other elements that must be carefully removed and replaced to ensure that the ice maker continues to run properly and smoothly.
All of these benefits are counteracted a bit by the price, which is way too high for most homeowners to afford. Thankfully, it should work well for most commercial uses, particularly when using its purchase as a write-off. And homeowners who use it for business purposes (such as entertaining business partners at home or in thetr bedroom office) may also write it off, too.
Pros
No other ice machine produces as much in a 24-hour period
The elegant design provides a nice attractive look
An easy-to-use overall look and feel
Cons
The size may make it hard to fit in smaller homes
Many people won't afford the very high price
Picking the Right Machine
By now, you should feel pretty comfortable choosing one of these machines. Do you go with the best overall option and try it out? Or do you want to save money by getting the budget purchase? You may even want to try the commercial machine for your business, restaurant, or home. Whatever choice you make, don't hesitate to check our list multiple times to feel comfortable with your purcha
---
Recent Recipes