Best Black Garlic Fermenters
Worldwide, black garlic is revolutionizing the quest for healthy nutrition. An Asian cooking staple for centuries, black garlic is packed with cancer-fighting antioxidants and anti-obesity supplements. Traditionally fermented to perfection for up to 60 days, some DIY home solutions are available on the market.
Many excellent value-for-money black garlic fermenter machines are available on the market, including the MLGB 5L Fermenter, Eapmic 5L Fermenter, 4YANG Fermenter, and NEX 5L Fermenter, NPET GF10 Automatic Fermenter, INTBUYING 5L Fermenter, Homend 5L Fermentor, and the MOOACE Fermenter Machine.
These are innovative, new-generation products that all use advanced technologies to ferment your black garlic while maintaining that aromatic fresh garlic taste. A DIY home fermenter is also an easy, zero-fuss way of making a perfect batch of black garlic without polluting the environment.
What Is Black Garlic?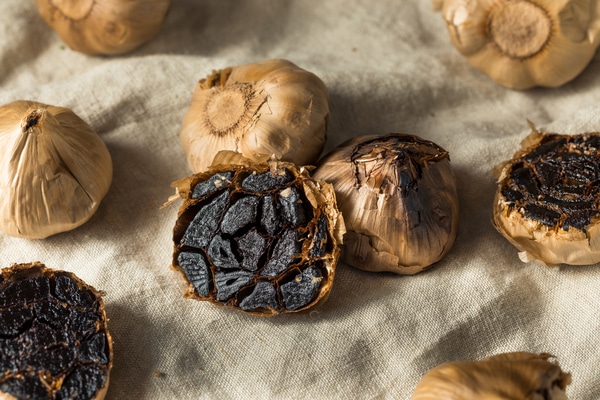 Black garlic is not something you'll readily find at your local grocer or supermarket. But then this superfood is not your regular garden variety either. Slightly funky, smelling, acidic, and with a gentle charred flavor, this deliciously complex tasting bulbous flowering plant is the product of a delicate fermentation process that traditionally takes weeks to create.
Widely found in China, it is used in traditional Asian medicine and especially as a food additive or enhancer. Black garlic's molasses equivalent flavoring is used in many dishes that call for regular fresh garlic. It's often added to chicken dishes, some rich caramelized pan sauces, or a sandwich spread for a crusty bruschetta.
It's also often used as a pizza topping for a richer, earthy taste or to create a wonderful vinaigrette or pate. Versatile, black garlic's applications are limitless.
How Is Black Garlic Made?
The process of making black garlic is simple enough. It only takes some time to do it, usually several weeks, so patience is key. Aging usually takes up to 2 months and, depending on preference, will be ready for consumption after around three weeks.
The key to aging black garlic correctly is applying the correct temperature (160 to 190⁰F) in an environment with a humidity factor of between 80% and 90%. This heat and humidity combination will eventually produce sweet and sticky black bulbs with a whiff of balsamic.
Fortunately for those who don't have the time, patience, or the means to use traditional methods to create the perfect environment required to make these nuggets of black gold, several commercially available home DIY black garlic fermenters resemble pressure or slow cookers and will deliver the right result, on time, every time.
Black Garlic Aging: A Balance Of Heat & Time
The temperature/humidity relationship mentioned and the length of time it takes to ferment to perfection are critical to the taste and quality of black garlic. Using the recommended 80% to 90% humidity factor, the following temperatures will affect the fermentation period and the quality.
At a 140⁰F temperature rate, the optimal fermentation process takes several weeks to reach the desired result. The resulting color processed from fresh raw garlic is not visually appealing. The taste is sweeter but with the antioxidant and vitamin levels fairly being fairly low.
The fermentation procedure is usually completed in a week to 10 days at this temperature. With a good color, the nutrient content is also significantly higher. This fermentation temperature is most commonly applied as it usually produces the best quality result.
As demonstrated, the higher the temperature, the speedier the fermentation process. At 176⁰F, the entire process should be complete in a few days, typically under a week. However, the downside is that controlling the process is more difficult, and the flavor of your black garlic can become somewhat bitter.
Reviews: The Best Black Garlic Fermenters
There are dozens of commercially available black garlic fermenters available for the average DIY enthusiast. Many of them feature the same or similar technologies. These are some of the best fermenter machines on the market.
One of the most popular brands, this robust, intelligently designed, fully automatic machine with a unique double fermenting mechanism is durable, with a quality finish, and is easy to operate, ensuring a great result every time. Built to last, the MLGB is efficient and will last for years.
With the 5-liter MLGB fermenter, black garlic can be produced in as little as 7 to 12 days, with an average of 9 days producing slightly sweet and sour flavored garlic. You can choose any amount of garlic bulbs, up to a capacity of 5 liters. The more, the better the result. The two smart programs are designed for either single or multiple garlic cloves.
A 6-liter MLGB fermenter can also manage a 2.2-pound batch and includes an attachable fermentation jar that allows you to lift and strain the contents in place, making the process cleaner and more hygienic with a lower risk of spillage or waste.
A stainless steel cage is included, and a buckled door helps trap and protect the flavors. The MLGB is a versatile machine and can also make yogurt or sweet wine. Its also useful for making fantastic sauces, such as a sticky chicken or lamb marinade.
Power usage is rated 110 to 120 volts for US and Canada operations.
Eapmic 5L
This unique fermenter machine has a thick aluminum spiral patterned casting heater plate, which produces a 360-degree constant temperature usually found in a professional factory environment. The built-in monitoring and automated cycles keep the heat constant for around 288 hours to ensure a perfect product.
The average processing duration is between 12 and 15 days, depending on taste preference. Thanks to the uniform heating characteristics, it can be left alone to do its thing.
This machine also has a built-in power-off function. Should there be a power outage during the process, it will carry on with its fermentation cycle from where it left off once power is restored.
4YANG
The 4YANG 5-liter fermenter is a good choice for the budget-conscious looking for a good quality product to match the price. Including an aluminum inner pot and grid structure, its operating temperature is around 115⁰F, making it one of the coolest operating fermenters available.
The 4YANG does use an intelligent air convection and humidity cycle system to distribute the heat more evenly. The time function selector allows program cycles anywhere between 7 to 12 days. The drying function helps speed up the finishing process after fermentation is completed.
Disassembly and cleaning are practical and easy. Overall this is a very good value for money option.
The 5-liter NEX fermenter is another smaller yet fully automated machine that incorporates a single touch program and is easy to set up. A 360 intelligent heat circling and humidity control system ensures a stable and effective fermentation cycle.
The operation is simple enough, with the three-button touch controller and digital clock showing the fermentation operation's progress. It's as hassle-free as pressing a single button and going about your daily business. Within 12 days, you can expect a batch of 20 to 30 sweet and sour black garlic bulbs with a gentle, fresh fragrance—no need to check up on it periodically.
This machine also features a power back on uninterrupted operation should there be a break in the electrical supply. The NEX is energy efficient, with daily consumption of 2,16kw or around 26kw for the full 12 days.
A 6-liter energy-efficient version of this NEX is also available, managing a larger 3.3 pound batch of garlic bulbs.
The NPET is one of the best professional 5L fermenters on the market. This machine's elegant and sturdy-looking product includes an aluminum inner pot and a digital countdown controller. This model also uses heated air convection and circled humidity for even fermentation necessary to make perfect black garlic.
Using an automatic three-tray feeding system made from aluminum allows maximum space for your garlic bulbs. It prevents the condensated water from descending and spoiling the quality of your end product. Fermentation time is optional between 12 and 15 days and includes a quick-dry button to switch to faster drying for a uniquely different taste.
Most higher-quality DIY fermenter brands sold have a power failure and restore function, and this particular model includes a 24-month manufacturer's after-sales support component.
This popular model is one of the best-selling fermenter machines available for amateur home users. With its higher than average 6 liter capacity and low energy consumption, you can easily process upwards of 4 pounds of garlic in a single batch cycle.
There are two standard fermentation durations and include buttons for 9 to 13 days and another for 12 to 18 days for those seeking a fuller, more intense flavor. A three-dimensional heating system and thick outer lining ensure your garlic is evenly fermented while using less electrical power, making it super energy efficient.
It has a solo garlic function, and a stainless steel cage keeps any quantity of garlic evenly distributed within the machine. The voltage rating is the standard US 110 v.
The Intbuying machine is also hygienic, easy to clean, and rugged, making it an excellent quality built black garlic fermenter that will last for many years.
The Homend fermenter is an intelligently designed 5-liter machine with a professional quality ergonomic inner pot and a 360-degree hot air convection system for even fermentation of your black garlic.
The humidity circle functionality keeps the garlic moist throughout the fermentation process to effectively harness the garlic's antioxidant properties. Both the solo and multi-bulb options are supported with this model, and the dry function facilitates post-fermentation, quick-drying.
The recommended fermentation periods are up to 12 days for multi and 15 days for solo garlic bulbs.
The 5-liter MOOACE machine is a fully automatic, one-touch garlic fermenter that requires very little attention or input from the user. The MOOACE consists of a modular, 2 part structure. The adjustable racks allow for two separate operations at a time.
You may use the first part of the machine to take care of black garlic that requires high humidity storing and preservation that requires a higher temperature. Simultaneously, the second part can make unique flavors using its special in-built fermentation process.
The maximum capacity is around 2 pounds, and it takes anywhere between 12 to 15 days to produce, depending on your tastes and requirements.
HXwsa
The HXwsa is the only 3-liter black garlic fermenter machine listed here. It is an elegant, modern-looking machine. It has only two trays for loading your garlic bulbs which are sufficient for smaller batches of black garlic.
Despite its small size, the HXwsa includes most of the features seen in more expensive machines, such as power failure protection and heated air convection. The HXwsa is an excellent choice for a single user or a small family. Sadly it seems to have been removed from being sold on Amazon and cannot be purchased anywhere at the time of writing.
What's The Best Black Garlic Fermenters?
We now know that flavoring tools and techniques are essential elements of Asian cuisine. Although raw garlic is a common cooking ingredient used in many cultures worldwide, it is not an exaggeration that black garlic has superior flavoring and health properties. Trace elements, minerals, amino acids, and up to seven types of polyphenols or micro-nutrients can all be found in this wonderful bulbous flowering plant.
Black garlic is also an incredibly powerful anti-bacterial agent which can help ward off or fight infections and illnesses.
Investing in a home DIY black garlic fermenter is one of the best health-promoting investments that you can make. Although preserved jars containing processed black garlic are fairly easy to find in many specialty stores, the convenience and the incredible taste difference of making your own are unparalleled. The fresher the black garlic, the higher its nutrient content too.
Try any of the machines listed here, and feel free to experiment with different recipes and techniques. Search online for excellent information and recipes that ask for black garlic. You won't be sorry!
---
Recent Recipes