How to Make the Best Tasting Patty Melt
There is a tiny burger joint in New Haven, CT named Louis Lunch. It lays claim to being the birthplace of the burger sandwich. This place is very cool with the original 1895 vertical cast iron grills that cook the burgers. They are served on toasted sliced bread with grilled onions. That is the only sandwich they serve 5 days a week for lunch and dinner. For me, this is the original patty melt sans the cheese and it is really good.
Like Louis' burger sandwich a patty melt doesn't require condiments because it is so juicy and delicious all by itself. There was an iconic drive-in place in Los Angeles called Tiny Naylor's that had been serving up a burger sandwich since the 1940s. It has Swiss cheese added to make it a patty melt. Naylor's lays claim to what is now the popular patty melt sandwich, not to be confused with what we call a hamburger.
A patty melt is a seasoned ground beef patty that is cooked and served with Swiss cheese and caramelized onions on rye bread. The sandwich is grilled until the bread is crisp and the cheese has melted. You might serve this sandwich with just potato chips and a pickle on the side. Or, like Louis, you would offer potato salad as an accompaniment, as well as iced tea.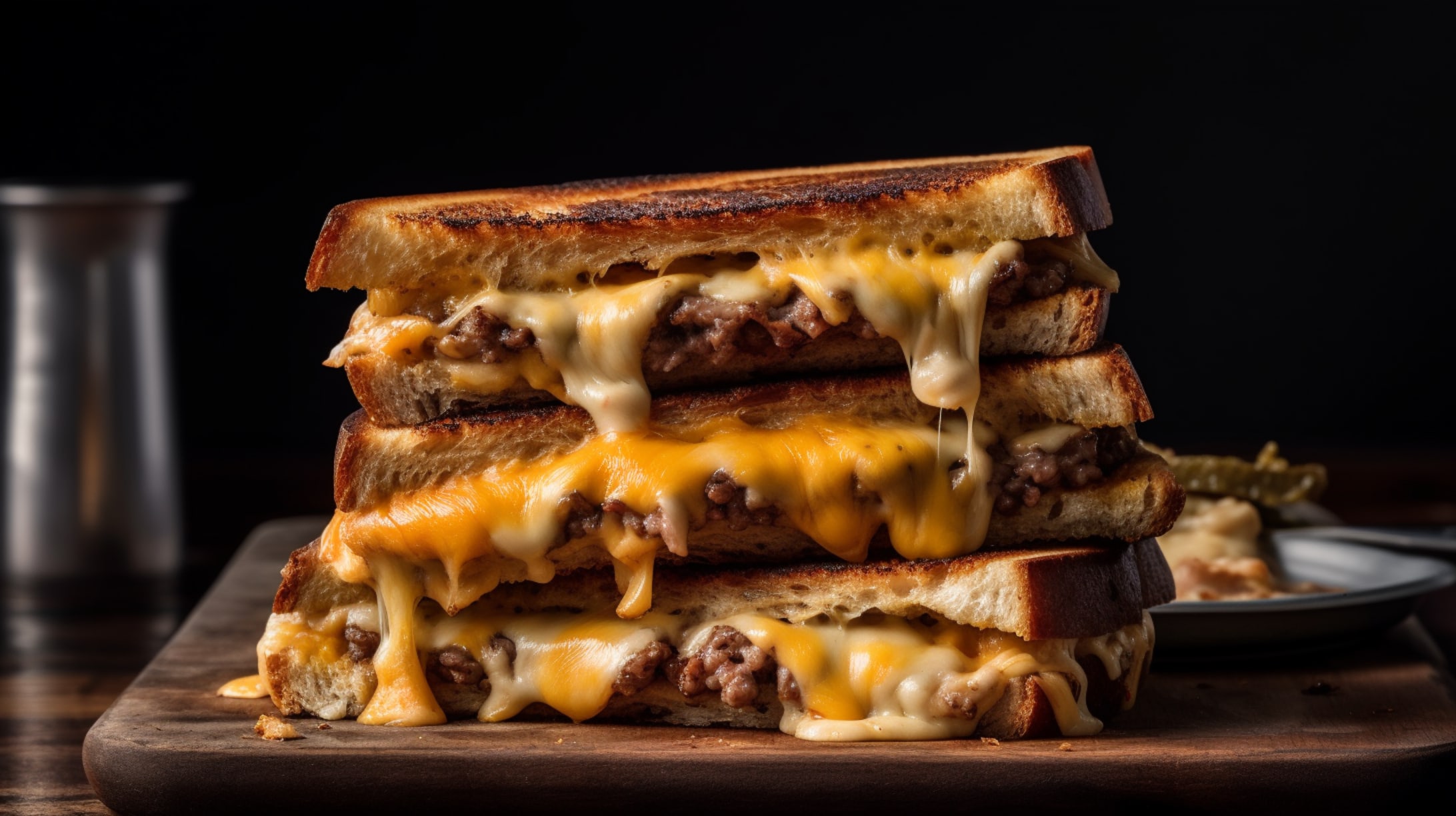 Ingredients
6

Tbsp

unsalted butter

2

onions

peeled and sliced thinly

1-1/2

pounds

of 80-20 ground beef

1

tsp

sea salt

divided

1

tsp

freshly ground black pepper

divided

8

slices

of rye bread

8

slices

Swiss cheese
Instructions
In a large heavy-bottomed skillet, preferably cast-iron, over high heat, melt 2 tablespoons of the butter. As soon as it gets frothy, add the onion slices to the pan and sprinkle with 1/4 teaspoon of and 1/4 teaspoon of pepper. When the onions start to wilt, toss them and cook for about 5 minutes, stirring occasionally.

Reduce the heat to medium and continue to cook the onions, stirring occasionally, until the onions are soft and caramel in color. This will take about 20 minutes.

While the onions are cooking, prepare the burgers. In a large bowl, place the ground beef and season with the rest of the salt and pepper. Using clean hands, mix the seasonings into the beef. Form the seasoned beef into 4 patties and set aside on a platter.

Remove the onions to a bowl. Add 2 tablespoons of butter to the skillet and increase the heat to high. When the butter has melted, add the beef patties to the pan and cook them for about 3 minutes without moving or flattening them to release juices. Turn the patties over and continue to cook for another 2 minutes until medium rare. Remove the patties to a platter and allow them to rest for a few minutes. Turn the heat down to medium under the skillet.

In the same skillet over medium heat, add 1 tablespoon of butter to the drippings in the pan. Place 4 slices of rye bread in the pan. Place a piece of cheese on each slice of bread. Add a patty to the cheese. Spoon equal amounts of onions over the patties. Top with another slice of cheese and then the remaining 4 slices of bread. Using the spatula, lightly press the sandwiches into the pan drippings. You may have to do this in two batches.

After about 1 minute, check that the bottom slice of bread is toasted and golden brown. Carefully turn the sandwiches over. Add the remaining tablespoon of butter to the pan in small portions around the perimeter of the pan. Tilt the pan to move the butter under the sandwiches.

Once the bread is golden brown and crisp on both sides, and the cheese is melted and gooey, transfer the patty melts to a cutting board.

Slice each in half and serve right away with lots of napkins and a side of chips or potato salad. Enjoy!
Nutrition
Calories:
905
kcal
|
Carbohydrates:
37
g
|
Protein:
45
g
|
Fat:
64
g
|
Saturated Fat:
30
g
|
Polyunsaturated Fat:
2
g
|
Monounsaturated Fat:
23
g
|
Trans Fat:
3
g
|
Cholesterol:
198
mg
|
Sodium:
1149
mg
|
Potassium:
682
mg
|
Fiber:
5
g
|
Sugar:
5
g
|
Vitamin A:
815
IU
|
Vitamin C:
4
mg
|
Calcium:
400
mg
|
Iron:
5
mg
Notes & Tips
This sandwich can be cooked in a large skillet or on a flat-top griddle. It is best not to crowd the pan or griddle so the bread crisps up.
Caramelizing the onions is the most detailed step in this recipe, though not difficult at all. Allow them to cook slowly until they are browned and soft. This will be like a sweet onion jam if you take the time.
I don't wipe the skillet clean after the onions or the patties have cooked. There is a lot of flavor in that fat that only adds to the goodness of this sandwich.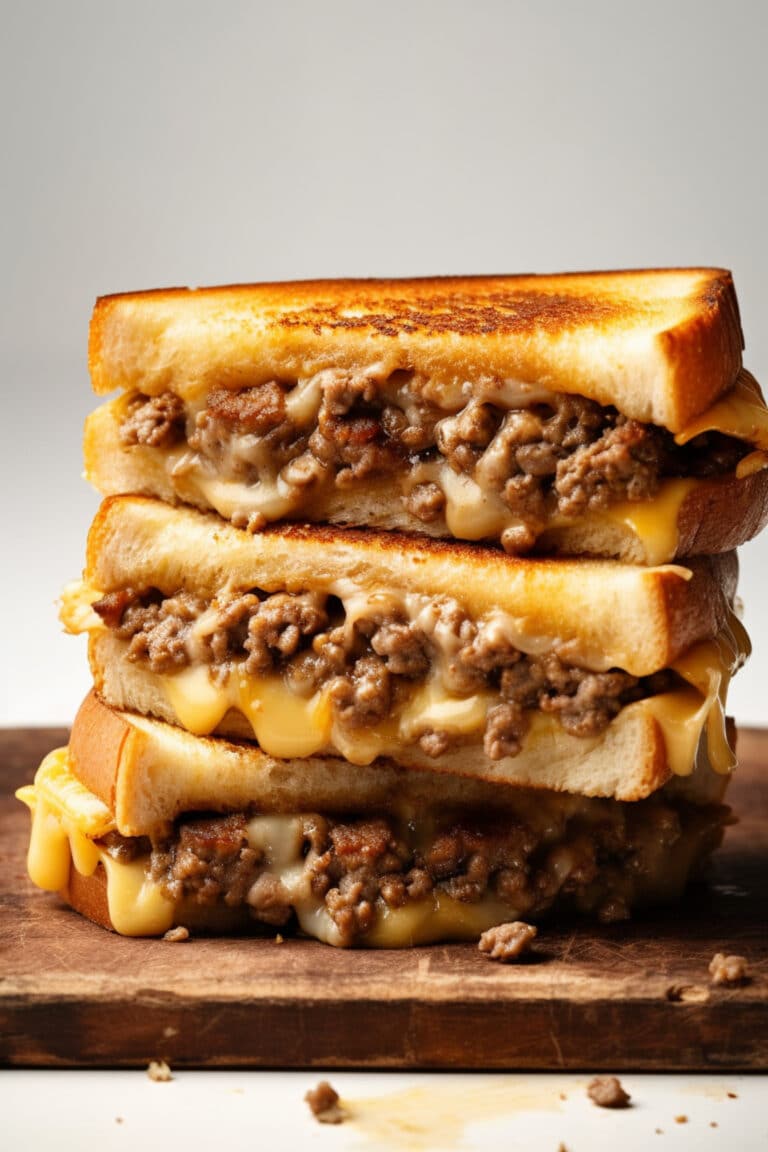 Substitutions & Time Savers
Ground Beef: A classic patty melt is made with ground beef with a little bit of fat in the mix. At Naylor's, they used a combination of 5 different cuts of beef. That is a little overboard, so ground chuck is fine. You probably could make a ground dark turkey meat patty for a lighter sandwich. If you are a vegetarian, the melt is very good with a large portobello mushroom cap.
Rye Bread: I like this patty melt made with pumpernickle bread. I think it adds a little sweetness to the sandwich. But you could use any sturdy whole-grain bread you like or a gluten-free variety.
Swiss Cheese: There are so many types of Swiss cheese to choose from. I think Jarlsberg or Emmentaler are good choices. Some recipes call for Gruyere, which is a little sharp and is stretchy when it melts. If you aren't a fan of Swiss cheese, I don't see why you couldn't use American slices, Muenster, or Monterey Jack.
Time Savers: This is a great weeknight dinner sandwich for busy families. You can caramelize the onions the day before and store them in the fridge. You can also form the beef patties and store them as well. All you have to do is cook the burgers and then assemble and griddle the sandwiches and dinner is on the table in about 10 minutes.
Storage & Reheating
To store leftover patty melts, wrap them tightly in aluminum foil or plastic wrap, and place them in an airtight container or a resealable plastic bag.
Store in the refrigerator for up to 3 days.
To reheat the patty melt, preheat your oven to 350°F (175°C). Place the sandwich on a baking sheet and bake for 10-15 minutes, or until the cheese has melted and the bread is crisp.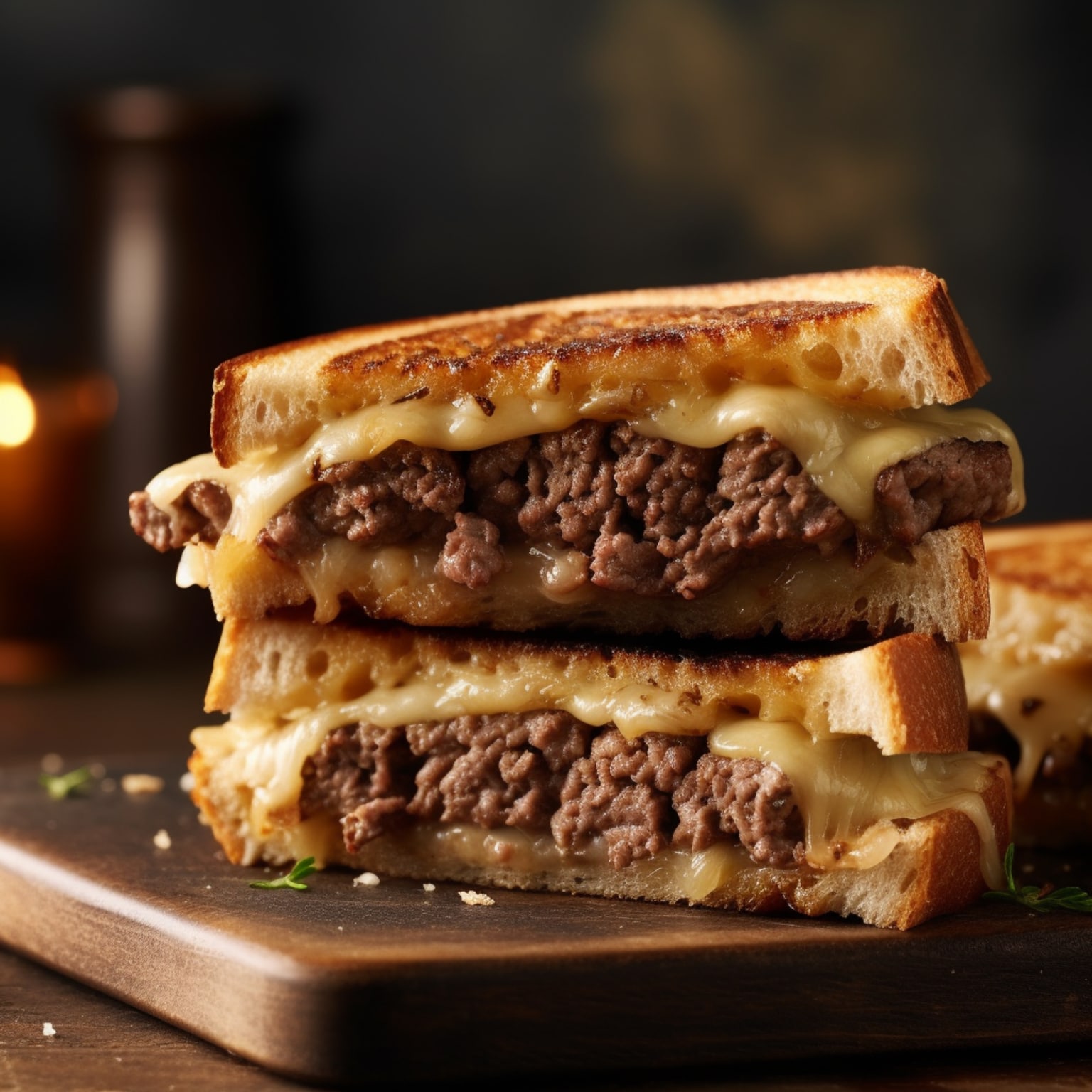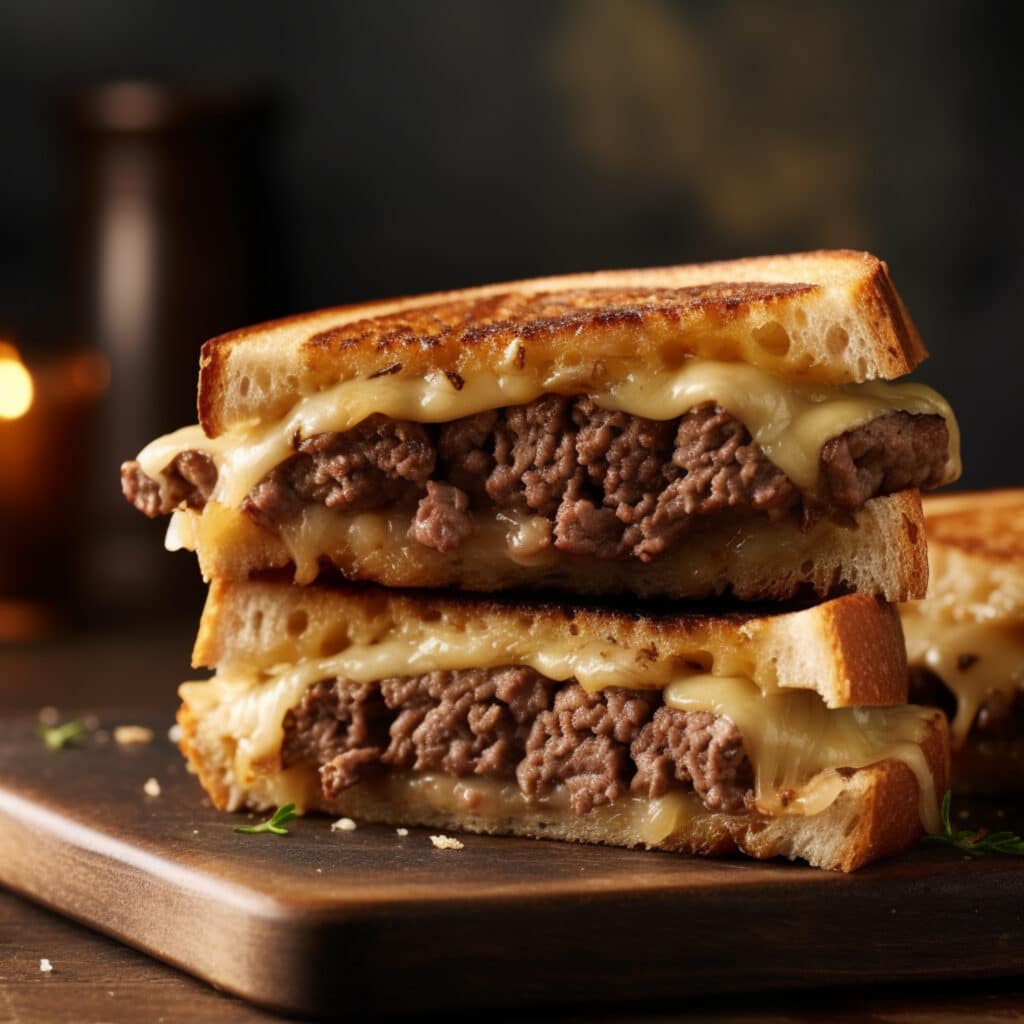 Serving Suggestions
Serve the patty melt with a side of crispy potato chips or homemade potato salad.
Add a crunchy kosher dill pickle spear for a tangy touch.
Offer a small green salad with a light vinaigrette for a healthier option.
Pair with a cold glass of iced tea or your favorite soft drink.
Variations For Common Dietary Restrictions
Vegetarian: Replace the ground beef patty with a large portobello mushroom cap or a vegetarian burger patty.
Gluten-free: Use gluten-free rye bread or another sturdy gluten-free bread option.
Dairy-free: Substitute dairy-free cheese slices, such as vegan Swiss or cheddar. Violife and Follow Your Heart brands are exceptional to try.
Common Mistakes
Overcooking the beef patty: Avoid cooking the patties for too long, as they can become dry and tough. Cook until they reach medium rare to maintain juiciness.
Not caramelizing the onions properly: Take the time to slowly cook the onions until they are browned and soft. This results in a sweet onion jam-like consistency that adds a depth of flavor to the sandwich.
Crowding the pan or griddle: Make sure not to overcrowd the pan or griddle to ensure that the bread crisps up evenly.
Health Risks & Benefits of This Recipe
Risks:
Patty melts are very high in saturated fat due to the ground beef, butter, and cheese used in the recipe. Proceed with caution if you have heart issues.
This dish is also high in sodium, particularly when using processed cheese slices and store-bought bread.
Benefits:
Patty melts contain a good amount of protein from the beef and cheese, which helps build and repair body tissues.
The caramelized onions provide some fiber and essential nutrients, such as vitamin C and potassium.
Common Questions
Can I use a different type of bread for the patty melt?
Yes, you can use any sturdy whole-grain bread, pumpernickel, or even a gluten-free bread option.
What type of Swiss cheese should I use?
Jarlsberg, Emmentaler, or Gruyere are all good choices, but feel free to use your favorite type of Swiss cheese.
Can I make this recipe healthier?
To make a lighter version, use ground turkey or a vegetarian patty, and opt for a whole-grain bread option. You can also use a lower-fat cheese and reduce the amount of butter used for cooking.
Can I prepare any components ahead of time?
Yes, you can caramelize the onions and store them in the fridge for up to 3 days. You can also form the beef patties and store them as well.
---
Recent Recipes