Craveable Vegan Cauliflower Gratin
Cauliflower is one of those things that I don't find particularly interesting. That's why, when I find a good way to use it, you bet I'm going to hold on to it. That's what this cauliflower gratin is. It's yummy, it's cheesy, it's oozy, and this version is vegan! If you already live the vegan lifestyle, you likely have all of these ingredients already. If not, hit up your local supermarket or try the nearest whole foods. Of course, if you don't care about being vegan, you can make this with dairy cheeses too.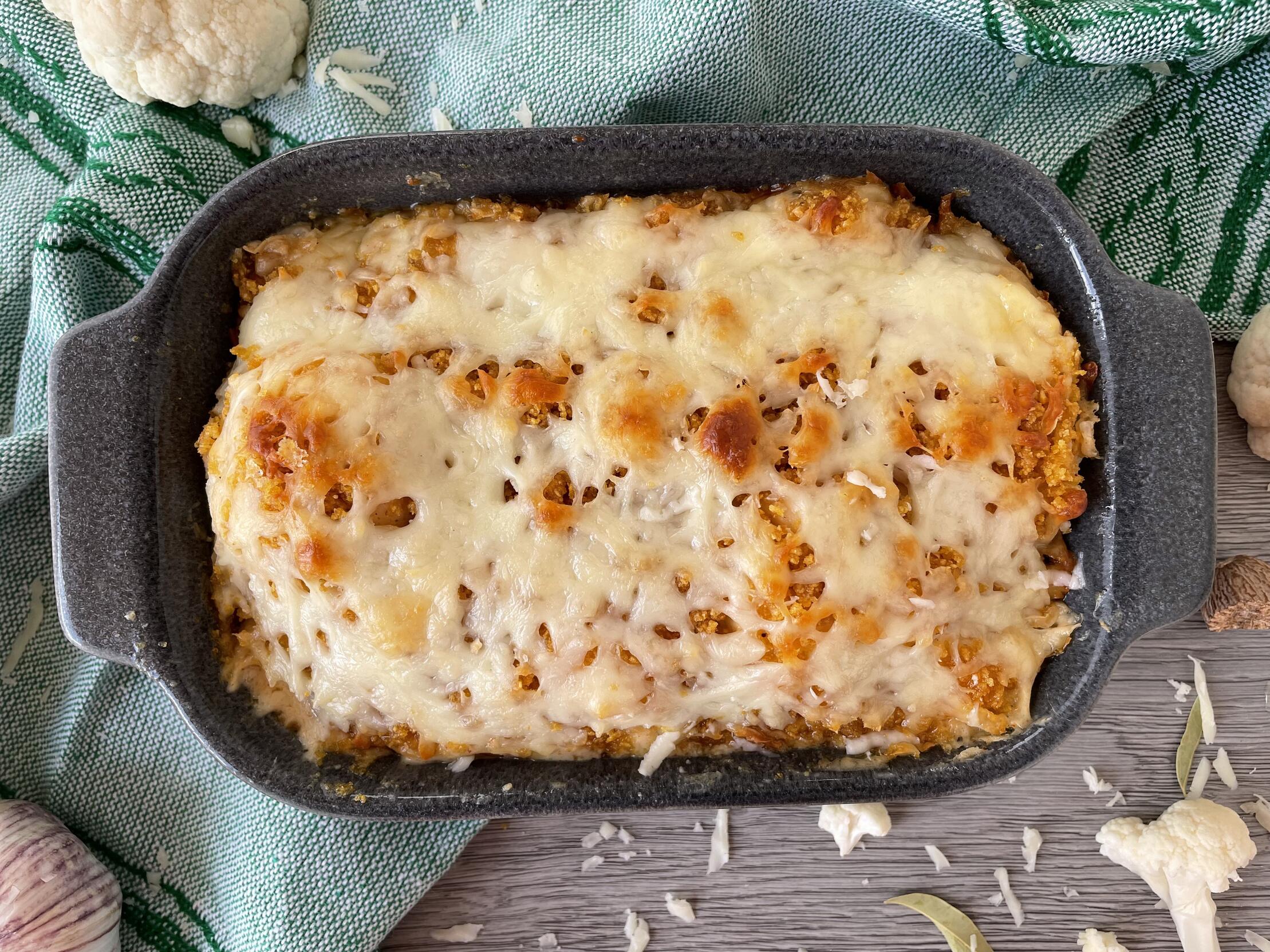 Ingredients
¼

onion

2

garlic cloves

1

sprig fresh thyme

1

cauliflower

½

cup

plant butter

3 ½

tbsp

flour

2 ½

cups

plain soy milk

1

bay leaf

½

cup

vegan cream cheese

1

tsp

salt

1

tsp

cognac

¼

tsp

cayenne

¼

tsp

ground pepper

¼

tsp

ground nutmeg

1

cup

shredded vegan cheddar

½

cup

panko
Instructions
Assemble ingredients.

Preheat oven to 395F and prep a baking dish by greasing it in plant butter or a cooking spray.

Chop the onion and finely dice the garlic. De-stem the thyme and finely chop. Cut the stem off the cauliflower and cut the head into bite-sized pieces.

In a medium pot over medium-high heat, melt ¼ cup of the plant butter. When the butter starts to pop, whisk in the flour bit by bit. Cook for 1 minute or until it forms a thick paste.

Add the soy milk to the pot and whisk until there are no chunks, then add the onion, bay leaf, thyme, and cream cheese. Once the sauce is thick and even, add the salt, cognac, cayenne, pepper, and nutmeg. Remove from heat. Make sure to find the bay leaf and remove it before cooking.

Melt the remaining butter in a small bowl and mix it with the panko.

Using the prepared baking dish, spread out the cauliflower pieces then pour the cheese sauce over top. Sprinkle the shredded cheddar evenly on top, then top it off with the panko mix.

Put the dish in the oven and cook for 25 minutes, or until the cauliflower is soft and the top is browned. If you want an extra crispy top, turn your oven to broil and leave the cauliflower gratin in for another 2-5 minutes, making sure not to burn it.

When done cooking, remove from oven and let rest for a few minutes before serving.
Video
Nutrition
Calories:
351
kcal
|
Carbohydrates:
23
g
|
Protein:
8
g
|
Fat:
26
g
|
Saturated Fat:
6
g
|
Polyunsaturated Fat:
6
g
|
Monounsaturated Fat:
7
g
|
Trans Fat:
3
g
|
Sodium:
878
mg
|
Potassium:
457
mg
|
Fiber:
5
g
|
Sugar:
5
g
|
Vitamin A:
423
IU
|
Vitamin C:
54
mg
|
Calcium:
198
mg
|
Iron:
2
mg
Notes & Tips
If you have leftovers, you can keep this dish in an airtight container in the fridge and reheat it in the microwave. I recommend not keeping it for more than two days, as the cheese sauce can get clumpy and icky while the cauliflower gets too soft.
Serving Suggestions
This makes an excellent side for a lot of dishes. I myself am not a vegan, but I do like to have recipes like this on hand for my vegan friends. If I am making this to serve to vegans, I might do it alongside chickpea tenders.
If I am making this for myself and other omnivores, I would pair it with something like this panko & herb crusted beef tenderloin. The cheesy goodness of the cauliflower gratin is an amazing accompaniment to tender beef. Plus, I think it's cute how both recipes use panko, so they feel like a little family.
Substitutions
I wrote soy milk, but you can use any non-dairy milk you want, as long as it is not sweetened or vanilla flavored! I prefer soy milk because I think it has a milder, more ambiguous taste and I'm not fond of almonds or most other non-dairy milks.
Plant butter can be exchanged with any oil if you prefer. If you want to make a really fancy cauliflower gratin, use truffle oil or even an infused olive oil. Delicious!
Cognac can be substituted for brandy or another similar liquor. If you don't want to include alcohol, you can skip it entirely. It is only there to add flavor and will not affect the texture or consistency.
If you don't have fresh thyme, dried will work fine too. I recommend still chopping the thyme if you use dried so you don't end up with a load of weird little pieces stuck in your teeth.
If you can't find vegan panko, you can make your own. Use your favorite vegan bread and crumble it up. Use a food processor if you want a more evenly sized crumble. Toast for a few minutes and voila, homemade panko!
Making Your Own Cheese
Vegan cheese can be difficult to buy in regular stores. It might be too hard to find or too expensive for your budget. Lots of vegan cheese include cashews, so if you are allergic to nuts, that rules out most of your options. If that is the case, you can always try making your own cheese.
If you want to make your own dairy-free and nut-free cheddar, you will need:
13.5 oz can coconut milk
½ cup water
½ cup nutritional yeast
2 tbsp agar agar powder
1 ¼ tsp salt
1 tsp lemon juice
½ tsp smoked paprika
¼ tsp onion powder
⅛ tsp turmeric
1 tbsp warm water
1 tsp miso paste
Prep by oiling a heat-proof bowl as your mold. Heat a pot over high heat and add all the ingredients except for the warm water and miso. Boil it for 8 minutes. In a clean bowl, mix together the warm water and miso until smooth, then pour it into the sauce. Stir again until everything is combined. You don't want any lumps! Once everything is mixed and smoothed, pour it into your prepared bowl. Let it cool for half an hour at room temperature before putting it in the fridge for 2 or more hours to set.
If this cheese doesn't turn out perfect, no worries! You can still use it for the cauliflower gratin because it will end up melted anyway. Enjoy!
---
Recent Recipes