Tuna tataki is the next best thing to tuna sashimi. What I prefer about this preparation of tuna is the beautiful sear the sashimi grade tuna receives on the exterior, while the interior of the fish remains raw. The sear adds another dimension to yellowtail or ahi tuna, both in texture and flavor.
Tataki-style tuna works best with a block of fish, generally from the tuna loin or belly. However, unless your fishmonger is willing to trim a loin of tuna into a perfect 2-inch by 2-inch x 6-inch block, you are likely going to have a flatter, longer fillet that is about 3/4-inch thick or even a triangular-shaped piece. Any piece will work because you are searing the tuna steak by eye, not by time so much.
The intention is to lightly sear the fish on all sides in a very hot skillet just until the fillet achieves a grayish color on the outside and is still bright red on the interior. The color contrast is stunning on the plate. You will do well to serve this on either a white or black plate, not one with a pattern for the wow factor in presentation.
This dish is classically served with a rich and umami soy and citrus-based sauce, also known as ponzu sauce. This recipe includes the directions for preparing the ponzu sauce, which is better if made a day ahead of time. I also enjoy serving sushi-style rice on the side in small bowls that you are encouraged to pick up with one hand and allow the dressed fish to drip over it by using chopsticks in the other hand. The dripping ponzu sauce adds tons of flavor to the rice.
Before serving the dish, you will want to garnish it generously with white sesame seeds. This completes the presentation and also adds complexity and texture to the otherwise very soft fish. I also enjoy layering very thin lemon slices between the slices of tuna for contrasting color and a little acidic tang.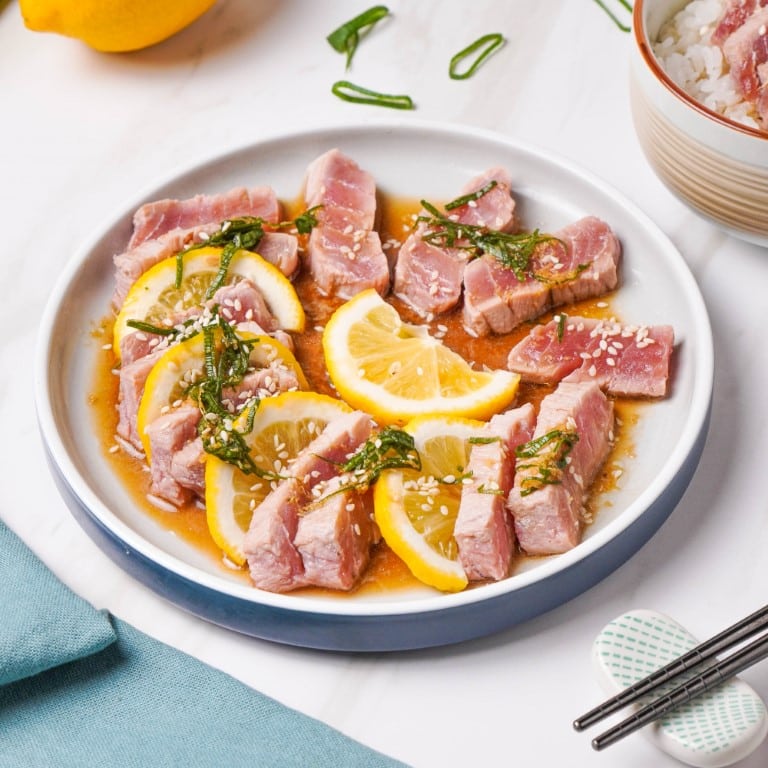 Ingredients
Ponzu Sauce
½

cup

soy sauce

Zest from one lemon

¼

cup

freshly squeezed lemon juice

¼

cup

freshly squeezed orange juice

2

Tbsp

mirin

⅓

cup

dried bonito flakes

1

2 x 3-inch piece of dried kombu
Tuna
½

pound

sashimi grade yellowfin ahi tuna

cold

2

Tbsp

neutral flavored vegetable oil

canola or grapeseed

1

tsp

freshly grated ginger

1

green scallion

sliced thinly

3

Tbsp

ponzu sauce
2

tsp

toasted sesame oil

1

tsp

soy sauce

½

a lemon

sliced thinly into rounds

1

tsp

white sesame seeds

2

cups

cooked white or brown sushi rice for serving
Instructions
All ingredients ready? Let's begin!
Ponzu Sauce
Using a glass jar (a mason jar works well) with a lid, combine the soy sauce, lemon zest, lemon juice, orange juice, mirin, bonito flakes, and kombu.

Place the lid on the jar and shake well to combine.

Refrigerate overnight.

Strain the sauce through a sieve to remove the bonito and kombu before using it.
Tuna
In a small mixing bowl, whisk together the ponzu sauce, sesame oil, and soy sauce. Add the grated ginger and scallions to the bowl and stir well to combine. Set this aside.

In a large skillet over medium-high heat, warm the vegetable oil until fairly hot. Add the cold tuna to the pan and sear it on all sides using tongs to turn and hold the tuna. Do this for approximately 30 seconds per side. The outside flesh will turn a gray color while the interior will remain red and uncooked.

Remove the fish to a clean cutting board and allow it to rest for a few minutes until cool enough to handle.

Using a very sharp chef's knife or a specialty serrated knife, slice the tuna against the grain into 1/4-inch thick pieces.

On a serving platter, arrange the sliced tuna in a shingle pattern with lemon slices between some of the pieces. Spoon the sauce over the tuna, being generous. Garnish with the sesame seeds.

Place cooked rice in individual serving bowls. Using chopsticks, grab a piece of tataki and eat it over the rice so that the excess sauce drips into the rice. Enjoy the fish and then enjoy the seasoned rice to finish the meal.
Nutrition
Calories:
722
kcal
|
Carbohydrates:
56
g
|
Protein:
63
g
|
Fat:
24
g
|
Saturated Fat:
4
g
|
Polyunsaturated Fat:
11
g
|
Monounsaturated Fat:
7
g
|
Trans Fat:
0.1
g
|
Cholesterol:
70
mg
|
Sodium:
4211
mg
|
Potassium:
918
mg
|
Fiber:
3
g
|
Sugar:
9
g
|
Vitamin A:
2619
IU
|
Vitamin C:
36
mg
|
Calcium:
51
mg
|
Iron:
3
mg
Notes & Tips
It is best if the tuna is cold when you sear it, rather than at room temperature. This way, the flesh remains tight and only the exterior will cook while the interior remains uncooked. It will also slice more easily without falling apart.
When slicing the tuna, be sure to do it against the grain so it holds together. Use a very gently back and forth motion with a sharp knife, trying not to saw through the flesh.
Substitutions
Citrus: In Japan, ponzu sauce is most often made with yuzu juice. Yuzu is a citrus fruit with tart grapefruit, lemon, and orange flavors. I like using a Meyer lemon because it is both tart and sweet. For this recipe, we use lemon and orange because they are easy to find in the states. You could also use red grapefruit and lime together.
Soy Sauce: Many of us steer away from gluten and/or soy. Soy sauce contains wheat which contains gluten. Tamari and liquid aminos are both gluten-free versions of soy sauce. If you also want to avoid soy, use coconut aminos.
Bonito Flakes: My local Whole Foods Doesn't always have bonito flakes. And, when I do buy them, I end up tossing the bag after a few months because I can't finish it. I think this is an optional ingredient in ponzu. Though it does add unique umami and salty flavor. I increase the sea vegetable component or add a couple of dashes of my favorite fish sauce – Red Boat. You could also add some nutritional yeast.
Kombu: Kombu is a readily available sea vegetable that is used to season soups and sauces. It is a bit woody in texture, so not many enjoy eating it. I happen to love the meatiness of kombu once it has softened while simmering in broth. Frankly, you could use nori strips, wakame, arame, or a few good pinches of gomashio. 
Tuna: There isn't really a perfect substitution for sashimi grade tuna. However, I like this recipe with king salmon or premium swordfish that is deemed safe for eating raw. I have seen this dish offered with freshly shucked raw oysters which were amazing. Or, you could go with filet mignon and sear it to medium rare for a protein twist. If you want to go in a vegan direction, try seared zucchini or tofu slices and leave the bonito out of the sauce.
---
Recent Recipes