Rich & Chunky Blue Cheese Dressing
This is the best ever homemade chunky blue cheese dressing! It's so good, you'll never want to buy store-bought dressing ever again. And it only takes 10 minutes to make. Amazing.
When it comes to blue cheese, I've noticed that there are two types of people – the ones who love it, and the ones who don't. Now, I'm guessing that since you've landed on this rich blue cheese dressing recipe, you're most likely a blue cheese aficionado. And let me tell you, this dressing will steal your heart.
Cooking is all about making things from scratch and it's so rewarding to make your dressings and dips. Plus, you get to control what ingredients go in. I find that store-bought blue cheese dressing, for example, has too much sugar, preservatives, and other additives. All this also detracts from the wonderfully potent blue cheese flavor.
Read on and learn how to make chunky blue cheese dressing. All you need is blue cheese, sour cream, buttermilk, and some pantry staples. Let's whip up a jar of luscious decadence!
Worcestershire sauce, lemon juice, garlic powder, sugar, pepper, and salt until creamy and combined.
Switch to a spatula and incorporate the crumbled blue cheese and parsley. Mix well without breaking the chunks of cheese. Store for up to 7 days in an airtight container in the fridge. Enjoy!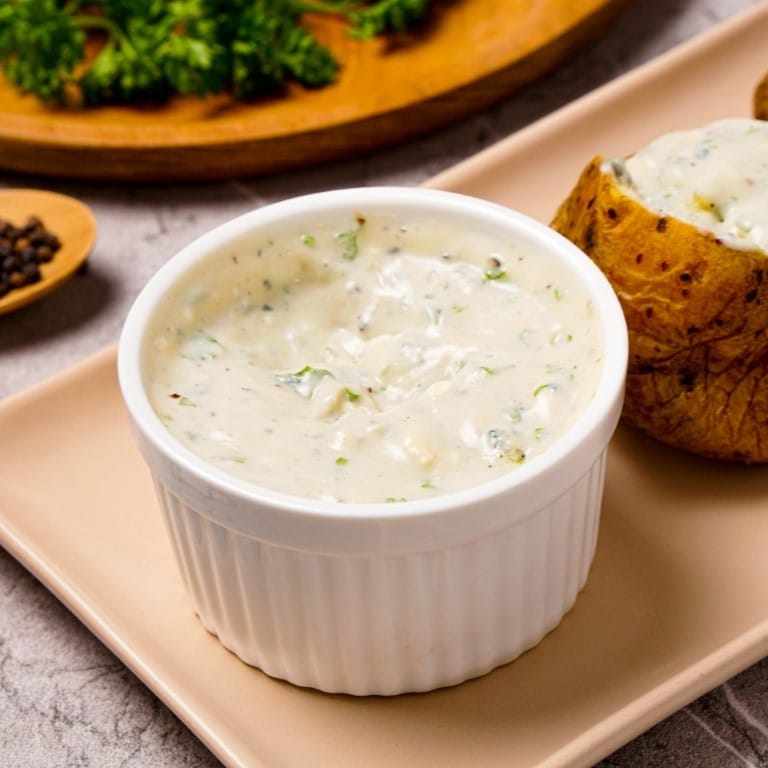 Ingredients
½

cup

sour cream

½

cup

mayonnaise

¼

cup

buttermilk

1

cup

crumbled blue cheese

¼

tsp.

Worcestershire sauce

1

Tbsp.

freshly squeezed lemon juice

1/8

tsp.

garlic powder

1

Tbsp.

freshly minced parsley

¼

tsp.

granulated sugar

¼

tsp.

black pepper or more to taste

Salt to taste
Instructions
All ingredients ready? Let's begin!

In a medium-large bowl, whisk the sour cream, mayonnaise, buttermilk, Worcestershire sauce, lemon juice, garlic powder, sugar, pepper, and salt until creamy and combined.

Switch to a spatula and incorporate the crumbled blue cheese and parsley. Mix well without breaking the chunks of cheese. Store for up to 7 days in an airtight container in the fridge.
Nutrition
Calories:
254
kcal
|
Carbohydrates:
3
g
|
Protein:
6
g
|
Fat:
25
g
|
Saturated Fat:
9
g
|
Polyunsaturated Fat:
9
g
|
Monounsaturated Fat:
6
g
|
Trans Fat:
0.03
g
|
Cholesterol:
37
mg
|
Sodium:
404
mg
|
Potassium:
121
mg
|
Fiber:
0.1
g
|
Sugar:
2
g
|
Vitamin A:
529
IU
|
Vitamin C:
4
mg
|
Calcium:
156
mg
|
Iron:
0.3
mg
Substitutions & Allergens
I love making homemade blue cheese dressing with buttermilk because it adds a little more tang to the final result. But you can use regular full-fat milk instead and simply add a 1/8 tsp of apple cider vinegar.
Going full-fat with all the dairy products will render the creamiest and richest chunky blue cheese dressing ever, but you can substitute low-fat sour cream or even Greek yogurt, low-fat mayonnaise, and skimmed buttermilk if you're counting calories.
The Worcestershire sauce is one of the secret ingredients that make this the best chunky blue cheese dressing recipe. But it'd still be delicious without it.
You can also substitute Worcestershire sauce with soy sauce, a little miso paste mixed with water, or a mix of equal parts soy sauce, hoisin sauce, and apple cider vinegar. All these combinations will add the umami flavor we're looking for.
I love how quickly this recipe comes together using pantry staples. But if you have a little more time on your hands, I highly recommend substituting the garlic powder for a clove or two of freshly minced garlic. Of course, if you're a garlic lover.
If you want to make this recipe egg-free, try this fast and easy vegan mayonnaise recipe. We also have compiled a list of the best vegan mayo brands to buy.
With a little imagination and resourcefulness, you can make this recipe entirely vegan. Use vegan blue cheese, and vegan sour cream. Make vegan buttermilk by adding a splash of lemon juice to some unsweetened almond or soy milk. Of course, the dressing won't be as rich and decadent, but you can still achieve an amazing flavor.
What To Serve Chunky Blue Cheese Dressing With
With a fresh green salad. This dressing will elevate your salad experience to levels you'd only dreamed of. Seriously, it makes eating salads addicting. I think there's no better way to get your dose of leafy greens and vegetables than coating them with this rich blue cheese dressing.
As a dip for wings, fried chicken or barbecued meat. Chicken and blue cheese are a match made in heaven. Try this easy grilled boneless chicken thighs recipe with some homemade blue cheese dressing and you can thank me later. Try our parm chicken wings, firecracker chicken wings (the honey compliments the dressing), lemon pepper wings or our simple brined wings which all go great with this dressing.
On roasted vegetables or grains. I love drizzling a little blue cheese dressing over grilled or oven-roasted vegetables like these easy Mediterranean roasted veggies. You can also add a dollop on top of your favorite grains like rice, quinoa, buckwheat, or couscous.
With fish and seafood. Shrimp with cocktail sauce? How about shrimp with blue cheese sauce? Salmon is also deliciously complimented with this rich and chunky blue cheese dressing. Try some with this simple blackened salmon with spinach rice recipe and dinner is served.
As a dip for vegetables. Yay, another way to eat more veggies! Place a small bowl of dip in the center of a large plate and surround it with fresh-cut vegetables. Some good options are carrots, bell peppers, cucumbers, cauliflower, and zucchini.
Spread it on sandwiches and wraps. Upgrade your sandwich and wrap game by adding a layer of this all-time best chunky blue cheese dressing. Fill it with grilled meat, fish, veggies, lettuce, avocado, onions, and tomatoes for a quick and yummy lunch.
With baked potatoes or sweet potato fries. Instead of sour cream and cheese, add a spoonful of this rich and creamy blue cheese dressing to your hot baked potato. Absolute bliss. Or use it as a dip for sweet potato fries. I love the contrast between sweet and savory.
What Blue Cheese To Use For Homemade Chunky Blue Cheese Sauce
You may be wondering; what type of blue cheese should I use? Here is a list of all the blue cheese varieties that work in this recipe:
Maytag Blue – the most popular American blue cheese. It has a tangy and lemony bouquet and is perfect for dressings and salads.
Roquefort – the world's strongest blue cheese, originating from France (leave it to the French to bless us with stinky cheese). This one is for those who enjoy a pungent flavor. It's salty and intense with sharp and tangy notes.
Danish Blue – sharp and pungent, but not as strong as other blue cheese varieties. Ideal if you want to make a milder blue cheese dressing.
Stilton – the most popular natural rind blue cheese. This English cheese is rich, acidic, and creamy. Also great for salads, dressings, and dips.
Monte Enebro – a blue cheese variety from Spain that's made with goat's milk instead of cow's milk. It's pungent and tangy with acidic notes and a goat milk undertone.
Bleu d'Auvergne – another French cheese, but this one is milder on the palate. It's creamy, buttery, salty, and tangy, and so good on its own or in creamy blue cheese dressing.
Gorgonzola – the Italian equivalent of Roquefort. This cheese is strong and pungent, and a great choice for blue cheese lovers.
There are more varieties of blue cheese, such as Gorgonzola Dolce (a sweeter and milder version of Gorgonzola), but these sum up the most popular and suitable options.
How To Store Blue Cheese Dressing
This dressing cannot be frozen, but it'll last in the fridge for up to 7 days if you store it in an airtight container. I find that this recipe is just enough to last a whole week for 1 or 2 people. Double the recipe if you have a large family of blue cheese dressing fans and enjoy your magical creation any day of the week!
---
Recent Recipes