8 Best Vegan Mayo Brands to Buy
Mayonnaise is ubiquitous and serves as the base for many of the world's great sauces, salads, and sandwiches. For example, coleslaw, salad dressings (including ranch dressing), dips, and potato salad all rely on mayonnaise. Moreover, the newly popular and hip Chipotle aïoli contains mayonnaise. And can you even imagine a BLT without mayo? The question is, what is the best vegan mayo?
As the best-selling condiment in the U.S., mayonnaise isn't going anywhere. However, for vegans, there is one huge problem with mayonnaise: the eggs. Can you really make a tasty mayo without eggs? Yes, because the flavor from mayo comes mostly from salt, acid, and fat.
Egg yolks provide emulsifiers that play an important chemical role in mayonnaise. When these emulsifying agents are replaced with plant-based alternatives, you have excellent egg-free vegan mayo that you can enjoy in your favorite recipes and sandwiches.
Let's dive in and explore some of the best egg-free mayo on the market.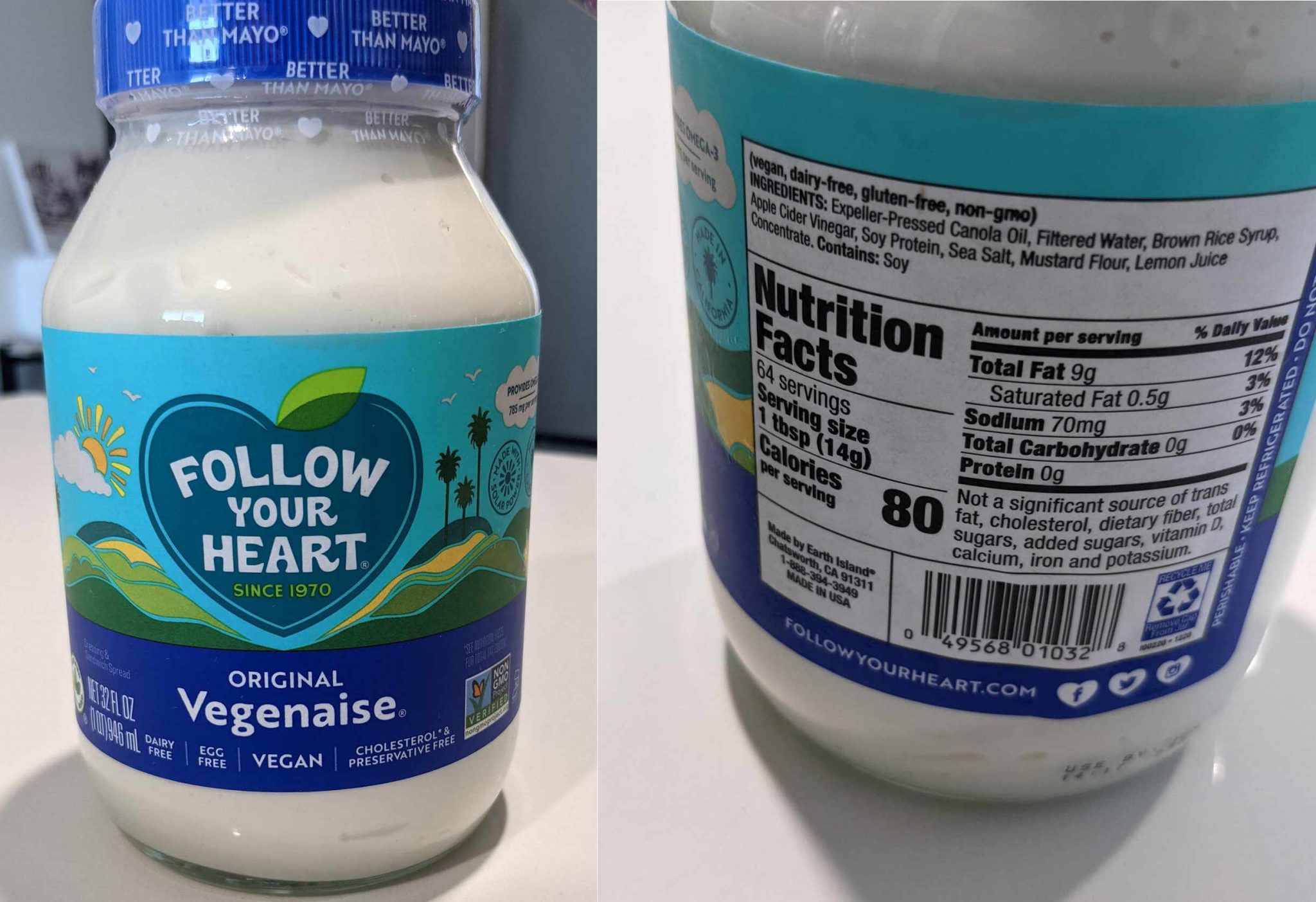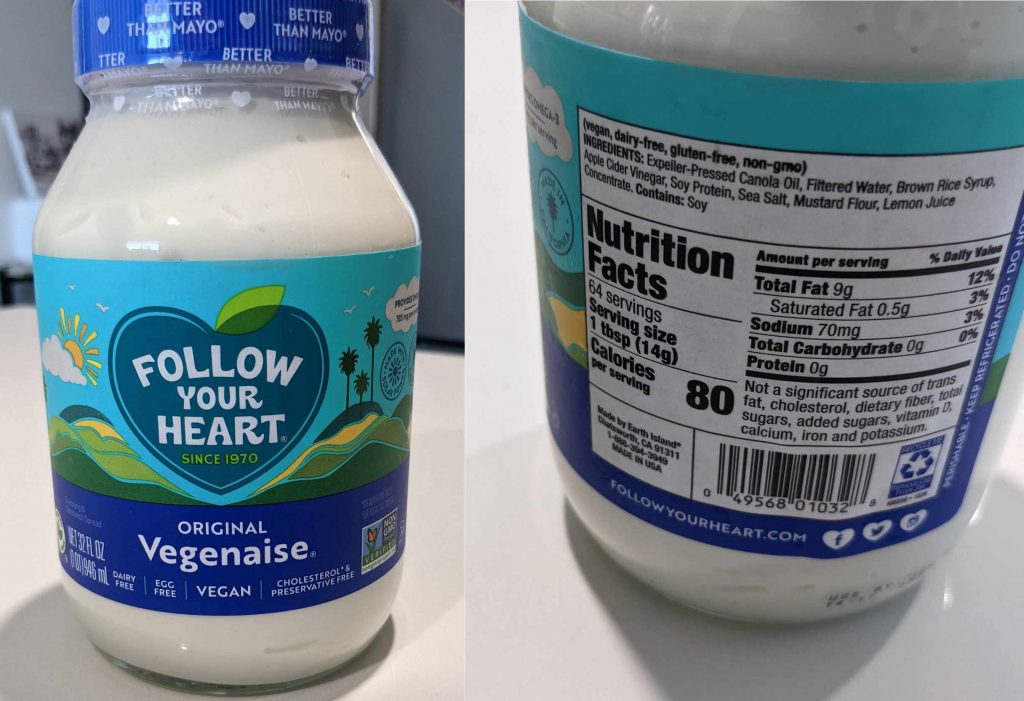 This is our number one pick, it's light, airy and delicious. In the Serious Eats taste test, Follow Your Heart's Vegenaise came in second, just behind Just Mayo. Vegenaise has a slightly sweeter flavor because it contains brown rice syrup. Also, the texture is thicker than Just Mayo. Respectfully, we disagree with Serious Eats and prefer Follow Your Heart's vegan mayo as the number one pick. So much so, that we use it over real mayo in many cases these days.
Some tasters said that Vegenaise is creamy. However, other tasters suggested that this vegan mayo is "stiff" when it is used in dip recipes.
Nevertheless, reviewers liked this mayo, calling it "light and clean" and especially well-suited to salad recipes.
This mayo is pretty easy to find in stores like Walmart, Amazon and many more at the time of writing.
Vegenaise is available in a dizzying array of flavors.
Original
Avocado Oil
Soy-Free
Grapeseed Oil
Reduced-Fat
Organic
Organic Garlic Aïoli
Chioptle
Pesto
Roasted Garlic
Sriracha
The plant that replaces the egg is a type of split pea, a Canadian yellow field pea to be exact according to Wikipedia.
Key ingredients:
Canola oil
Brown rice syrup
Apple cider vinegar
Soy protein
Sea sale
Mustard flour
Lemon juice concentrate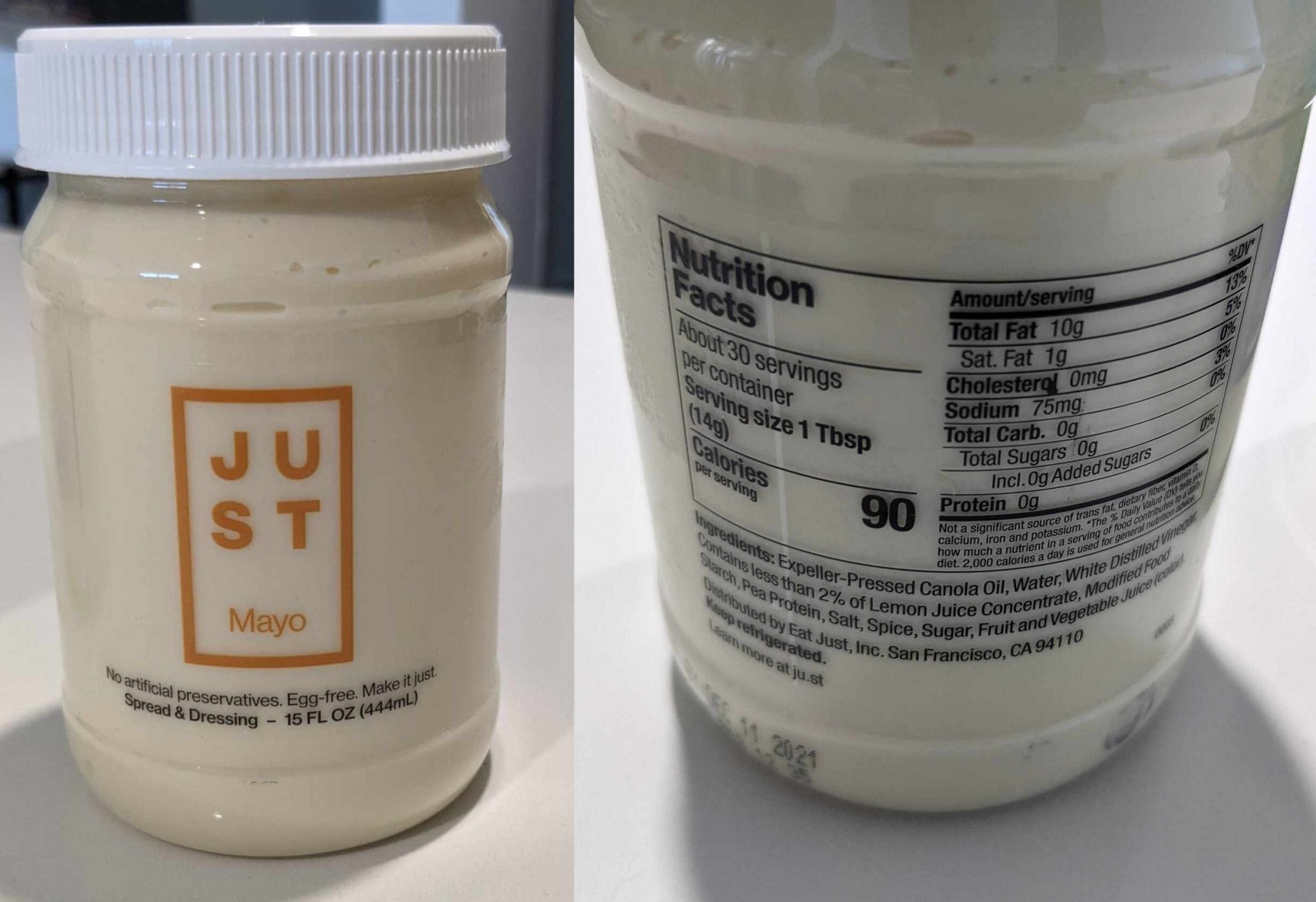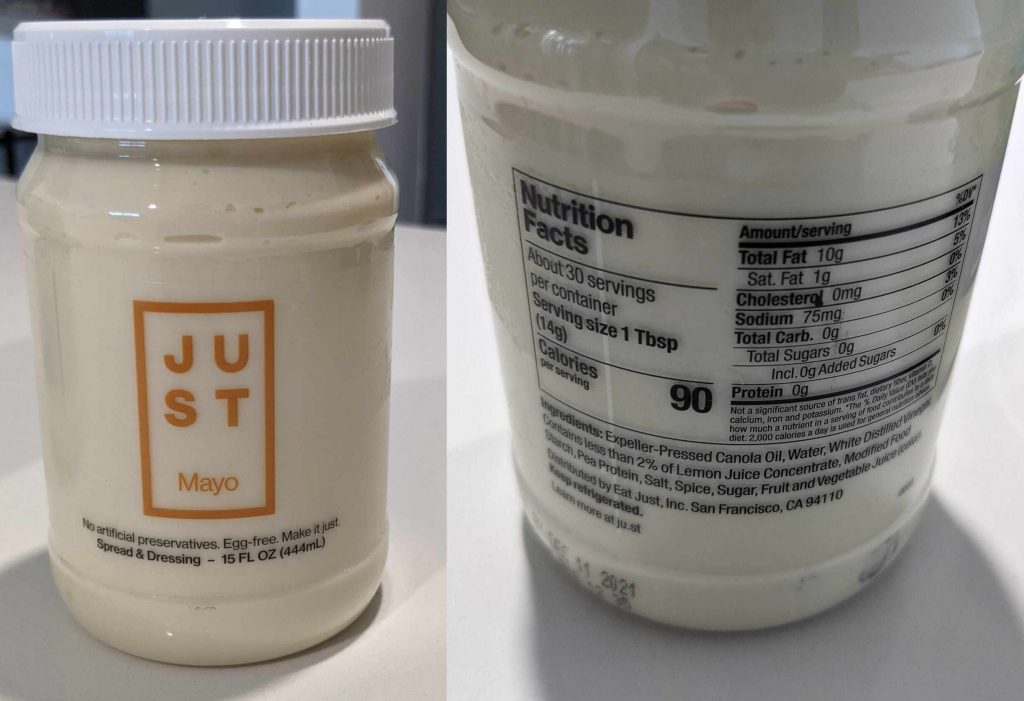 A Serious Eats food writer conducted a vegan mayo blind taste test and the team rated Hampton Creek's Just Mayo as tastier than traditional homemade mayo. The author said that what you should look for in the best vegan mayo is simple ingredients like lemon juice, salt, and vinegar.
Just Mayo was praised for its creamy texture, and tasters noted that it tastes like homemade mayonnaise. This vegan mayo has both lemon juice and vinegar, so the richness is nicely balanced.
This is much harder to find in stores than Follow Your Heart or Earth Balance due to a history of controversies over the labeling and it appears to be basically discontinued as of August 2021. However it tasted, so very good, so we wanted to mention it still purely in terms of taste.
Key ingredients:
Canola oil
Pea protein
Vinegar
Lemon juice concentrate
Fruit and vegetable juice for color
Notably, Just Mayo contains less than 2% sugar.
Earth Balance makes a very delicious vegan butter spread and there mayo does not let anyone down. This vegan mayo comes off as creamy, smooth and has a perfect hit of acidity. Just like the butter spread it tastes surprisingly like real mayo.
Earth Balance keeps it simple and doesn't have many flavors for their product lines. And that's not a bad thing. You can always whip in your own ingredients to any vegan mayo to add your own flavors which is part of the fun. And the utter lack of cholesterol is a big plus too.
Key ingredients:
Pea Protein
Canola Oil
Water
Brown Rice Syrup
Apple Cider Vinegar
Salt
Mustard Flour
Lemon Juice Concentrate
It is possible to find Earth Balance vegan mayo in most stores or online grocers which is essential if you plan on buying vegan mayo.
When you buy Sir Kensington's Vegan Mayo, you are getting mayonnaise that is starch-free and soy-free. Like Chosen Foods, this company uses aquafaba to make their signature product.
You can choose between four different varieties of Sir Kensington's Vegan Mayo.
Classic Vegan Mayo
Chipotle Vegan Mayo
Special Sauce Vegan Mayo
Avocado Oil Vegan Mayo
Key ingredients:
Sunflower oil
Organic aquafaba
Organic lemon juice
Fair Trade organic coconut sugar
Sale
Distilled vinegar
Rosemary extract
Black pepper
Mustard extract
Lemon oil
Natural flavorings
Reviews on Amazon for Sir Kensington's Vegan Mayo are overall good for all four varieties. However, on the official Sir Kensington's website, the Avocado Oil Mayonnaise is the hands-down winner with reviewers.
Primal Kitchen prides itself on its commitment to real-food dressings, condiments, sauces, and pantry staples. After losing his vitality as an elite endurance athlete eating an inflammatory diet, the company's founder, Mark Sisson, spent three decades researching the effect food has on the body.
With all Primal Kitchen products, you can expect high-quality unprocessed food with no added sugars, artificial flavors and ingredients, partially hydrogenated or trans fat, soybean, or canola oil.
The companys' Vegan Mayo comes in three flavors:
Traditional flavored mayo
Rosemary Garlic
Jalapeño‌ Lime
Key ingredients:
Avocado oil
Organic vinegar derived from non-grain sources
Potato protein blend
Mustard oil
Various natural flavoring
When it comes to mayonnaise, no discussion would be complete without mentioning Hellmann's brand. The company has been in business since 1913, and Hellmann's Blue Ribbon Mayonnaise was born in New York City in 1920.
Many foodies consider Hellmann's mayonnaise to be the O.G. (original gangster) of mayo. Therefore, it seems only natural that the company stays in touch with mayo lovers who have made the decision to live a cruelty-free lifestyle.
Key ingredients:
Sunflower oil
Modified potato and corn starch
Distilled vinegar
Lemon juice concentrate
Paprika
Hellmann's vegan certified mayo contains less than 2% of both sugar and salt. All of the ingredients are non-GMO sourced. On Amazon, a whopping 76% of reviewers rated this mayo at 5-stars.
The avocado oil used to make Chosen Foods Vegan Avocado Oil Mayo is naturally extracted, and no chemicals are used in the process. Like most other vegan mayo, this one is non-GMO. Notably, this mayo is also soy-free.
Interestingly, this product uses aquafaba, which is affectionally called "magic bean water." Aquafaba is the naturally viscous water that is left after you soak garbanzo beans.
Chosen Foods uses rosemary extract as a preservative, and this mayo has just a hint of sweetness because it contains organic sugar.
Key ingredients:
Avocado oil
Organic chickpea broth
Distilled vinegar
Organic sugar
Faba bean protein power
Salt
Rosemary extract
Mustard flower
This vegan mayo isn't as popular with online reviewers as some of the other options.
When you choose O'dang Foods Egg-Free Mayo, you have unique flavor options. In addition to original flavored mayonnaise, you can also try these three flavors.
Cucumber Dill
Roasted Red Pepper
Lemon Garlic
All of O'dang's products are made with zero carbs, no trans fats, and they're non-GMO.
Key ingredients:
Sunflower oil
Chickpea broth
White vinegar
Salt
Cane sugar
Rosemary extract
Lemon juice powder
Various spices (depending on different varieties)
The cane sugar in O'dang mayos gives it a slightly sweet taste that lends itself well to salads.
Which vegan mayo will you use?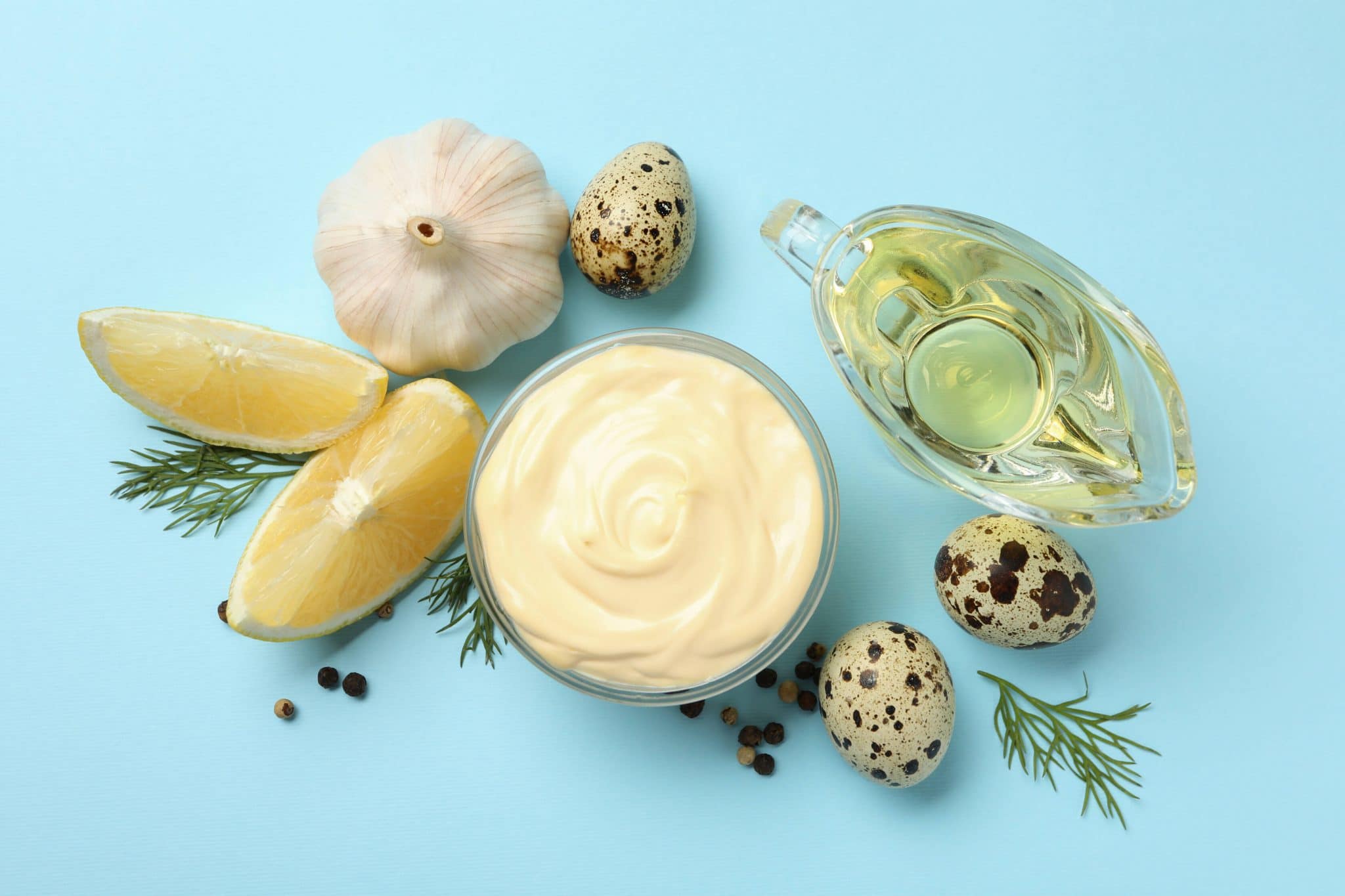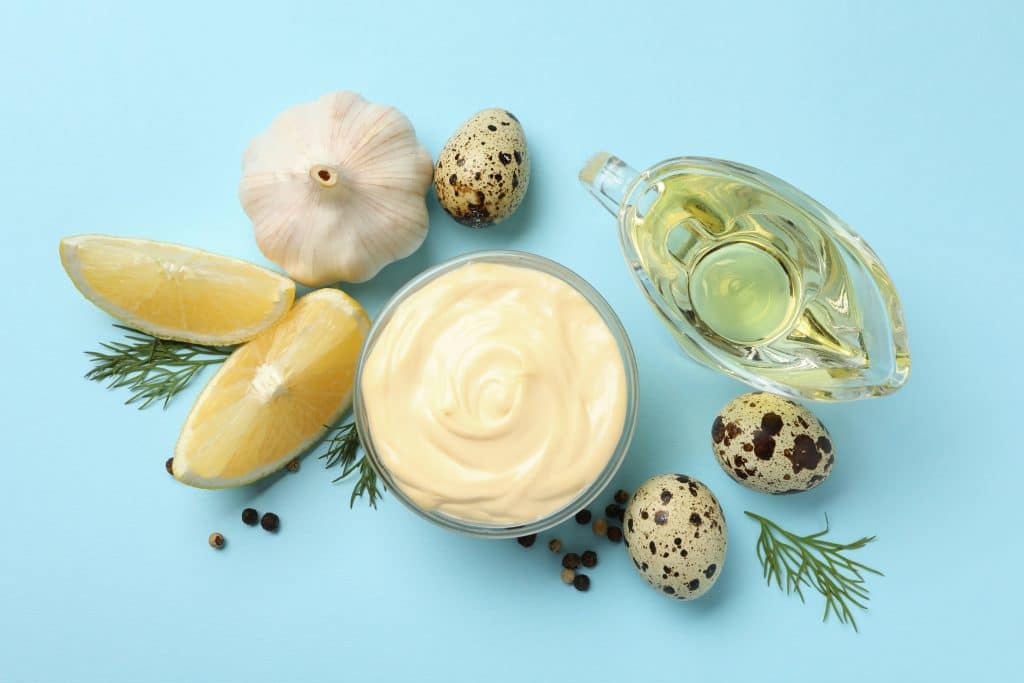 In its classic form, mayonnaise is made from vegetable oil, egg yolks, and just enough mustard, vinegar (or lemon juice), and salt. In other words, mayonnaise provides three of the things that make food delicious: salt, fat, and acidity. Look at our recipe here if you want to make your own, it was inspired by Follow Your Heart's ingredients.
With so many excellent vegan options, there's no need to forego the simple pleasure of mayonnaise. Thankfully, there are plenty of great vegan mayo options out there.
---
Recent Recipes