Best Golden Garlic Parmesan Chicken Wings
There is nothing better for a snack or appetizer than crispy chicken wings in my book. I thought I had tried every wing recipe possible in my oven, my air fryer, my grill, and even deep-fried. I use my nieces and nephews as my guinea pigs for my wing experiments. They have a lot of opinions on the subject.
I decided to try to see if I could add cheese to the wings before cooking them to see if they could still remain crispy. I have always added the cheese to the cooked wings while still warm or served the cheese in a dipping sauce on the side. What I learned is cheese does not hold up well while baking the wings. But I did find that nutritional yeast does work and adds an extra cheesy flavor. The same is true for fresh garlic. Garlic will burn while cooking and taste bitter. Garlic powder does work.
So, it is best to coat the wings in baking powder and other dried ingredients before baking. After the wings are cooked, you can coat them in a warm buttery and garlicky glaze and then top them with fresh cheese and minced parsley that will stick to the glaze.
I still ascribe to the two-step cooking method in the oven, starting with low heat and then finishing with higher heat. I also am an avid believer that baking powder is the best ingredient for getting really crisp skin on the wings.
To make garlic parmesan chicken wings, you will need the wings of course, baking powder, garlic powder, nutritional yeast, salt, and pepper. When the wings are almost finished baking, you can prepare a butter sauce with minced garlic. You can also grate fresh parmesan cheese and mince flat-leaf parsley.
If the wings are whole, slice off the tips and freeze those to use later to make a tasty chicken broth. Cut the wings at the joint to separate them into wingette and drumette portions.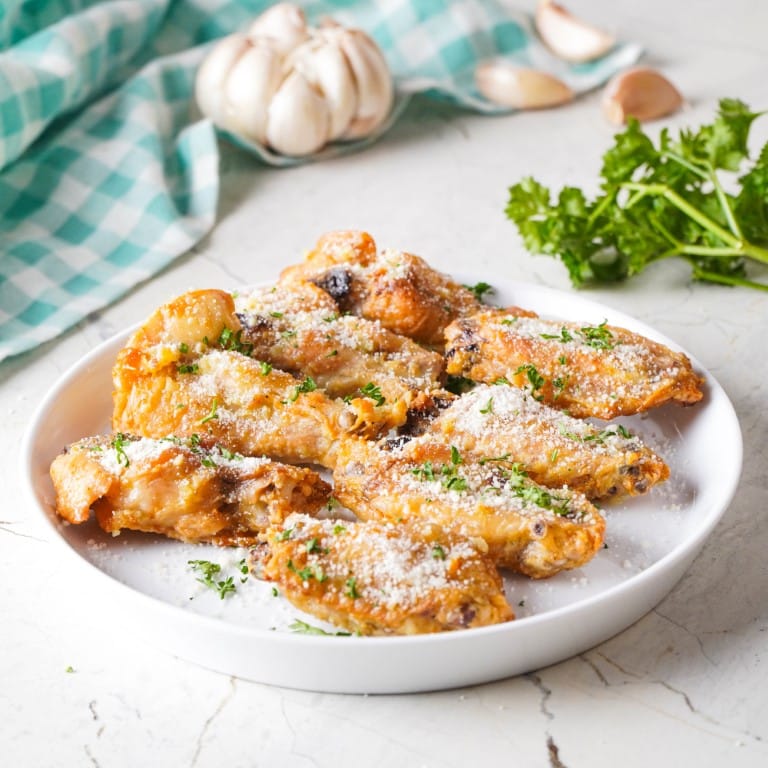 Ingredients
Wings
2

pounds

of chicken wings

tips removed and cut into wingettes and drumettes

1

Tbsp

aluminum-free baking powder

1 ½

tsp

nutritional yeast

½

tsp

garlic powder

½

tsp

sea salt

¼

tsp

freshly ground pepper

Non-stick cooking oil spray
Glaze
¼

cup

4 Tbsp melted butter

4

cloves

of garlic

finely minced
Toppings
4

Tbsp

grated parmesan cheese

2

Tbsp

minced flat-leaf parsley
Instructions
All ingredients ready? Let's begin!
Wings
Place one oven rack in the lower center slot and another in the slot above. Preheat the oven to 250°F. Line one or two rimmed baking sheets with aluminum foil. Place a wire rack insert inside the pan(s). Lightly coat the racks with cooking oil spray.

Pat the chicken wing pieces dry with paper towels to remove any excess moisture. Place them in a mixing bowl.

Add the baking powder, nutritional yeast, garlic powder, salt, and pepper to the wings and toss to coat completely.

Place the wing portions on the wire rack in the lined sheet pan, leaving a little space between each. Put the pan in the oven on the center rack and bake for 30 minutes.

Move the sheet pan to the upper rack and turn the oven temperature up to 425°F. Bake the wings for another 20 minutes. Flip them over and continue to bake until they are golden brown and crispy, approximately 25 additional minutes. The internal temperature should read 165°F when checked with a digital meat thermometer.

Remove the wings from the oven and season lightly with salt. Brush the glaze on the hot wings.
Glaze
Just before the wings come out of the oven make the glaze. In a small saucepot over medium heat, melt the butter with the minced garlic until the garlic is fragrant, about 1 minute.

Spoon or brush the warm glaze over the hot wings and transfer to a platter.
Toppings
Scatter the cheese and parsley over the dressed wings and serve immediately while warm and crispy.
Nutrition
Calories:
406
kcal
|
Carbohydrates:
3
g
|
Protein:
25
g
|
Fat:
33
g
|
Saturated Fat:
14
g
|
Polyunsaturated Fat:
5
g
|
Monounsaturated Fat:
11
g
|
Trans Fat:
1
g
|
Cholesterol:
129
mg
|
Sodium:
797
mg
|
Potassium:
248
mg
|
Fiber:
0.4
g
|
Sugar:
0.1
g
|
Vitamin A:
747
IU
|
Vitamin C:
4
mg
|
Calcium:
292
mg
|
Iron:
2
mg
Notes & Tips
When you buy chicken wings, they often come whole. Remove the wing tips and freeze them in a resealable plastic baggie to make a delicious chicken broth later. Then, slice the remaining wings into drumettes and wingettes.
Aluminum-free baking powder is definitely a healthier option than traditional baking powder. We don't need any more metals in our diet. I have to mention that you can't substitute baking soda for baking powder. I get asked that question a lot.
Substitutions & Additions
Nutritional Yeast: I generally eat a few vegan meals per week, mostly to keep my diet a bit more alkaline than acidic. When I do, I use nutritional yeast as my "cheese". It is similar to brewer's yeast. It has a naturally nutty and cheesy flavor. It is also full of B-complex vitamins. It is great sprinkled on popcorn. If you don't feel like purchasing a jar of this, then just leave it out of the recipe.
More Spices: I sometimes like to jazz up my cheesy wings with dried oregano and some paprika. The oregano is a really nice savory addition when paired with parmesan cheese. Paprika is a little sweet and gives the wings a nice hint of color. Add both of these to the dry seasoning that goes on the wings before you bake them.
Cheese: Parmesan is terrific on crispy wings and pairs well with garlic. You really could use any very dry and hard cheese. I like to mix this recipe up with pecorino Romano, asiago, cotija, or raw Manchego.
Fresh Herbs: My garden has parsley, basil, oregano, and thyme. Thyme is one of my favorite herbs for flavoring dishes and adding to salad dressings. Thyme or oregano are both good options for finishing off the garlic parmesan wings.
---
Recent Recipes