Simple Blueberry Lavender Chia Jam
Blueberries are perennials (the same bush produces blueberries every year at the same time) and can be found in almost every country in the world. However, the United States and Canada are the top two producers. Each year the United States alone produces approximately 240,000 tons of blueberries. That's a lot of blueberry jam!
What makes Blueberry Lavender Chia Jam interesting?
The blueberries are classified as a super food. They are filled with nutrients that can help the body stay healthy and possibly act as a natural medicine and fight off some diseases.
Blueberries are a very versatile fruit. The blueberries can be used in numerous recipes, from pies, jams to meat glazes and more.
The blueberries make for a vibrant jam and work well with lavender and chia.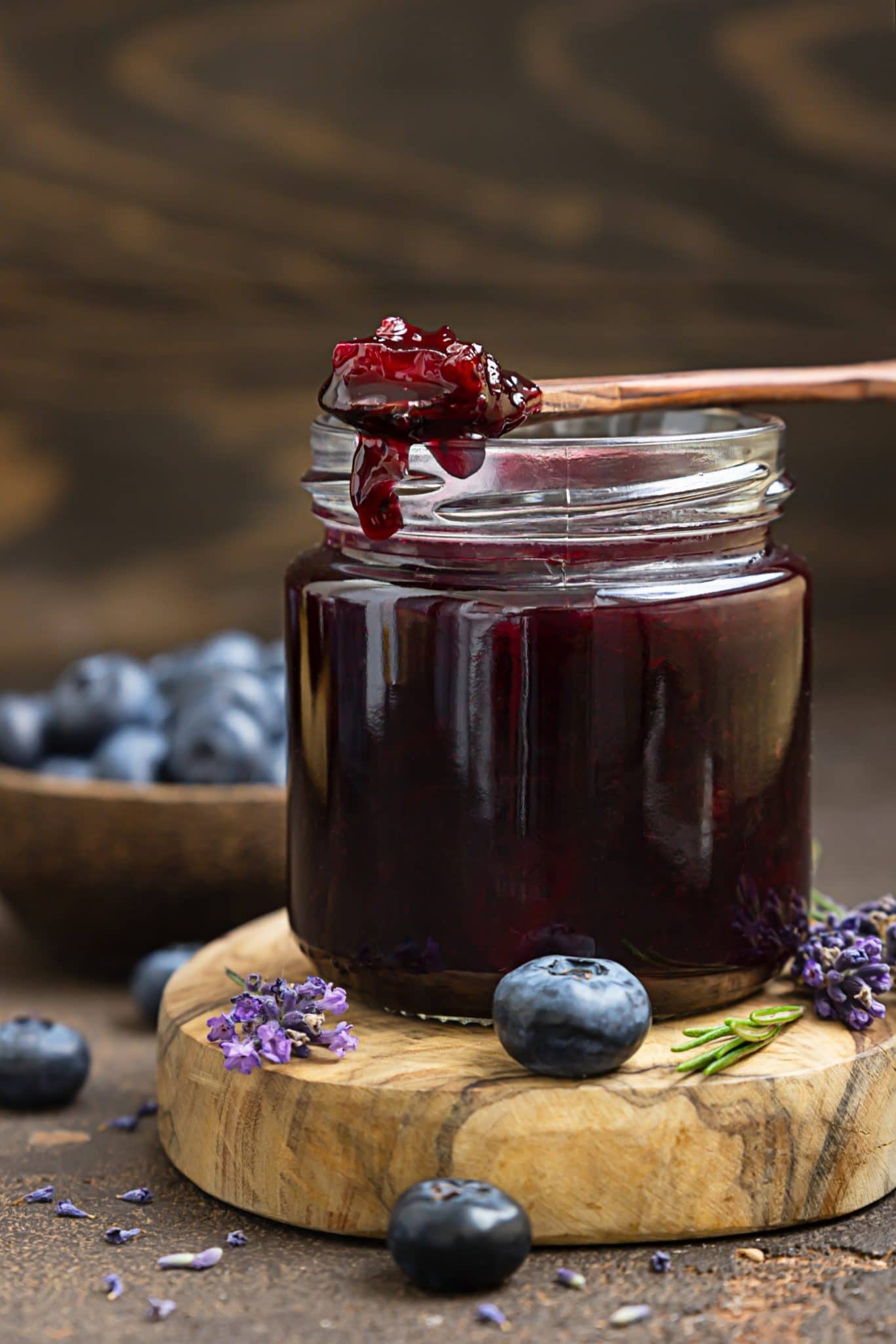 Equipment
Strainer

Dutch pan or heavy bottom pan

Blender

Large spoon for stirring

Spatula

Glass jar
Ingredients
4

cups

blueberries

1/2

cup

honey

1/4

cup

chia seeds

1/4

cup

mango juice

2

tablespoons

lavender
Instructions
Clean the blueberries, remove any stems.

Get all your ingredients and equipment ready.

Measure out a cup of blueberries (assuming they are fresh), place them in a strainer, and rinse thoroughly with lukewarm water to remove any pesticides or other debris. Do this a total of four times, so you have four clean cups of blueberries.

Place all the ingredients in the pan and cook over medium-high heat. Once the blueberries start to burst, turn the heat down to medium. You must stay with the pan and watch to make sure they do not begin to burn and stir constantly. Do not place a lid over the pan. It's highly unlikely the blueberries will splatter out of the pan when they burst. However, they will burn quickly if covered.

Once, all the berries have broken down. It takes about 8 to 10 minutes to remove the pan from the stove and stir the berries.

Let the berries cool for a few minutes (up to 5 minutes)

Pour the berry mixture into the blender and blend until smooth, about 5 minutes. Do not blend any longer. You do not want creamy jam.

Pour the jam into the glass jar. Use the spatula to help remove the mixture from the sides of the blender.

Let the jam cool before covering it with the lid.
Notes
The jam will seem thin. That's okay. It will thicken as it cools down.
This makes 2 cups of blueberry lavender chia jam.
Nutrition
Calories:
1106
kcal
|
Carbohydrates:
255
g
|
Protein:
12
g
|
Fat:
15
g
|
Saturated Fat:
2
g
|
Polyunsaturated Fat:
11
g
|
Monounsaturated Fat:
1
g
|
Trans Fat:
1
g
|
Sodium:
23
mg
|
Potassium:
732
mg
|
Fiber:
29
g
|
Sugar:
206
g
|
Vitamin A:
867
IU
|
Vitamin C:
72
mg
|
Calcium:
391
mg
|
Iron:
6
mg
Substitutions
The lavender can be substituted with jasmine, rose, or hyacinth. The added florals enhance the flavor. You also have the option to omit the florals.
The mango juice can be substituted with apple juice, lemon juice, or orange juice.
The Chia seeds can be substituted with pectin or sugar. If you're looking for an all-natural sugar-free blueberry jam, then use the pectin.
If you do not have a Dutch oven pan, you can use any heavy bottom pan.
Success Tips
Never use a pan without a heavy bottom or the berries with scorch almost instantly.
Unfortunately, you cannot can this jam, but you can make an extra jar by doubling the recipe.
Don't mash the blueberries before adding them to the pan, as you can do with other berries. Blueberries have a harder outer coating, and they will not blend in with the jam if mashed. You will have a chunky jam.
Why You Can't Can Blueberry Lavender Chia Jam
It's crucial to understand that not all foods can be canned in a boiling water canner or a pressure canner. Jams made with chia seeds are a great example.
Chia seeds thicken the liquid naturally. Because it doesn't require sugar to set, unlike other commercial pectin, it's an excellent way to make a low-sugar jam with a thick texture.
C. Botulinum, which may create the fatal botulism toxin, cannot grow in the presence of acid. Because most fruits are inherently acidic, they are safe to can on their own or as a jam. However, because chia is a low-acid food, adding it raises the pH level, potentially causing dangerous situations.
Chia is an ambiguous ingredient. When added, the water in the fruit turns the seed into gelatin, causing it to absorb water and increase consistency while lowering the acidity level. However, there is inadequate information on how dense the jam develops, the amount of water activity, and the acidity level. As a result, it is not safe to can chia seeds in the home using any method.
Great Ways to Enjoy Your Jam
Blueberry Lavender Chia Jam Smoothie – 1 cup yogurt, ½ cup fresh blueberries, and a tablespoon of milk – blend until creamy.
Make a glaze for chicken or pork, or add a few tablespoons to your BBQ for ribs. It gives it a nice touch of sweetness but is not too overpowering.
Waffle topping with a bit of whipped cream and a few fresh blueberries on top.
Jam cookies
Make a layered cake and spread a layer of jam on top of each layer, then frost.
Add two tablespoons to a vanilla-based protein shake.
Dessert tarts
Crepe filling and homemade donut filling
Extra Jam Information You Need to Know
1. You can keep your jam in the refrigerator for two to three months. Give it the sniff test after two months to make sure it smells good. Chia seeds are a preservative, so your jam may last a little longer.
2. This jam is excellent for people on a low calorie or low carb diet because there is no artificial sugar. Instead, all the sugar comes from the blueberries, making it natural, which is burned quicker in the body.
Blueberry lavender chia jam is not only delicious. It is healthy and can be used in several other recipes. What will you enjoy it with? I like a good croissant.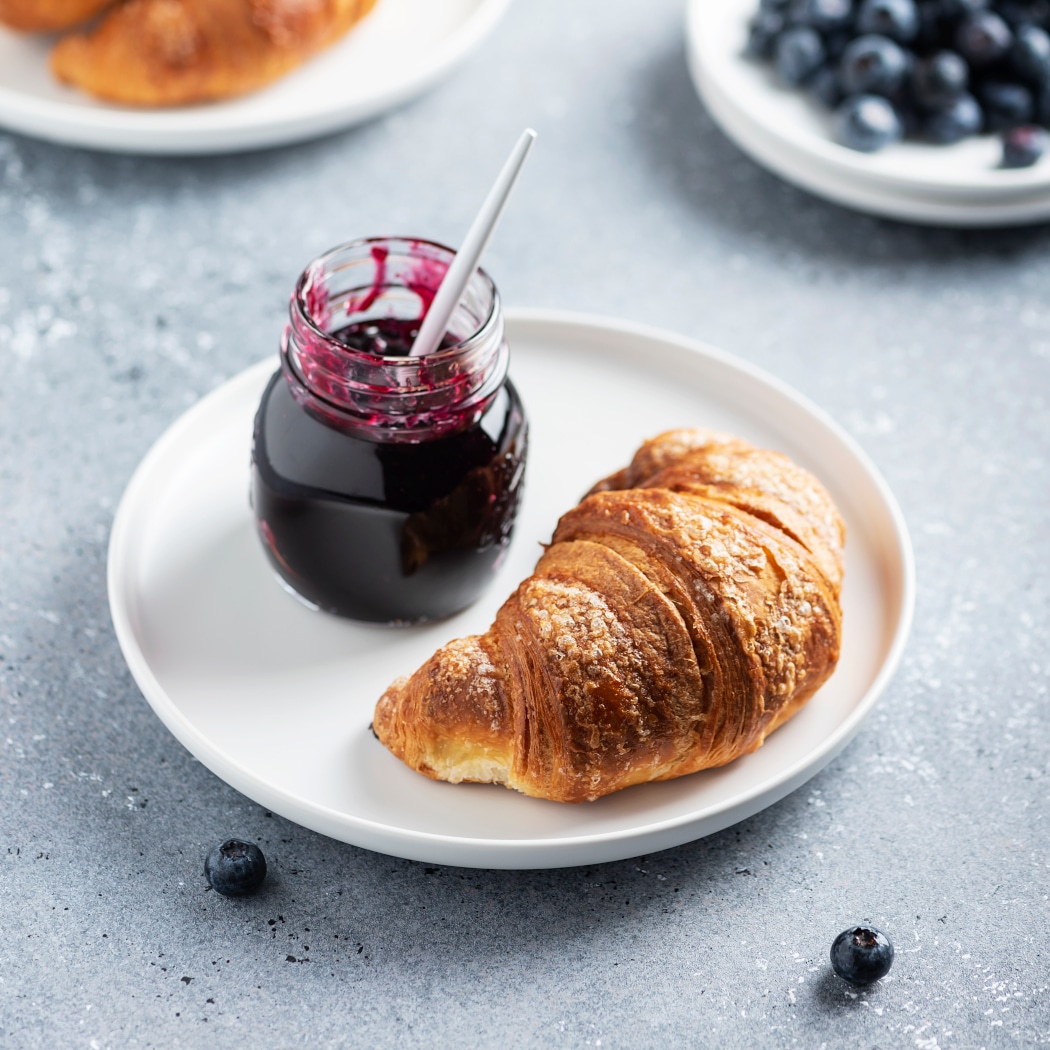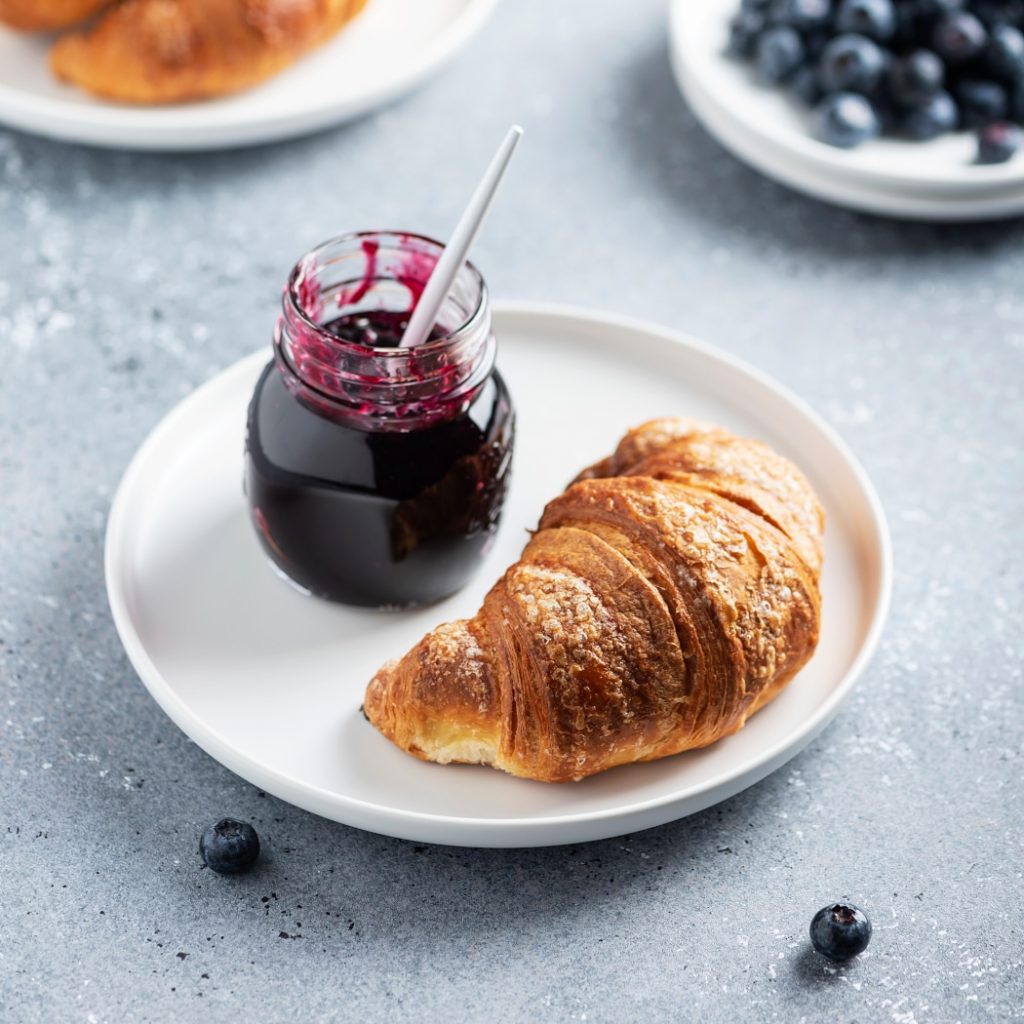 ---
Recent Recipes