Best Balsamic Glazed Steak Rolls
Steak is one of those things that a lot of people are afraid to try making because it has such a reputation. Steak can cost a lot of money in high-end restaurants and people often have very particular opinions on how they like their steaks cooked. When cooking it at home there are a lot of factors that can make it a little nerve-wracking. The cut of meat needs to be good and it has to be cooked just so with the right seasonings. If I'm totally honest, I only remember having one delicious steak in my life.
So, here's a good solution! Instead of making a whole T-bone steak, you can make these amazing, melt in your mouth balsamic glazed steak rolls. They include veggies wrapped up in them, so you get a whole meal. The moisture from the vegetables helps stop the steak from drying out and adds extra flavor. The thinly cut steak cooks really quickly too, so you don't have to sit around for 30 minutes trying to evenly cook a thick slab of meat.
The balsamic glaze for these rolls is one of the most amazing things I've ever put in my mouth. I love balsamic vinegar in anything and it certainly doesn't disappoint in this sweet, tangy steak sauce. Yum!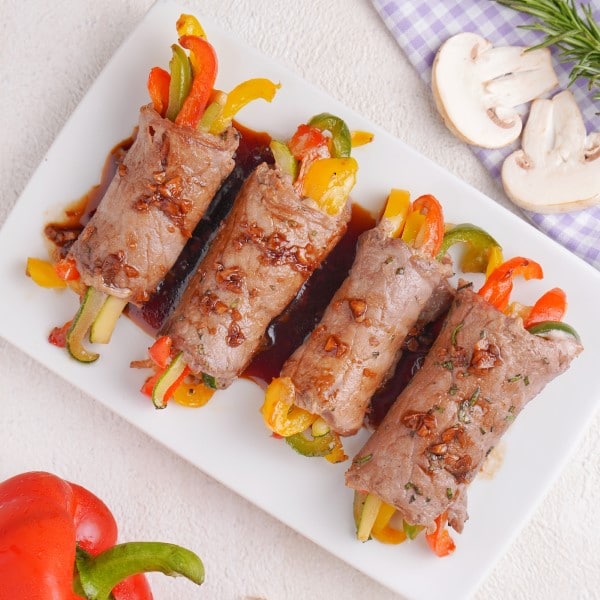 Ingredients
1

red bell pepper

1

green bell pepper

1

yellow bell pepper

1

onion

1

zucchini

1

cup

button mushrooms

3

tbsp

olive oil

8

pieces

sirloin steak

thinly sliced

Salt

Pepper

1

tbsp

fresh rosemary

3

garlic cloves

¼

cup

balsamic vinegar

2

tbsp

red wine

3

tbsps

brown sugar

2

stems fresh rosemary

¼

cup

beef broth
Instructions
All ingredients ready? Let's begin!

Destem and deseed all the bell peppers then cut them into thin slices. Peel and thinly slice the onion then cut the rings in half. Thinly slice the zucchini. Thinly slice all the mushrooms.

Finely chop the rosemary.

Drizzle about 1 tbsp of olive oil over both sides of each thinly cut steak. Rub each side of all the steaks with the chopped rosemary, a pinch of salt, and a sprinkle of pepper. Make sure to really massage the spices in.

To make the sauce, heat 1 tbsp of oil in a saucepan over medium heat.

Mince the garlic and add to the hot oil. Cook for a minute while stirring.

Add to the saucepan the vinegar, red wine, brown sugar, a pinch of salt, a dollop of pepper, and the rosemary springs. Turn the heat to high and bring to a boil.

Once it reached a boil, turn the heat to medium-low and simmer for 6 minutes.

Turn the heat back to high and add the beef broth. Bring up to a boil then reduce the heat again to low.

Allow to simmer for at least 15 minutes.

Heat 1 tbsp of oil in a new pan over medium heat. Add the bell peppers and onion into the pan and cook for 2 minutes or until the onions begin to soften.

Add the zucchini and mushrooms to the pan and sprinkle with salt and pepper. Cook for another 5 or so minutes until the mushrooms begin to brown.

Place each steak flat on a surface and divide the vegetable evenly among them. Arrange the veggies on one side of the steak with the edges sticking off.

Roll up the steak with the veggies inside like a little blanket. The veggies should still be protruding out either end of the steak.

Heat a cast iron skillet over medium heat and put a little oil in to prevent sticking.

Place the steak rolls seam side down in the skillet. Cook for 2 minutes on each side, but don't overcook. It shouldn't take too long because the meat is quite thin.

Remove the rosemary springs from the sauce.

Plate the steak rolls and generously cover in the balsamic sauce before serving. Enjoy!
Video
Nutrition
Calories:
101
kcal
|
Carbohydrates:
11
g
|
Protein:
2
g
|
Fat:
6
g
|
Saturated Fat:
1
g
|
Polyunsaturated Fat:
1
g
|
Monounsaturated Fat:
4
g
|
Cholesterol:
1
mg
|
Sodium:
37
mg
|
Potassium:
245
mg
|
Fiber:
1
g
|
Sugar:
8
g
|
Vitamin A:
608
IU
|
Vitamin C:
64
mg
|
Calcium:
21
mg
|
Iron:
1
mg
Notes & Tips:
If you have leftovers, you can store them in an airtight container in the fridge for 5 days. I recommend storing the sauce separately in the fridge. If the steak is stored in the sauce, it will soak it and the flavor could become overpowering.
To help prevent the steak rolls from falling apart, you can stab them with a toothpick or tie some cooking twine around them. Make sure to remove either one before serving.
Even though these steak rolls are stuffed with yummy veggies, if you're searching for a side to pair with them, why not try some easy, cooked asparagus?
Substitutions
Fresh rosemary is the best option for this recipe, but if you don't have any, you can use dried rosemary instead.
Button mushrooms are used for this recipe because they are easy to find and have a fairly neutral flavor that goes with most things. That being said, you can also use different mushrooms like cremini (basically a brown version of button mushrooms), portobello, or another mild flavored mushroom.
If you don't drink wine for any reason, you can still make this recipe work for you. Try using red wine vinegar instead, or simply use more of the balsamic vinegar. It will taste a little different, but it should not be too noticeable.
What Kind of Red Wine Should be Used?
Cabernet goes really well with steak. If you get a mid-shelf bottle, you can use some for your sauce and the rest to serve alongside your dinner. Cabernet is also a popular and versatile wine, so it's a good one to go with if you aren't sure of your tastes. Zinfandel is also a good cooking and drinking wine.
Of course, since you'll be using the wine for cooking, the specific type is not super important. I usually go for the cheapest red wine and save the rest for cooking something else later.
---
Recent Recipes