Super Easy & Creamy Beet Puree
Before the pandemic and crazy lockdown that separated me from the people I love most, I hosted Thanksgiving dinner at my home for some of my extended family. My kitchen is small, so I decided we would utilize the outdoor grill for our main proteins and figure out how to share the oven, as some were bringing sides that needed to be assembled and baked.
My nephew asked if he could bring a friend who was stuck working over the weekend and couldn't travel to visit his family. Well, we hit the jackpot with that guest request. This young man was a chef in training at Gotham Grille in NYC and offered to make a side dish and to grill the proteins. This was going to be fun.
He decided to make a beet side dish and asked if everyone was okay with beets. I LOVE beets. Some of my family members are not fans at all. But I said sure. This young chef arrived with beets and heirloom baby carrots of all colors. He also had a fig paste and mini bags of exotic seasonings. I was very curious. It took him a long time to make the dish, which made it even more of a curiosity. He roasted the beets and blended them into a smooth puree with the fig paste and middle eastern herbs and spices. He pan-seared the whole baby carrots and more colorful beets in butter and balsamic vinegar. The root vegetables were served over the beet puree and even my non-beet-loving family members ate this dish up. It was sweet and beautiful to look at on my white dinner plates.
After that dinner, I always said I would one day make a beet puree. Well, it took me a couple of years, but I did just that this week. I didn't want to spend all day in the kitchen the way our young chef did, so I took some shortcuts and I do not regret that decision one bit. Beet puree can be made with precooked beets. I am sure we have all seen them in the produce aisle in small cardboard packages and vacuum sealed in plastic pouches and they are a game changer for saving time.
Beets are naturally sweet, so I don't include any other sweet components. My beet puree is slightly more savory than our Thanksgiving one. It is perfect as a base for smokey-grilled proteins, whole grains, and other bold vegetables. Beet puree can also be used as a delicious dip for chilled raw vegetables. It can also be mixed into hummus or yogurt. My favorite way to enjoy beet puree is to top off a grain bowl that has vegetables and grilled chicken or tofu. The vibrant color and bright flavor are show-stoppers with this puree.
The deep red and golden colors of beets scream beta-carotene that provides vitamin A and folate for healthy skin, bones, and eyes. Beets are reported to be beneficial for those with high blood pressure. If you are eating the rainbow, include beets in your meal planning.
This beet puree recipe is so easy. The ingredients include beets, lemon juice, olive oil, and seasonings. You just need a good blender to make the puree. And, the puree is gluten-free and vegan.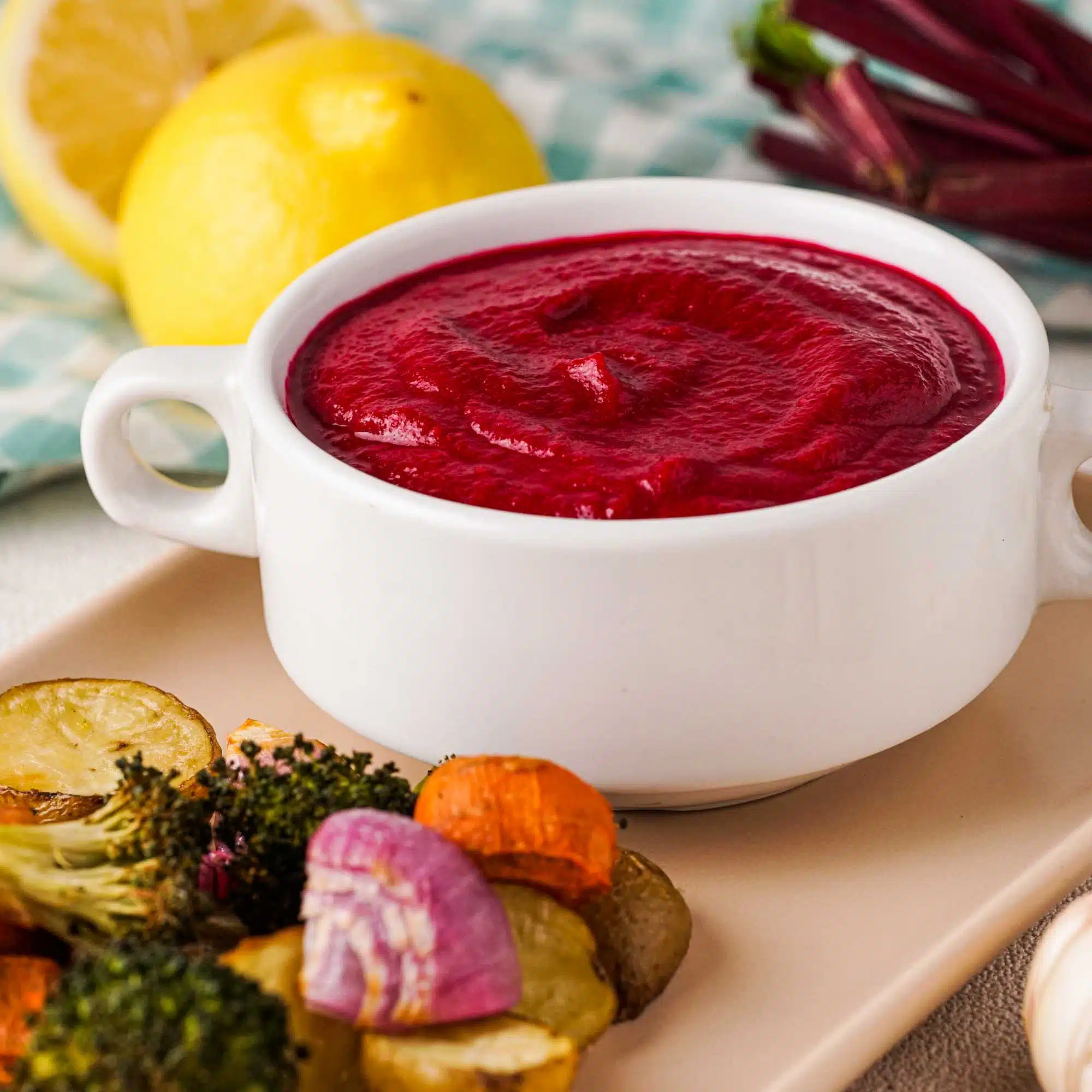 Ingredients
1

small package of precooked beets

approximately 6 beets

1

Small garlic clove

peeled

2

Tbsp

of good extra virgin olive oil

2

Tbsp

freshly squeezed lemon juice

1

tsp

za'atar seasoning

½

tsp

sea salt

¼

tsp

ground cumin

1 to 2

tsp

of water

if needed to thin the puree
Instructions
All ingredients ready? Let's begin!

Place the beets, garlic, olive oil, lemon juice, za'atar, salt, and cumin in a blender.

Puree the ingredients until smooth and creamy. If the puree is too thick, thin it with a little water, adding 1 teaspoon at a time.

Serve the puree as a bed for roasted vegetables or spooned over the top of a grain bowl. Otherwise, store it in a sealed container in the refrigerator for a few days.
Nutrition
Calories:
49
kcal
|
Carbohydrates:
2
g
|
Protein:
0.3
g
|
Fat:
5
g
|
Saturated Fat:
1
g
|
Polyunsaturated Fat:
1
g
|
Monounsaturated Fat:
3
g
|
Sodium:
204
mg
|
Potassium:
51
mg
|
Fiber:
0.4
g
|
Sugar:
1
g
|
Vitamin A:
12
IU
|
Vitamin C:
3
mg
|
Calcium:
7
mg
|
Iron:
0.4
mg
Notes & Tips
When shopping for cooked beets, be sure to read the label carefully. Some are plain, which is what you want. Others are infused with balsamic vinegar or garlic. Some are pickled. I actually like the plain, preservative-free beets that Trader Joe's carries.
I highly recommend using a high-quality organic extra virgin olive oil for the best results. A blended oil isn't ideal. I am spoiled because I have a sibling who brings me a very small bottle of Spanish olive oil that is organic and sold as a "finishing oil" when she visits on weekends. That term means that it is best enjoyed raw as a drizzle on salads and many other dishes right before they hit the table. To be sure, this ingredient is expensive, so I use it very sparingly and it lasts a long time. You can pick up a bottle of good olive at any market. Just make sure it is 100% olive oil and is contained in a dark glass bottle or a can so exposure to sunlight doesn't spoil it.
Substitutions & Additions
Precooked Beets: You can for sure make this dish from scratch with whole fresh beets. All you have to do is coat the whole beets with olive oil, wrap them in foil, and roast them at 400°F for an hour or more until tender when pierced with a sharp knife. Peel them and roughly chop them before adding them to the blender. In fact, for a colorful spin, golden beets are a great alternative when working with raw beets. I have never seen precooked golden or rainbow beets.
Garlic: Rather than using a clove of raw garlic, I opted for garlic-infused extra virgin olive oil. I make my own by adding a couple of crushed garlic cloves to a small bottle of extra virgin olive oil. If you are on a low-FODMAP, this works as a garlic substitute.
Lemon Juice: Feel free to substitute lime juice or balsamic vinegar for the fresh lemon juice.
Za'atar Seasoning: Za'atar is a middle eastern spice blend that includes toasted sesame seeds, sumac, oregano, and thyme. It is nutty, a little citrusy, and herby. If you can't find za'atar, use your own seasoning blend, such as herbes de Provence or a homemade version of za'atar.
Tahini Paste: When I made this beet puree, I removed half the puree from the blender and set it aside. I then added a teaspoon of sesame tahini paste to the remaining puree. I blended again until the tahini was well combined with the beets. I was just curious how this would change the taste and texture. The texture was slightly thicker and the puree tasted even more middle eastern. I had this with brown rice, steamed broccoli florets, fresh cucumbers, and roasted chicken breast. It was delicious with the tahini.
---
Recent Recipes