Homemade Lasagna Without An Oven
For this recipe, you're going to need a large skillet to pull off one of the easiest, tastiest, cheesiest lasagnas around. There are few recipes for lasagna that compare to the ease of construction and straightforward cooking process. Without sacrificing flavor, you'll soon have a skillet full of perfectly layered lasagna. All that it takes is following our instructions carefully and a little clever manipulation of your pan.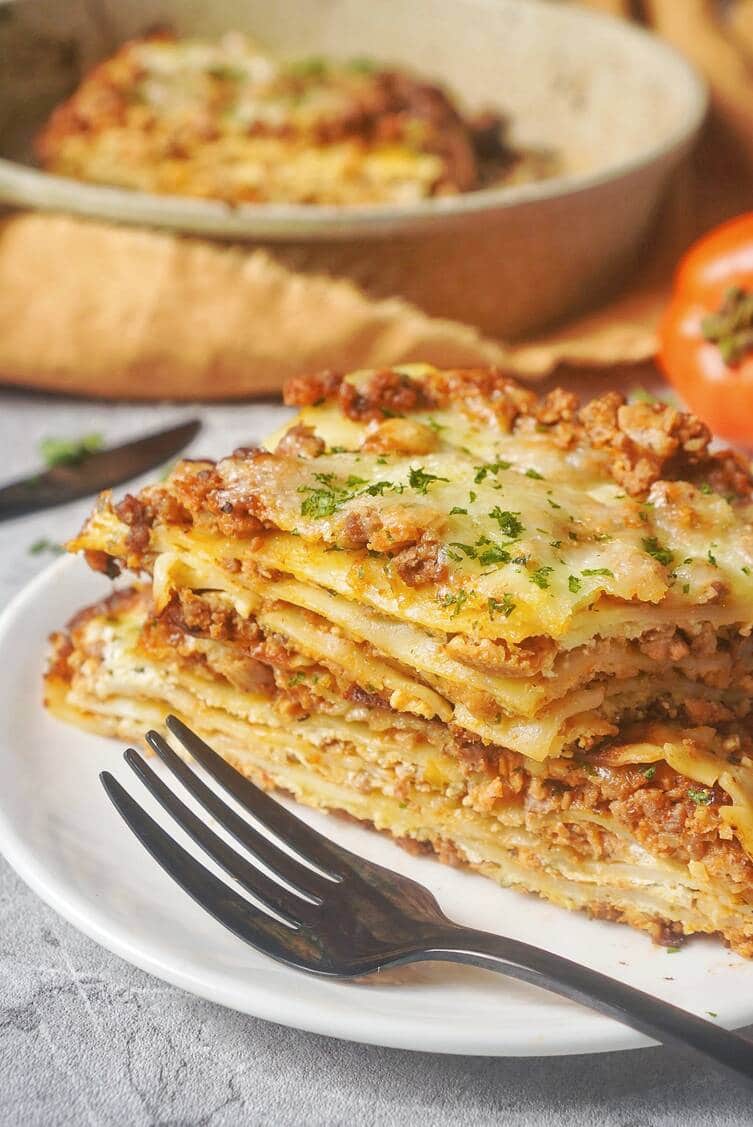 Ingredients
8

Uncooked Lasagna Sheets

1

Large Onion

Finely Chopped

½

Teaspoon

Red Pepper Flakes

4

Cloves

Garlic

Pressed & Finely Chopped

1

Pound

Lean Ground Beef

1

Pound

Italian Sausage

½

Teaspoon

Dried Oregano

½

Teaspoon

Dried Marjoram

½

Teaspoon

Dried Parsley

½

Teaspoon

Paprika

Teaspoon

Ground Black Pepper

1

Teaspoon

Salt

¼

Cup

Dissolved Beef Bullion

1

Can Tomato Paste

1

Tablespoon

Sugar

1

Cup

Ricotta Cheese

2

Cups

Mozzarella Cheese

1

Egg

Beaten

4

Tablespoons

Fresh Basil

Finely Chopped

2-4

Tablespoons

Parmesan Cheese

Grated (Optional)
Instructions
Assemble ingredients.

Bring a large salted pot of water to the boil and par-cook the lasagna noodles for two to three minutes. Remove, shock in an ice-water bath, drain, and set aside.

Heat a large skillet over medium heat and saute the onions until translucent.

Add the garlic and red pepper flakes and continue frying until the onions brown and the garlic releases a strong aroma.

Transfer both the lean ground beef and uncased Italian sausage to your pan. Fry while constantly stirring until the meat begins to brown.

Mix in half a teaspoon of oregano, marjoram, parsley, paprika, and a teaspoon of salt and ground black pepper.

Stir well, reduce the heat to low, and simmer uncovered for eight to twelve minutes, or until the mince browns and cooks through evenly.

Turn the heat to high and mix in a quarter cup of dissolved beef bullion, a can of tomato paste, and a tablespoon of sugar.

Cook uncovered for roughly five minutes or until the sauce thickens and reduce the heat to low.

While the sauce reduces further, mix together the ricotta, beaten egg, and the chopped fresh basil in a bowl or container.

Carefully work two lasagna sheets towards the bottom of your pan.

Move over the majority of your meat and sauce towards one side of your pan before spreading a generous coating of the ricotta and egg mixture, followed by half a cup of grated mozzarella.

Lay down another two lasagna sheets on top and spread over a layer of meat sauce before repeating the process with the ricotta and mozzarella to create another layer while using approximately a third of the mixture like before.

Work the last of the meat sauce over the penultimate layer and then place the last pasta sheets.

Scatter over two or more tablespoons of grated parmesan, followed by a generous coating of mozzarella cheese.

Drizzle over a little olive or vegetable oil, turn the heat to low, cover, and cook for fifteen minutes before removing the lid.

Cook uncovered for a further five to ten minutes, or until the lasagna sheets are al-dente and the cheese browns.

Enjoy, look at that, no oven required!
Video
Notes
Video Note: Made with about half the size compared the the recipe.
Nutrition
Calories:
560
kcal
|
Carbohydrates:
30
g
|
Protein:
36
g
|
Fat:
32
g
|
Saturated Fat:
14
g
|
Polyunsaturated Fat:
3
g
|
Monounsaturated Fat:
13
g
|
Trans Fat:
1
g
|
Cholesterol:
137
mg
|
Sodium:
1144
mg
|
Potassium:
712
mg
|
Fiber:
2
g
|
Sugar:
6
g
|
Vitamin A:
790
IU
|
Vitamin C:
8
mg
|
Calcium:
260
mg
|
Iron:
3
mg
How To Make A Lasagna Without An Oven?
Making lasagna without an oven calls for careful management of the sauce's consistency. At all times, pay attention to the thickness and keep working the sauce so that it never sticks to the bottom of the pan. Heat control is imperative during the various steps of cooking. By the time you reach adding the lasagna sheets, your marinara sauce needs to be silky but not yet stodgy, or the lasagna sheets won't cook through properly.
Lasagna Without Oven Tips
If your stove and skillet retain too high of a temperature to finish cooking the lasagna without the bottom-most sheet sticking, cook at the lowest heat possible for five-minute intervals and then remove from the stove and leave covered for three minutes at a time. Repeat two to three times or until the lasagna is well-done. Do not remove the lid immediately after taking your pan off the heat, not even to check whether it's sticking or not. The lasagna needs the residual heat to steam loose any sauce that may still be clinging to the pan.
How To Tell When Lasagna Is Done
It's fairly easy to gauge the cooking time of a conventional lasagna baked in the oven after following a traditional recipe. However, stovetop lasagna takes careful temperature management and a keen eye to tell when the dish is done. One can tell how done lasagna is by inserting a toothpick. If the toothpick goes in easily with little resistance and the cheese is bubbling toward the edges of your lasagna, it is done. After constructing the lasagna, monitor how cooked it is carefully by taking the lasagna off the stove and allowing it to steam for a few minutes, and then taking off the lid. Insert a toothpick and if it's not cooked, and ready, return the lid and return to the stove. This same test can be used for all types of lasagna.
Lasagna Without Oven Substitutions
Both chopped fresh tomatoes and canned tomatoes work in this and most other lasagna recipes. Canned tomatoes are generally preferred as the highest quality is typically guaranteed. Opt for small, fresh, ripe, plump plum or cherry tomatoes if they're available otherwise, canned tomatoes are the better option. San Marzano is largely accepted to be the best-imported variety, although many chefs prefer locally grown canned tomatoes instead. Tomatoes in a tin are always harvested at their ripest while guaranteeing a standardized taste throughout the batch.
Feel free to omit the cottage and ricotta completely and use plain mozzarella or a blend of grated other cheese instead. As a stovetop lasagna, the recipe is extremely forgiving. Those without an expansive pantry of herbs and spices can use Italian spice in place of all the dried herbs. While not as prominent in flavor, the end result will be similar.
What To Serve With No Bake Lasagna?
Lasagna is best served with a small green salad or a side serving of breadsticks. Our easy Shopska salad with Bulgarian feta is ideal for aside a lasagna. We suggest cooking up one or two extra bite-sized appetizers like Greek chicken wings or spicy chicken Diavolo if you're entertaining family-style.
---
Recent Recipes