Simple Vegan Creamed Spinach
Creamed spinach is something I grew up eating often. It was one of my father's favorite side dishes. Mom would make it from scratch with fresh spinach and Philadelphia cream cheese. Dad would heat up a frozen version when he was tasked with making dinner for us. His was actually called spinach souffle. Both versions were delicious to me.
I honestly thought as a kid that creamed spinach was an invention of moms trying to get their kids to eat greens. In fact, it is a very classic dish enjoyed by all ages. It is a staple in many a good steakhouse. It is also a common dip served in a bread bowl at bars and pubs.
A couple of times a year, Dad would take us out to dinner at a local steakhouse. We ordered chopped sirloin with gravy. My parents got real steaks. The only side dish options were baked potato with sour cream, spaghetti with red sauce, steamed green beans, and creamed spinach. We always got the creamed spinach. It was a way for us to eat a green vegetable and we loved the cheesy creaminess.
I make creamed spinach with fresh spinach. But I have also made it with frozen spinach which is equally as good. Recently, I have been making non-dairy creamed spinach to satisfy my semi-vegan diet. I tend to limit my intake of dairy and other animal protein a few days a week. I am not 100% vegetarian because I feel I need a balanced diet. However, my vegan meals often leave me feeling a bit lighter and more energetic.
You might be wondering how vegan creamed spinach can even compare with classic creamed spinach prepared with butter, cream cheese, and milk or cream. My non-dairy vegan creamed spinach is actually super delicious and rich. That is because I use vegan butter and coconut cream. The seasonings are the same as traditional creamed spinach. I use nutmeg, garlic, salt, and pepper. To add a cheesy flavor, I use nutritional yeast.
To keep in the vegan theme, I like to serve creamed spinach with grilled cauliflower steaks and vegan cornbread.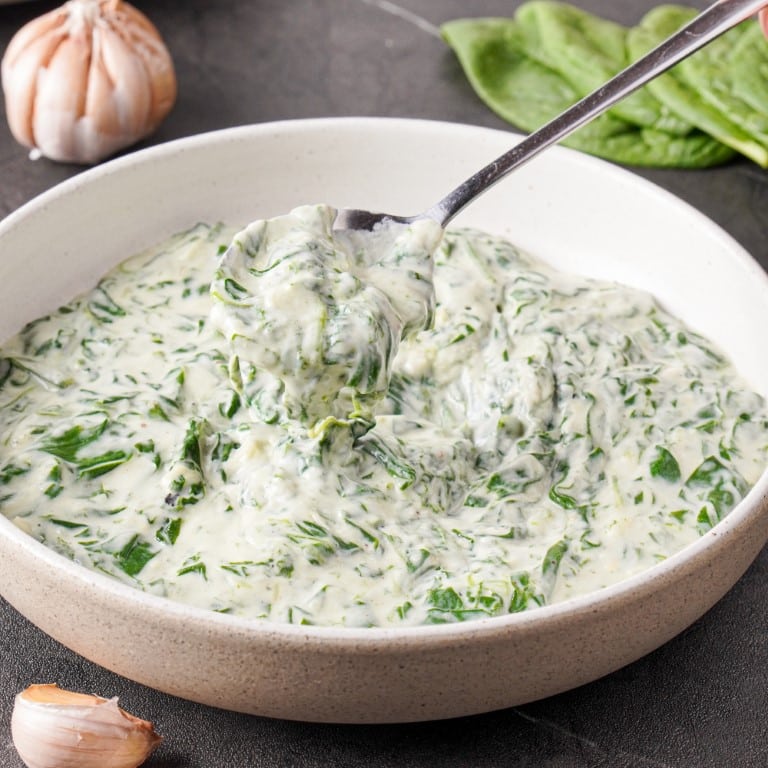 Ingredients
¼

cup

all-purpose flour

1

cup

unsweetened coconut cream

canned

2

Tbsp

vegan butter

1

pound

of cleaned and dry baby spinach leaves

roughly chopped

2

cloves

of garlic

minced

1

Tbsp

nutritional yeast

½

tsp

sea salt

½

tsp

freshly ground pepper

preferably white

⅛

tsp

ground nutmeg
Instructions
All ingredients ready? Let's begin!

In a mixing bowl, stir together the flour and 2 tablespoons of the coconut cream to make a lump-free paste. Add the rest of the cream and whisk until well combined with the flour and smooth.

In a large skillet over medium heat, melt the vegan butter. Add the spinach to the pan and cover the pan to allow the spinach to wilt for approximately 3-1/2 minutes.

Add the garlic to the spinach and stir it in. Let this cook for another minute until the garlic is fragrant.

Stir in the coconut cream and flour mixture. As soon as this comes to a boil, reduce the heat to a low rolling simmer and cook until the mixture has thickened to the desired creaminess, approximately 10 minutes.

Stir in the nutritional yeast, salt, pepper, and nutmeg. Turn the heat off and allow the seasonings to blend in for about a minute.

Serve the creamed spinach while warm or cool and store it in the refrigerator in a sealed container for a couple of days.
Nutrition
Calories:
300
kcal
|
Carbohydrates:
15
g
|
Protein:
7
g
|
Fat:
26
g
|
Saturated Fat:
20
g
|
Polyunsaturated Fat:
2
g
|
Monounsaturated Fat:
3
g
|
Trans Fat:
0.03
g
|
Sodium:
428
mg
|
Potassium:
877
mg
|
Fiber:
5
g
|
Sugar:
1
g
|
Vitamin A:
10902
IU
|
Vitamin C:
34
mg
|
Calcium:
128
mg
|
Iron:
5
mg
Notes & Tips
This recipe is great with fresh spinach. However, you can use frozen chopped spinach as long as it has been defrosted and the moisture is squeezed out of it.
If you are making this dish ahead of time, you can easily reheat it in the microwave or on the stove over low heat, adding a little more coconut cream if it is too dry.
Substitutions
All-Purpose Flour: To make a gluten-free version of creamed spinach, I recommend using rice flour or white teff flour.
Coconut Cream: Oddly, my local markets don't always carry unsweetened coconut cream. But I can always find full-fat coconut milk in the can. If using that, be sure to stir the cream into the water before adding it to the flour. If you don't want coconut, you can use another non-dairy milk, such as macadamia nut, hemp, or oat. You might need less because these kinds of milk are thinner than coconut cream.
Nutritional Yeast: If you want a more classic-tasting creamed spinach, whisk in some vegan cream cheese or vegan parmesan instead of nutritional yeast.
Nutmeg: The traditional spice used in creamed spinach is nutmeg. You can skip this if you don't have any in your spice rack. Other substitutions for nutmeg include mace, garam masala, and cinnamon. You only need a pinch of any of these.
Nutrition of Spinach
Spinach is an incredibly nutritious green leafy vegetable. This veggie is very low in calories and fat. Yet, it is high in dietary fiber. It also does not contain any cholesterol.
Fresh spinach leaves are a rich source of antioxidant vitamins, such as A, C, and K. Vitamin A is necessary for healthy eyesight. Vitamin C aids the body in fighting off viral and bacterial infections. Vitamin K plays a role in strengthening bones and supporting brain function.
Spinach is also a good source of minerals, including iron, magnesium, potassium, and zinc. Iron is essential for red blood cell production. Magnesium is important for bone and cardiovascular health. Potassium is required to help regulate blood pressure. And zinc is necessary for growth development and proper digestion.
---
Recent Recipes