All you need for these tasty Greek tomato balls are a few simple ingredients and a little patience. Sometimes frying foods can be a bit intimidating and tedious, but it will be well worth it with these little bites.
The deep fried flavor is amazing and you won't regret finding the time to make this recipe. And if you're not into the deep fried thing, you can even make these in an air fryer.
These tomatokeftedes come from Santorini, Greece, where they have some of the most delicious tomatoes in the world. They are able to grow some of the best tomatoes because of their particular farming habitat and volcanic soil. We may not be able to get our hands on the one-of-kind Santorini tomatoes, but this recipe might be the next best thing in Greek cuisine at home.
It's no surprise that the Greeks created dishes like these with a few basic ingredients that focus on their freshness and natural flavor. They are known for an incredibly healthy lifestyle and their cuisine reflects those principles as well. Even though these are deep fried, they still contain fresh, healthy ingredients that follow a Mediterranean diet.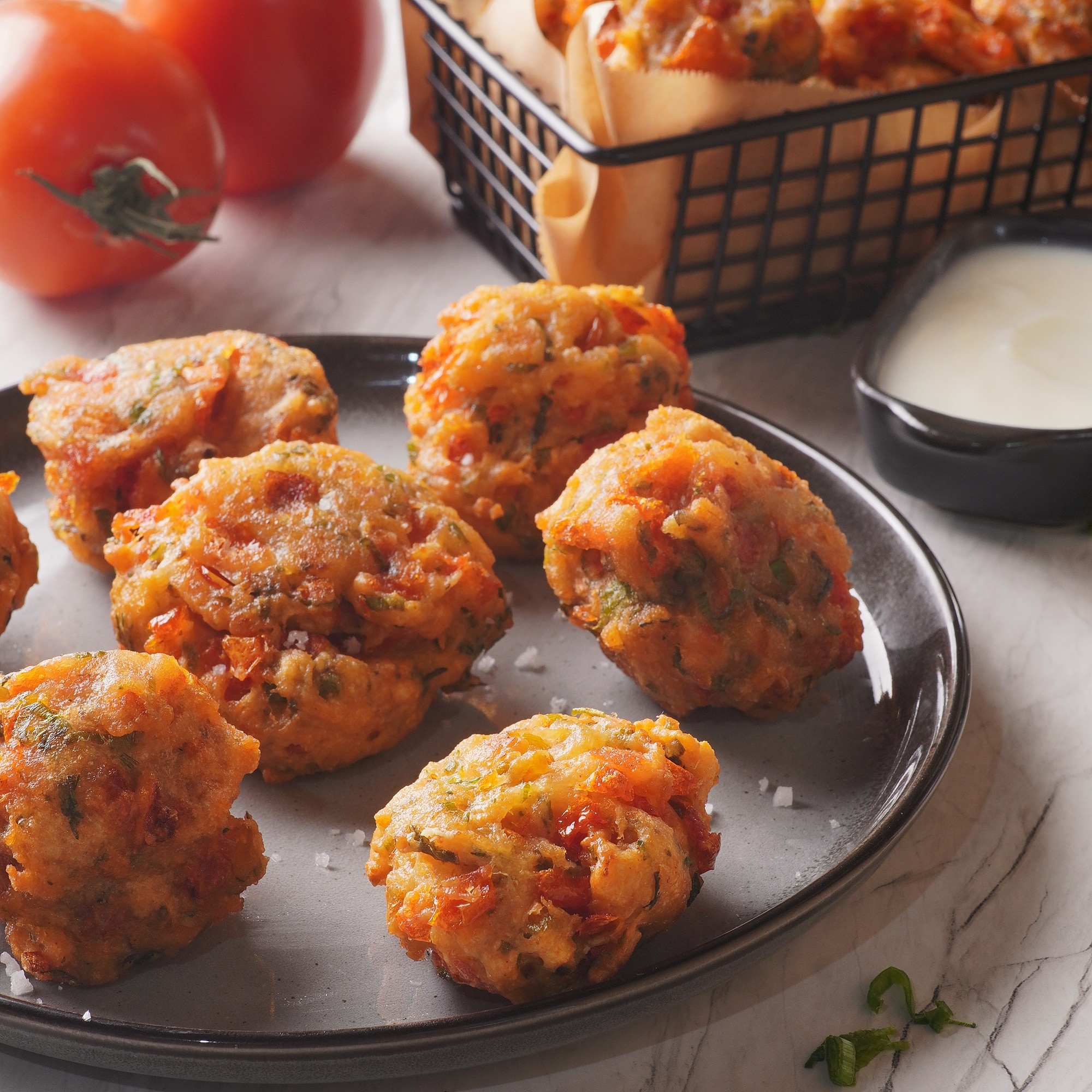 Ingredients
1 ½

cups

chopped tomatoes

½

cup

scallions

sliced thin, loosely packed

1/4

cup

feta cheese

small crumbles

1

tablespoon

fresh mint

chopped fine

1

tablespoon

fresh parsley

chopped fine

3-4

basil leaves

chopped fine

½ – ¾

cup

all purpose flour

1

teaspoon

baking powder

¼

teaspoon

dried oregano

½

teaspoon

kosher salt

⅛

teaspoon

fresh ground black pepper

Canola or vegetable oil for frying

Lemon

sea salt, and greek yogurt, for serving
Instructions
All ingredients ready? Let's begin!

Cut the tomatoes and remove any watery flesh and seeds.

Chop the tomatoes into fine bits.

Line a strainer with a cloth or paper towel. Place the tomatoes into the strainer and allow the water to strain out for about twenty minutes.

Remove the tomatoes from the strainer and add to a large bowl.

Mix in the scallions, mint, parsley, basil and feta cheese.

In a separate bowl, mix together the flour, baking powder, and seasonings using a fork.

Gently fold the flour mixture into the tomato mixture.

Mix until a soft dough forms. The mixture should be able to be formed into small discs. You may need to add more flour.

Refrigerate the mixture for 20-30 minutes.

While the mixture is chilling, add the frying oil to a deep pan. Add just enough oil so the bottom is entirely covered. Heat the oil on medium-high heat.

Remove the mixture from the refrigerator.

Spray a metal tablespoon with cooking spray or carefully dip the spoon in the oil before making the scoop of tomato mixture. This will prevent the mixture from sticking to the spoon and easily fall off into the frying pan.

Using the oil spoon, scoop single portions into the frying pan.

Fry on each side for about 2-3 minutes.

When they are done frying, allow the tomato fritters to rest on a paper towel lined plate.

When they are all done, serve them on a platter with a sprinkle of sea salt, lemon wedges and plain greek yogurt for dipping.
Video
Nutrition
Calories:
52
kcal
|
Carbohydrates:
9
g
|
Protein:
2
g
|
Fat:
1
g
|
Saturated Fat:
1
g
|
Polyunsaturated Fat:
1
g
|
Monounsaturated Fat:
1
g
|
Cholesterol:
4
mg
|
Sodium:
317
mg
|
Potassium:
121
mg
|
Fiber:
1
g
|
Sugar:
1
g
|
Vitamin A:
213
IU
|
Vitamin C:
6
mg
|
Calcium:
76
mg
|
Iron:
1
mg
Notes & Tips
Letting the mixture rest in the refrigerator will help it dry out a bit more. Too much moisture will result in balls that fall apart. Don't let the mixture sit in the refrigerator for longer than 30 minutes.
You'll want to shape these into small discs or fritters instead of balls. This way they will fry quickly and evenly.
The best type of tomato to use for this recipe would be Roma, plum, or cherry tomatoes. Most other tomatoes will work, just be sure to find the sweetest and ripest ones that you can.
Fresh tomatoes are always best, but you could use canned tomatoes if you're in a pinch. Try to find high quality canned tomatoes instead of the generic brand.
Some recipes may ask that you peel the tomatoes. This step isn't entirely necessary but you can certainly do it. If you're looking for a smoother looking fritter (without chunks of skin) you may want to peel them. The most important thing about the tomato is removing as much moisture as you can.
Always use fresh mint, parsley, and basil for this recipe. If you cannot find these fresh herbs, you can compensate with one another. You'll generally want to aim for about ¼ cup of fresh herbs.
You can use gluten-free flour mix if you are trying to avoid gluten. Chickpea flour would be a great alternative.
What Does Tomatokeftedes Mean?
Tomatokeftedes are fried tomato balls or tomato fritters. You can also find tomatokeftedes named domatokeftedes. They are from the Greek island of Santorini.
The tomato fritters generally consist of pureed tomatoes, flour, mint, and onions formed into small balls and deep fried.
Tomatokeftedes are popular Greek appetizers served warm with a yogurt or tzatziki dipping sauce.
Can You Use An Air Fryer To Make Greek Tomato Talls/Tomatokeftedes?
Air fryers are great. They eliminate multiple steps and keep things rather safe. Plus, it's great to have a healthier option to deep fry without oil. But can you really fry just anything in an air fryer, especially these delicate tomato balls?
WIth a few easy precautions, you can certainly fry these tomato balls in an air fryer. Here are some suggestions for successful air frying:
Make sure that the dough is tight enough that the balls can hold their shape on their own. If needed, add more flour or you can even flash freeze them for about ten minutes to help them hold their shape prior to frying.
Spray the air fryer basket with non-stick spray prior to putting the tomato balls on it.
Give the tomato balls a light coating of spray prior to frying, as well.
Set the air fryer to 400F and fry for 5-10 minutes. Keep an eye on them so that they don't burn.
---
Recent Recipes