Calzone Vs. Stromboli Vs. Panzerotti
Calzone, stromboli, and panzerotti are all variations of pizza, made from golden pizza dough stuffed with the melting mozzarella cheese and rich ham and salami adored by pizza lovers. But how do you distinguish between the three pizza cousins? What's the difference between calzone, stromboli, and panzerotti?
Calzone, stromboli, and panzerotti are pizza derivatives. Calzone and panzerotti are half-moon pizza turnovers, while stromboli is a long, rolled pizza. They all include traditional pizza ingredients like dough, tomato sauce, and cheese but differ in origin, cooking methods, shape, and size.
With pizza's massive international popularity, you've probably come across regular pizza. And you've likely seen calzone on a restaurant menu. Has anyone tried a Hot Pocket? Or a pizza pinwheel? Well, then you already know what calzone, stromboli, and panzerotti are, like a true pizzaioli. Read on to learn about these three types of pizza and why we love them.
The Differences Between Calzone, Stromboli, And Panzerotti
Calzone, stromboli, and panzerotti are all kinds of pizza with the same ingredients: pizza dough, tomato sauce, mozzarella, Parmesan cheese, and often options like ham, salami, mushrooms, and artichokes.
These three tasty dishes are different from pizza because they are not served flat and open, with the toppings laid out on the dough. Instead, these are stuffed pizzas, pastry delights that are sealed to become portable pizza "pies" or pockets.
Let's look at the main differences between these three favorites.
| | | | |
| --- | --- | --- | --- |
| | Calzone | Stromboli | Panzerotti |
| Origins | Naples, Italy | Philadelphia, United States | Apulia, Italy |
| Ingredients | Pizza dough, ricotta, mozzarella, Parmesan, toppings, e.g., ham, salami | Pizza dough, pizza sauce, mozzarella, toppings, e.g., ham, salami | Pizza dough, pizza sauce, mozzarella, toppings, e.g., chocolate cream |
| Cooking method | Baked or fried | Baked | Fried |
| Sauce | On the side | On the side | Inside |
| Shape | Half-circle | Cigar-shaped | Half-circle |
| Size | Medium pizza | Large pizza | Sandwich |
| Serving size | One serving | Multiple servings | Snack |
What Is A Calzone?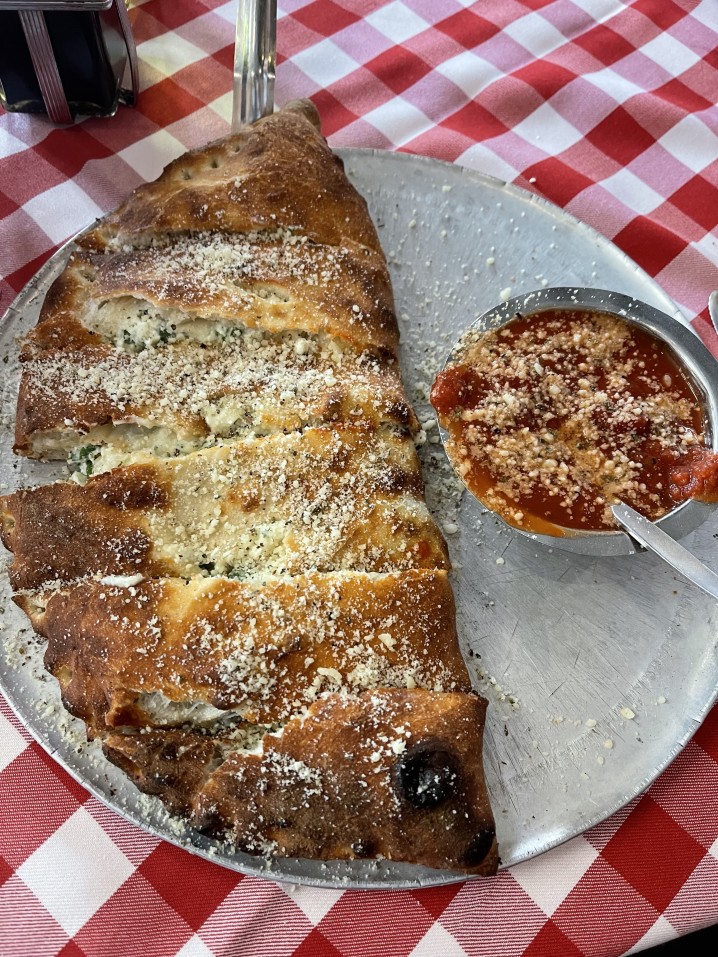 A calzone is essentially an inverted pizza, baked with the dough on the outside and the toppings or filling inside.
What Is the Origin Of Calzones?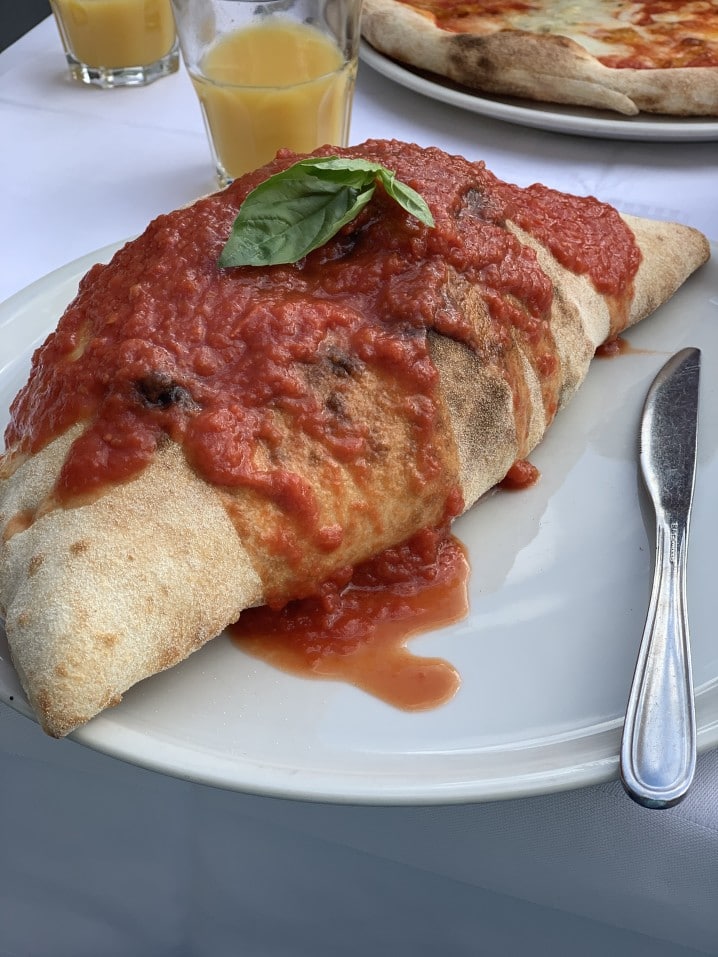 These three pizza types all originate in Italy, the home of the pizza. Calzones come from Naples, where authentic pizza was first made.
Calzones were developed as a portable meal, the original takeaway, that you could eat as you walked along the street. It was intended for workers to eat in their lunch hour – they wouldn't have time to go home and have a sit-down pizza meal.
The word calzone means "stocking" or "trouser leg," suggesting the shape or that it's stuffed. Sometimes, a calzone is called a stuffed pizza or pizza ripieno, especially in Naples.
Today, you'll find calzones on restaurant menus across the world. They're still served in Italy, where their ingredients and cooking techniques differ slightly from region to region.
How Do You Make Calzone?
You can't make calzone by preparing a pizza, folding it in half and baking it. Although the method of making calzone is very similar to making pizza, there are many significant differences.
The Dough
The dough for calzone and pizza is the same, although some Italian recipes use a slightly different dough that makes for a more bready crust.
To make a calzone, you'll stretch and roll out the dough into a circle in the same way as you would for a medium-sized pizza.
For a handy pizza dough recipe, check out how to make the base of Pizza Cubano.
The Filling
One of the crucial differences between calzone and pizza is the filling.
First, unlike a pizza, the filling does not cover the base. Instead, you place the filling on one half of the dough so that you can fold the other half over as a lid.
Second, in the traditional Italian calzone, there is no tomato sauce. Pizza sauce would make the dough too moist as it bakes and leak out when you bite into it. Instead, a calzone comes with a tomato or marina sauce on the side.
The fillings for a calzone are generally simple and often feature ricotta, a combination of ricotta and spinach, for example, or prosciutto and cheese.
Typical fillings for a calzone are:
a blend of cheese: ricotta, mozzarella, and Parmesan
cured meat: prosciutto, pepperoni, salami, bresaola, Italian sausages
vegetables: peppers, onions, olives, sun-dried tomatoes, spinach
seasonings: salt, black pepper, parsley, basil.
Sealing
To create the stuffed effect, you fold your calzone like a taco: fold it in half, and seal it by crimping the edges of the dough together. This fold will create a half-moon shape.
Use an egg wash to seal the calzone's edges and brush the top of the calzone so that it browns in the oven. It's helpful to make a couple of slits in the dough top like you would a pie to allow the steam to escape.
Some regional Italian recipes spread the dough with the tomato sauce and bake it in the oven to remain moist.
Baking
Calzone is baked in a pizza oven or regular oven for 30 to 40 minutes, like a pizza. A couple of regional variations suggest you should fry your calzone, but that's panzerotti territory – and we'll come to that.
What Is Stromboli?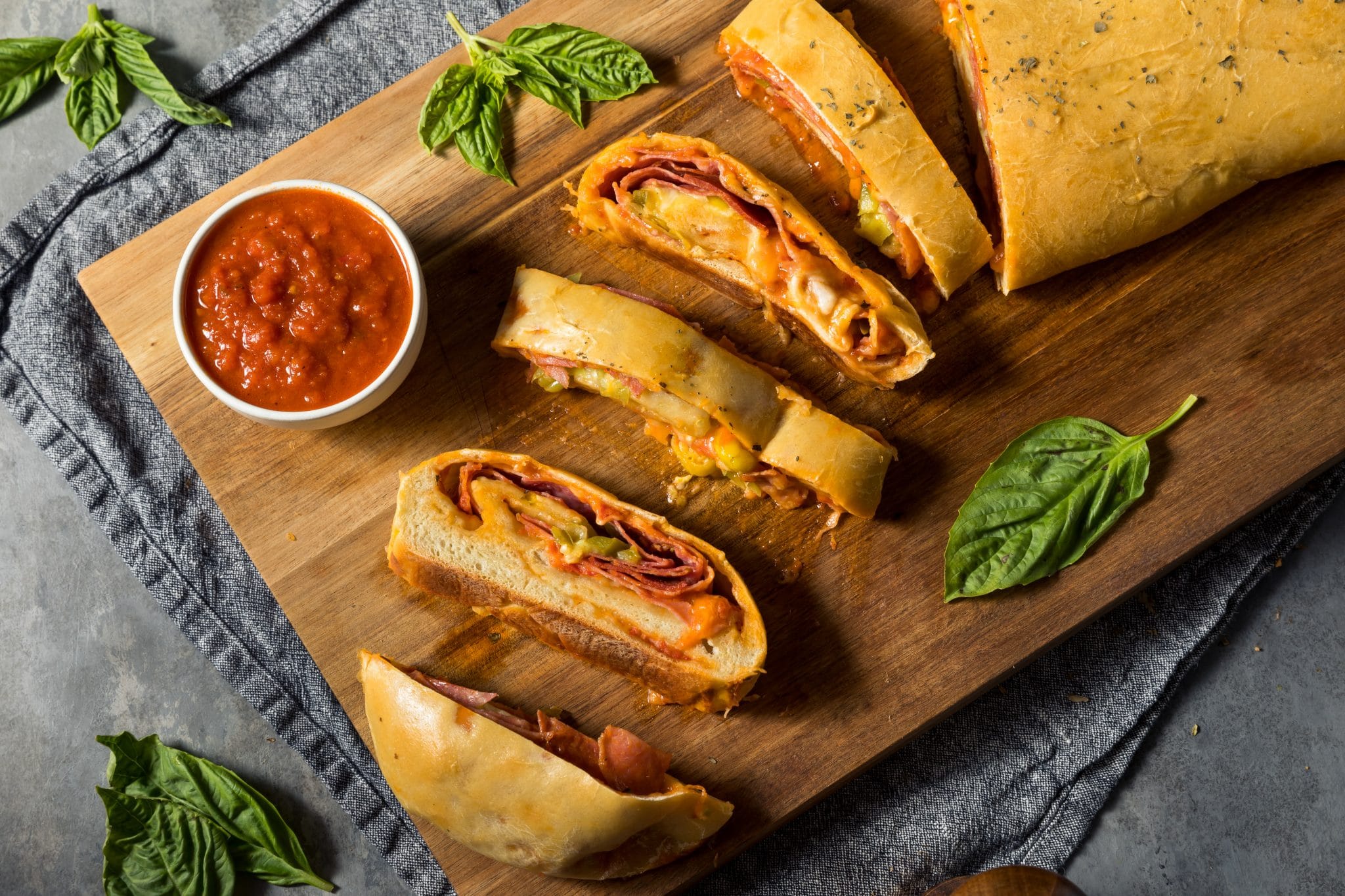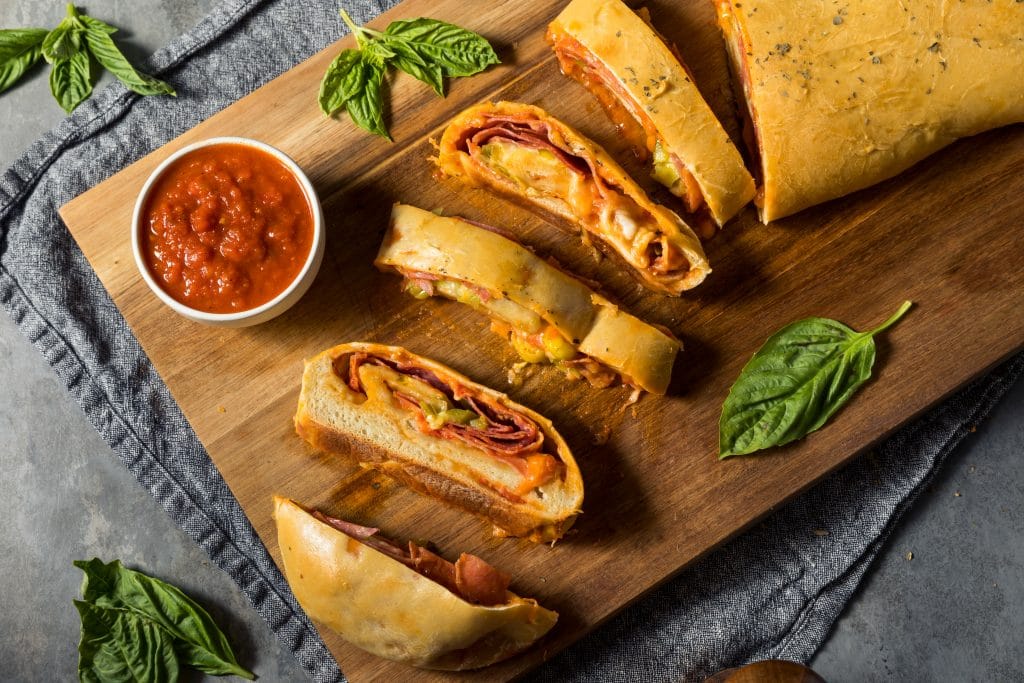 If you haven't ever seen or eaten stromboli, imagine a pizza in the shape of a cinnamon roll: savory dough, stuffed with your most wanted pizza toppings, then rolled up and sliced into wheels of deliciousness, which you dip into tomato sauce.
What Is the Origin Of Stromboli?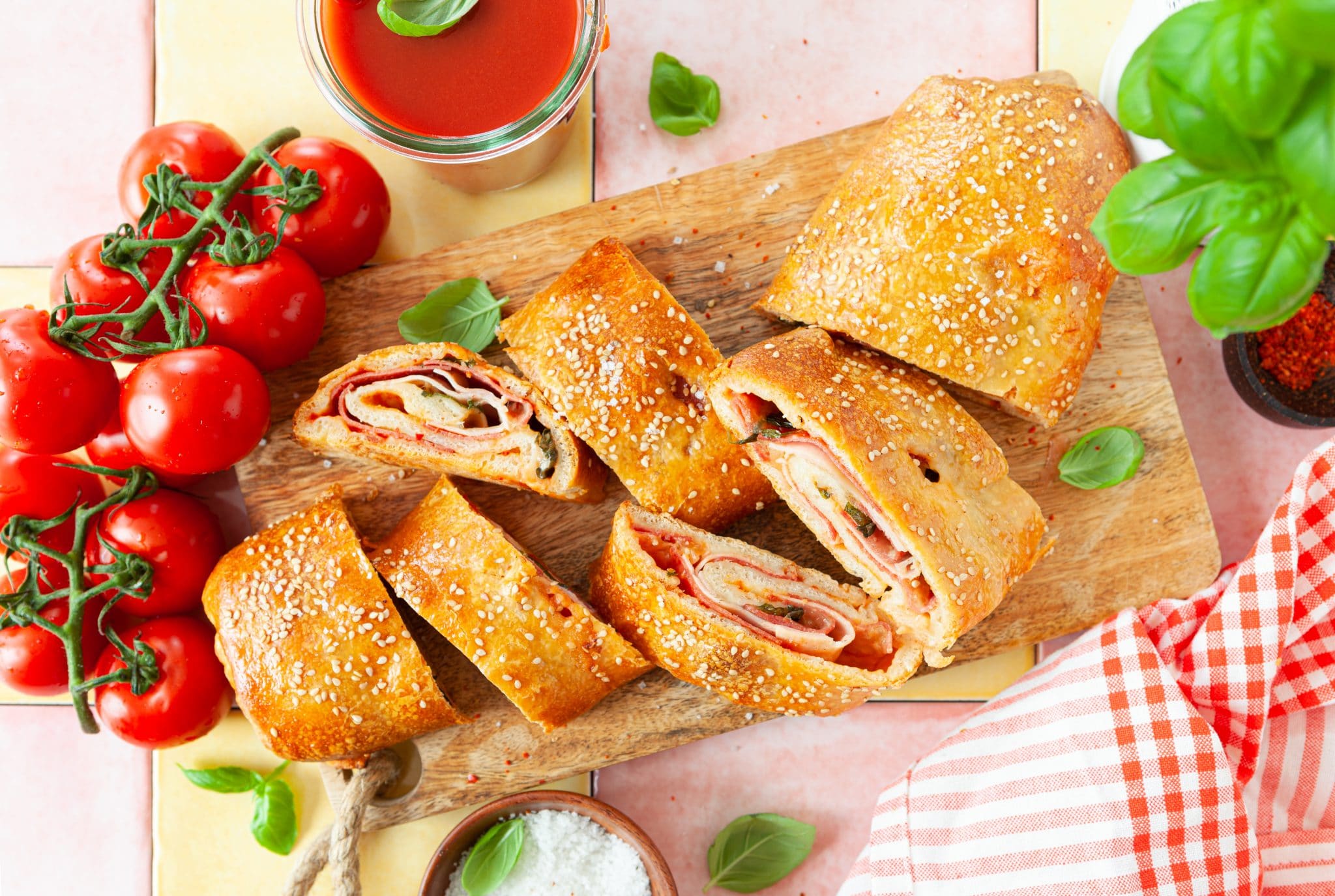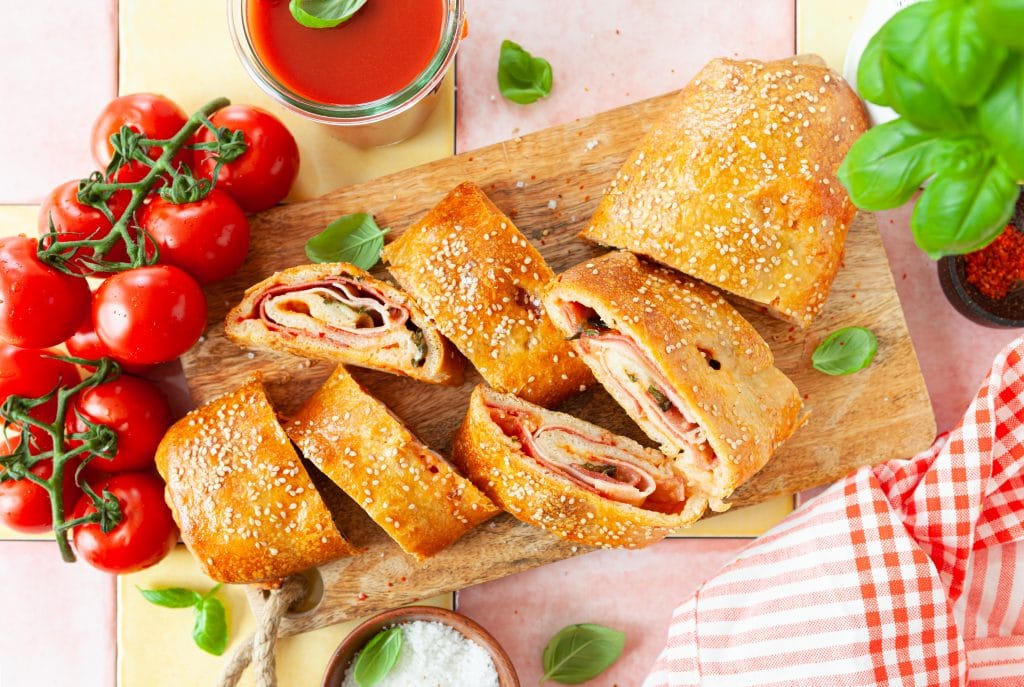 Stromboli, like pepperoni, is a creation of the Italian-American community in the United States and dates to the 1950s. You won't find stromboli in Italy.
The creation of stromboli was the brainchild of Nazzareno Romano, owner of Romano's Pizzas in Philadelphia. He created this pizza pinwheel as an experimental addition to his menu. Whether the pizza roll's name comes from the volcanic island of stromboli or the movie directed by Roberto Rossellini, stromboli has spread across the States from Philadelphia. It has become synonymous with appetizers and snack food.
How Do You Make Stromboli?
If you can make pizza and calzone, you can make stromboli using the same techniques and ingredients.
The Dough
Stromboli uses pizza dough, but it has to be a thin crust dough, rolled thinly (it's essential, or you'll have a mouthful of dough).
Instead of rolling a circle, roll the dough out into a long rectangle, about 16" x 25".
The Filling
Unlike a pizza, you don't cover the stromboli base with filling. To allow for rolling, you need to leave a one-inch margin or space around the edge of the dough and a five-inch area at the folding end, where you place no filling.
There are two schools of thought when filling stromboli: those who favor a delicate layer of pizza sauce and those who avoid it entirely. It's up to you – just don't smear on too much sauce and make it soggy. You will always pass extra sauce for dipping.
If you choose not to go the pizza sauce route, you can always brush the dough with garlic butter for flavor and tenderness. Sprinkle the dough with herbs and seasoning, as well as some grated Parmesan.
The filling of your stromboli is up to you, although you should remember that stromboli will not cook for as long as a hearty calzone, so all the stuffing should be ready cooked.
Stromboli fillings are more like sandwich fillings than pizza toppings – you layer up large slices of deli ham, salami, pepperoni, or bresaola, then some sliced, not grated, cheeses, like provolone and mozzarella. Season the filling generously with salt and black pepper, and fresh basil leaves.
Sealing
The main difference between these three pizza derivatives is how you seal them. Stromboli is like a burrito: you roll the dough in a spiral and seal the edges by folding the dough over. Stromboli starts out as a long rectangle, which rolls up like a cigar shape.
One of the advantages of stromboli is that you can prepare it ahead of time, filling, rolling, and sealing it, then wrap it in plastic wrap and bake just before serving.
Baking
Brush the stromboli's dough with egg wash or melted butter and top with grated Parmesan. Bake for about 25 minutes.
To serve, allow the stromboli to cool for five minutes and then cut into generous slices with a serrated knife.
What Are Panzerotti?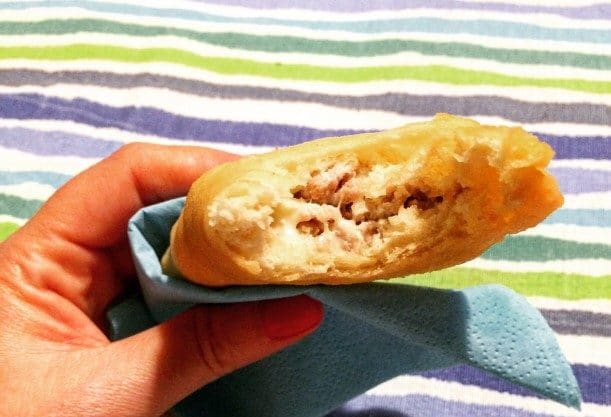 Panzerotti are the original pizza pockets or "Hot Pockets" that we enjoy as a quick snack. Fried, rather than baked, panzerotti are small calzone, sometimes called calzoni fritti. Eaten as a takeaway, panzerotti's great appeal is their freshness and portability.
What Is the Origin Of Panzerotti?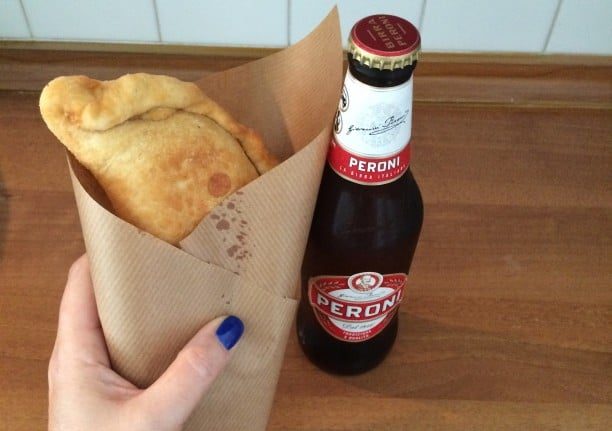 These hand-sized, semi-circular pizza snacks are a version of calzone developed in Central and Southern Italy and are particularly popular in the Puglia region.
Their name comes from the Italian word panza, a variation of pancia, meaning belly, as the dough puffs up like a small belly during frying, creating a luscious fried crust that pops open to release a puff of fragrant steam before you bite into it.
Stories of their origins tell of a baker who had some leftover bread dough, which he filled with cheese and tomato and quickly fried, as a kind of sandwich. Today, they are fried fresh all over Italy, where you'll queue for your hot panzerotto, and are often referred to as pizza fritti, or fried pizza.
Panzerotti are also a favorite American treat, especially in the Jersey area.
How Do You Make Panzerotti?
Because panzerotti are like mini calzone, the preparation method is much the same. The difference is in the cooking method of the two pizza versions.
The Dough
Although you can use ordinary pizza dough to make panzerotti, the dough is best made with double zero (00) flour, milled to be extra fine. This flour creates an incredibly light but slight chewy dough, perfect for frying.
Roll the dough as if making tiny pizzas – the final size of a panzerotto is about five to nine inches at most.
The Filling
As for a calzone, you fill only half of the circle.
Traditionally, panzerotti were filled simply with mozzarella cheese and tomato sauce, being a snack made from leftover dough and whatever was in the kitchen. In Naples, panzerotti's traditional stuffing is a kind of pork called ciccioli, while in Puglia, they combine cheese with broccoli rabe.
However, the options for fillings are endless: many American versions include cold meats (try mortadella), tomatoes, basil, capers, anchovies, peppers, pineapple, or BBQ chicken.
You can also find a sweet version of the panzerotto, filled with jam, chestnut spread, chocolate cream, or ricotta cheese and dusted with powdered sugar. The sweet panzerotti are a popular treat at Carnival.
Sealing
Fold the dough circle in half, carefully crimping the edges together to seal them. You can also fold one half over the other and join it using the tines of a fork.
It is essential to seal panzerotti very tightly so that the filling does not leak out during frying.
Frying
Unlike calzone and stromboli, panzerotti are fried until golden brown, usually in peanut oil with its distinctive aroma and high smoke point.
The frying process, often done in a deep skillet, is quick and hot, so you're left with a crispy snack, not something doughy and steeped in oil.
Frying the panzerotti quickly creates a steam pocket around the filling, which you need to release before eating.
For a healthier option, you can bake panzerotti as well, in which case they'll just be tiny calzone.
So, What Are The Differences Between Calzone, Stromboli, And Panzerotti
Calzone, stromboli, and panzerotti are all delicious variants of the pizza, with the same gorgeous dough on the outside and melted cheese and rich fillings on the inside. Calzone and panzerotti are semi-circular pizza pockets or stuffed pizza, while stromboli is a long, rolled pizza. Calzone and stromboli are baked, while panzerotti are pizza fritti, fried pizza.
---
Recent Recipes