The most common baked pasta dish that we are familiar with is lasagna. Lasagna can be a little heavy compared to dishes prepared with smaller pasta shapes, such as ziti. Let's explore baked ziti a little more.
There are so many variations of baked ziti. When we look at baked pasta dishes from Sicily, we find that this dish is often served at Easter dinner. Typically, baked pasta in Sicily is made with rigatoni, ground beef, sheep's milk cheese (tuma), and eggs. The dish is layered in a deep cake pan or Dutch oven and baked. The result is a shimmering dish of pasta that can be sliced into wedges or squares. This is a labor of love that results in a dense and rich dish called Taganu D'Aragona.
There is a simpler and slightly more modern preparation of baked ziti that incorporates fresh vegetables and savory fruits that have been grown in the fertile volcanic soil of the island, such as tomatoes, eggplant, and red bell pepper. This is a lighter vegetarian version with parmesan cheese on top.
Another classic version of baked ziti includes Italian sausage and mozzarella cheese. This is said to date back to the Renaissance era where Italian chefs showed off their skills at baking composed pasta dishes for special occasions. This is the version I like to make. Not only is it popular in Italy, it is also a hit in the United States. It is a perfect dish to serve at a holiday dinner. It is substantial, creamy with cheese, sweet with tomatoes, and something both adults and kids enjoy.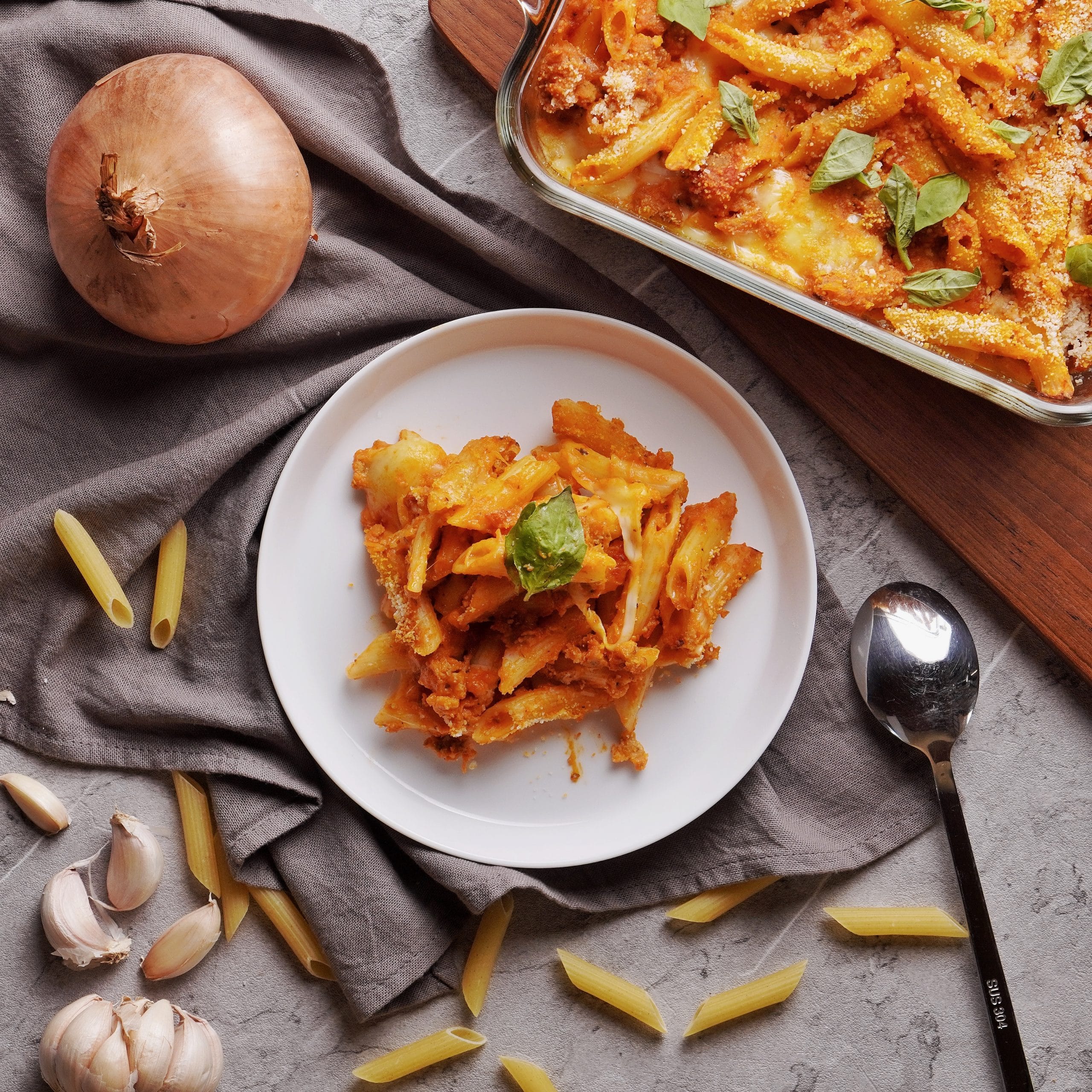 Ingredients
Sauce Ingredients
2

Tbsp

extra virgin olive oil

1

pound

sweet Italian sausage

1

small yellow or white onion

3

cloves

garlic

Good pinch of cayenne pepper flakes

more if desired

1

tsp

dried basil

1

tsp

dried oregano

1

can

28 ounces whole San Marzano tomatoes

Sea salt and freshly ground pepper to taste
Ziti Ingredients
1

box

16 ounces ziti

1

Tbsp

kosher salt

Extra virgin olive oil for greasing the baking dish

3-1/2

cups

tomato sauce

1

pound

16 ounces fresh buffalo mozzarella cheese

3/4

cup

freshly grated parmesan cheese

divided

1/2

tsp

freshly ground pepper
Instructions
All ingredients ready? Let's begin!
Tomato Sauce Instructions
Remove the sausage from the casing. Finely chop the onion. Peel and mince the garlic.

In a saucepan over medium-high heat, heat the oil and cook the sausage, onions, and garlic until the sausage starts to brown, approximately 5 minutes. Break the meat up into smaller pieces with a spoon.

Add the cayenne, basil, and oregano. Cook until the spices and herbs are fragrant, approximately 1 minute.

Using your hands, crush the tomatoes into the saucepan. Add the liquid from the can. Lower the heat and cook the sauce at a low simmer for approximately 10 minutes until the excess liquid reduces. Season to taste with salt and pepper.
Ziti Instructions
Fill a large stockpot with plenty of water to submerge the pasta in. Add the Kosher salt. Turn the heat to high. As soon as the water boils, add the pasta and cook until al dente – a little chewy. Drain the pasta and place it in a large mixing bowl.

Preheat your oven to 400°F.

Cut the mozzarella into ½ inch cubes.

Oil a large baking dish.

Add the mozzarella, ⅓ cup parmesan, 3 ½ cups tomato and sausage sauce, and pepper to the bowl of pasta. Stir to combine well.

Pour the pasta into the prepared baking dish. Sprinkle the rest of the parmesan cheese over the top of the pasta.

Place the baking dish in the oven and bake until bubbling and golden brown on top, approximately 30 minutes.

Serve the pasta with a large spoon while hot.
Video
Nutrition
Calories:
462
kcal
|
Carbohydrates:
8
g
|
Protein:
25
g
|
Fat:
37
g
|
Saturated Fat:
16
g
|
Polyunsaturated Fat:
3
g
|
Monounsaturated Fat:
15
g
|
Cholesterol:
94
mg
|
Sodium:
2011
mg
|
Potassium:
369
mg
|
Fiber:
1
g
|
Sugar:
3
g
|
Vitamin A:
662
IU
|
Vitamin C:
6
mg
|
Calcium:
428
mg
|
Iron:
2
mg
Notes & Tips
When I make tomato sauce, I generally double the recipe. Tomato sauce will keep for several days in the fridge in an air-tight container. You can also freeze tomato sauce for several months. I recommend making this tomato sauce a day ahead so the flavors can mature in complexity and depth. This also saves a little time when preparing the actual dish.
You really need to cook the pasta to al dente (to the tooth). The ziti will finish cooking in the oven in the sauce.
Substitutions, Additions & Shortcuts
Ziti is actually a long tubular pasta, about 10 inches. It is traditionally smooth. What we find in the box in the US is ziti that has been broken or cut into 1 ½ inch pieces and is sometimes ridged. The smaller pasta is ideal for baked dishes. Ridged ziti allows the sauce to cling. If you don't have ziti, you can easily substitute penne (cut on the diagonal) or rigatoni (wider tubes).
I love mild or sweet Italian sausage in my tomato sauce. Sometimes, I will use half sweet and half hot sausage, depending on who is coming for dinner. You can easily swap out the sausage for ground beef.
If you want to go way back to early Sicilian roots before tomatoes arrived on the island, this dish can be prepared without tomatoes. Add 3 whole eggs in place of tomatoes for a rich and fluffy baked pasta dish.
The cheese component is completely personal. You can make this dish a little creamier with ricotta cheese. I like to use ½ mozzarella and ½ ricotta. If you want to go super-Sicilian, use tuma cheese. This is a semi-creamy and tart sheep's milk cheese.
If you are pressed for time, you can definitely use your favorite jarred tomato sauce. Though, the sauce here is pretty easy to make.
---
Recent Recipes