Oven Roasted Candied Pecans
Every Christmas holiday season, I make either spiced or candied nuts to put into packages tied with bows to offer as small gifts to friends and family. My favorite nuts to use for this are walnuts and pecans because they have nooks and crannies that can grab onto the sugar and spices.
Candied nuts are a delicious and elegant snack all by themselves. I like to place them around the house in bowls for everyone to nosh on before we sit down to our holiday dinner. They are also terrific for topping a sweet potato casserole or ice cream. I have a friend who adds my candied nuts to her salads for an extra hit of protein, some crunch, and the addition of sweetness. Personally, I like them for breakfast on top of oatmeal or yogurt with fresh fruit.
These candied pecans have brown sugar, cinnamon, and vanilla as the main flavor elements. You can customize the blend to the flavors you like, which I will talk about in the Substitutions and Additions section after the recipe.
I have made these nuts in a cast-iron skillet with a little butter. They are great but can be sticky and a bit more fattening. This recipe uses egg whites as the binding agent and the nuts are baked in the oven. There is no need to babysit them at the stove. They also seem to store better than the buttered version.
You are going to need a rimmed baking sheet and parchment paper or non-stick oil spray. These candied pecans are crunchy, sweet, a little salty, and addictive. So, let's get to the recipe.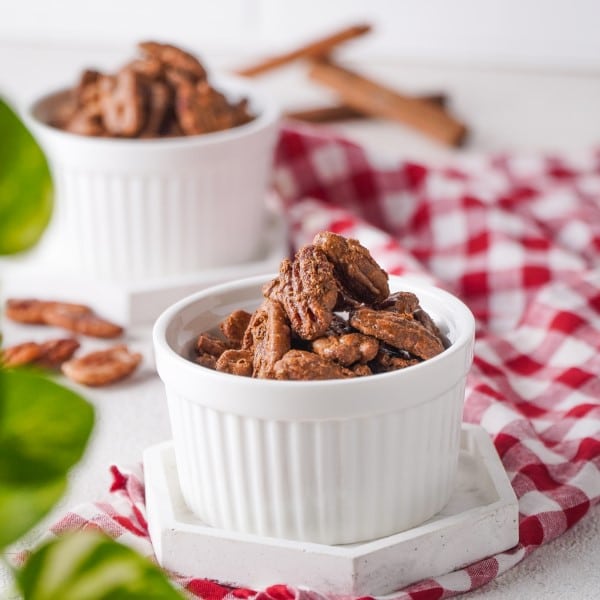 Ingredients
3

Tbsp

egg white

from approximately 2 large eggs

¾

cup

light brown sugar

3

tsp

pure vanilla extract

3

tsp

ground cinnamon

½

tsp

kosher salt

3

cups

raw pecan halves
Instructions
All ingredients ready? Let's begin!

Preheat your oven to 300°F. Line a rimmed baking sheet with parchment paper. Alternatively, spray the sheet pan with non-stick vegetable oil.

In a large mixing bowl, whisk the egg whites vigorously until just frothy, approximately 15 to 30 seconds.

Whisk in the brown sugar, vanilla, cinnamon, and kosher salt.

Add the pecans to the bowl and mix well until all are evenly coated with the egg white and sugar mixture.

Pour the coated nuts and any excess liquid onto the prepared pan. Spread them out into a single layer.

Place the pan in the oven and bake for 15 minutes. Flip the nuts with a spatula and spread them out into a single layer again. Return the pan to the oven and bake for an additional 15 minutes.

Remove the pan from the oven and allow the nuts to cool completely. They should continue to crisp up while cooling in the pan.

Serve the nuts at room temperature or store them in jars with lids for up to 7 days.
Video
Nutrition
Calories:
459
kcal
|
Carbohydrates:
35
g
|
Protein:
5
g
|
Fat:
36
g
|
Saturated Fat:
3
g
|
Polyunsaturated Fat:
11
g
|
Monounsaturated Fat:
20
g
|
Sodium:
214
mg
|
Potassium:
259
mg
|
Fiber:
5
g
|
Sugar:
29
g
|
Vitamin A:
31
IU
|
Vitamin C:
1
mg
|
Calcium:
68
mg
|
Iron:
2
mg
Notes & Tips
When preparing the nuts for this recipe, don't allow them to sit for too long in the egg white mixture. If so, they will become soggy and limp and the sugar and cinnamon will be sticky and wet.
Don't skip the salt in this recipe, unless your diet dictates that you should restrict salt intake. Salt enhances the sweetness when paired with anything that has sugar.
Don't forget to turn over the nuts and spread them out evenly halfway through the cooking. You can even do this at 10-minute intervals or 2 times. This ensures that all surfaces will crisp up nicely. You want crunchy nuts.
You will want to eat these right out of the oven because they smell so good. That is fine, for a taste test. Be sure to cool the nuts completely before storing them in glass containers.
I have successfully roasted nuts in my air fryer for 10 minutes at 325°F. That could save you 20 minutes when making candied pecans. Just be sure to shake the bucket at 5 minutes to rotate them.
Substitutions & Additions
You can use different nuts for this candied recipe. I have made this with walnuts with great success because they have similar ridges and valleys to pecans that can catch the coating. I don't recommend using already roasted and salted nuts because the nuts will be roasted in the oven and you are adding salt.
I prefer brown sugar in this recipe because it is so rich in molasses flavor and tends to stick to the nuts better than white sugar. You could try palm or coconut sugar if on a diet that limits processed sugar. Stevia is another option but only use it sparingly as it is intensely sweet and bitter in large doses.
You can change up or add to the spices in this recipe. For instance, around Thanksgiving, I will make a candied nut dish with pumpkin pie spices or just cinnamon and nutmeg. At Christmas time I might add a hint of food-grade peppermint essential oil and a dusting of cocoa powder. You can also leave the vanilla out if that is too much.
Are Candied Pecans Good for You?
Sugar isn't necessarily the best thing for us to eat. Though, in moderation, it does provide us with the glucose that we do need for energy. Everything else in candied pecans is a win/win. Egg whites provide protein without the cholesterol of the yolk. Cinnamon is antibacterial and aids in digestion. Pecans are the king here.
Pecans are high in protein and monounsaturated fatty acids. The antioxidants in pecans help to fight against cancer-causing free radicals and help to decrease LDL cholesterol levels. Pecans are an excellent source of vitamin E and are rich in the B complex vitamins. The nuts contain ample amounts of minerals like calcium, iron, magnesium, manganese, potassium, selenium, and zinc. As well, they are a very good source of dietary fiber.
---
Recent Recipes