Boreg is a fairly broad term for filled and baked pastries. For the most part, the dough is comprised of flaky sheets of phyllo. However, you can make this with puff pastry. Common fillings are cheese, meat, potatoes, dark leafy greens, or herbs. Boreg is most often found in the cuisines of the Balkans and many other European countries. These filled pastry packets go by many names, depending on what region you are from, such as boreg, borek, and bourekas. In Greece, they are commonly known as spanakopita.
There are basically a couple of ways to make boreg. This dish may be prepared in a large pan and cut into serving portions after baking. Or, you can make individual pastries that can be picked up with your hands to enjoy as a snack.
For this boreg recipe, we are using phyllo pastry to fill with a cheese mixture. Phyllo are paper-thin sheets made with wheat flour. By brushing the phyllo sheets with butter or oil and layering them results in a super flaky and crisp outer shell. The flavor and texture of flaky phyllo is hard to pass up. You can make your own phyllo, but that is simply way too ambitious for this cook. So, we won't go there.
The filling is a combination of sirene cheese, (Bulgarian feta), cottage cheese, and eggs. This is a custard-like cheese filling that still has some structure to it to support the layers of pastry. Flat-leaf parsley is added to the mix for herbal notes and vibrant color.
This recipe is quite easy to prepare and assemble. It bakes for about 30 minutes. You will need to work quickly when assembling the boreg so that the phyllo sheets don't dry out too much.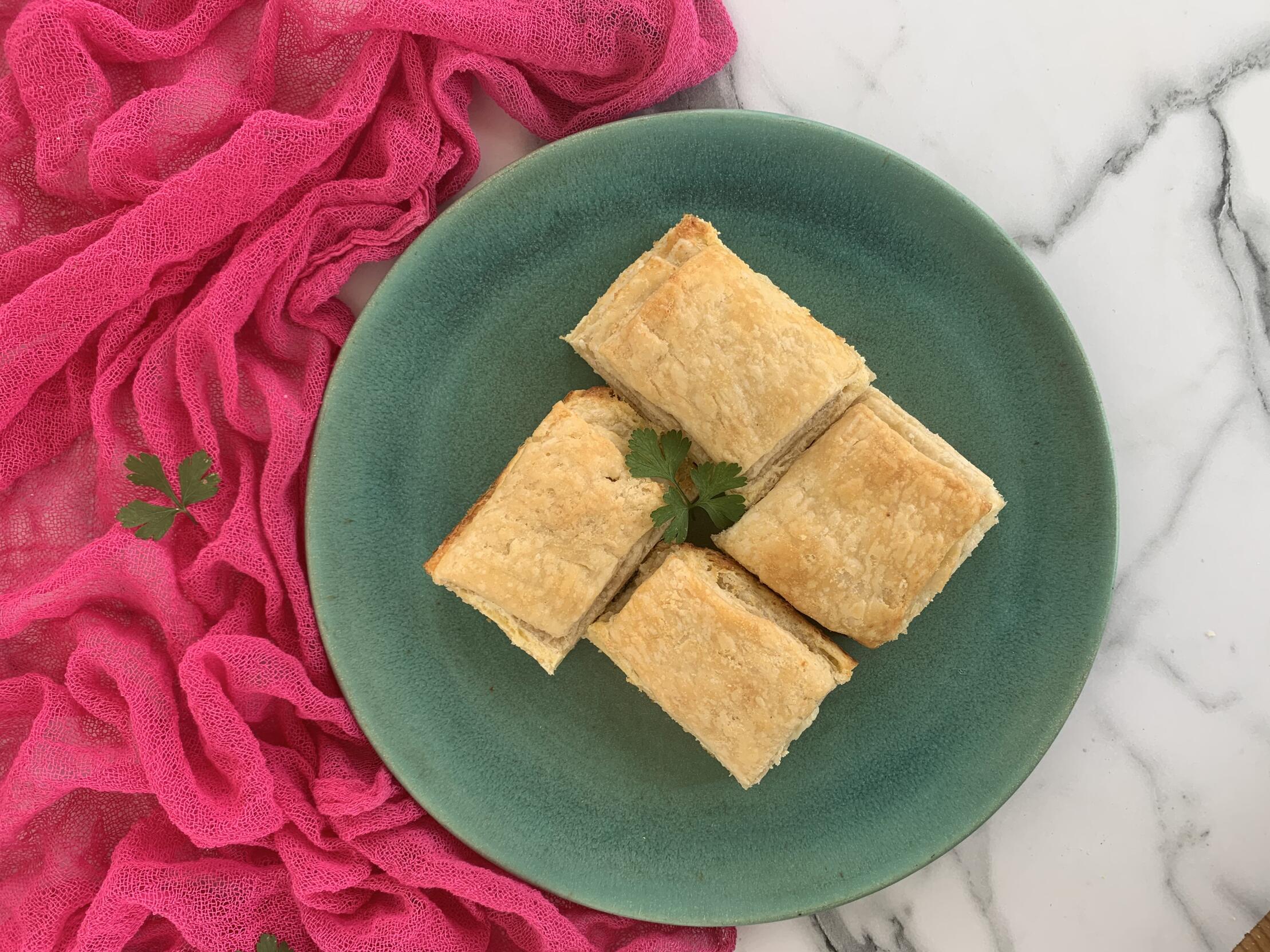 Ingredients
1

package phyllo dough

thawed

1/2

cup

butter

melted + more for the pan

16

ounces

Bulgarian feta cheese

grated

1

cup

cottage cheese

2

whole eggs

lightly beaten

2

TBS

flat-leaf parsley

minced
Instructions
Assemble ingredients together.

In a large mixing bowl, combine the grated cheese, cottage cheese, eggs, and parsley. Set the bowl aside. Preheat the oven to 350°F.

On a clean countertop, place the phyllo sheets and cover them with a slightly damp kitchen towel.

Lightly grease a rimmed baking sheet or the base of a broiling pan with butter. Place a sheet of phyllo in the pan. Cover the rest of the phyllo that is on the counter with the damp towel. Brush the sheet of pastry in the pan with some of the melted butter. Place another sheet of phyllo on top of the first sheet, brush with butter, and repeat the process until you have used half of the phyllo sheets, approximately 8 to 10 sheets.

Spoon the cheese mixture onto the pastry and spread it out evenly.

Layer the rest of the phyllo sheets, brushed with butter, on top of the cheese mixture, just like you did with the first sheets.

Using kitchen shears or scissors, trim any excess phyllo edges that are hanging over the rim of the pan. Brush the top of the phyllo with any remaining butter. Using a sharp knife, slice the boreg into 16 to 20 squares.

Place the pan in the oven and bake for approximately 30 minutes or until the phyllo is golden brown and crispy.

Allow the boreg to cool for a few minutes so the cheese sets up. Slice at the score lines you made previously and serve while still warm.
Video
Nutrition
Calories:
153
kcal
|
Carbohydrates:
11
g
|
Protein:
8
g
|
Fat:
8
g
|
Saturated Fat:
5
g
|
Polyunsaturated Fat:
1
g
|
Monounsaturated Fat:
2
g
|
Trans Fat:
1
g
|
Cholesterol:
49
mg
|
Sodium:
466
mg
|
Potassium:
65
mg
|
Fiber:
1
g
|
Sugar:
2
g
|
Vitamin A:
222
IU
|
Vitamin C:
1
mg
|
Calcium:
165
mg
|
Iron:
1
mg
Notes and Tips
It is important that you work fairly quickly while assembling the boreg. It is also important to keep the sheets of phyllo covered with a damp cloth. Phyllo is delicate and incredibly thin. That is what makes it so flaky and good when baked. It can dry out and crack if not looked after with a little TLC.
While not 100% necessary, it is a good idea to cut the boreg after assembling and before placing in the oven. This makes it much easier to give it a final cutting when warm so that it comes out of the pan cleanly and without cracking the top layers too much.
Substitutions and Shortcuts
The cheese mixture in this recipe is my preference and not set in stone. Some cheese boreg recipes call for only feta cheese. I find that choice a little too dry. The cottage cheese adds some creaminess. You can experiment with wet or dry curd to see what texture appeals more to you. Sirene or feta are fairly traditional in boreg. However, you can use whatever salty cheese you like. In fact, if you are making this for kids, you might want to add some stretchy mozzarella to the mix. Kids love mozzarella in just about anything,
The parsley is optional. I just love the addition of herbs for both the flavor and the color. Mint would be a nice addition. Try 1 tablespoon of parsley and 1 tablespoon of fresh mint leaves for variety.
You will see boreg recipes that call for more of a lasagna layering technique. What I mean by that is maybe 4 layers of phyllo, 1/4 of the filling, 4 more layers of phyllo, more filling, and just keep going, finishing with a top layer of phyllo. This is a different textural experience, but still delicious.
There is a perfectly acceptable shortcut to this recipe that is also very tasty. You can use prepared puff pastry dough from the market. Cut it into squares, place some filling in each square, fold over into triangles, and bake for about 20 minutes. You will end up with small cheese turnovers that can be eaten with your hands. This is perfect for taking to a picnic or as a snack while on the road or hiking.
What to Enjoy with Boreg?
While we are working with fillings, I think you might enjoy having your cheese boreg with Bulgarian stuffed cabbage (sarmi) with pork. If you would like to stick with a vegetarian-themed meal, boreg is a perfect side to accompany vegetable and orzo soup.
---
Recent Recipes