Simple Spicy Chicken Diavolo
Diavolo is the Italian word for devil. As you might have already guessed chicken diavolo is a devilishly hot poultry dish.
There are plenty of variations for this dish. The chicken itself can be either whole, spatchcocked, quartered, or cut into 8 pieces. I prefer the chicken quartered or in 8 pieces so that the spice evenly coats every piece. It also makes a nice presentation with options for those who like dark meat and those who prefer lighter pieces.
Several recipes call for a lot of Italian herbs, such as oregano, basil, and rosemary. With some deeper research, I found that the more authentic Italian chicken diavolo recipes mostly went for just the heat and didn't include all the other herbs. I like that because the herbs get lost in the marinade. The spicy heat rules in this case.
This particular chicken diavolo recipe is a little unique in that it calls for making a chili oil that sits overnight while the flavors develop and intensify. The chicken pieces are then marinated in the chili oil with some lemon for 4 hours. The acid is a nice touch with the chili oil.
There are 2 steps to cooking the chicken. It starts with a hot skillet to crisp the skin and then finishes with roasting the chicken in an oven on high heat. This cooking method renders the chicken crispy on the outside and juicy on the inside. Expect your kitchen to get a little smoky. Make sure the exhaust fan is working and on.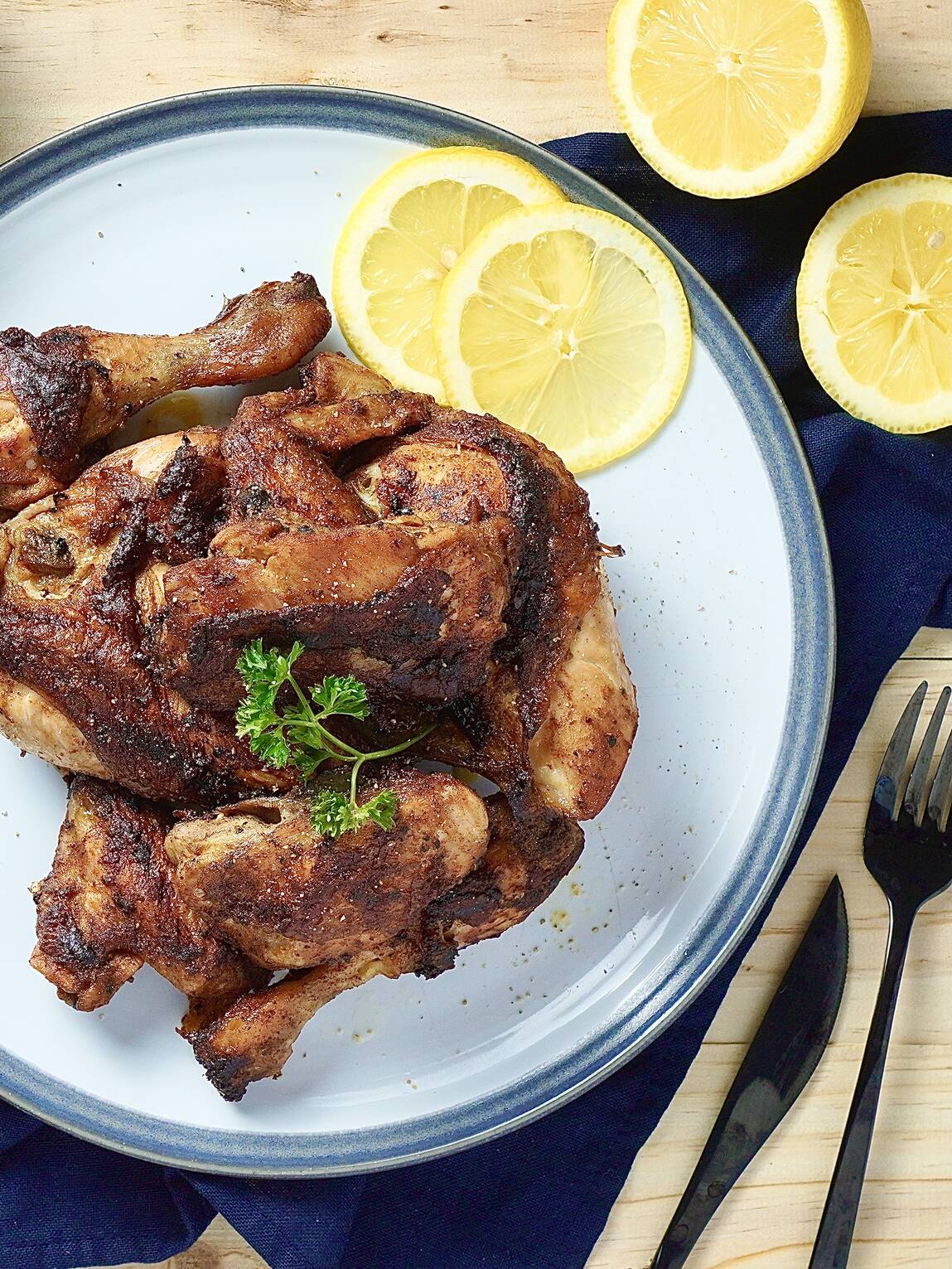 Ingredients
2

large jalapeño peppers

2

serrano chilis

3/4

cup

extra virgin olive oil + more for sautéing

1

TBS

cayenne

1

TBP sweet paprika

1

tsp

freshly ground black pepper

2

cloves

garlic

minced

1

small whole chicken

2-1/2

lemons

reserve 1/2

1

tsp

kosher salt

1

tsp

freshly ground black pepper
Instructions
Get ingredients together and make sure you have everything.

Chop the jalapeño and serrano chili peppers and place them in a small saucepan over medium heat. Add 3/4 cup of olive oil. Stir in the cayenne, paprika, and black pepper. Steep over for about 12 minutes. Add the garlic and continue to steep for 3 minutes longer. Allow the oil to completely cool. Place in a bowl or jar and cover. Put the cooled oil in the refrigerator and allow it to sit overnight.

Rinse the chicken under cold water and pat dry with paper towels. Using a heavy chef's knife and kitchen shears, cut the bird into 8 pieces: 2 legs, 2 thighs, 2 breasts, and 2 wings. Reserve the backbone for stock. This video shows how to butcher a whole chicken.

Strain the chili oil into a large bowl. Slice 2 lemons and add them to the bowl. Season with salt. Coat chicken with the oil and place the pieces in a large zip-top bag. Place the bag inside a baking dish to catch spills and refrigerate for at least 4 hours.

Preheat your oven to 500°F. Heat a cast-iron or other heavy oven-proof skillet over medium-high heat until it's quite hot, approximately 5 minutes. Meanwhile, remove the chicken from the chili oil and pat it dry. Season the chicken with salt and pepper.

Pour enough olive oil into the skillet to just coat the bottom. Put the chicken, skin-side down, in the hot skillet. Cook until the skin is crisp and golden, about 8 to 10 minutes. Turn the chicken skin-side up.

Put the skillet in the oven and roast the chicken for about 20 minutes, or until the internal temperature of the thigh reaches 170°F when checked with a digital meat thermometer.

Remove the chicken to a serving platter and juice the half lemon all over the top. Grind more pepper over the chicken and allow it to rest for 10 minutes.

Serve the spicy chicken while warm with your favorite sides.
Video
Nutrition
Calories:
453
kcal
|
Carbohydrates:
6
g
|
Protein:
7
g
|
Fat:
46
g
|
Saturated Fat:
7
g
|
Polyunsaturated Fat:
6
g
|
Monounsaturated Fat:
32
g
|
Trans Fat:
1
g
|
Cholesterol:
25
mg
|
Sodium:
609
mg
|
Potassium:
213
mg
|
Fiber:
2
g
|
Sugar:
2
g
|
Vitamin A:
815
IU
|
Vitamin C:
50
mg
|
Calcium:
19
mg
|
Iron:
1
mg
Notes & Tips
This recipe takes some time because you need to allow the chili oil to sit and to allow the chicken to marinate. Most of the time your refrigerator is doing the work.
As mentioned in the introduction to this recipe, your kitchen might get smoky from the high heat used to cook the chicken. It is recommended that you turn on an exhaust fan. Otherwise, cook the chicken over a grill outside.
Substitutions & Shortcuts
Butchering your own chicken is a big money saver. If you want to save time, you can certainly buy a package of chicken pieces.
For the spices, you can buy hot paprika and substitute 2 tablespoons of that for the cayenne and sweet paprika.
If you just don't have the energy or time to make your own chili oil, there are some great bottled chili oils in the international aisle of most markets. Or you can find chili oil online. My choice would be Calabrian chili oil for this recipe
What to Serve with Chicken Diavolo?
This chicken pairs well with something mild that can temper the heat. I like placing the chicken pieces on a bed of creamy polenta, cauliflower mash, or celeriac purée.
A cooling salad of cucumbers, tomatoes, and feta cheese is also an excellent pairing with spicy chicken.
For beverages, a butter Chardonnay would be nice. Or, you could go with a rose. I suspect in Sicily one might serve Novello. This is a red wine known for its robust and fruity flavor.
---
Recent Recipes