Simple Spicy Sausage Balls
These are the go-to snack in my house for playdates, parties or just an afternoon indulgence. It is quick to make and basically just needs three ingredients – sausage, cheese and Bisquick Baking Mix. Everything else is a personal choice. I even make this for breakfast as it is simple and filling and have even replaced meatballs in spaghetti with these on occasion.
The sausage balls are delightful, bite-sized pieces of spicy sausage that has been worked together with fresh, shredded sharp cheddar, some chives for extra flavor, garlic powder for some bite and of course the baking mix. There is nothing fancy about this, it is as basic as it is delicious. And you can make it vegetarian or gluten-free. You can make it child friendly and add on extra cheese or veggies like green or red peppers, peas or carrots and you can also make it spicy and add some jalapenos to it.
The sausage balls sometimes tend to get dry, in that case add a little bit of milk to soften it up. I also like to use some cream cheese if I think it is getting dry. Two to three tablespoons will suffice. They make the sausage balls creamy and delicious. Any way you choose to make them, remember to have something to dip them in, although they are very satisfying all by themselves. You can also try stuffing them in biscuits. My favorite dipping sauces are ranch, honey mustard or a spicy marinara. Enjoy this recipe for Spicy Sausage Balls.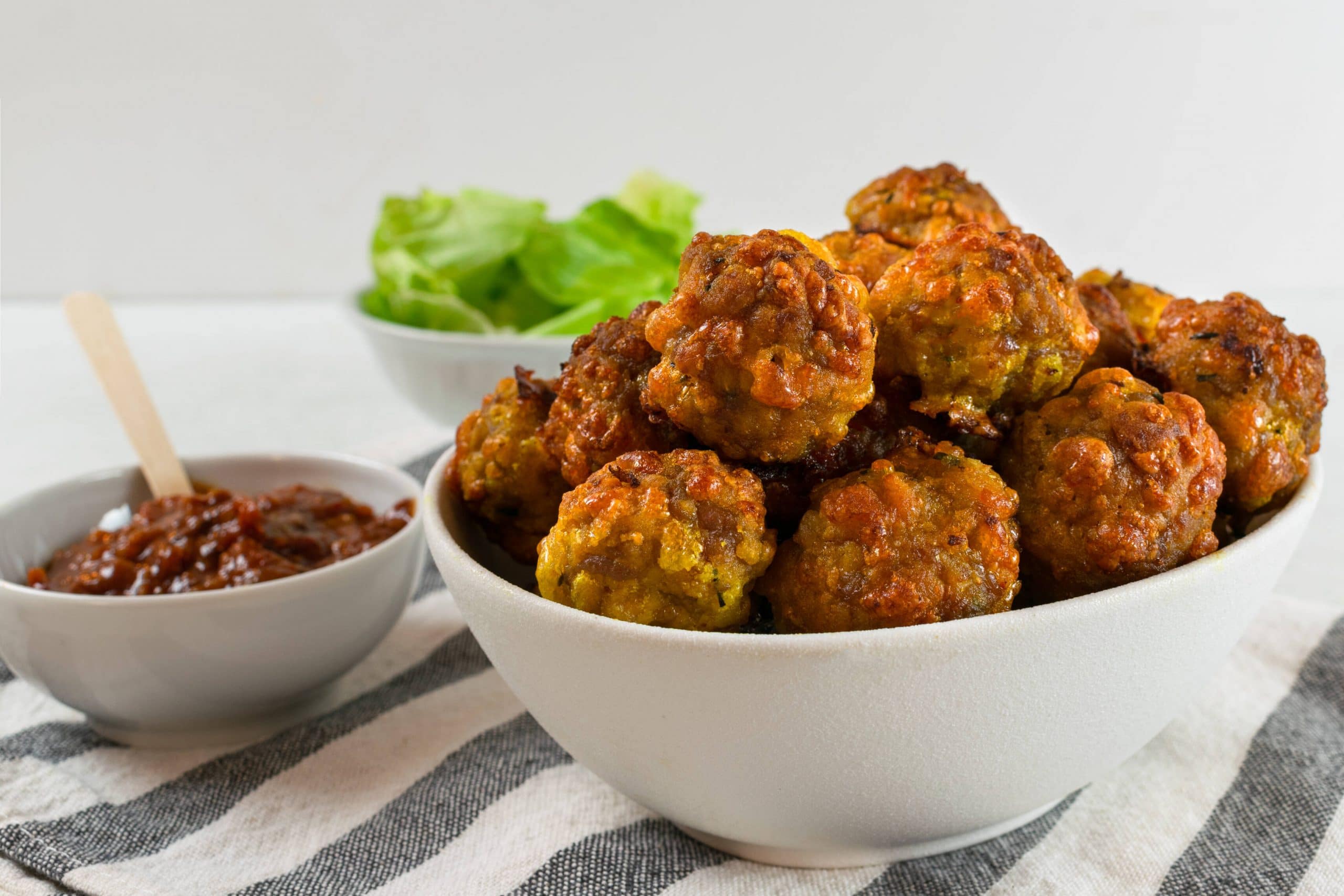 Ingredients
1

pound

ground spicy pork sausage

2

cups

Bisquick baking mix

2

cups

of freshly shredded sharp cheddar cheese

2

tablespoons

of chives

finely chopped

½

teaspoon

garlic powder
Instructions
Preheat the oven to 350 degrees

Grease a lined baking tray and set aside

In a large bowl, mix the ground sausage, the baking mix, the cheese, chives and garlic powder together.

Combine well and shape into small, golf-sized balls. You should get about 20-25 balls.

Put it in the baking tray, spaced nicely. Place in the oven.

Bake for around 20-25 minutes. The meat should be cooked.

Remove and serve hot with dip.
Video
Nutrition
Calories:
133
kcal
|
Carbohydrates:
6
g
|
Protein:
6
g
|
Fat:
9
g
|
Saturated Fat:
4
g
|
Polyunsaturated Fat:
1
g
|
Monounsaturated Fat:
4
g
|
Trans Fat:
1
g
|
Cholesterol:
23
mg
|
Sodium:
294
mg
|
Potassium:
71
mg
|
Fiber:
1
g
|
Sugar:
1
g
|
Vitamin A:
115
IU
|
Vitamin C:
1
mg
|
Calcium:
84
mg
|
Iron:
1
mg
Tips & Tricks
If the sausage, Bisquick, cheese and garlic powder mix is dry, add about two tablespoons of milk
You can also add cream cheese to the mix to get it more moist and juicy
Use freshly grated cheese and not store bought as they tend to be dry, and the Simple and Spicy Sausage Balls end up dry.
When you are rolling the mixture, roll them tight, but not too tight, so that they don't crack or fall apart while baking
Don't overcrowd the baking tray, space the balls out so they cook well and evenly.
Storage
The Simple and Spicy Sausage Balls do tend to get dry, so you don't want to refrigerate them for too long, as they only dry up further. You can keep the cooked sausage balls in the fridge for up to four days. Reheat them in the oven at 400 degrees for about 5-7 minutes. Ensure they don't overbake.
They can also be kept in the freezer for about two months. Reheat in the oven.
This is also a great make ahead dish. You can keep the uncooked sausage balls in the fridge for no more than two days. Bake them on the day of.
FAQs
Can I make them vegetarian?
Definitely. Use any vegan or vegetarian sausage as an alternative. Mix the vegetarian sausage with Bisquick, cheese, chives and garlic powder. Make into balls and bake. If you want to make it vegan, replace the cheese with any vegan cheese of your choice. You can add any nut milk or non-dairy milk if your mix is getting too dry. You can also spritz a little bit of oil to the mixture to loosen it up.
What can I use instead of Bisquick Baking Mix?
Bisquick Baking Mix is not a pantry regular for a lot of people, so here is what you can use in a pinch to replicate it. Use 1 cup of all-purpose flour, 1 ½ teaspoons of baking powder, ½ teaspoon salt and 1 tablespoon of shortening like unsalted butter or vegetable oil.

Pancake mix is another replacement for Bisquick except that it has sugar and your end product will have a little sweetness to it.
Substitutions
Sausage: Use whatever sausage is your preference, pork, beef, chicken, turkey or even vegan or vegetarian. Field Roast is a great store-bought vegan sausage or you can make your own vegan salami.
Cheese: Sharp cheddar is the best for this, but you can use Colby jack and pepper jack, they work very well in this.
Bisquick: If you don't have Bisquick, you can use a combination of baking powder and flour. For an allergy-friendly option, go with gluten-free Bisquick.
Chives: Chopped scallions are a good alternative, or you can just go with finely chopped onions.
Garlic Powder: This is all a matter of personal preference. You can use onion powder or a dry rub of your choice or you can choose to completely eliminate it.
There are a number of spices and herbs that you can use for the sausage balls. Cumin, coriander, paprika to name a few. You can also use herbs like thyme, dried, basil and Italian seasoning. You can also pack in some heat by putting in some sliced jalapenos, pimentos or just good old, chopped peppers. They add some crunch and heat to the sausage balls.
Accompaniments
These sausage balls are fun food, great for picnics and BBQs. They make a great side along with salads and coleslaw to be served with burgers, hotdogs and pizzas. They are also fantastic party appetizers, the perfect finger food. Just stick a toothpick in them, pair with a nice ranch dip or marinara dip. They make a great snack as well. Put them out on a tray with carrots, celery sticks and an assortment of cheese and of course a dip like honey mustard.
For some more delicious finger food, try your hand at this easy sweet or savory Sicilian Sfinci or easy cheesy Corn Pea Fritters.
---
Recent Recipes