Spicy Creamy Lobster Bucatini
Lobster bucatini is iconic for the spicy, creamy sauce swirled on top of the pasta. In this recipe, briny lobster tails steal the show with a creamy burrata sauce on top as the finishing touch.
Your friends and family will be impressed by the flavor, and you'll be impressed by how easy it is to make.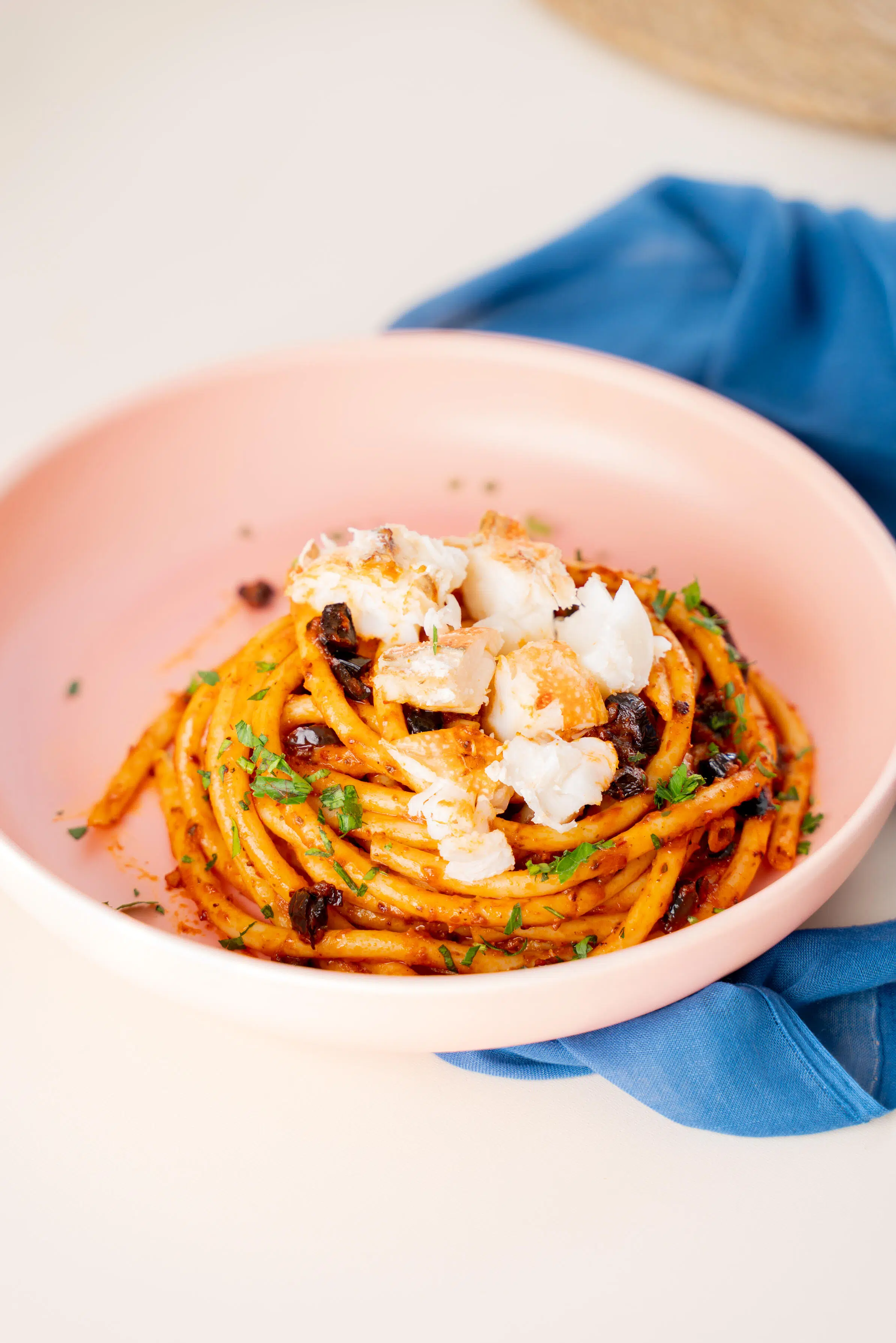 Ingredients
2

whole lobster tails

1

tbsp.

olive oil

1

tsp.

crushed red pepper

1

tsp.

Italian parsley

1 12

oz

jar marinara sauce

any brand

1

cup

finely chopped pitted Castelvetrano or black olives

1/2

pound

bucatini pasta
Instructions
Make sure you have all the ingredients before you begin.
For the lobster tails
Fill a cast-iron pot with water, salt it, and bring to a gentle boil. Cook the lobster tails for about eight minutes or until thoroughly cooked (see notes and tips below). For that classic bright-red lobster color, add a little vinegar to the water.

Run the tails under cold water to cool.

Use kitchen scissors to cut the shell on both sides. Pull out the lobster meat and cut it into bite-size pieces. Set aside
For the pasta
Pour olive oil into a medium-sized sauté pan or skillet and place on medium heat. Add crushed red pepper and toast it for about one minute.

Pour in the marinara sauce and olives. Bring to a simmer and cook for about five minutes, stirring gently.

Add the cooked pasta. Adjust the seasoning to your liking. Add oregano and some salt if desired. Mix evenly with the sauce and spices.

Turn off the heat and mix in the Italian parsley.

To serve, divide the pasta evenly among plates and garnish with the lobster tails.
Video
Nutrition
Calories:
1369
kcal
|
Carbohydrates:
197
g
|
Protein:
58
g
|
Fat:
41
g
|
Saturated Fat:
6
g
|
Polyunsaturated Fat:
6
g
|
Monounsaturated Fat:
27
g
|
Trans Fat:
1
g
|
Cholesterol:
161
mg
|
Sodium:
4665
mg
|
Potassium:
2159
mg
|
Fiber:
19
g
|
Sugar:
23
g
|
Vitamin A:
4008
IU
|
Vitamin C:
32
mg
|
Calcium:
295
mg
|
Iron:
9
mg
Notes & Tips
To avoid overcooking the lobster tails, cook them in simmering water for about eight minutes and make sure to check the color. Properly cooked lobster meat should have a creamy white color all the way through with no translucent patches.
Cool the lobster tails by running under cold water before attempting to remove the meat. Once cooled, flip over the lobster tails and use kitchen sears to cut slices into each side. Pull back the bottom part, remove the tail meat, and cut it into small pieces.
Fresh lobster will have firm, not mushy, tail meat. Below are some expert tips on how to shop for lobster.
You will get the freshest lobster bucatini by cooking the whole lobster yourself, rather than buying pre-cooked lobster tails.
How to shop for lobster
Where you purchase from also matters. Canadian or Maine lobster will have the freshest flavor. If your grocery store is close to the source, then you're in luck.
Buying lobster at the supermarket can be a daunting task even for the most seasoned seafood chef. Armed with these tips, you'll be a pro in no time.
Lobsters in a holding tank will start to eat each other's antennae. When you purchase at the grocery store, look for a lobster that has long antennae. This indicates that it has been in the tank for a shorter period of time.
The time of year you buy is a critical factor. Canadian lobster is cheaper during the early and end parts of the year. Maine lobster is cheaper in the middle of the year.
For more value, consider purchasing a cull, which is a lobster with only one claw. These are a great deal but have the same quality as a lobster with both claws intact.
Sides & Compliments
Serve with string beans and broccoli that are covered in butter and fresh-grated Parmesan cheese. If you are dairy-free, you can substitute vegan butter and a cheese alternative.
Steamed asparagus or glazed carrots are also vegetables that pair beautifully with lobster.
Any cooked pasta dish is fantastic with some garlic bread on the side. You can make some yourself by getting a loaf of French bread from the store, cutting some slices in it, and tucking in garlic and regular or vegan butter before putting it in the oven for about 20 minutes. Simple and sensational.
Storage
With the proper storage, you can enjoy your lobster bucatini for several days.
To store the lobster bucatini correctly, refrigerate it in a shallow, airtight container or resealable plastic bags. It will last in the refrigerator for about three to five days.
You can also freeze it in a covered airtight container or a heavy-duty freezer bag. It will last for about one to two months stored this way.
History
People have been eating lobster since prehistoric times. This was mostly concentrated among coastal communities around Britain, Australia, and South Africa. It wasn't until the Viking era that northern Europeans started consuming lobster and other shellfish in larger quantities.
Today, lobster is widely fished and consumed worldwide. There are many restrictions in place to prevent overfishing.
Questions
What is the best way to humanely kill a lobster?
Put live lobsters in the freezer for about fifteen minutes. Then plunge them head-first into boiling water. This is the quickest and kindest way to kill a fresh, live lobster.
What size pot should I use for cooking lobster?
Short answer: the biggest pot you have. This will ensure the heat circulates evenly around your lobster. It does not need to be a heavy-duty pot; water will boil faster in a lighter-gauge metal pot.
Should I steam the lobster or boil it?
You can do either. Boiling the lobster can make a mess when you pull them out of the water, but it will also cook them more evenly. Steaming reduces the chances of boiling over and yields more tender lobster meat.
What does lobster taste like?
The difference in taste lies in whether you've cooked a hard shell or soft shell lobster. Hardshell lobsters will have a tougher texture and a fishier taste. Softshell lobsters have sweeter meat. But they're both delicious! Be aware that hard shell lobster will have a higher meat-to-shell ratio than soft shell lobster.
---
Recent Recipes