A chimichanga is basically a deep-fried burrito. A burrito is a Mexican diet staple. But it appears that deep-frying a burrito is actually an invention of the Southwestern United States, specifically in Arizona in the early 20th century. Whether the chimichanga is Mexican or Southwestern US in its roots, no one will argue that this is a great dish.
My small town has 4 popular "Mexican" restaurants. One is very upscale and authentic. Another has a gigantic menu with an incredible selection of chimichangas that change with the seasons. My favorite of theirs is the fresh crab chimichanga. But the best place is the size of a shoebox. There is a counter with 3 stools. They only make burritos and you can get them warmed or deep-fried. You have filling and topping options but not too many. I like this place.
What is great about this little takeout joint is that they make all their fillings ahead of time and prep the fresh topping every morning. This makes the operation run efficiently and quickly. What I have learned from my local south-of-the-border place is that leftovers are excellent fodder for burritos and chimichangas.
I will cook up a pot of dried and sprouted kidney beans on the weekend to add to soups and tacos during the week. I also roast chicken and sometimes cook some seasoned grass-fed ground beef. These are great for making fast meals. I admit that I am not beneath picking up an organic rotisserie chicken from Whole Foods that lasts for 3 meals and then I make bone broth with the carcass. That is epic for $9.00. You can see where I am going with this.
For this chicken chimichanga recipe, I highly recommend using leftover or store-bought cooked chicken that you can shred with 2 forks like you would pulled pork. I like to add plenty of cooked vegetables, aromatics, beans, cheese, and spices. Flour tortillas work best for frying and achieving that great crispy shell that makes a chimichanga what it is.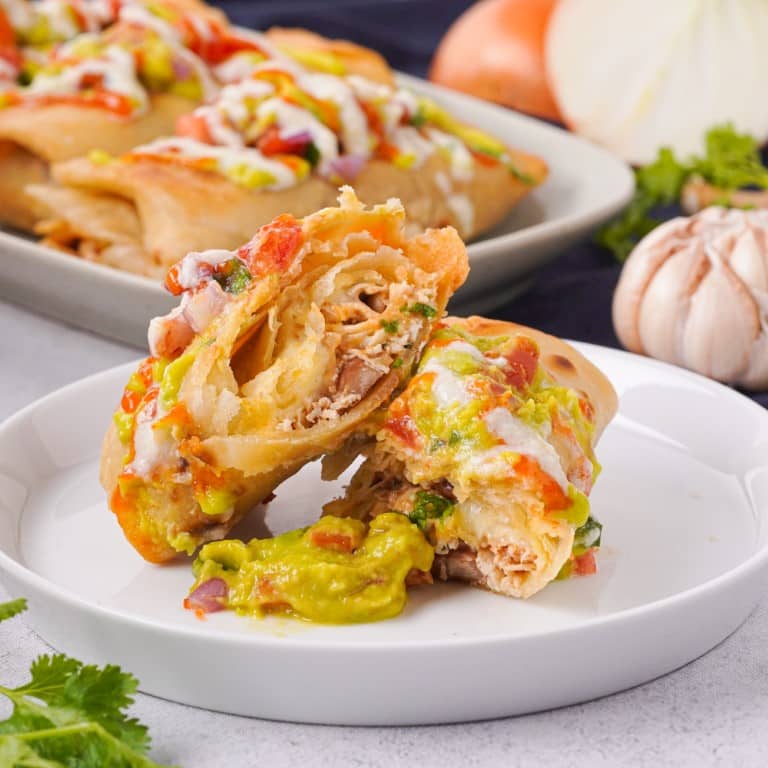 Ingredients
1 ½

Tbsp

avocado oil

1

small onion

peeled and chopped

1

garlic clove

peeled and minced

¾

tsp

dried oregano

1

small jalapeno pepper

seeds removed and minced

1

tsp

chili powder

1

tsp

cumin

¾

tsp

sea salt

1

vine-ripened tomato

diced

1

cup

canned pinto beans

drained and rinsed

1 ½

cups

shredded cooked chicken

1 ½

Tbsp

fresh cilantro leaves

chopped

3

Tbsp

sour cream

4

10-inch flour tortillas

1

cup

shredded Monterey jack cheese

Oil for frying

avocado or light refined olive oil
Topping Options
Avocado crema

Tomato or green salsa

Guacamole

Hot sauce

Warm cheese sauce
Instructions
All ingredients ready? Let's begin!

In a large skillet over medium-high heat, add the oil and onion. Cook the onion until softened, approximately 2 minutes. Add the garlic, jalapeno, and oregano. Stir and cook until the garlic is fragrant, about 1 minute. Stir in the chili powder, cumin, and salt and warm through for 30 seconds.

Lower the heat to medium. Add the diced tomato and cook until the juices are released and the tomato softens, approximately 2 to 3 minutes.

Add the beans, chicken, cilantro, and sour cream to the pan. Stir until it just starts to bubble. Then, turn the heat off.

To a large cast-iron pot or Dutch oven, add 1-1/2 inches of frying oil. Turn the heat to medium-high and heat the oil to 350°F, using a hot liquid thermometer to check the temperature. Meanwhile, assemble the burritos.

Take a flour tortilla and place 1/4 of the filling in the center. Top with 1/4 of the cheese. Fold the sides of the tortilla toward the center over part of the filling.

Holding the sides in place, roll the end of the tortilla closest to you over the filling. Keep rolling until you have a burrito "log". Continue until you have 4 burritos.

Place the burritos (2 at a time) into the hot oil, seam side down. Cook for 1 minute, then roll the burrito over and cook for another minute. Continue to do this, using tongs to hold the burritos in place, until all sides are golden brown and crisp. Alternatively, cook these in your home deep fryer for about 3 minutes.

Serve the chimichangas while hot and crunchy with toppings of your choice.
Nutrition
Calories:
590
kcal
|
Carbohydrates:
35
g
|
Protein:
26
g
|
Fat:
39
g
|
Saturated Fat:
10
g
|
Polyunsaturated Fat:
7
g
|
Monounsaturated Fat:
17
g
|
Trans Fat:
0.1
g
|
Cholesterol:
73
mg
|
Sodium:
1135
mg
|
Potassium:
464
mg
|
Fiber:
5
g
|
Sugar:
4
g
|
Vitamin A:
826
IU
|
Vitamin C:
10
mg
|
Calcium:
325
mg
|
Iron:
4
mg
Notes & Tips
I have been asked if the burritos can be assembled ahead of time and fried later. The answer is definitely no, in my opinion. Once the tortillas become soggy, they will disintegrate when they hit the hot oil.
For a healthier spin, you can bake or air fry these chimichangas. Brush the burritos with oil and bake them in a 400°F oven or air fryer until golden brown and crispy, rotating once.
Substitutions & Variations
Avocado Oil: I like the higher smoke point and neutral flavor of avocado oil for this recipe. If using olive oil, it might be best to opt for "light" or refined. Grapeseed, canola, and safflower are all fine. Seed oils can oxidize quickly once the bottle is opened. I recommend buying smaller bottles and storing them in the refrigerator once opened.
Pinto Beans: I alternate between pinto, kidney, and black beans in my chimichangas. Some recipes call for refried beans. I actually find that they make the filling too mushy. I like a little more texture in my chimichangas. You can definitely cook your own dried beans. I am somewhat obsessed with sprouting organic dried beans. I soak them overnight, drain them the next day and let them sit in a bowl. I repeat the process for 2 or 3 days until they grow little sprouts that look like tails. I then cook them and they only take about 30 minutes. Sprouted beans are highly digestible and loaded with protein and fiber.
Chicken: I love using leftover or rotisserie chicken for chimichangas. You can definitely swap that out for pulled pork, ground beef, cooked shrimp, and even flaked salmon. Of course, you can make this a vegetarian dish by adding diced zucchini, roasted butternut squash cubes, a variety of beans, and even marinated and sauteed tempeh instead of animal protein.
Monterey Jack Cheese: I like the way Monterey jack melts inside a chimichanga. Feel free to use a packaged Mexican shredded blend of cheeses, cheddar cheese, or a mix of stretchy mozzarella and cotija cheeses.
---
Recent Recipes