Homemade Oaxacan Tlayudas
I spent a semester in Texas when I was in college. While there, I decided to visit Mexico because I had never been and had a week off. I am not talking about staying at a glamorous seaside resort with upscale vacationers from north of the border. I was a student on a budget and simply wanted to experience the country. A fellow student and I decided to drive his small rusty brown Toyota Carola across the border and just get right into the culture on our poorly researched road trip. I can't even remember exactly where we were, but it was interesting.
Our first order of business was to try the local street food. The word "street" is used loosely in this story. The roads were dusty dirt. The one-story buildings were all made of the same dirt, so everything was the same color. Kids kicked soccer balls in the dust and small dogs were running around everywhere. It was so different from what we knew but so interesting and lively.
One thing that really stood out was the fields of bright red poppies and super fresh vegetables and grains that surrounded the outskirts of the villages we visited. These people lived simply, yet they worked the land meticulously. The food we sampled was so fresh and healthy. My favorite was a giant tortilla that was filled with beans, cheese, and whatever toppings I wanted. It was folded over and handed to me in newspaper to eat with my hands. It was like no taco I had ever tasted before.
I much later learned that this was a local version of tlayuda Oaxaqueña, a common street food that is basically a large corn tortilla grilled over an open flame or on a comal-style clay griddle. The rustic tortilla was topped with a variety of ingredients, including cheese, and eaten like a pizza or quesadilla.
A traditional Oaxacan tlayuda is a dish that is native to the state of Oaxaca and includes a local white string cheese or quesillo that is similar to mozzarella. The warm grilled or griddled tortilla is layered with refried or pureed beans and cheese, similar to a pizza with tomato sauce and cheese. You choose from a variety of toppings, such as beef, pork sausage, or chicken. In addition, you might be offered crunchy chopped cabbage, sliced avocados, tomatoes, onions, and maybe crispy fried grasshoppers to add on top.
That last ingredient is not a typo. Grasshoppers and crickets (chapulines) are high-protein fried street snacks in Latin and South America. They have almost no fat, are crunchy like chips, and are considered a healthy food in the region. In my recipe, we are skipping the insects, not because I can't order them online but basically because they are a bit off-putting. I am not there yet.
I have modified the classic Oaxacan tlayuda recipe to better accommodate the ingredients that are available in our American markets and the appliance in our kitchens. One thing that remains the same is the freshness of the produce that I so well remember on my visit to the remote villages of Mexico.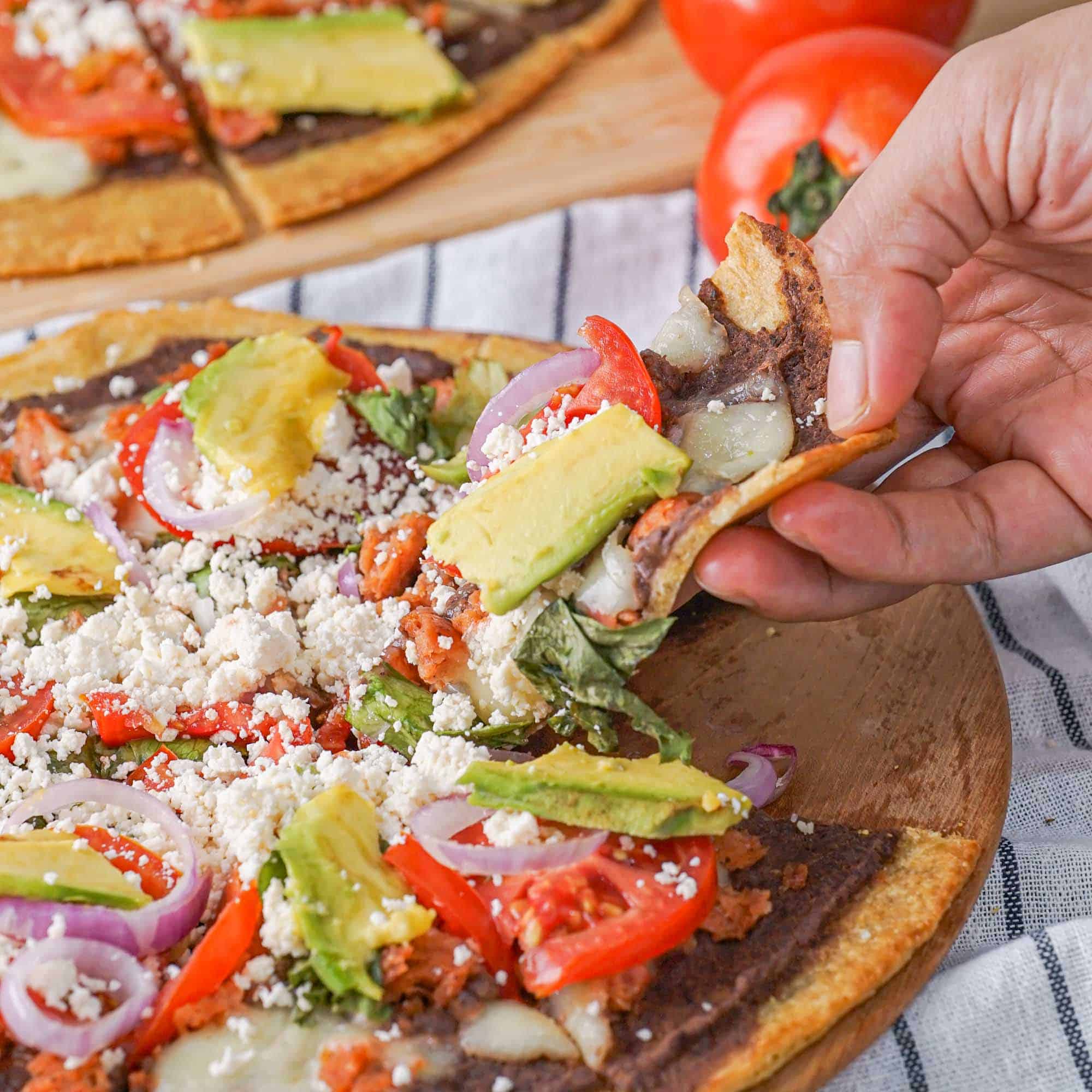 Ingredients
1

Tbsp

avocado oil

1

medium onion

peeled and finely chopped

2

cloves

garlic

minced

2

cups

canned black beans

drained over a bowl with liquid set aside

1

tsp

ground cumin

1

tsp

dried oregano

preferably Mexican

1

tsp

sea salt

1/2

tsp

freshly ground pepper

1/4

tsp

cayenne

2

large

12-inch or (3 8-inch) corn or corn and wheat tortillas

1

cup

shredded Oaxaca cheese

1

cup

cooked and crumbled Mexican chorizo

1

cup

chopped savoy cabbage

2

medium ripe tomatoes

sliced thinly

1

small red onion

peeled and thinly sliced

1/2

cup

crumbled queso fresco

1

ripe avocado

pitted, peeled, and sliced for serving
Instructions
All ingredients ready? Let's begin!

In a large skillet over medium-high heat, warm the avocado oil. Add the onion and cook until just softened, about 2 minutes. Add the garlic and cook for another minute.

Stir in the beans, cumin, oregano, salt, pepper, and cayenne. Cook this mixture until the beans are warmed through and the herbs and spices are fragrant, approximately 3 to 5 minutes. Turn off the heat and allow the beans to cool for a few minutes.

Transfer the beans to the jar of a blender and pulse a few times. Add some of the reserved can liquid (aquafaba) to the beans, scrape down the side of the jar, and pulse again. Continue doing this until you have a thick and slightly chunky purée that is spreadable.

Preheat your oven to 450°F. Line a baking sheet with parchment paper or foil.

Place as many tortillas as will fit on the baking sheet. Spread equal portions of the bean puree on each tortilla. Top that with equal amounts of Oaxacan cheese. Then, add the same amounts of the crumbled chorizo.

Place the tlayudas in the oven and bake for 5 minutes until the cheese melts.

Add some cabbage, tomatoes, onion slices, and queso fresco evenly over the tlayudas. Return the tlayudas to the oven and bake for another 3 to 5 minutes until the edges of the tortillas are crispy and browned. You want the produce and cheese to only be warm, not cooked.

Repeat steps 5, 6, and 7 with the other tortillas until all are baked.

Top each tlayuda with slices of fresh avocado. Slice into wedges like you would a pizza and serve while warm with napkins.

Enjoy your Homemade Oaxacan Tlayudas!
Nutrition
Calories:
401
kcal
|
Carbohydrates:
31
g
|
Protein:
20
g
|
Fat:
25
g
|
Saturated Fat:
11
g
|
Polyunsaturated Fat:
3
g
|
Monounsaturated Fat:
6
g
|
Trans Fat:
0.1
g
|
Cholesterol:
21
mg
|
Sodium:
1187
mg
|
Potassium:
730
mg
|
Fiber:
11
g
|
Sugar:
5
g
|
Vitamin A:
749
IU
|
Vitamin C:
19
mg
|
Calcium:
155
mg
|
Iron:
3
mg
Notes & Tips
If you are using chorizo for the filling/topping, remove it from the casing and cook it before placing it on the tlayuda. Don't place any uncooked animal proteins on the tlayuda. It doesn't bake for long enough to cook the meat thoroughly.
I recommend lining your sheet pan with parchment or foil for easy cleanup. Alternatively, you can use a preheated pizza stone for a more authentic cooking technique.
Substitutions, Shortcuts & Additions
Avocado Oil: Avocado oil is popular in Mexican cooking. I like it because it is light in calories and flavor. If you want to be really authentic, use a tablespoon of lard in this recipe. It adds an unctuousness to the creamy beans.
Black Beans: Many tlayuda recipes call for black beans. However, when I had this delicious snack, it was in a state farther north of Oaxaca and they served it with refried pinto beans, which was very good. I think you could use any creamy bean for making the purée. A shortcut to making your own bean purée is to buy a couple of cans of refried beans that you can simply heat up for a minute.
Cayenne: Cayenne adds a little heat to the beans. For a milder component, use chili powder that you might already have in your spice rack.
Corn Tortillas: Tlayuda actually refers to a large Oaxacan corn tortilla, as well as a description of this particular dish. You might not be able to find corn tortillas that are as large as this recipe calls for. There are tortillas made with corn and wheat flour that are 12 inches in diameter. And, much to my joy, just last week I found large gluten-free tortillas at a grocery store I only visit a few times a year. The brand is Mission and I think they were 10 inches. If you can only find 8-inch tortillas, make 3 or 4 tlayudas instead of 2 larger ones.
Oaxaca Cheese: This cheese is really similar to the mozzarella string cheese that our kids love. It is soft and bouncy, stringy, and salty. Feel free to substitute mozzarella cheese or even Monterey jack.
Chorizo: This recipe is really delicious with shaved ribeye steak that has been lightly sautéed or grilled. It is also great with shredded chicken, pulled pork, or carne asada. If you want to keep this recipe vegetarian, try grilled and sliced portabella mushrooms or roasted red and yellow bell peppers.
Savoy Cabbage: Really, any cabbage will do for this recipe. Otherwise, you can use shredded iceberg or romaine lettuce. If using lettuce, you might want to add it as soon as the tlayuda comes out of the oven with the avocados after the second baking so it stays crisp.
Salsa: Red or green salsa is very nice when drizzled over the top of the "pizza". I think this is a good addition to have on the side for those who want it.
Cilantro: Fresh herbs are also a nice addition sprinkled over the top of the tlayudas. Cilantro is perfect.
---
Recent Recipes