Yaki udon is a surprisingly easy dish to prepare. It is basically protein, vegetables, chewy udon noodles, and a savory and sweet stir-fry sauce.
Beef is a popular choice of protein for classic Japanese yaki udon. I like to use sirloin steak for this dish. Tenderloin or ribeye work as well. For the vegetables, I prefer to keep it simple with garlic, onion, shitake mushrooms, and baby bok choy. I garnish the dish with cilantro and sesame seeds.
The noodles can be purchased already cooked and softened in sealed packages from most Asian markets. You just need to place them in boiling water for a couple of minutes and then rinse them in cold water before serving them. You can also find dried udon noodles in many regular supermarkets or natural foods stores. If you are feeling ambitious, try making udon noodles from scratch with just all-purpose wheat flour, salt, and water.
I use a wok to first blanch the noodles and then to stir fry the beef and vegetables. If you don't have a wok, you can make this dish in a large heavy-bottomed skillet or sauté pan that retains heat evenly. Make the sauce first so you can pre-season the meat and add the rest when the beef and vegetables are partially cooked.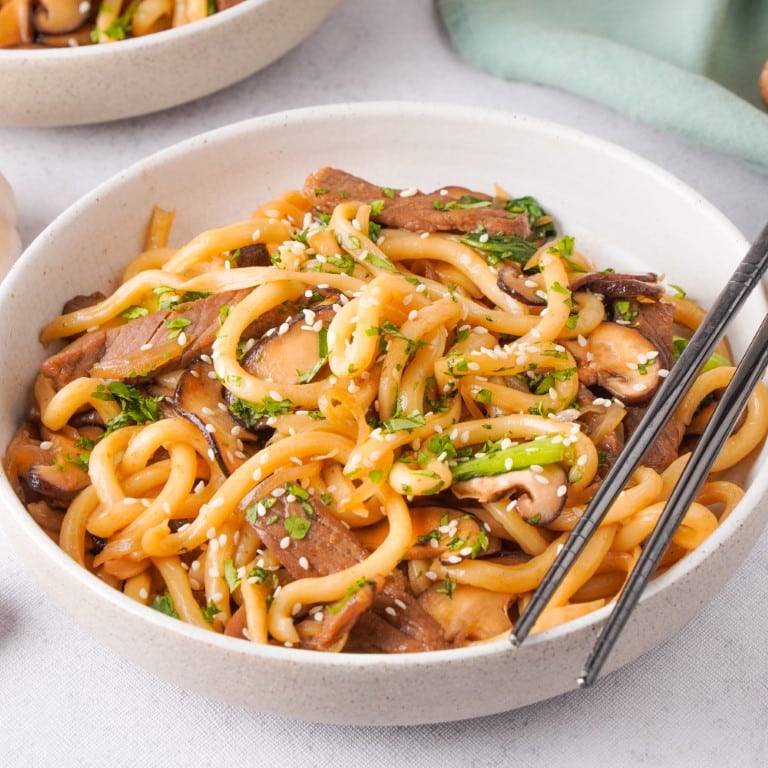 Ingredients
Sauce

3

Tbsp

soy sauce or tamari

2

Tbsp

mirin

1

Tbsp

granulated sugar

1

tsp

toasted sesame oil

½

tsp

cornstarch

Stir-Fry

14

ounces

of packaged soft udon noodles

2

Tbsp

neutral cooking oil

avocado or grapeseed

9

ounces

sirloin steak

sliced thinly against the grain

1

medium white onion

peeled, cut in half, and sliced thinly

2

garlic cloves

peeled and sliced thinly

4

ounces

shitake mushrooms

stems removed and sliced thinly

2

or 3 heads of medium-sized baby bok choy

more if they are very tiny, washed and sliced vertically into quarters

2

Tbsp

minced cilantro leaves

1

Tbsp

sesame seeds
Instructions
All ingredients ready? Let's begin!

Slice the beef against the grain. Gather and prepare all of your vegetables.

In a small mixing bowl, whisk together the soy sauce, mirin, sugar, sesame oil, and cornstarch until the sugar and cornstarch dissolve. Season the beef with 1 tablespoon of the sauce and set the rest of the sauce aside.

In a wok on high heat bring about 3 cups of water to a boil. Drop the udon noodles into the water and blanch for just 1 minute or 2 until they separate from one another. Drain the noodles in a colander and rinse under cold water. Set the noodles aside.

Reduce the heat under the wok to medium-high. Add the oil and beef to the hot wok and stir fry for about 2 minutes until the beef starts to brown.

Move the beef to one side of the pan and add the onions and garlic and cook them for about 1 minute until fragrant. Add the mushrooms and continue to cook for another minute. Add the bok choy and toss everything together, including the beef, to combine.

Place the udon noodles on top of the stir-fried vegetables and beef. Pour the remaining sauce over everything and toss again to coat evenly. Cook until the sauce reduces and everything is glossy, approximately 2 minutes. Transfer the yaki udon to a serving bowl or platter and top with the cilantro and sprinkle the sesame seeds over the top. Serve immediately.
Nutrition
Calories:
575
kcal
|
Carbohydrates:
81
g
|
Protein:
32
g
|
Fat:
15
g
|
Saturated Fat:
2
g
|
Polyunsaturated Fat:
3
g
|
Monounsaturated Fat:
6
g
|
Trans Fat:
0.03
g
|
Cholesterol:
39
mg
|
Sodium:
2205
mg
|
Potassium:
394
mg
|
Fiber:
8
g
|
Sugar:
17
g
|
Vitamin A:
2529
IU
|
Vitamin C:
28
mg
|
Calcium:
113
mg
|
Iron:
2
mg
Notes & Tips
It is important to slice the steak against the grain. Otherwise, it tends to seize up when cooking and becomes very chewy. If you use tougher cuts of beef, such as London broil or flank steak, you can make extra sauce and marinate the sliced beef for an hour or longer.
I do recommend gathering and preparing all your ingredients before you start to cook because this dish cooks very quickly. It will go from the wok to the dinner table in less than 10 minutes.
When using soft, packaged udon noodles, blanch them very briefly as they are already cooked and you don't want to overcook them so they get mushy.
Substitutions & Shortcuts
Soy Sauce: If you are gluten-free or avoiding soy, skip the soy sauce and use coconut aminos.
Mirin: A great substitute for mirin is dry sherry or Shaoxing wine.
Cornstarch: I keep a variety of thickening starches in my pantry. If corn is off your diet, try kudzu, arrowroot powder, or tapioca starch instead.
Udon Noodles: There are both pre-cooked and dried udon noodles to choose from. Don't fret if you can't find either. You can make this dish with egg noodles or even linguini. However, if you are avoiding gluten, I recommend shirataki or konjac noodles, japchae glass noodles, rice noodles, bean threads, and even buckwheat soba noodles that are the base for classic Japanese yaki soba.
Beef: There is no reason you can't make this recipe with other proteins, such as prawns, lamb, pork, or chicken. You just need to adjust the cooking time. To make this a vegetarian dish, try extra firm tofu that has been marinated in some of the sauce.
Vegetables: I like this dish so much that I make it often during the week. I actually leave my wok on the stove because it gets used a few times a week. After work, I open my fridge and go right for the crisper drawers to see what I have to make a stir fry. Anything goes for the veggies in yaki udon. You can use broccoli florets, bell peppers, snow peas, string beans, button mushrooms, thinly sliced carrots, baby corn, spinach – you get the idea.
Cilantro: Cilantro is an excellent detoxifying herb. I do realize that not everyone likes the flavor of cilantro. Feel free to substitute with minced chives, sliced scallions, or minced basil leaves. The green color of the herbs really brightens up the dish.
Shortcuts: The best shortcut is the soft packaged udon noodles that only need to be blanched for a minute or two. Another shortcut that I have recently discovered is pre-sliced vegetable packs in the produce aisle. I will sometimes grab a packet labeled "stir fry" that has broccoli florets, sliced onions, diced bell peppers, and sliced shitakes. I also admit that out of laziness, I will simply grab my coconut aminos and use that as my sauce.
---
Recent Recipes