Best Crock Pot Chicken Enchiladas
Enchiladas have always been one of my family's favourite dinners. They make the perfect weekend meal and can be an easy way to use up the back-of-the-fridge shredded cheese. However, as much as I also love chicken enchiladas, they can be a pain to make.
For years I have refused to even attempt the meal during the week, opting for a much easier Mexican tortilla soup instead. But finally I have discovered a solution to those mid-week blues… crock pot chicken enchiladas! They have become the perfect slow cooker meal that I can throw together in the morning and leave to cook in my crock pot through the day, ready just in time for dinner.
The longer I can allow the chicken to cook in the enchilada sauce, the more flavour the dish develops, so I don't have to worry at all about overcooking or ruining such a delicious dish. True, crock pot chicken enchiladas are not exactly the same as chicken enchiladas – they are not served in crispy tortillas as the tortilla is in the sauce itself. However, this slow cook recipe remains a hit with my family regardless of the differences. I even have time to spare to whip up some quick stuffed peppers to serve as the perfect side dish. However, some plain rice works just as well if you would like a more filling side.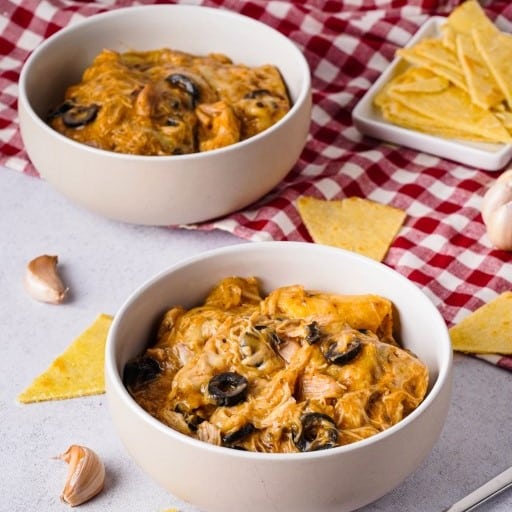 Ingredients
6

tablespoons

olive oil

6

tablespoons

flour

1

tablespoons

of chili powder

2

teaspoons

ground cumin powder

2

teaspoons

garlic powder

1

teaspoon

dried oregano

½

teaspoon

salt

¼

teaspoon

pepper

4

tablespoons

tomato paste

2

chicken stock cubes

4

cups

boiling water

1 ½

pounds

boneless

skinless chicken thighs

12

Corn tortillas

2 ½

cups

cheddar cheese

shredded

1

cup

sliced black olives
Instructions
All ingredients ready? Let's begin!

Start by making the enchilada sauce directly in your crockpot by setting it to a medium high heat. When the crockpot has heated up, pour in the 6 tablespoons of olive oil.

While the oil is getting hot, combine the flour, chilli powder, ground cumin powder, garlic, oregano, salt, and pepper in a cup or small bowl. Use a fork to mix the dry ingredients together.

You can also prep the chicken stock during this time. Boil your kettle and place 2 chicken stock cubes in a jug. Measure out 4 cups of boiling water and pour the water directly over the stock cubes.

Use the same fork as before to break apart the stock cubes until they have dissolved into the boiling water. Then set the stock aside.

By this point, your olive oil should be sizzling away meaning that you are ready for the next step.

Ready a whisk and add the flour mixture to the oil.

As soon as the flour mixture hits the hot oil, start whisking and do not stop. Keep whisking, allowing the flour and dry spices to cook and develop their flavour. This should take 2-3 minutes.

When the flour and spices have darkened in colour, add the tomato paste to the crock pot. Never stop whisking!

Allow a minute or so for the tomato paste to combine with the flour and then start to pour your chicken stock into the crock pot. Do this slowly until you have used all of the stock.

Now whisk, whisk, whisk! Don't stop whisking until as few lumps as possible remain.

As soon as you are happy with the texture of the sauce, you can give your arm a rest and leave the enchilada sauce to simmer in your crock pot. Place the lid half way on the crock pot to allow the sauce to reduce some. Go ahead and prep the rest of the ingredients for you chicken enchiladas. But remember to stir the enchilada sauce every 5 minutes or so until it thickens.

As soon as the sauce is thick enough, add your raw chicken thighs to the crock pot.

Put the lid on your crock pot and set it to a high heat for 4 hours. Or you can set it to low for 6 hours.

After the chicken has been cooking for hours, use 2 forks to shred the chicken directly in the crock pot.

Use a spatula to thoroughly coat all of the chicken in the enchilada sauce.

Take your corn tortillas and chop them into small strips or triangles. Add these to the crock pot too and mix everything together.

Pour 2 cups of the shredded cheddar cheese over the enchiladas as well as all of the black olives.

Give everything one final mix to ensure that all of your ingredients are combined.

Finally top the whole dish off with the remaining ½ cup of shredded cheddar cheese.

Cover the crock pot once more. Set it to a low heat and leave the enchiladas to cook for a further 40 minutes before serving.

Enjoy your Crock Pot Chicken Enchiladas!
Nutrition
Calories:
479
kcal
|
Carbohydrates:
25
g
|
Protein:
28
g
|
Fat:
30
g
|
Saturated Fat:
10
g
|
Polyunsaturated Fat:
3
g
|
Monounsaturated Fat:
14
g
|
Trans Fat:
0.01
g
|
Cholesterol:
116
mg
|
Sodium:
1057
mg
|
Potassium:
441
mg
|
Fiber:
4
g
|
Sugar:
2
g
|
Vitamin A:
871
IU
|
Vitamin C:
2
mg
|
Calcium:
317
mg
|
Iron:
2
mg
Notes & Tips
Once you get started making your enchilada sauce, you will find that it thickens and burns very quickly if you are not prepared. So, measure all of your spices and ingredients out before you make the sauce to ensure a tasty enchilada sauce.
This can store in a sealed container in the fridge for 5 days.
Alterations
Of course, you do not have to make the enchilada sauce yourself if you are short on time or want to make this recipe a little easier for yourself. Store brought enchilada sauce can be just as tasty as homemade sauce. So long as the premade sauce you use is a red enchilada sauce then it will work perfectly well in this crock pot chicken enchilada recipe.
I like to use boneless skinless raw chicken thighs in my crock pot enchiladas purely because they have much more fat than chicken breasts, making for a tenderer and richer meal. However, you can use plain chicken breasts if you prefer. Just do not use more than 1.5 pounds of chicken as it will disbalance the sauce to meat ration and make for a dry meal.
---
Recent Recipes