Potatoes prepared in the Calabrian style is a spicy dish that utilizes starchy potatoes and a variety of hot and sweet peppers. Calabria is famous for its hot peppers and chili paste.
Red Calabrian chilis are both spicy and fruity. You can find them fresh or dried in many markets, but they are generally sold packed in oil in sealed jars. Fresh chili peppers are ideal for this recipe. You can substitute with serrano or Fresno chilis.
Calabrian potatoes include both hot and mild peppers. Red, green, and yellow bell peppers are all good options, the riper peppers are a little sweeter. I like to include savory green bell peppers in this dish for the color and savory quality.
Yukon Gold potatoes are preferential for this recipe. Their skins are thin and the interior flesh is yellow, waxy, and creamy. They hold up very well when sautéed and complement the skin and flesh of the peppers. The textures are similar.
You can serve Calabrian potatoes with sausage meatballs, braised beef, scrambled eggs, or crispy skin fish filets. I have a close friend who sautés hot Italian sausage in the skillet and then adds the potatoes and peppers. She places the pan in a hot oven and bakes this as a casserole. It is one of my favorite entrees with crunchy cabbage and carrot salad.
This particular recipe for Calabrian potatoes is vegan and gluten-free. It is perfect for a meatless Monday meal when paired with sturdy greens braised with a little vinegar and topped with toasted walnuts or pine nuts.
Note: You will need a large heavy-bottomed skillet for this recipe, approximately 14-inches. A Dutch oven will also work.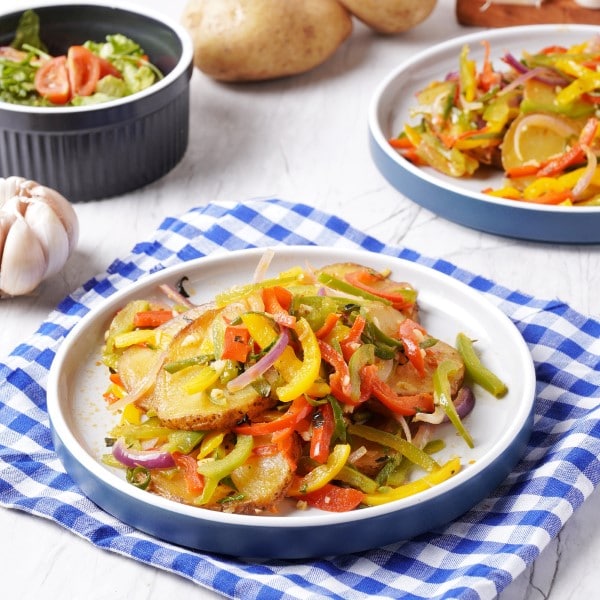 Ingredients
½

cup

extra virgin olive oil

2

pounds

Yukon Gold potatoes

approximately 5 potatoes, sliced thinly

2

red bell peppers

seeded and sliced thinly

2

green bell peppers

seeded and sliced thinly

1

orange or yellow bell pepper

seeded and sliced thinly

5

Calabrian or serrano chili peppers

seeded and sliced thinly

1

medium red onion

peeled and sliced thinly

3

cloves

garlic

peeled and chopped

½

tsp

dried oregano

¼

cup

filtered water

1

tsp

Calabrian chili paste

optional

Sea salt and freshly ground pepper to taste

2

Tbsp

chopped fresh basil

2

Tbsp

chopped fresh flat-leaf parsley
Instructions
All ingredients ready? Let's begin!

In a very large skillet over medium heat, add the olive oil and sliced potatoes.

Sauté the potatoes until they start to turn golden brown, stirring occasionally, for approximately 10 minutes.

Add the sliced peppers, onion, garlic, and oregano to the potatoes.

Continue cooking for about 5 minutes until the onions and garlic are aromatic and begin to soften.

Add the water to the pan. As soon as it boils, lower the heat, cover the pan, and simmer for 10 minutes. Remove the cover and allow the vegetables to continue cooking until the water has evaporated.

Stir in the Calabrian chili paste, if using. Season with salt and pepper to taste. Turn the heat off and stir in the basil and parsley.

Transfer the potatoes and peppers to a serving bowl and serve while warm with your preferred protein or a mixed green salad.
Nutrition
Calories:
468
kcal
|
Carbohydrates:
52
g
|
Protein:
7
g
|
Fat:
28
g
|
Saturated Fat:
4
g
|
Polyunsaturated Fat:
3
g
|
Monounsaturated Fat:
20
g
|
Sodium:
23
mg
|
Potassium:
1342
mg
|
Fiber:
9
g
|
Sugar:
7
g
|
Vitamin A:
2447
IU
|
Vitamin C:
232
mg
|
Calcium:
61
mg
|
Iron:
3
mg
Notes & Tips
This dish requires a large skillet to handle all the veggies as they first go in. They will cook down. If necessary, use 2 pans or cut the recipe in half. A friend of mine bakes the dish in a large casserole dish in a hot oven similar to Greek lemon fries. She also adds slices of Italian sausage for a non-vegan entrée.
Not everyone's stove is calibrated the same. Mine is actually calibrated a little higher than most. So, keep an eye on the potatoes and peppers. Adjust the timing or temperature as needed.
Calabrian potatoes use a lot of olive oil. I suggest using a high-quality oil because you will taste it. The EVOO adds a bit of oiliness that is actually preferable. This dish is often served with slices of crusty Italian bread that can be used to sop up some of that intensely flavored oil.
Substitutions & Shortcuts
Yukon Gold potatoes are great for this recipe because they are thin-skinned and have flesh that is both waxy and fluffy. If you can't find Yukon Golds, you could substitute with Red Bliss or even Fingerlings. Because the skin is thin, I don't bother peeling the potatoes. I actually like the skins, but some people don't. Not having to peel potatoes is a time saver.
While I like the appealing colors and nutritious beta-carotene in the different bell peppers, you don't need to use all three colors. Basic green bell peppers are actually fine. Sometimes the riper, brightly hued peppers are not available and they do cost a lot more than green bell peppers.
The Calabrian chili paste is optional, depending on whom you are serving. I add it for a spicy crowd. If you don't want the extra spice, place some chili paste in a condiment bowl with a small spoon on the side and let everyone decide for themselves if they want more heat. The potatoes can certainly handle the extra heat, as long as your palate can as well.
As mentioned, you can bake Calabrian potatoes. I might slightly parboil them first. Assemble the dish, place it in the oven and go about your business. Stir it once or twice. This frees you up to make a salad or to grill some chicken thighs to go along with the potatoes.
---
Recent Recipes