Creamy Curried Broccoli Soup
I tried my hand at growing broccoli in my tiny backyard garden a while ago with surprising success. Broccoli does very well if planted in early spring when the temperatures are still cool. You will have small heads in late spring and full crowns by summer. If trimmed often, the plants will continue to produce crowns well into autumn until the plants bolt or flower. This is a plant that keeps on giving and I encourage anyone with a garden to try growing broccoli. Freshly cut broccoli crowns are nothing like the ones that have been sitting in a produce bin at the market.
So, what did I do with all of my harvested broccoli? I made a lot of stir-fry dishes, oven-roasted florets, pasta with broccoli, and plenty of creamy soups. One of my favorite fall soups is curried broccoli soup which is creamy in consistency but doesn't actually have dairy in it. I use coconut milk to keep the soup free of lactose. This soup is paleo, keto, gluten-free, and GAPS-compliant.
This is a very easy soup to make. You will basically need fresh broccoli crowns, onion, garlic, coconut oil, chicken stock, coconut milk, and seasonings. You could probably make this with frozen broccoli florets, but I haven't yet tried that.
I like serving this lovely green soup with a big dollop of slowly fermented yogurt on top to be swirled into the soup. I also serve a slice of toasted baguette or a nice piece of roasted garlic bread. These options aren't gluten-free, however. This soup will serve 4 as a starter course or 2 as an entrée.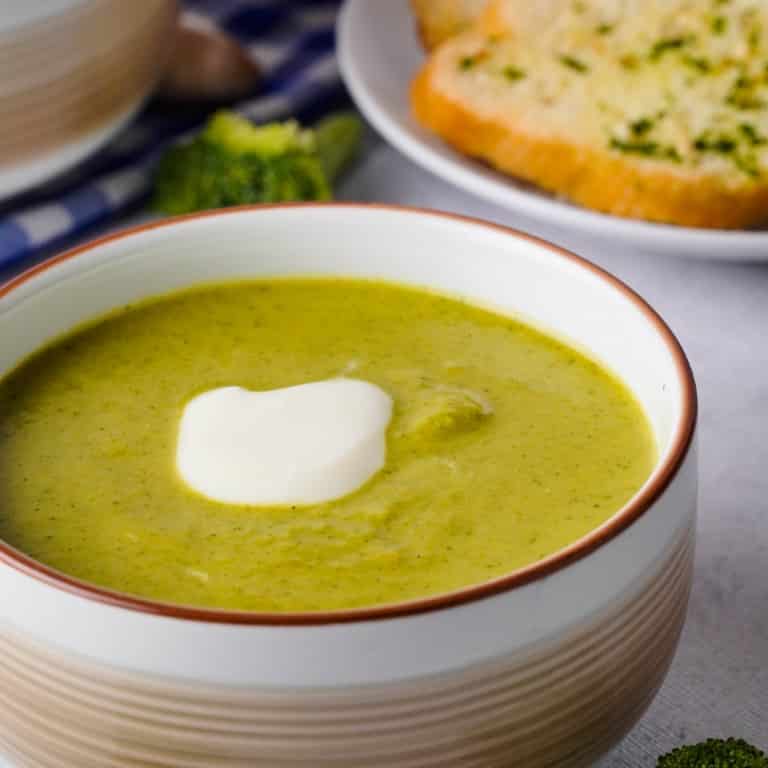 Ingredients
2

Tbsp

extra virgin coconut oil

¼

tsp

sea salt

1

medium onion

roughly chopped

1

clove

of garlic

chopped

2

Tbsp

curry powder

adjust to your liking

½

tsp

paprika

1

pound

broccoli florets or 3 crowns

chopped

2 ½

cups

chicken or vegetable stock

1

bay leaf

¼

cup

unsweetened full-fat coconut milk

more if needed

Sea salt and freshly ground pepper to taste

Plain yogurt for serving

optional
Instructions
All ingredients ready? Let's begin!

In a 2-quart soup pot over medium heat, melt the coconut oil. Add the salt and onions. Sauté until the onions have softened, approximately 5 minutes while stirring occasionally. Add the garlic, curry powder, and paprika and continue to cook until the garlic is soft and the spices are aromatic for about another 1 minute.

Add the stock and bay leaf. Bring the stock to a boil.

Reduce the heat to a low simmer. Cover the pot and simmer for about 10 minutes or until the broccoli is fork-tender but not mushy and gray. Turn off the heat and allow the soup to cool for several minutes to reduce the steam.

Fish out the bay leaf and discard it. Transfer the soup to a blender and process it into a smooth purée.

Pour the blended soup back into the pot and turn the heat to medium. Stir in the coconut milk. Season with salt and pepper to taste. Warm the soup until it has the consistency you desire. You can add more coconut milk or stock if it is too thick.

Serve while hot with a dollop of yogurt on top of each portion.
Nutrition
Calories:
208
kcal
|
Carbohydrates:
19
g
|
Protein:
8
g
|
Fat:
13
g
|
Saturated Fat:
10
g
|
Polyunsaturated Fat:
1
g
|
Monounsaturated Fat:
2
g
|
Cholesterol:
5
mg
|
Sodium:
402
mg
|
Potassium:
648
mg
|
Fiber:
5
g
|
Sugar:
6
g
|
Vitamin A:
776
IU
|
Vitamin C:
105
mg
|
Calcium:
85
mg
|
Iron:
2
mg
Notes & Tips
Be sure the soup has cooled somewhat before blending it so the pressure doesn't build up in the blender causing the top to pop off. Alternatively, you can puree the soup with an immersion blender right in the pot.
Make sure you stir the top layer of coconut cream inside the can into the coconut milk so it is a thick consistency.
Substitutions
Coconut Oil: For sautéing the onions and garlic, you can use extra virgin olive oil or ghee instead of coconut oil.
Curry Powder: If you don't really like curry, you can leave it out or just add a little more paprika and maybe some turmeric. Turmeric has a lovely orange color and is excellent for keeping blood pressure and inflammation in check.
Broccoli: This creamy soup recipe can easily be adapted for other vegetables, such as cauliflower, spinach, winter squash, or fresh spring asparagus.
Stock: I do enjoy the flavor and volume of my homemade chicken stock for this soup but any stock will do. You can keep this soup vegetarian by using vegetable stock.
Coconut Milk: Full-fat coconut milk is very creamy and has a nice flavor that works well with curry. If you aren't avoiding dairy, you can definitely use heavy cream.
Yogurt: The yogurt adds a little tanginess that compliments the curry. Just add a spoonful and swirl it into the soup. You can completely leave the yogurt out or just drizzle a little extra coconut milk or cream over the top of the soup before serving. The swirl is pretty.
Nutrition of Broccoli
Broccoli is a cruciferous vegetable in the cabbage family that also includes arugula, brussels sprouts, and cauliflower. Most broccoli is green but it can be purple.
This vegetable is incredibly low in calories and fat, providing just 34 calories per 100 grams. However, it is very high in dietary fiber, antioxidants, vitamins, and minerals. You pretty much can't go wrong with consuming a lot of broccoli.
Fresh broccoli is a rich source of vitamins A and C. A is necessary for good eye health and C is a natural immune booster that aids if fending off viruses. It also provides a pretty decent amount of B complex vitamins and vitamin K. In addition, broccoli is also a good source of minerals like calcium, iron, magnesium, manganese, phosphorous, selenium, and zinc.
---
Recent Recipes