Easy Dragon Fruit Smoothie
I learned about dragon fruit (pitaya) by watching Top Chef, not during my trips to the Caribbean where this fruit is native. This is actually the fruit of certain cactus varieties, not to be confused with prickly pear. Its scaled (layered) outer skin and signature whisps are reminiscent of the armor and mane of a mythical dragon.
My local Stop & Shop grocery store has a small but somewhat impressive tropical produce section. There are avocados, bananas, dragon fruit, mangoes, papayas, pineapples, plantains, yucca, and more. It is nice to have this resource to make some of my favorite island recipes.
Dragon fruit is one of the most attractive fruits when you slice into it. The flesh can either be white, yellow, pink, or red. It is speckled throughout with tiny edible black seeds. The flavor is mild and varies in degrees of sweetness.
Why Add Dragon Fruit to a Smoothie?
While this fruit may not be that easy to find north of the Caribbean Sea, this is a great addition to a healthy and creamy smoothie.
One cup of this delicious fruit is about 60 calories with 0 grams of fat. This same amount has 3 grams of dietary fiber and 1.2 grams of protein. Dragon Fruit is a rich source of vitamin C, magnesium, iron, and cancer-fighting antioxidants.
And of course, the colorful flesh and seeds really make the smoothy ready for a photo op. I like to set aside a few cubes of fruit to add to the top of the smoothie as an inspirational garnish. I believe in the chefy practice of garnishing your dishes with the fresh ingredients that they contain to give you a visual and aromatic hint as to what is in the dish.
Do I Have to Use Fresh Dragon Fruit?
Here's the thing, dragon fruit isn't necessarily available everywhere. I feel fortunate that we have it locally available when it is in season. It is possible to find frozen chunks of dragon fruit. There is also a concentrated powder of dragon fruit that retains the color and nutrients. I haven't ever tried the powder, but I am sure it is convenient.
I like to keep this smoothie within the tropical theme by incorporating ingredients from the same region, like mangos and bananas. I also add plant-based milk to keep this vegan.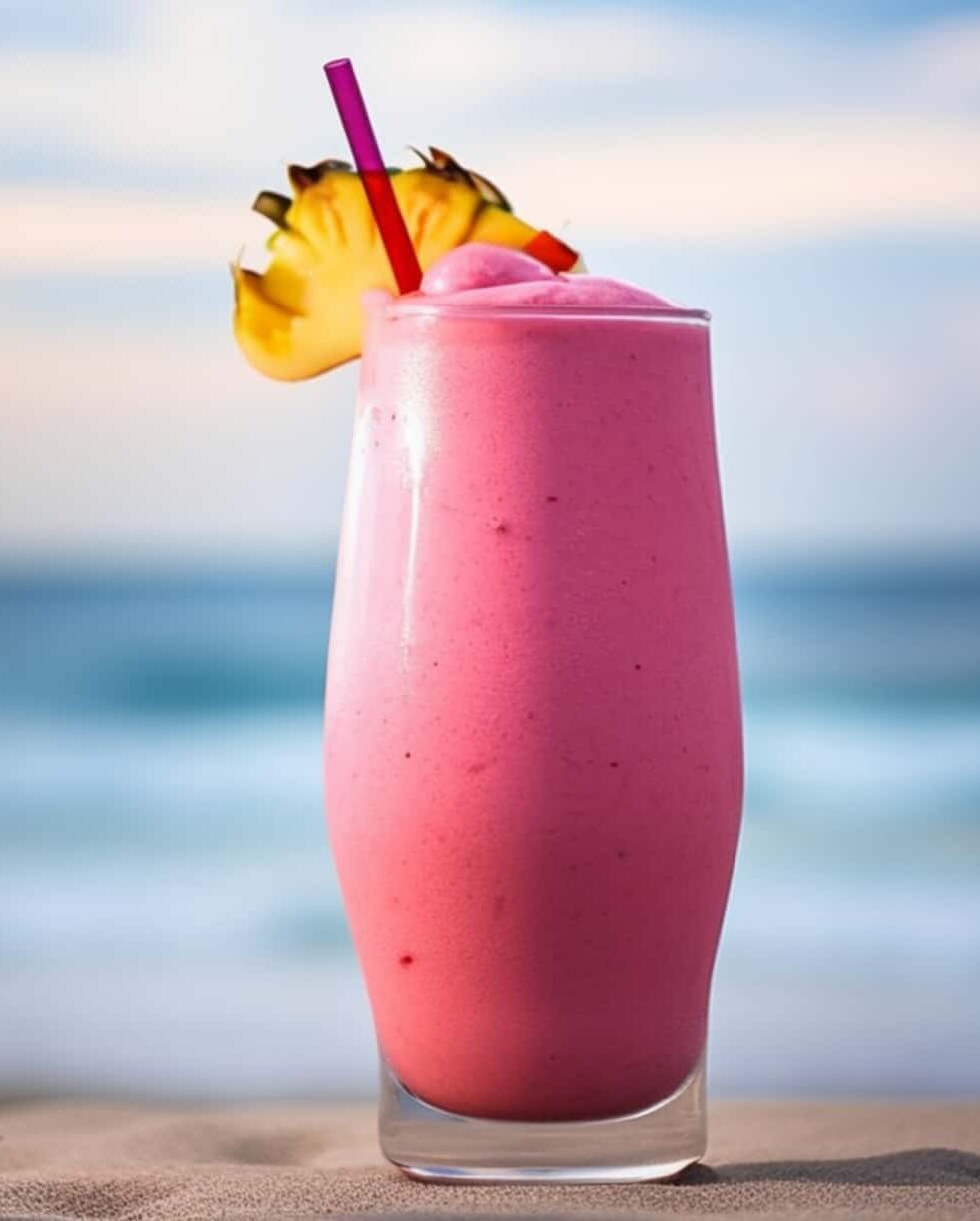 Ingredients
1

cup

peeled and diced fresh dragon fruit + 6 cubes set aside for garnish

1

cup

fresh diced mango

2

ripe bananas

peeled and quartered

3/4

cup

coconut milk beverage

not coconut water

2

Tbsp

freshly squeezed lime juice

4

ice cubes

2

drops of pure vanilla extract

1

tsp

vegan protein powder

optional
Instructions
Place the dragon fruit, mango, banana, coconut milk, lime juice, ice, vanilla, and protein powder (if using) in the jar of a high-speed blender. Process until everything is puréed, smooth, and creamy. Add more milk if the drink is too thick.

Pour the smoothie into 2 tall glasses. Garnish with the extra chunks of dragon fruit on top.

Serve with straws and enjoy.
Nutrition
Calories:
263
kcal
|
Carbohydrates:
54
g
|
Protein:
4
g
|
Fat:
4
g
|
Saturated Fat:
2
g
|
Polyunsaturated Fat:
0.2
g
|
Monounsaturated Fat:
0.2
g
|
Sodium:
99
mg
|
Potassium:
581
mg
|
Fiber:
6
g
|
Sugar:
38
g
|
Vitamin A:
976
IU
|
Vitamin C:
45
mg
|
Calcium:
59
mg
|
Iron:
3
mg
Notes & Tips
Dragon fruit might be a challenge to peel for some. A trick I learned is to slice the fruit in half lengthwise and scoop out chunks with a melon baller.
If you don't want to add ice cubes, you can freeze the fruit pieces on a parchment-lined sheet pan and add them cold to the blender. Or, you could buy frozen packaged fruit to add to the smoothie. Mango is available frozen.
Full-fat canned coconut milk might be too thick for this smoothie. I prefer the shelf-stable or refrigerated cartons that are labeled "coconut beverage" which has the consistency of dairy milk.
Substitutions & Additions
Mango: While mango fits right in with the tropical theme of this drink, feel free to swap that out for strawberries, blueberries, peaches, or pineapple. The berries add lots of color to this drink.
Coconut Beverage: You can absolutely substitute with almond milk, oat milk, soy milk, and even dairy-based milk if not keeping it vegan.
Vanilla Extract: Vanilla extract lightly sweetens the smoothie without adding sugar. This is an optional ingredient. One of my other favorite additions is pure almond extract.
Cacao Powder: I keep raw cacao nibs and powder in my pantry to add to smoothies and to bake with when I want vegan chocolate. Vegan carob powder is another option.
Pumpkin Seeds: Another of my favorite additions to smoothies is raw pumpkin seeds. Pepitas are high in protein, making them a good and affordable substitution for protein powder, which can be costly. They are also loaded with minerals, vitamins, fatty acids, and compounds to treat parasitic infections.
Lime Slices: For a more festive presentation, garnish the rim of the glass with a slice of fresh lime.
More Smoothie Recipes
I start many mornings with a fruit or leafy green smoothie. I think you could make a smoothie from just about any fresh produce, except maybe raw potatoes. Smoothies are cleansing and nutritious. They also help with digestion because they are gentler on the intestines than fruits and vegetables in their whole form. We have a bunch of unique smoothie recipes that you might want to try:
Storage & Reheating
Smoothies are best consumed immediately after they're made, as they can separate and lose their creamy consistency over time.
If you must store your dragon fruit smoothie, pour it into an airtight container and refrigerate for up to 24 hours. Keep in mind that the texture and flavor may change slightly during storage.
To re-blend a separated smoothie, simply give it a good stir or pour it back into the blender and blend briefly until combined again. You may need to adjust the consistency by adding more coconut milk or another liquid.
Serving Suggestions
Serve your dragon fruit smoothie in a tall glass with a straw for easy sipping.
For an extra touch, garnish the smoothie with a slice of fresh lime on the rim of the glass.
You can also serve this smoothie in a bowl and top it with granola, nuts, or your favorite fruit for a delicious smoothie bowl breakfast.
Customization For Common Dietary Restrictions
Gluten-free: This recipe is already gluten-free, just make sure any additional ingredients or substitutions you use are also gluten-free.
Dairy-free: This recipe is already dairy-free and uses coconut milk as the liquid base. Feel free to substitute with other plant-based milk options like almond milk, oat milk, or soy milk.
Nut-free: The base recipe is nut-free, but be cautious with substitutions and additional ingredients to ensure they are also nut-free.
Keto-friendly: To make this smoothie more keto-friendly, replace the bananas with avocado, use a low-carb sweetener instead of any added sugar, and choose a high-fat, low-carb milk option like unsweetened almond milk or full-fat coconut milk.
Common Mistakes
Over-blending: Avoid blending the smoothie for too long, as this can cause it to become frothy or watery. Blend just until the ingredients are combined and smooth.
Not using ripe fruit: Using underripe fruit can result in a less sweet and flavorful smoothie. Make sure your fruit is ripe and at its peak flavor.
Using too much liquid: Adding too much liquid can cause the smoothie to become too thin. Start with the recommended amount and adjust as needed to reach your desired consistency.
Health Risks & Benefits of This Recipe
Benefits:
Dragon fruit is low in calories and high in nutrients like vitamin C, magnesium, iron, and antioxidants that may help fight cancer.
Mangoes and bananas are both great sources of vitamins and minerals, as well as dietary fiber.
Coconut milk is a good source of healthy fats and can help keep you feeling full and satisfied.
Risks:
Some people may be allergic to certain fruits used in this smoothie, so be aware of any allergies before consuming.
If you're watching your sugar intake, be mindful of the natural sugars present in the fruit used in this recipe.
Recipe History & Context
Dragon fruit, also known as pitaya, is native to the Caribbean and Central America. The popularity of dragon fruit has grown in recent years, and it's now commonly found in grocery stores and markets outside of its native regions. Dragon fruit smoothies have become popular for their vibrant colors, unique flavor, and numerous health benefits.
Common Questions
Can I use frozen dragon fruit instead of fresh?
Yes, you can use frozen dragon fruit in this smoothie recipe. Frozen dragon fruit retains the color and nutrients of the fresh fruit, making it a great alternative when fresh dragon fruit is not available or out of season.
What are some alternative fruits to use instead of mango?
Feel free to swap out mango for other fruits like strawberries, blueberries, peaches, or pineapple. These fruits will also add color and flavor to your smoothie.
Can I use a different type of milk in this recipe?
Absolutely! You can substitute the coconut beverage with almond milk, oat milk, soy milk, or even dairy-based milk if you're not aiming for a vegan smoothie.
What can I use as a substitute for the vanilla extract?
Vanilla extract is an optional ingredient in this recipe. If you prefer, you can use pure almond extract as an alternative to vanilla extract.
Are there any additional toppings or garnishes I can add to the smoothie?
For a more festive presentation, you can garnish the rim of the glass with a slice of fresh lime. Additionally, you can sprinkle raw pumpkin seeds or cacao nibs on top of the smoothie for added flavor and nutrients.
---
Recent Recipes