Easy Cheesy Italian Meatball Sliders
Meatball sliders can be great or they can be a soggy mess. There was a deli across the street from my office that made meatball sandwiches that were so popular because the meatballs were homemade and the buns were a day old. Day-old buns were a little dry and they sopped up the tomato sauce and didn't go limp and fall apart.
For me, you have to nail the meatballs so they are juicy and light. Next, you need a sturdy little slider bun that is toasted to dry it out a little. The other key to success is not to assemble and bake the sandwiches whole, as you might with other slider recipes. Assemble the sliders right before serving them.
I have tried a variety of meatball recipes and keep coming back to a simple one that my brother-in-law's Italian Nona made for every holiday dinner. The ingredients were basically ground beef, aromatics, eggs, torn bread, milk, cheese, and seasonings. She browned them in olive oil and then simmered them in marinara sauce. I vary the recipe a little by using breadcrumbs in place of bread and ricotta instead of milk.
Rather than King's Hawaiian dinner rolls, I use rolls that aren't quite so soft. I prefer a Parker House roll or mini Kaiser buns.
We are starting this recipe by making good meatballs because that is where the flavor lies. The tomato sauce can be any good jarred variety or your own homemade sauce. I actually like a creamy pomodoro sauce for sliders, if you plan on making your own.
Cheesy meatball sliders are great party or game day snacks all by themselves. I would pair these sandwiches with crispy onion rings, jalapeño poppers, fried pickle slices, sweet potato fries, and/or Caesar salad.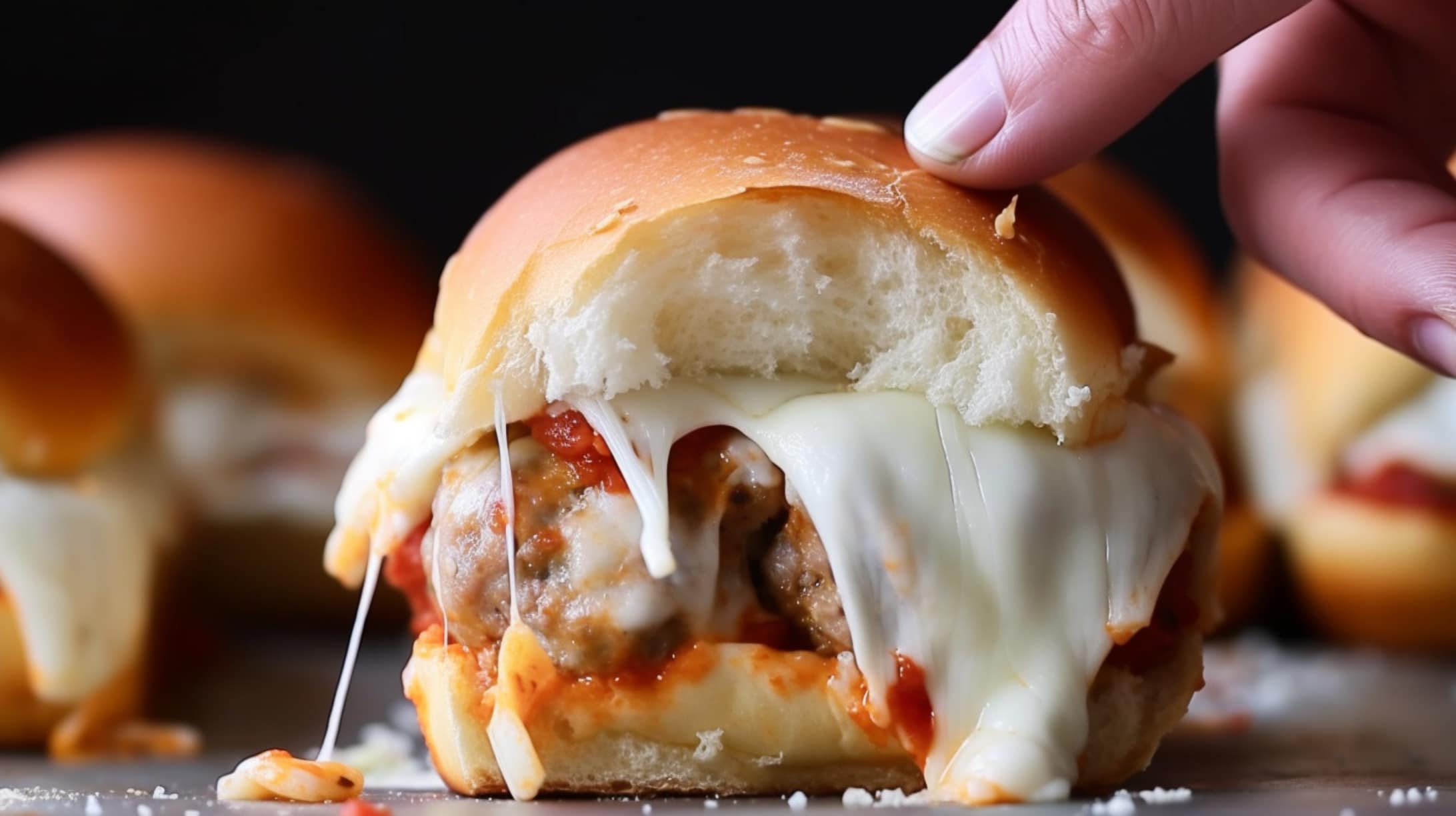 Ingredients
1

pound

of ground beef

2

cloves

of garlic

finely minced

1/2

cup

plain breadcrumbs

2

tsp

Italian seasoning blend

1/2

tsp

sea salt

1/2

tsp

freshly ground black pepper

1

large whole egg

1/2

cup

ricotta cheese

1/4

cup

grated parmesan cheese

2

Tbsp

extra virgin olive oil

divided

4

cups

marinara or pomodoro sauce

8

ounces

mozzarella cheese

cut into 8 slices

8

sturdy slider rolls
Instructions
In a large mixing bowl, combine the ground beef, garlic, breadcrumbs, seasoning, salt, and pepper. Use clean or gloved hands and gently mix to combine.

Crack the egg into the meat mixture. Add the ricotta and parmesan. Again, using your hands, gently mix this all together to combine.

Divide the meat mixture into 8 equal portions. Roll each portion into a meatball and place them on a sheet pan to rest for a few minutes.

Preheat your oven to 400°F.

In a large and deep oven-proof skillet or Dutch oven over medium heat, warm 1 tablespoon of olive oil. Add the meatballs to the skillet and cook until browned on all sides, rotating often.

Pour the tomato sauce all around the browned meatballs. Transfer the skillet or pot to the preheated oven. Simmer the meatballs for 10 minutes. Turn them over and continue to simmer until cooked through, approximately 10 minutes longer. Check the meatballs with a digital meat thermometer. You are looking for an internal temperature of 160°F.

Transfer the cooked meatballs to your stovetop to rest. Turn the oven on to broil. Make sure the top rack is about 6 to 8 inches below the broiler element.

Slice the slider buns in half and place them on a sheet pan, inside facing up. Brush them with the remaining tablespoon of olive oil. Place the buns under the broiler for just a few seconds until golden brown and toasted.

Remove the top halves of the buns from the sheet pan. Using a slotted spoon, place a meatball on each of the roll bottoms. Put a slice of mozzarella on top of each meatball. Return the pan to the oven and broil just until the cheese melts, a few seconds.

Transfer the buns with the meatballs to a platter. Spoon a small amount of sauce on top of each meatball. Place the bun tops on the sliders and serve immediately with plenty of napkins.

Save the remaining sauce for another meal. It is perfect for pasta.
Nutrition
Calories:
863
kcal
|
Carbohydrates:
59
g
|
Protein:
50
g
|
Fat:
48
g
|
Saturated Fat:
19
g
|
Polyunsaturated Fat:
3
g
|
Monounsaturated Fat:
18
g
|
Trans Fat:
1
g
|
Cholesterol:
190
mg
|
Sodium:
2135
mg
|
Potassium:
1202
mg
|
Fiber:
7
g
|
Sugar:
15
g
|
Vitamin A:
1704
IU
|
Vitamin C:
18
mg
|
Calcium:
541
mg
|
Iron:
8
mg
Want More Slider Recipes?
Nothing says party food better than sliders that can be eaten with one hand. Sliders don't have to be limited to tiny burgers on mini buns. They can include pork slices with a Cuban flare, vegan eggplant with a spicy kick, or ham and cheese. Here are some other slider recipes you might want to try for your next gathering.
Notes and Tips
If your ricotta cheese is stored in liquid, drain it in a kitchen strainer before adding it to the ground beef mixture.
Remember to lightly toast the rolls. This will help to keep the sliders from becoming soggy and messy.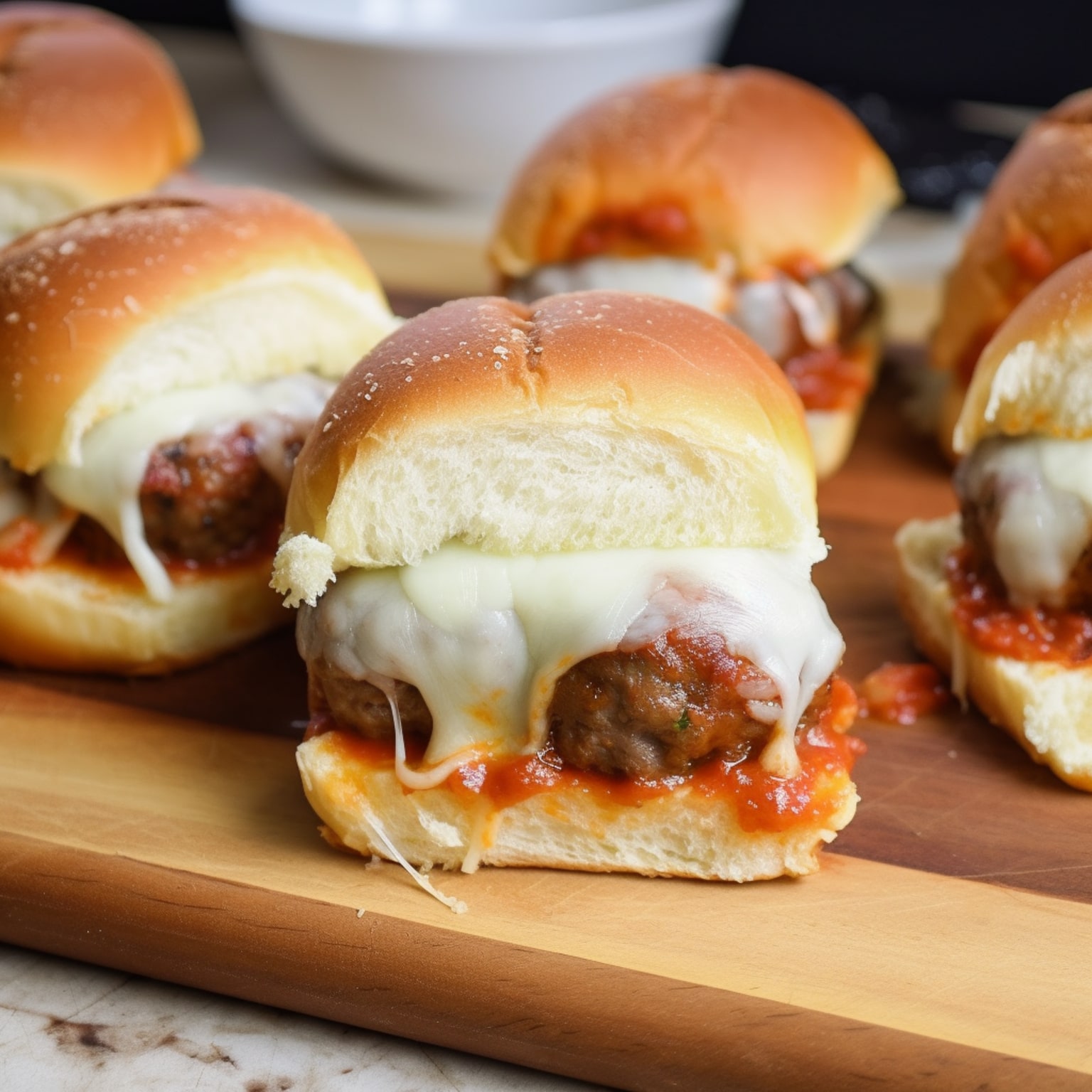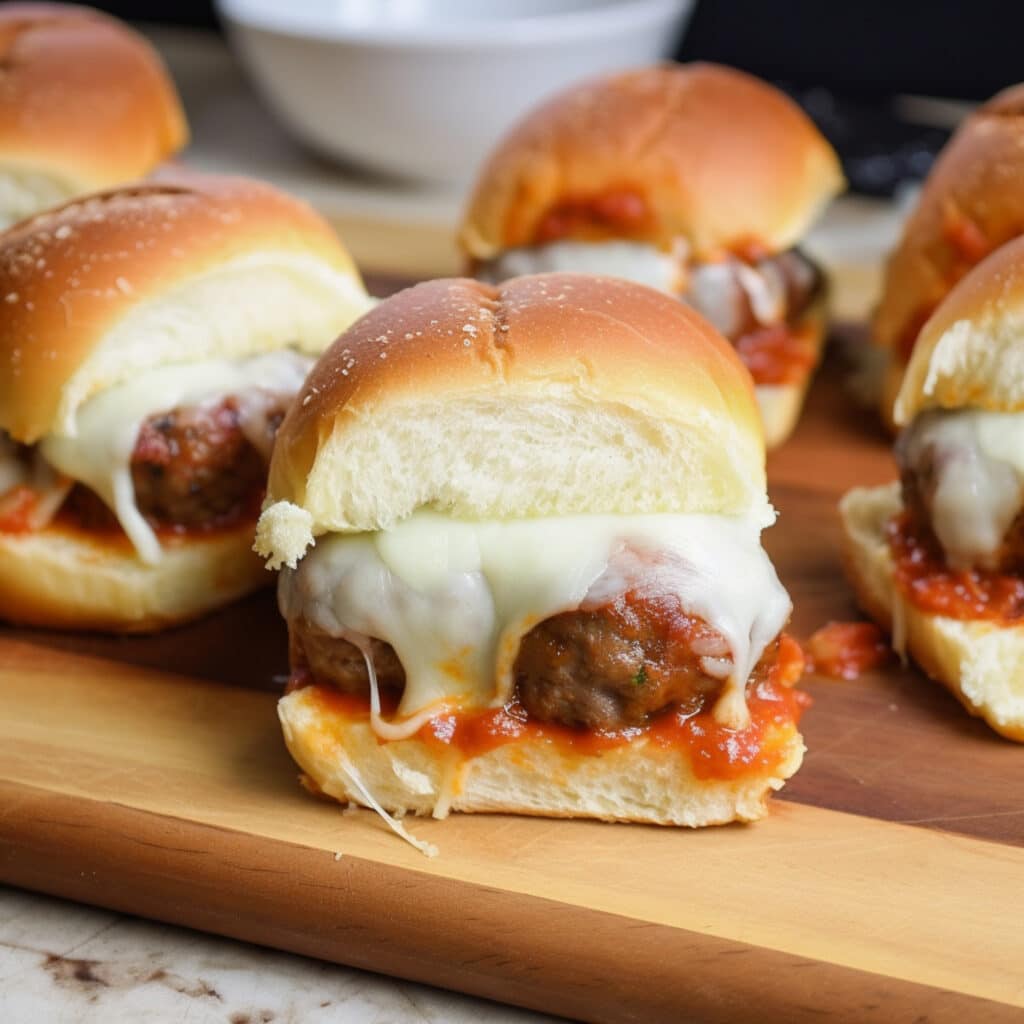 Substitutions and Shortcuts
Ground Beef: Italian meatballs are often prepared with a combination of ground meats, such as beef and pork. I sometimes make mine with beef and ground turkey just to lighten up the protein a little.
Italian Seasoning: The jarred Italian seasoning blend I like has basil, marjoram, oregano, rosemary, and thyme. If you have all these herbs in your spice rack, just use about a 1/2 teaspoon of each or whatever herbs you prefer. You can also add a pinch of cayenne pepper flakes to the mix.
Ricotta Cheese: If you don't have ricotta cheese, small curd cottage cheese will work. Otherwise, use just enough whole milk to add some moisture to the meatball mixture.
Parmesan Cheese: Pecorino Romano or Asiago are great substitutions for parmesan cheese.
Meatballs: There is an Italian market near me that makes really good small meatballs. They freeze them in convenient packages. If you trust your local market, pick up some premade meatballs to save time and heat them up per the package instructions.
Storage & Reheating
Meatballs: Store leftover cooked meatballs in an airtight container in the refrigerator for up to 3 days. To reheat, place them in a saucepan with some of the reserved sauce, and warm over low heat until heated through.
Slider Buns: Store any unused slider buns in a plastic bag at room temperature for up to 2 days. To refresh, wrap them in foil and heat in a preheated 350°F oven for 5-10 minutes.
Sauce: Store any leftover sauce in an airtight container in the refrigerator for up to 5 days, or freeze for up to 3 months. To reheat, warm it over low heat in a saucepan until heated through.
Serving Suggestions
Cheesy meatball sliders are a satisfying and delicious main course for any gathering. Consider serving them alongside the following:
Crispy onion rings
Jalapeño poppers
Fried pickle slices
Sweet potato fries
Caesar salad
Common Dietary Restrictions & Diets
Vegetarian: Replace the ground beef with a plant-based ground meat alternative, such as Beyond Meat or Impossible Burger.
Gluten-free: Use gluten-free breadcrumbs and gluten-free slider rolls.
Dairy-free: Substitute dairy-free cheese for the mozzarella, ricotta, and parmesan cheese, or omit the cheese altogether.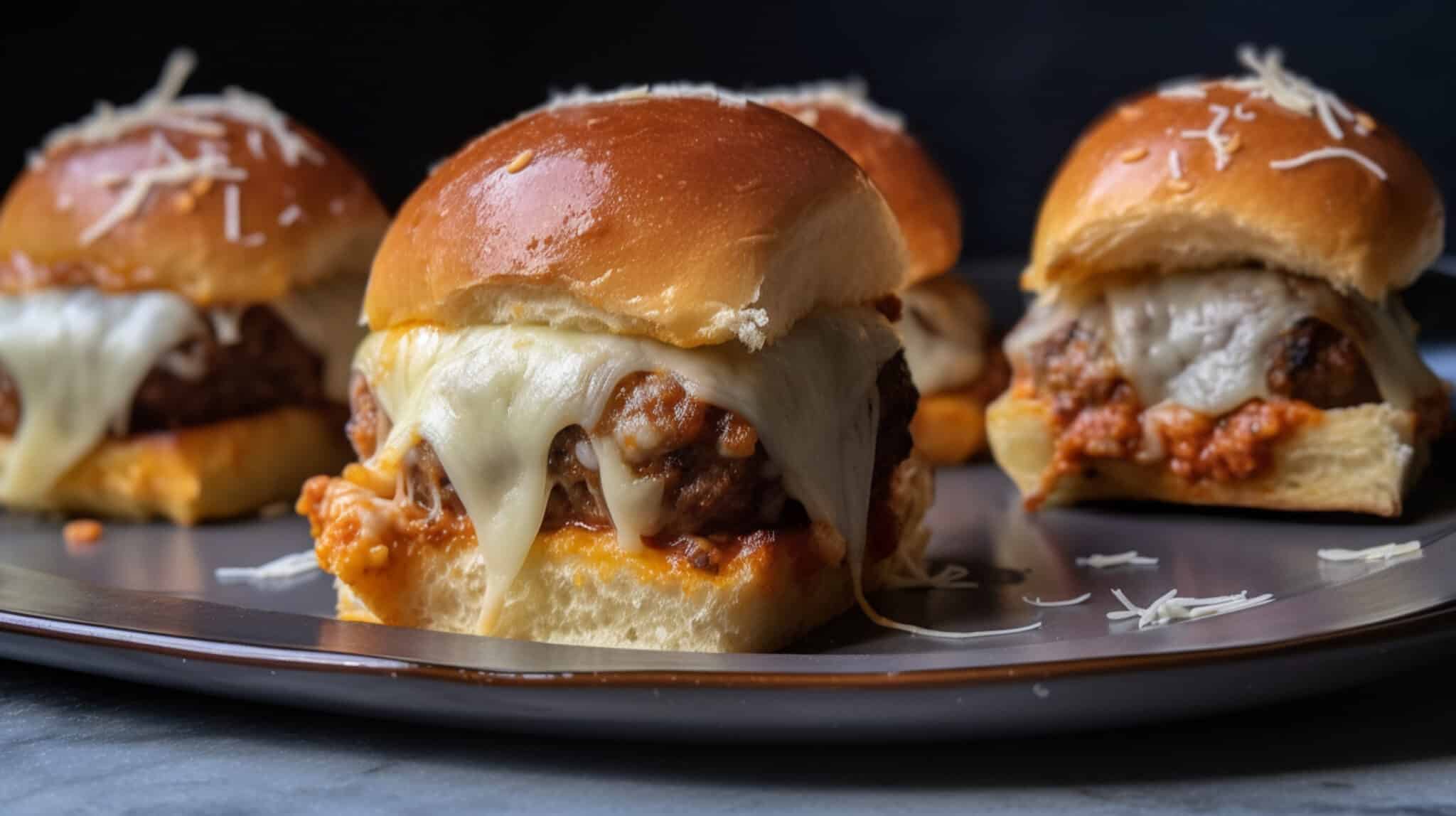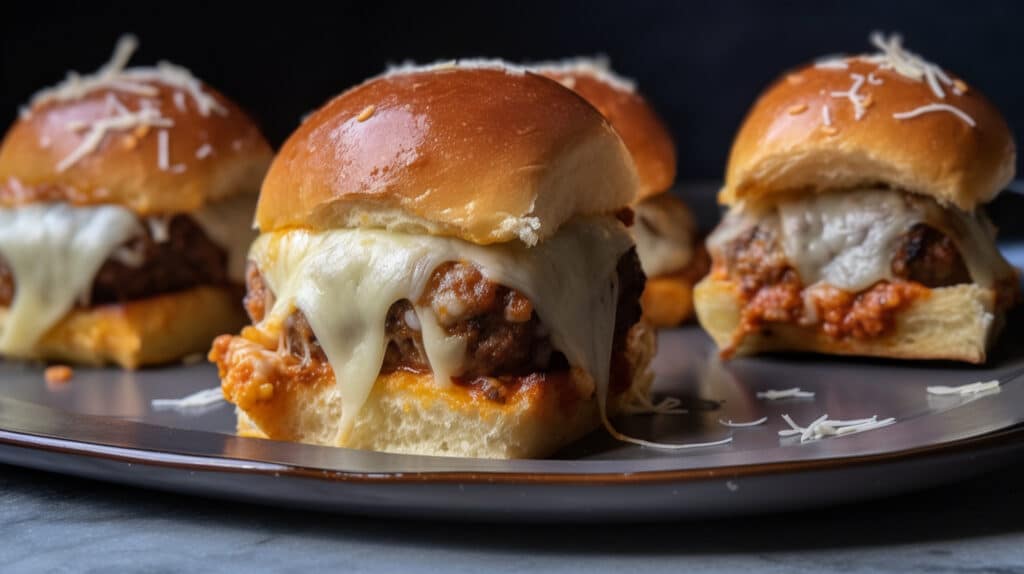 Common Mistakes
Overmixing the meatball mixture: Be gentle when combining ingredients to ensure tender and juicy meatballs.
Skipping the toasting step: Toasting the slider buns helps prevent them from becoming soggy when assembled.
Overcooking the meatballs: Use a digital meat thermometer to monitor the internal temperature, aiming for 160°F.
Health Risks & Benefits of this Recipe
Benefits: This recipe contains protein from the ground beef and calcium from the cheese, contributing to muscle and bone health.
Risks: This dish can be high in sodium and fat, especially if using processed cheeses and store-bought sauce. Consider using low-sodium sauce and cheeses to reduce sodium content.
Common Questions
Can I use a different type of meat for the meatballs?
Yes, you can use a combination of ground meats, such as beef and pork, or even ground turkey to lighten up the protein content. Lamb and beef together is a great combo if you want to switch it up.
Can I use store-bought meatballs to save time?
If you trust your local market or have a preferred brand, you can use premade meatballs. Follow the package instructions for heating.
What if I don't have ricotta cheese?
You can substitute small curd cottage cheese or use just enough whole milk to add moisture to the meatball mixture.
---
Recent Recipes