Homemade Spicy Seasoned Vegetable Soup
This homemade vegetable soup recipe without meat is packed with valuable nutrients, vitamins, herbs, and spices to keep you warm and healthy this fall. It's rich in flavor, colorful, filling, and has just the right amount of spice.
I used a variety of seasonal fall vegetables, but you can use a mix of any vegetables you have at hand. You can also switch up the homemade vegetable soup seasonings to your liking. That's what makes this recipe so great.
Don't be overwhelmed by the long list of ingredients, this is a very easy recipe to make and you probably have most of the products in your pantry or garden. Now, let's make homemade spicy seasoned vegetable soup and get cozy!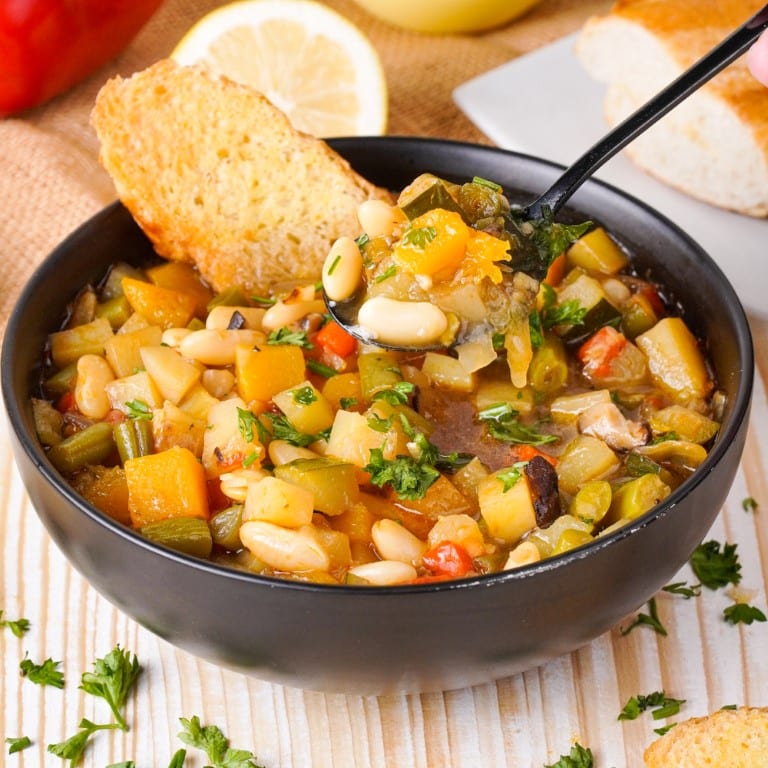 Ingredients
2

Tbsp.

olive oil

2

medium golden onions

chopped

5

cloves

garlic

minced

1

chili pepper

minced (optional)

1

Tbsp

tomato paste

½

tsp.

mirin or 1 tsp sugar

½

cup

mushrooms

diced (Portobello, champignon, etc)

1

red bell pepper

diced

2

small potatoes

diced

1

cup

pumpkin or squash

diced

1

medium zucchini

chopped into ½" cubes

1

can of Navy beans

about 14.6 oz

10

oz

fresh green beans

chopped

2

bay leaves

1

tsp.

Italian seasoning

½

tsp.

curry powder

6

cups

vegetable broth

½

tsp

sea salt or more to season

1

thumb of ginger

sliced in rounds

Optional: A splash of soy sauce

Chopped fresh parsley

a squeeze of lemon juice, and a drizzle of extra virgin olive oil to serve
Instructions
All ingredients ready? Let's begin!

Heat the oil in a large stockpot or Dutch oven over medium heat. Once warm, add onions and cook until soft and slightly caramelized. Then add garlic, optional chili pepper, mushrooms, mirin or sugar, and bell pepper, and season with salt and pepper. Cook covered for about 10 minutes until the vegetables are tender and fragrant, stirring occasionally to make sure they don't stick.

Uncover and stir in Italian seasoning, curry powder, bay leaves, and tomato paste. Cook while stirring for about 1 minute until fragrant. Add in potatoes, pumpkin, zucchini, green beans, and broth.

Increase the heat to high and bring to a boil, then reduce to a simmer and cover. Cook for 15 minutes, then add the Navy beans and ginger and cook for another 10-15 minutes or until vegetables are tender. Remove from the heat, take the bay leaves and ginger slices out and taste and season with more salt, pepper, and an optional splash of soy sauce if needed.

Serve warm with fresh chopped parsley, a drizzle of olive oil, and a squeeze of lemon juice. Enjoy with a crunchy piece of toast!
Nutrition
Calories:
161
kcal
|
Carbohydrates:
27
g
|
Protein:
4
g
|
Fat:
6
g
|
Saturated Fat:
1
g
|
Polyunsaturated Fat:
1
g
|
Monounsaturated Fat:
4
g
|
Sodium:
1172
mg
|
Potassium:
696
mg
|
Fiber:
5
g
|
Sugar:
9
g
|
Vitamin A:
3368
IU
|
Vitamin C:
66
mg
|
Calcium:
69
mg
|
Iron:
2
mg
Notes & Tips
Don't forget to season the vegetables (onion, garlic, mushrooms, bell peppers) with salt while sautéing them. This helps bring out the flavors as well as moisture from the veggies which will prevent them from burning.
Sauté the herbs, spices, and tomato paste for at least a minute, while stirring to release their fragrance. This also helps reduce the acidity in the tomato paste, leaving you with a sweet and toasty aroma.
Since zucchini and green beans cook quicker than potatoes and pumpkin, make sure to cut the zucchini into larger pieces. This will prevent mushy veggies and also give the soup some variety in appearance.
I add the Navy beans last because they're already cooked and if left to boil for too long the skins will remove. You don't want a soup full of bean skins.
Also, add the ginger last so that it doesn't overpower the soup with its flavor. The longer you boil the root, the more intense the flavor of the broth will be.
You can choose to leave the ginger pieces in or remove them from the soup. Depending on whether you want any leftover soup to have a stronger ginger flavor or not.
The soy sauce is optional, but I love how it adds a little umami to the soup. Of course, only add it at the end if you feel like it calls for it.
Serving Suggestions & Substitutions
Before serving, add a splash of lemon juice and a drizzle of olive oil. Taste the soup before and after these additions and you'll notice a big difference. The lemon juice and olive oil add richness and depth to the soup.
Garnish the soup with freshly chopped parsley, or freshly chopped thyme. This adds a nice color and fresh flavor to the soup. Serve with a toasted piece of rustic bread with butter and you've got the definition of comfort in a bowl.
As mentioned earlier, you can use any combination of vegetables you'd like for this soup. I would suggest a combination of starchy and non-starchy vegetables. Here are some ideas:
Starchy vegetables: red potatoes, white potatoes, sweet potatoes, butternut squash, acorn squash, sweetcorn, green peas, and cassava (has to boil longer).
Non-starchy vegetables: bean sprouts, mushrooms, tomatoes, bell peppers (all colors), artichokes, baby corn, asparagus, green beans, wax beans, Italian beans, carrots, turnips, cauliflower, broccoli, eggplant, and celery.
Some vegetables to avoid putting in a homemade vegetable soup are cucumbers, lettuce, and beets (unless you want your soup to be in various shades of pink). Beets are great if you're making Borscht, a classic Ukrainian beet soup.
As for the beans, you can replace the Navy beans with pretty much any other type of beans or even lentils. Chickpeas, cannellini beans, black beans, kidney beans, Lima beans, or any lentils are all great options.
If you want to add some meat into this vegan vegetable soup, you're welcome to do so. Some shredded chicken, diced ham, or meatballs will add some amazing flavor.
Lastly, if you're wondering can I make vegetable soup without stock? The answer is yes. You can use filtered water instead and use bouillon cubes instead. Dissolve 1 bouillon cube or 1 teaspoon of bouillon granules for every 1 cup of water to make broth.
What is the Best Seasoning for Homemade Vegetable Soup?
I love the combination of warming spices with herbs that this homemade vegetable soup has. Garlic, onion, curry, and ginger with Italian seasoning that contains basil, parsley, oregano, thyme, rosemary, and sometimes marjoram. The addition of a pinch of sugar or mirin adds a pleasant note of sweetness.
Some other homemade vegetable soup spices to try are ground fennel, red pepper flakes, Za'atar spice blend, Cajun seasoning, a little garam masala, chili powder, or paprika. Or maybe you have another favorite spice blend that you'd like to use.
Just remember to go easy on the spices and add little by little until you get the perfect flavor combination. We've also got a list of the best low FODMAP spices for you to check out for some inspiration.
Can I Freeze Vegetable Soup?
Yes, this homemade spicy seasoned vegetable soup is freezer-friendly. You will have to make a few tweaks to the recipe to avoid eating mushy or bland soup.
If you plan to make a big batch of vegetable soup and freeze portions for later, make sure to undercook the vegetables. Otherwise, they'll turn into mush when you reheat the soup.
Also, don't add the spices and herbs to the soup when you're preparing it, but rather add them when you heat it up. Because spices and herbs tend to lose their flavor when frozen.
This yummy veggie soup can be frozen in airtight containers for up to 6 months. When ready to eat, pop it in the microwave on low heat in 2-minute blasts until the soup is slushy and hot.
---
Recent Recipes