Easy GAPS Friendly Oven Roasted Vegetables
I have been roasting vegetables weekly for as long as I can remember. For me, it is the simplest way to cook a large quantity of vegetables for a crowd, to nibble on all week, or to make a pot of creamy blended vegetable soup. I think you can roast pretty much any vegetable from potatoes and carrots to kale and beet greens.
If you are on a GAPS protocol, you know that veggies, healthy fats, bone broths, and well-cooked proteins make up the base of the diet. Fresh vegetables are especially prominent because they are packed with nutrition in the form of soluble fiber, vitamins, and minerals.
Vegetables roast at different times, depending on the variety and the size. For instance, soft vegetables such as zucchini, asparagus, and mushrooms can take only 15 minutes to roast. Whereas, broccoli and cauliflower florets can take about 25 minutes. Harder root vegetables and winter squash generally take about 35 minutes. This is based on a roasting temperature of 425°F and the veggies being cut into 1-inch cubes.
I like to roast veggies on a sheet pan that is lined with parchment paper for easy cleanup. I roughly chop them into about 1-inch chunks, as mentioned. Then, I toss them in good olive oil, dried herbs, salt and pepper. For this particular recipe, we are using a colorful mix of carrots, white sweet potatoes, Brussels sprouts, garlic cloves, and red onions. I'll offer some options in the substitutions section.
This recipe is so easy, you will want to make it several times a month. I have a ritual where I take stock of what is in my fridge, pantry, and countertop produce bowl on Sundays and try to use what might not last the week. I learned this from my grandmother when we rented a beach house almost every summer with all my cousins. It was total mayhem and there was a lot of food to feed so many. On the Sunday that we had to pack up and leave, my grandmother and mother would go through all the food that wouldn't survive the car ride home and would make what they called "garbage soup" for our last meal. The soup was named that because if we didn't use up the produce, it would have been thrown in the garbage and we did not waste food. It was really good. My adult Sunday ritual is to roast up all those veggies before they go bad. Here is one of my recipes.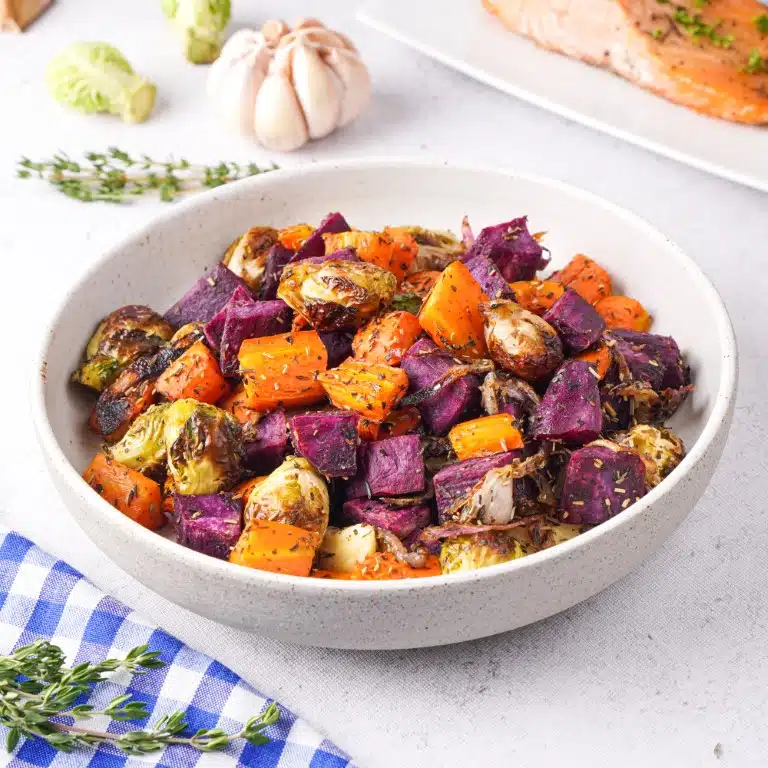 Ingredients
2

cups

carrots

roughly chopped into 1-inch cubes

2

cups

Japanese white sweet potato

roughly chopped into 1-inch cubes

2

cups

Brussels sprouts

whole if small, sliced in half if large

1

red onion

peeled and sliced into half-moons

6 to 8

cloves

of garlic

peeled

2 to 3

Tbsp

extra virgin olive oil

1

tsp

dried rosemary

1

tsp

dried thyme leaves

1

tsp

dried basil

½

tsp

sea salt

½

tsp

freshly ground pepper
Instructions
All ingredients ready? Let's begin!

Preheat the oven to 425°F. Line a rimmed baking sheet with parchment paper.

Prep all of the vegetables and aromatics and place them on the baking sheet.

Drizzle the olive oil over the vegetables.

Sprinkle them with the rosemary, thyme, basil, salt, and pepper. Toss to coat everything evenly.

Place the pan in the oven and roast for 15 minutes.

Toss the vegetables with a spatula or spoon. Return them to the oven and roast for another 15 minutes.

Check the vegetables to see if they are browned and fork tender. If they are hard, toss again and continue to roast for another 5 to 15 minutes until they are cooked through. Just check them every 5 minutes.

Serve the roasted vegetables while warm with your favorite protein or as an entrée with a salad for a vegetarian meal.
Nutrition
Calories:
174
kcal
|
Carbohydrates:
26
g
|
Protein:
4
g
|
Fat:
7
g
|
Saturated Fat:
1
g
|
Polyunsaturated Fat:
1
g
|
Monounsaturated Fat:
5
g
|
Sodium:
384
mg
|
Potassium:
637
mg
|
Fiber:
6
g
|
Sugar:
7
g
|
Vitamin A:
20486
IU
|
Vitamin C:
45
mg
|
Calcium:
78
mg
|
Iron:
2
mg
Notes & Tips
It is really important to cut your vegetables into pieces that are pretty much the same size. This will ensure that they cook at the same rate and evenly.
You can line your baking sheet with either parchment paper, aluminum foil, or a non-stick silicon mat. If you don't have any of these, just roast them directly on the pan.
If you are combining root vegetables with softer cruciferous or other vegetables, wait to add the softer ones until after the harder vegetables have already roasted for about 10 to 15 minutes.
Substitutions & Time Savers
Carrots: Carrots are full of beta-carotene and vitamin A which are essential for eye health. You can swap those out for butternut or honeynut squash cubes, which are equally as nutritious. 
White Sweet Potatoes: I love Japanese white sweet potatoes as a standard white potato alternative. If you want, you can use a russet potato or parsnips. Kejora purple sweet potatoes are deep in color that adds a lot to roasted vegetables in terms of presentation and nutrition.
Brussels Sprouts: If you don't really care for Brussels sprouts, I recommend using a diced fennel bulb that is sturdy and mellower in flavor.
Red Onion: Red onions can be a little spicy for some, but they do mellow out while roasting. You can use any onion you prefer. I think cipollini onions are perfect in this dish. They are bite-sized and caramelize while roasting.
Olive Oil: I have made roasted vegetables with coconut oil or avocado oil when I am in the mood for something a little different.
Seasonings: An easy way to season your veggies is by using an herb blend, such as herbes de Provence. Sometimes, if I feel like I want bolder flavors, I will season my vegetables with cumin, turmeric, black pepper, ginger, cayenne, and garlic powder. This will give you a Southeast Asian or Indian dish.
Packaged Vegetables: To make this really easy, pick up pre-cut vegetables from the produce aisle. You can find carrots, celery, Brussels sprouts, winter squash, garlic, and onions already trimmed and chopped or sliced in plastic containers or bags. This saves a lot of prep time.
What to Serve with Roasted Vegetables
Roasted vegetables are perfect with a simply cooked steak, pot roast, pork shoulder, or whole-roasted chicken. I also like to serve them as the main event for when I am making a Meatless Monday dinner. This recipe is especially filling and satisfying as an entrée with a salad or bean dish on the side. Here are some ideas for what to serve with roasted vegetables.
---
Recent Recipes