Simple Baked Basa Fillets
Basa is a freshwater fish in the same family as catfish. Its natural habitat is the waters of Southeast Asian rivers. It is also farmed-raised in Vietnam. Basa also goes by the names of swai and bocourti. Basa can grow to be 4 feet long and up to 100 pounds. They yield a good amount of meat.
The flesh of basa is mild in flavor, flaky, quite affordable, and can be cooked in many different ways. You can sauté, grill, bake, steam, broil, or deep fry it. You can also add it to fishcakes and curries. It is best not to consume this fish raw. It should be fully cooked.
If you are buying basa outside of Asia, it will most likely be filleted and frozen in sealed bags. Fresh fillets are preferable. But, if you can only get frozen, defrost slowly in your refrigerator overnight and pat the fillets completely dry with paper towels before cooking. You can also just substitute with catfish or tilapia which might be easier to get.
What Makes This Recipe Interesting?
As an homage to the roots of basa, the recipe here incorporates some classic Asian ingredients and flavor profiles, such as lime, garlic, ginger, Thai chilis, and lemongrass.
The chili will add some heat, so adjust the amount you use to accommodate your taste and desired level of spiciness. Since basa is so mild, it will absorb all of the flavors you throw at it, especially when baked.
This recipe calls for baking individual fillets in small packets so the fish gently steams. This makes a really nice presentation for individual plates. You can use either parchment paper or aluminum foil to make the packets.
Baking the fish in this manner takes approximately 23 minutes at 350°F / 177°C and results in very little cleanup. Just toss the paper or foil away.
I like to serve the steaming hot fish with boiled brown or white rice and wilted greens, such as bok choy leaves or fresh spinach. Dress the greens with a little bit of soy sauce or tamari and a drizzle of toasted sesame oil.
If you skip the rice suggestion and add another vegetable, this meal is Paleo and Keto compliant.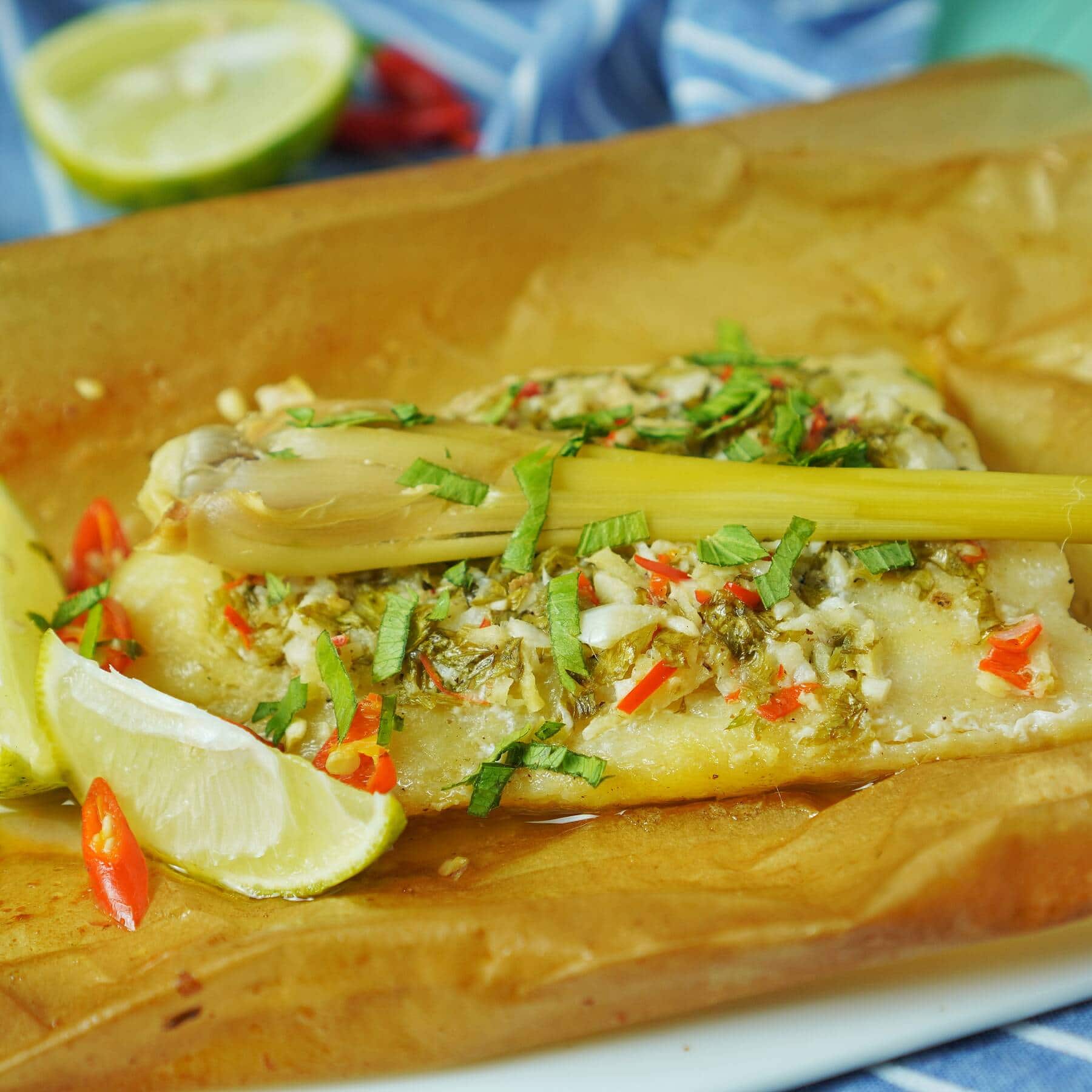 Ingredients
4

basa fillets

approximately 6 to 8 ounces each

1/4

cup

extra virgin olive oil

Juice of 1 lime

2

cloves

garlic

minced

2

tsps

peeled and minced fresh ginger

1

small bunch of fresh cilantro

chopped finely

2

small Thai red chilis

seeds removed and minced

1

tsp

sea salt

1/2

tsp

freshly ground pepper

4

stalks fresh lemongrass or 2 tsps lime zest

Parchment paper or aluminum foil
Instructions
Preheat your oven to 350°F / 177°C

In a small mixing bowl, combine well the oil, lime juice, garlic, ginger, cilantro, chilis, salt, and pepper. Set this aside.

On a cutting board, gently bash the lemongrass stalks with a wooden spoon or the dull edge of a chef's knife to release their citrus essence.

Take 4 large pieces of parchment paper, approximately 18 inches long, and fold in half. Using scissors, round off the corners of the paper. Take one sheet of paper and open it up. Place a fillet of basa near the center fold of the paper and spoon 1/4 of the sauce over the fish. Place one stalk of lemongrass on top of the fish. Fold the paper over the fish and fold/twist the edges to form a sealed packet. See the video below for instructions. Repeat with the other 3 fillets of fish and place the packets on a sheet pan.

Alternatively, you can do this with sheets of aluminum foil.

Place the basa in the oven and bake for 20 to 25 minutes until cooked through.

Serve the individual packets on dinner plates with your favorite sides in serving bowls. Allow your family or guests to open their own packets and either place the fish on their plates or eat them right out of the parchment paper.
Video
Nutrition
Calories:
289
kcal
|
Carbohydrates:
2
g
|
Protein:
28
g
|
Fat:
18
g
|
Saturated Fat:
3
g
|
Polyunsaturated Fat:
3
g
|
Monounsaturated Fat:
11
g
|
Cholesterol:
99
mg
|
Sodium:
655
mg
|
Potassium:
655
mg
|
Fiber:
1
g
|
Sugar:
1
g
|
Vitamin A:
85
IU
|
Vitamin C:
2
mg
|
Calcium:
30
mg
|
Iron:
1
mg
Success Tips
I highly recommend making this recipe with fresh basa fillets for the best flavor and texture. If you can't find fresh basa, try one of the substitution fillets mentioned in the substitution section of this recipe post.
In fact, try to use as many fresh ingredients as the recipe calls for.
One of the keys to making this dish correctly is sealing the foil or paper packets very well so the juices don't run out. Aluminum foil is easy to work with. Parchment paper requires a bit of a deft hand and some patience. I prefer parchment paper because it puffs up if you don't make it too tight. This creates a tiny steam oven. The paper gets crisp on the outside and releases a face full of aromatic steam when your guests cut into the top. It impresses every time. See the video above for a short guide how to use parchment paper if you missed it.
Substitutions & Shortcuts
Let's talk about the fish. Basa is ideal for this dish. However, you can substitute a variety of other freshwater white fish species. Tilapia and catfish would both work in this recipe. If your only available options are saltwater fish, go for flounder or halibut.
When shopping for fresh fish, have your fishmonger cut the fish into fillets for you. I don't know about you, but I am not that skilled at filleting a whole fish. This saves a step If you paid for the entire fish, ask for the fishmonger to bag up the head and bones for you to take home. These will make an incredibly healthy broth base for chowder or bouillabaisse.
It took me some time to develop a taste for cilantro. I thought it tasted like soap. I now can't get enough of this incredibly detoxifying herb. If you dislike cilantro, just use basil or parsley.
I can't ever find fresh Thai chilis in my market. These are the tiny red chilis with lots of heat. You can substitute serrano peppers or just use a pinch or two of cayenne pepper flakes, which you probably have in your pantry.
Lemongrass is another produce item that isn't always available. You can easily replace that with lemon or lime zest. Use 1/2 teaspoon per stalk of lemongrass.
My favorite shortcut is cooking fish in paper or foil packets. There is no messy sheet pan to clean up after dinner.
If you want to add more of a crunch texture to the meal, you can add bread crumbs. Just use oil or butter to pan fry any type of bread crumb with spices like garlic, salt and pepper until they are browned. Keep them moving so they don't burn – it only takes a few minutes if you put the pan on high heat. Then sprinkle the crunchy bread crumbs on top of the fish once it's ready to eat.
---
Recent Recipes