Easy Apple & Red Onion Sausage Square
Multi-meal recipes are the best. I consider a multi-meal recipe something that I can make and eat any time of the day. It's also something that's versatile and can be used in many different ways to keep things exciting.
A sausage square is something that you can make any way that you please. You start with lean ground pork and add ingredients as you like them. For example, this apple and red onion sausage square has not only apples and red onions, but the perfect mix of seasoning that tops most other premixed sausages.
This apple and red onion sausage square would make a great breakfast, lunch, or dinner. You could make it at the beginning of the week and use it a number of ways as part of your meal prep. You can eat it plain, with a salad, or it could be a delicious sandwich filler.
On its own, it's gluten-free, low in fat, and high in protein. So, this is a great recipe to add to your meal planning if you're avoiding wheat, trying to lose weight, and trying to maintain your energy.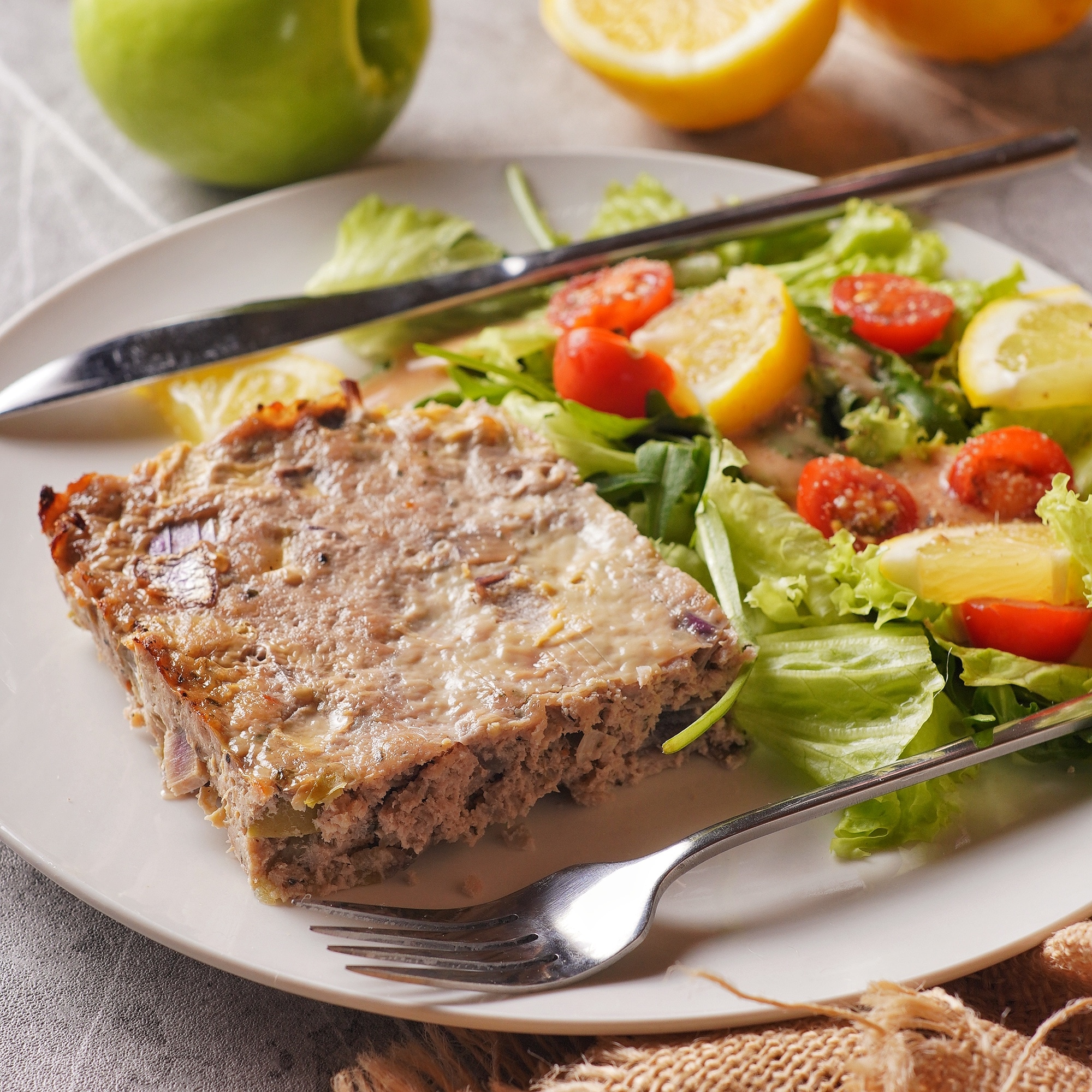 Ingredients
1

pound

lean ground pork or ground sausage

1/2

teaspoon

salt

½

teaspoon

ground black pepper

1

teaspoon

brown sugar

1

teaspoon

dried sage

1

teaspoon

dried parsley

Pinch

of ground nutmeg

Pinch

of crushed red pepper

1

red onion

¼" diced

1

apple

¼" diced – Granny Smith is preferred

1

egg
Instructions
All ingredients ready? Let's begin!

Preheat the oven to 375F.

Spray any 8×8 baking dish with non-stick spray and set aside.

In a medium bowl, combine the ground meat, salt and other spices, diced onions, and diced apples.

Beat the egg in a separate small bowl.

Pour the egg into the mixing bowl and gently mix the egg into the sausage mixture.

Pour the sausage mixture into the baking pan. Spray your fingers so that the mixture doesn't stick to your fingers. Gently press it down so that it's even in the pan.

Bake in the oven for approximately 35 minutes. The sausage should no longer be pink and completely cooked through.

You can slice and serve immediately, or let it cool and refrigerate for future meals.
Video
Nutrition
Calories:
400
kcal
|
Carbohydrates:
10
g
|
Protein:
19
g
|
Fat:
31
g
|
Saturated Fat:
10
g
|
Polyunsaturated Fat:
4
g
|
Monounsaturated Fat:
14
g
|
Trans Fat:
1
g
|
Cholesterol:
123
mg
|
Sodium:
1030
mg
|
Potassium:
391
mg
|
Fiber:
2
g
|
Sugar:
7
g
|
Vitamin A:
173
IU
|
Vitamin C:
5
mg
|
Calcium:
28
mg
|
Iron:
2
mg
Notes & Tips
Instead of dicing the onions and apples, you could use a metal cheese grater to grate them into finer pieces. This will elevate their flavor in the sausage square.
If you do not have the right sized baking dish, you can use a loaf pan, instead. The cooking time should be increased because the sausage square will be slightly thicker and will require more time to heat through.
This dish freezes very well. You can make a double batch and freeze it for another time.
A really delicious way to reheat the sausage square would be to pan fry it in a little bit of butter or oil. You'll get crispy edges and a delicious flavor from the added fat.
If you're making this to serve a crowd, or place on a buffet, you may want to cut some of the onions and apples into halfmoon slices and place on top of the sausage square before baking. Shingling the two ingredients on top are not only aesthetically pleasing but it will let your guests know what is in the sausage square.
You can easily test the flavor of your sausage prior to baking it. Heat a small saute pan on your stove and form a small sausage patty with your mixture before you put it in the pan. Simply fry it up and taste. Adjust the seasonings as needed to your personal preference.
If you're looking for tips on other ways to reheat the sausage squares, this is helpful. Though it refers to vegan sausages, the methods are just the same.
Substitutions
Instead of granny smith apples, you can use Cortland, Honeycrisp or Fuji apples.
You can also use sweet or yellow onions instead of red onions.
Fresh herbs can be used instead of dried herbs. If using fresh herbs, be sure to chop them up fine and double the amount.
The egg will help the sausage squares bind together. You can omit the egg if you need to. You could also try a flax egg to increase the fiber in the dish. A flax egg is one tablespoon of water mixed with one tablespoon of ground flax seed.
Ground chicken or turkey would also work if you are avoiding pork products.
Instead of brown sugar, try maple syrup.
What Is A Sausage Square?
Sausage squares (or Lorne sausage) originally come from Scotland. Traditionally, sausage squares are made with beef and an assortment of spices. The sausage is formed into a block and then sliced into thin squares to eat alone or with bread. 
This recipe stems from the original concept and uses pork with the addition of red onions and apples. Equally though, this sausage square would be delicious served with a warm biscuit or between two pieces of bread as a sandwich.
What Pairs Well With Sausage Squares?
As stated before, you can do a lot of things with sausage squares. There are plenty of other options other than putting it between two pieces of bread.
You could pair a simple bed of greens to go alongside the sausage square. It could be as simple as some fresh arugula, lemon juice, olive oil, salt, and pepper.
The sausage square would also be great with scrambled eggs and hash browns. For dinner or lunch, you could serve it alongside a baked potato or other roasted vegetables.
If you're looking to curate a phemonimla brunch menu, start with this apple and red onion sausage square recipe. Then, you can add things like avocado toast, quiche, and spinach pancakes.
---
Recent Recipes