The Italian word "spedini" is translated into English as "skewer". In many regions of Italy, you will find of skewered and grilled meats, vegetables, and seafood. Spedini mostly refers to beef, pork, lamb, veal, or chicken that is sliced thinly and rolled around a breadcrumb, cheese, dried fruit, and nut filling.
The stuffed and rolled meat is skewered to hold it together. It is then grilled over a fire or cooked indoors on a grill pan or large, heavy skillet. You could also broil the spedini. No matter how you cook it, I recommend using metal skewers.
For this particular spedini recipe, I am calling for the beef eye of round roast cut. Eye of round is what you will commonly find in the deli section of your market that is sliced thinly and labeled "roast beef". This cut from the upper back leg area of the cow is lean, affordable, and delicious.
You will need to slice the roast thinly so that it rolls easily and cooks perfectly. Your Italian Nona might not agree with me, but I like to use the dimpled side of a meat mallet to pound some of the muscle fibers in this lean cut of beef before cooking it. You don't need to destroy the meat, just give it a few whacks to introduce some space so the meat can relax and be more tender. Cube steak is beef round with these little pockets already introduced when you buy it so that it is not chewy. Consider that an option for this recipe.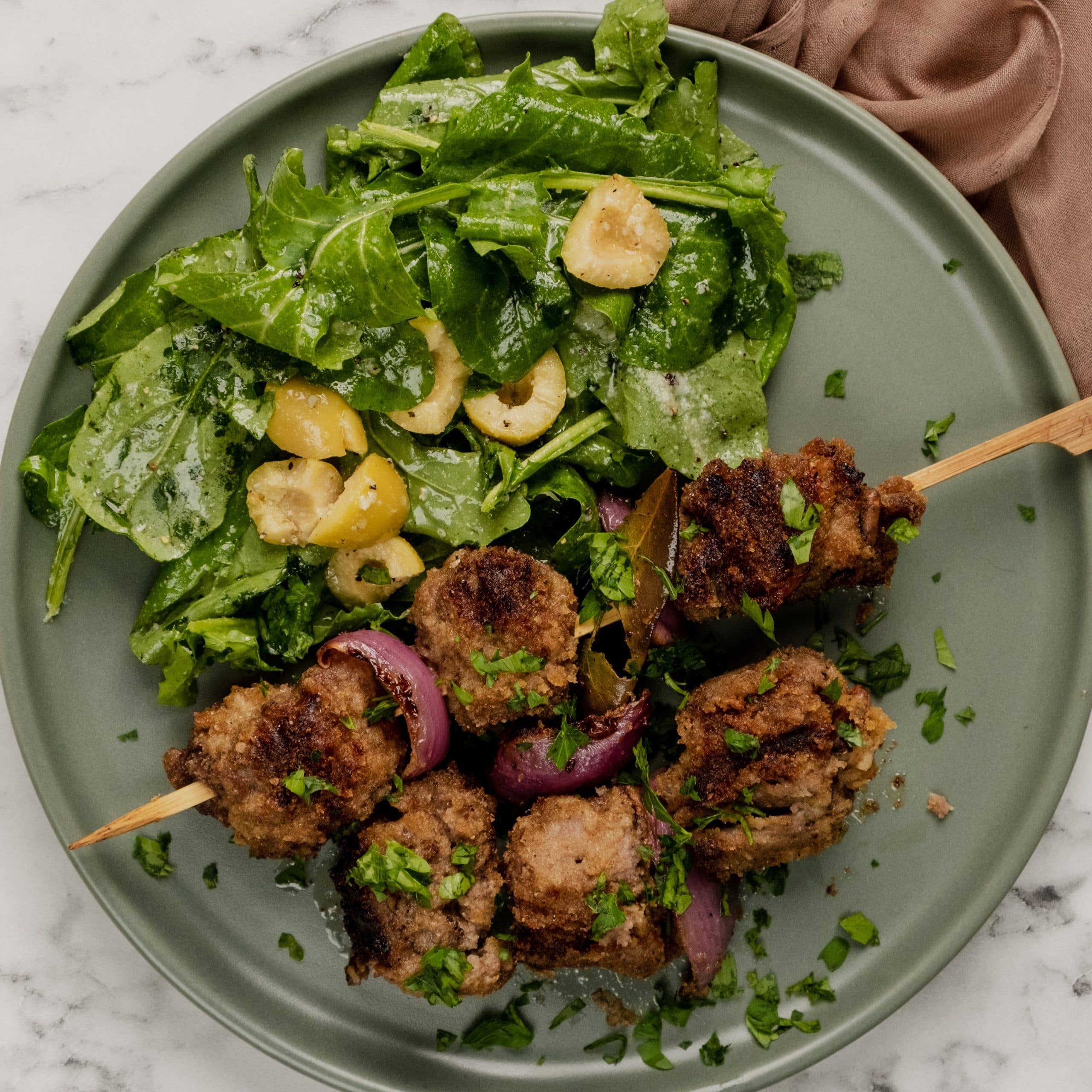 Ingredients
1

lb

beef eye of round roast

1/4

cup

dried currants or golden raisins + water for soaking

4

Tbsp

extra virgin olive oil

divided in half

1

medium onion

minced

1

clove

garlic

minced

1/3

cup

diced tomatoes

2

cups

breadcrumbs

divided in half

1

cup

grated pecorino Romano cheese

divided in half

1/4

cup

pine nuts

toasted

1/3

cup

flat-leaf parsley

finely chopped

Sea salt and freshly ground pepper to taste

1

large red onion

peeled, quartered, and separated

6

bay leaves

Arugula salad for serving
Instructions
Make sure your beef roast is cold. Trim the eye of round roast of the fat cap. Slice into ¼ inch thick pieces. Using the dimpled side of a meat mallet, gently pound both sides of each "steak" to tenderize the meat and flatten it to about ⅛ inch thickness. Set the beef aside so it can come to room temperature.

Place the currants in a bowl and soak them in very warm water to soften them.

In a large skillet over medium heat, warm 2 tablespoons of olive oil.

Add the minced onions and garlic and cook until softened, approximately 5 minutes.

Add the tomatoes and cook for an additional minute. Turn off the heat and allow the mixture to cool completely.

Drain the currants completely. In a bowl, combine the onion mixture with 1 cup of breadcrumbs, cheese, currants, pine nuts, and parsley. Season with salt and pepper to taste.

Place a big spoonful of the breadcrumb mixture on one end of each piece of beef. Roll the meat around the filling to form rollatini that can be skewered.

Take 2 shallow bowls or dinner plates and place 2 tablespoons of olive oil in one bowl and the remaining breadcrumbs in the other. Meanwhile, heat a grill pan to medium-high heat and preheat your oven to 375°F.

Coat each rolled beef rollatini with olive oil and then roll them in the breadcrumbs. Skewer a roll, red onion slices, and a bay leaf. Repeat until you fill a skewer. Depending on the size of your skewers, you will fit 3 or 4 rolls on each.

Grill the spedini until the meat is browned on all sides, turning once. Remove the spedini to a sheet pan and place it in the oven for 6 minutes while you assemble a salad for serving.

A simple salad is arugula, shaved parmesan cheese, olives, lemon juice, extra virgin olive oil, salt, and pepper.

Place the salad on a large platter. Using a fork, slide the beef and onions off of the skewers onto the platter right over the salad. Discard the bay leaves. Serve while warm.
Video
Nutrition
Calories:
781
kcal
|
Carbohydrates:
54
g
|
Protein:
40
g
|
Fat:
46
g
|
Saturated Fat:
14
g
|
Polyunsaturated Fat:
6
g
|
Monounsaturated Fat:
22
g
|
Cholesterol:
95
mg
|
Sodium:
766
mg
|
Potassium:
701
mg
|
Fiber:
4
g
|
Sugar:
12
g
|
Vitamin A:
585
IU
|
Vitamin C:
13
mg
|
Calcium:
411
mg
|
Iron:
6
mg
Notes & Tips
It is easiest to carve the raw beef when it is cold, right out of the refrigerator. Alternatively, you can ask your butcher to slice the beef for you.
I highly recommend using metal skewers, especially if you want to grill the spedini over a fire. If you don't have metal skewers, soak wood skewers in water for approximately 1 hour so that they don't catch fire.
Substitutions
If you want to take beef spedini to the next level, you can make this dish with thin ribeye steaks that are pounded flat. This cut of beef is so tender and delicious, though it is pricey. You of course can make this with veal or pork scallopini. If using pork, finish in the oven until the internal temperature reaches 165°F.
If you really aren't much of a red meat eater, you might want to try our Spiedino Di Mare recipe. This is spedini made with scallops and shrimp that you can serve over pasta or rice.
To make a gluten-free version of spedini, use cooked brown rice or quinoa in place of the breadcrumbs in the filling. There are also gluten-free breadcrumbs available at most markets these days.
---
Recent Recipes