What is purple, round, and delicious? The Ultimate Ube Donuts! Donuts have always been a reliable treat. It is found almost everywhere and never disappoints. But if you want to take your donut game to the next level you have to try these Ultimate Ube Donuts. Ube is a purple yam that is used in the Philippines for cooking and baking. It has a vibrant purple color, which is why it is such a popular baking ingredient and has a mild, nutty, creamy flavor. It is most often used for making desserts and baked goods.
Don't get intimidated by a novel ingredient. I used ube extract, which can be found online, or if you are lucky your local Asian supermarket will have actual ube yams. It is basically flavoring your donut with ube and then using the same special ingredient to glaze it. Don't worry, you can choose from a variety of other glazes and toppings if you so prefer. Otherwise, it is a super simple and straightforward process. What is even better is that it is baked. So, no extra calories, grease, or mess. Enjoy the Ultimate Ube Donuts.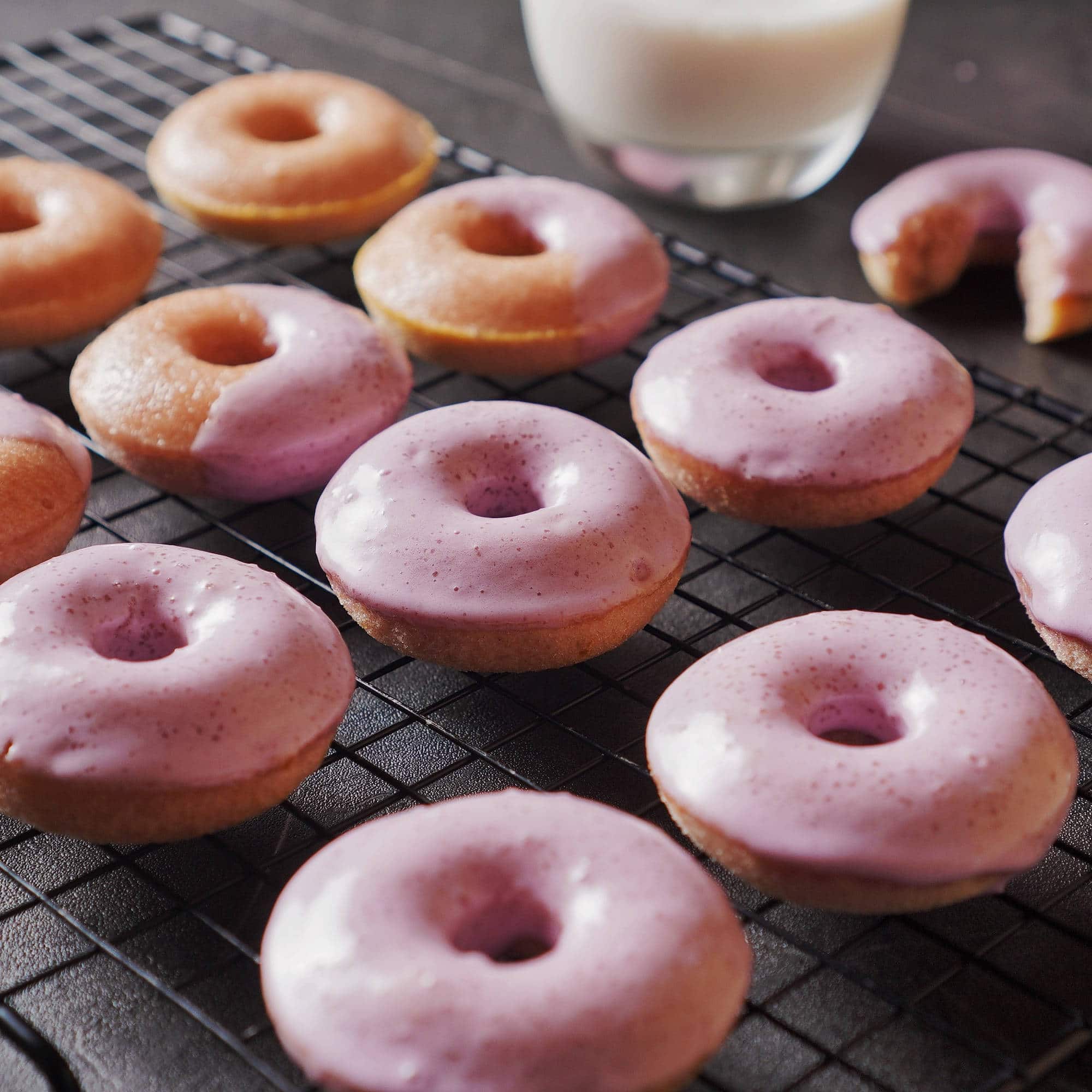 Ingredients
1

cup

all-purpose flour

2

tsp

baking powder

4

drops ube extract

½

cup

sugar

2

eggs

½

teaspoon

salt

½

cup

buttermilk

Cooking spray
For the glaze
1

cup

sugar

1/2

cup

heavy whipping cream

2

drops ube extract
Instructions
Preheat the oven to 350 degrees F

Spray the baking pan with oil and set it aside

In a bowl mix together the baking powder, eggs, salt, buttermilk, and ube extract. Whisk till well combined.

Slowly add in the flour and keep mixing till well combined.

Pour the batter into the donut baking pan. Don't fill till the brim only fill ½- ¾ of each donut cup.

Bake for 15 minutes

Remove from the oven and let cool. Once the donuts have cooled, remove them from the pan.
Glaze
In the meantime, get started on the glaze by mixing the heavy cream, sugar, and ube extract in a large bowl. Whisk until well combined.

Take each donut and dip it halfway into the glaze. We want only want half of the donut glazed. Set aside.

Repeat for all the donuts.
Video
Nutrition
Calories:
372
kcal
|
Carbohydrates:
68
g
|
Protein:
5
g
|
Fat:
10
g
|
Saturated Fat:
5
g
|
Polyunsaturated Fat:
1
g
|
Monounsaturated Fat:
3
g
|
Trans Fat:
1
g
|
Cholesterol:
84
mg
|
Sodium:
385
mg
|
Potassium:
86
mg
|
Fiber:
1
g
|
Sugar:
51
g
|
Vitamin A:
404
IU
|
Vitamin C:
1
mg
|
Calcium:
126
mg
|
Iron:
1
mg
Tips & Tricks
Use ube extract and not ube powder as the powder is too mild and the color doesn't pop as vibrantly.
Do not fill each cup in the donut baking pan fully, the donut rises as it bakes and you don't want it overflowing.
While making the glaze, if it starts hardening, just add more heavy whipping cream to it to thin it out.
If you are planning to fry the cube donuts, use canola oil
Storage
You can store the Ultimate Ube Donuts in the fridge in an airtight container for about a week. If you are not using the glaze or cream filling of any sort, they do not need to be refrigerated. Generally, you can store the donuts in an airtight container at normal room temperature. If you are planning to freeze the donuts ahead of time, don't glaze them. Bake the donuts and freeze them in an airtight container or Ziplock bag. They will last for up to 2 months. To heat them, preheat the oven to 350 degrees F and warm them for about 10 to 15 minutes. While they are warming, you can make the glaze. Let the donuts cool down before you dip them.
FAQ's
What Does Ube Taste Like?
While ube is technically a purple yam, found commonly in the Philippines, it has a nutty, creamy flavor. Many people mistake it for sweet potato, while it is starchy, it is not a sweet potato. It is most often used in baking and baked goods
Can Ube Donuts Only Be Baked?
Can be fried in the air fryer. Yes, air-fried ube donuts! Use packaged biscuit dough instead of flour and baking powder. Preheat the air fryer, spray the plate or basket and place the biscuits (you can cut out holes in the center to make them more donut-like) on it. Fry for about 3 minutes. Flip it and fry for another 2-3 mins. Take it out of the air fryer and let it cool. While it is cooling, make the glaze and glaze the donuts.
Do I Only Have To Use Ube Extract?
You do find purple ube yams, you can make yourself a batch of the Ultimate Ube Donuts. Boil the ube yams. Peel them and then mash them nicely or blend them till they are smooth. You can use frozen ube yams or fresh if you find them. You need about 1 ¼ cups of mashed or blended ube, so you will need about 5 ounces of ube yams. Follow the rest of the recipe as is.
Substitutions
Ube extract: You can use purple ube yams, frozen or fresh
All-purpose flour: You can use any store-bought cake flour. You can also use premade biscuit dough.
Buttermilk: Almond milk is an acceptable substitute. You can also always just use a combination of milk and vinegar or milk and lemon juice.
Heavy Cream: For a lighter option without losing out on taste, half-and-half along with butter is a good substitute. Coconut cream is another great alternative as is cream cheese. We use the heavy cream only for the glaze, so we need something that gives it creaminess, and all these options work.
Glaze: This Ultimate Ube Donut is pretty straightforward. But you can make things interesting by changing the glaze or the topping. I love the bright purple of the ube glaze, but you can simplify it, using a traditional chocolate or vanilla glaze. If you want to glam it up further, add some colorful sprinkles, coconut shavings, a dusting of sugar, or just a drizzle of chocolate-caramel syrup. And mochi is a very popular ube donut flavor, you can mix it in with the batter or the glaze. And how can I forget Nutella? If you have yourself a batch of the Ultimate Ube Donuts and don't feel like making the glaze, a hearty dollop of Nutella is the way to go. There are so many ways to sweeten up your donut, go crazy with your toppings.
Accompaniments
Call me a cliché, but I love coffee with my donuts. Hot coffee, sweet donuts, what's not to love?
For more delicious and interesting things you can bake, try out the Classic Chilean Calzones Rotos and this Homemade Honey Walnut Bread.
---
Recent Recipes