Coccoli is basically fried dough. Who doesn't like fried balls of dough? In this recipe, we are making a basic pizza dough that is risen and then fried in oil. It is served with thin slices of prosciutto and creamy stracchino cheese.
Stracchino cheese works so well with this dish because it is soft and creamy making it easy to spread on the coccoli. It is a cow's milk cheese that is produced from cows that have been roaming the pasture all day. The milk is described as "tired" and is lower in protein. It is tangy in flavor, which complements the salty prosciutto.
This delicate little appetizer or antipasto originated in Tuscany. The fried balls are pillowy inside and crisp on the exterior. You typically pull the balls apart and top each half with a bit of the soft cheese and then wrap it in a buttery slice of the ham. You eat this with your hands.
I like to pair coccoli with a hearty Italian red wine with some dark fruit notes, such as Sangiovese or Montepulciano. You might follow this dish with a pasta course. Coccoli is definitely popular in tavernas, osterias, and other casual dining establishments.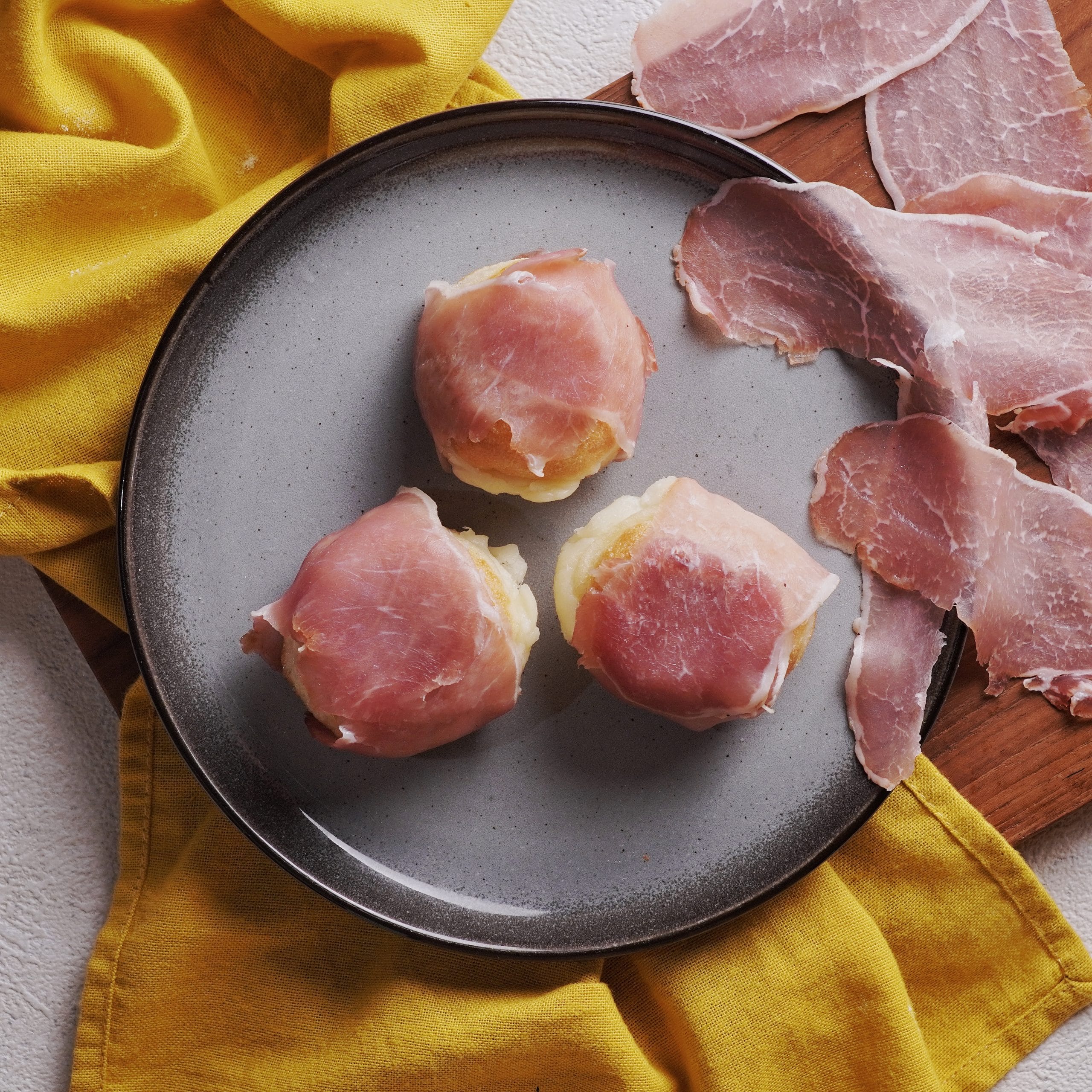 Ingredients
1 ⅛

cup

warm water

not boiling hot

1

packet active dry yeast

1

tsp

raw turbinado or granulated sugar

¼

tsp

sea salt

2

Tbsp

extra virgin olive oil

divided

3

cups

all-purpose flour + more for kneading

Extra virgin olive oil or grapeseed oil for frying

Sea salt for seasoning

5

oz

stracchino cheese

24

slices

of prosciutto

thinly sliced
Instructions
All ingredients ready? Let's begin!

In a large mixing bowl, combine the warm water and yeast. Sprinkle the sugar on top of the water and yeast. Set this aside for about 5 minutes until the yeast starts to bubble.

Gently stir the salt and 1 tablespoon of olive oil into the yeast and water.

Add the flour and stir to combine well until the dough comes together into a ball.

Lightly flour a flat work surface. Place the dough onto the floured surface and knead with the heels of your hands for 5 minutes, dusting with a little more flour if too sticky. (Alternatively, you can make the dough in a stand mixer with a dough hook attachment).

Wipe the bowl out to remove any sticky dough remnants. Add the remaining tablespoon of oil to the bowl and rub it up the sides of the bowl. Place the ball of dough in the bowl and rotate it so the oil coats it. Cover the bowl with a clean kitchen towel or plastic wrap and place the bowl in either a turned-off oven or a microwave away from drafts and moisture. Allow the dough to proof until it doubles in size, approximately 60 minutes.

Roll and shape the dough into golfball-sized spheres. Set these aside on a lightly floured or parchment-lined sheet pan while you heat the oil and arrange your accompanying ingredients on a platter or clean cutting board. You can let the balls of dough rest for 30 minutes to rise again before frying.

In a skillet over medium-high heat, warm the oil – about ½ inch depth. Line a sheet pan or platter with paper towels for draining the coccoli.

When the oil is hot, start frying the balls of dough in a single layer in batches. Do not crowd the pan. Fry for approximately 5 minutes, rotating with a spoon or chopsticks until golden brown all over and cooked through. Remove to the paper towels to drain and season with a tiny bit of sea salt while still warm.

Arrange the prosciutto and cheese on a platter or serving board.

Add the warm coccoli to the platter or board and serve with small plates or napkins. The dough is meant to be pulled apart, smeared with cheese, and wrapped in prosciutto for a single bite.
Video
Nutrition
Calories:
502
kcal
|
Carbohydrates:
49
g
|
Protein:
16
g
|
Fat:
26
g
|
Saturated Fat:
10
g
|
Polyunsaturated Fat:
3
g
|
Monounsaturated Fat:
11
g
|
Trans Fat:
1
g
|
Cholesterol:
45
mg
|
Sodium:
467
mg
|
Potassium:
150
mg
|
Fiber:
2
g
|
Sugar:
1
g
|
Vitamin A:
249
IU
|
Calcium:
179
mg
|
Iron:
3
mg
Notes & Tips
It is important to allow your pizza dough to proof for a minimum of 60 minutes. The rising of the dough ensures that the interior of the coccoli will be light and airy. The rising process introduces air pockets to the dough.
Your oil needs to be quite hot, but not smoking, to make sure the exterior of the dough balls gets crispy while the interior cooks through. To test if the oil is hot enough, drop in a tiny ball of dough and if it bubbles and rises to the surface, the oil is ready for frying.
Shortcuts & Substitutions
There is no reason why you can't use prepared pizza dough. You can find this in the refrigerated section of most markets. Just form into balls and make sure you allow them to rest and come to room temperature before dropping into the hot oil.
Stracchino cheese is generally available in most larger markets. If you can't find it, there are options. You could use buffalo mozzarella that is either shaped into small balls or sliced. While not Italian in origin, I think a soft brie would be a fine substitute for stracchino.
I happen to love prosciutto that is sliced very thinly. It is salty, buttery, and delicate. It wraps around the coccoli effortlessly. I also happen to love mortadella with its little flecks of fat. It may seem like a departure, but very thinly sliced mortadella wrapped around the fried dough is delicious. The fat content really stands up to the cheese and dough.
You can go in a completely different direction and make this dish as a dessert or sweet snack. Spread Nutella on top, or simply drizzle runny honey over the warm Coccoli. Serve with sambuca or espresso.
---
Recent Recipes