Simple Greek Red Lentil Soup
This recipe for Greek red lentil soup is going to satisfy the need for a rich, fiber-filled, filling dish. It's incredibly simple and is one of those recipes that you can make ahead of time and have it throughout the week.
It's filling enough that you can have it on it's own or you can pair it with some other meal options like Greek lemon fries or Greek chicken wings. Pairing finger foods with soups is a great way to keep a meal simple and light.
Red lentils paired with hearty vegetables, fresh herbs, and tangy lemon are the base of this delicious, cozy soup. The ingredients are easy to find at your local supermarket. Plus, this recipe will come together in about 30 minutes, which is great for a busy schedule.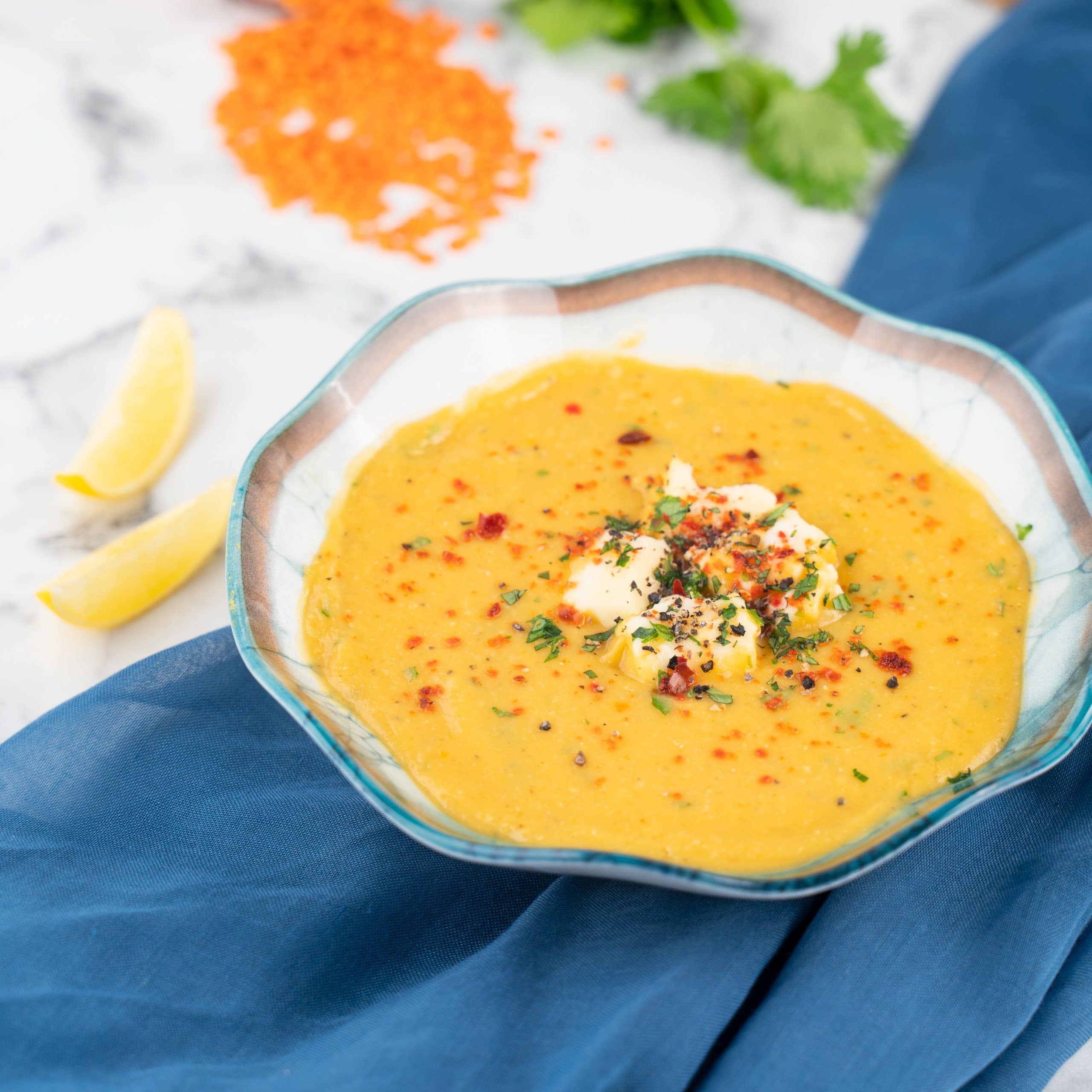 Ingredients
Soup
3

tablespoons

extra virgin olive oil

1

large yellow onion

¼" diced

3

garlic cloves

minced

2

carrots

peeled and ¼" diced

1

sweet potato

peeled and ¼" diced

1

cup

red lentils

split, picked through and rinsed

1

quart

low sodium chicken or vegetable stock

1

teaspoon

ground cumin

½

teaspoon

ground coriander

1

teaspoon

paprika

1-2

lemons

1

small bunch fresh cilantro and/or parsley

chopped

Salt and pepper to taste
Toppings
Plain greek yogurt

Feta cheese

Lemon wedges
Instructions
Start by adding the extra virgin olive oil to a large pot on medium heat. Add the onions, garlic, carrots, and sweet potato. Cook for about 5-6 minutes or until the vegetables are tender and onions are translucent.

Now, add the lentils, stock, cumin, coriander, and paprika. Season with salt and pepper. Allow the soup to come to a boil and then lower the heat so that it's simmering.

Slightly cover the pot and allow the soup to cook for about 30 minutes. The lentils should become soft.

To make the soup smoother, turn off the heat and use an immersion blender to blend the soup for 20-30 seconds. Alternatively, you can remove all or a portion of the soup and blend in a blender to puree. If you do not want a smooth soup, simply skip this step.

Taste the soup and adjust the seasoning to your liking. Add salt and pepper, if needed.

The final step is to add the juice of the lemons and fresh herbs.

Serve immediately with desired toppings.
Video
Nutrition
Calories:
233
kcal
|
Carbohydrates:
34
g
|
Protein:
9
g
|
Fat:
8
g
|
Saturated Fat:
1
g
|
Polyunsaturated Fat:
1
g
|
Monounsaturated Fat:
5
g
|
Sodium:
670
mg
|
Potassium:
548
mg
|
Fiber:
12
g
|
Sugar:
6
g
|
Vitamin A:
9145
IU
|
Vitamin C:
16
mg
|
Calcium:
51
mg
|
Iron:
3
mg
Notes & Tips
For more lemon flavor, add the zest from the lemon in addition to the lemon juice.
When buying the lentils, make sure that they are "split" lentils. This will ensure that they break down for the best soup consistency.
If you're into making homemade stock, don't forget to keep your vegetable scraps. Simply store them in the freezer until you have enough to make your own stock.
Is Greek Red Lentil Soup Vegan?
You can easily make this soup vegan. You can do this by swapping out chicken stock for vegetable stock. I like to use homemade stocks, but store bought ones are also great options. It's best to stick to a no salt or low sodium option. Not just for health reasons, but this allows you to adjust the seasoning yourself.
Also, be sure not to use feta or greek yogurt as a topping if you would like the recipe to be vegan and dairy-free.
Is It Healthy?
Greek red lentil soup is incredibly good for you. It's going to be hard to find a soup that is much healthier than this. It's packed with fiber, protein, and other nutrients. Here is why each ingredient brings its own healthy element to the recipe.
Red lentils – They are a great source of protein, iron, and folate. They also have polyphenols that are known to reduce risks of diabetes and heart disease.
Carrots – Carrots are high in fiber, calcium, and vitamin K.
Onions – Onions have high levels of antioxidants and components that may also reduce the risk of heart disease.
Sweet potatoes – Sweet potatoes are a better source of vitamins A and C than white potatoes. They are also high in fiber.
It's important to note that this soup is also gluten-free, and as mentioned before, can be made dairy-free and vegan.
Can You Use Green Lentils Instead Of Red Lentils?
Red lentils are great legumes for soups because they cook fast. Also, when they cook, they break down which helps create the smooth texture of a good soup.
Yes, you could use green lentils for this soup, but the outcome would be much different. Green lentils hold their shape when they are cooked and tend to take a bit longer. They will also have a different texture to them. They won't be as mushy or tender.
Instead, it would be better to use yellow lentils instead of green lentils as a substitute. They will also take a bit longer to cook, but will have a much better texture for the soup. The yellow lentils break down like the red lentils do. Yellow split peas would also be another great substitute for this soup.
Can You Freeze The Soup?
You can easily freeze Greek red lentil soup so that you can enjoy it in the future. I like to make a double batch of most soups just for this reason. Soups freeze really well and they are easy to reheat. I think the flavor actually gets better after soups are reheated.
Make sure that the soup cools down completely before storing it in the freezer. You will want to use a good air-tight container for the soup. You could use deli cups or even store the soup in freezer-safe plastic bags. You could use smaller, single-serve containers for easy lunches on the go.
The plastic bag option is a great idea if you are low on freezer storage. Lay the soup-filled bag flat in the freezer. Once it's frozen, you can easily stack other soups or find a thin space to store the soup.
Always be sure to label and date your food in the freezer. Greek red lentil soup will be good in the freezer for up to six months.
---
Recent Recipes