Homemade Phnom Penh Noodle Soup
Phnom Penh noodle soup (Hu Tieu Nam Vang) is a staple of southeast Asian cuisine. It is a popular breakfast or dinner noodle soup that's made using pork, quail eggs, and dried shrimp.
Since the recipe relies so heavily on meat products for its flavor, it would be very difficult to make vegan or vegetarian substitutions. This recipe is definitely for the meat lovers in your life.
This recipe makes six to eight bowls of soup. It's plenty to serve a crowd or for yourself with plenty of leftovers to spare. Let's dig in.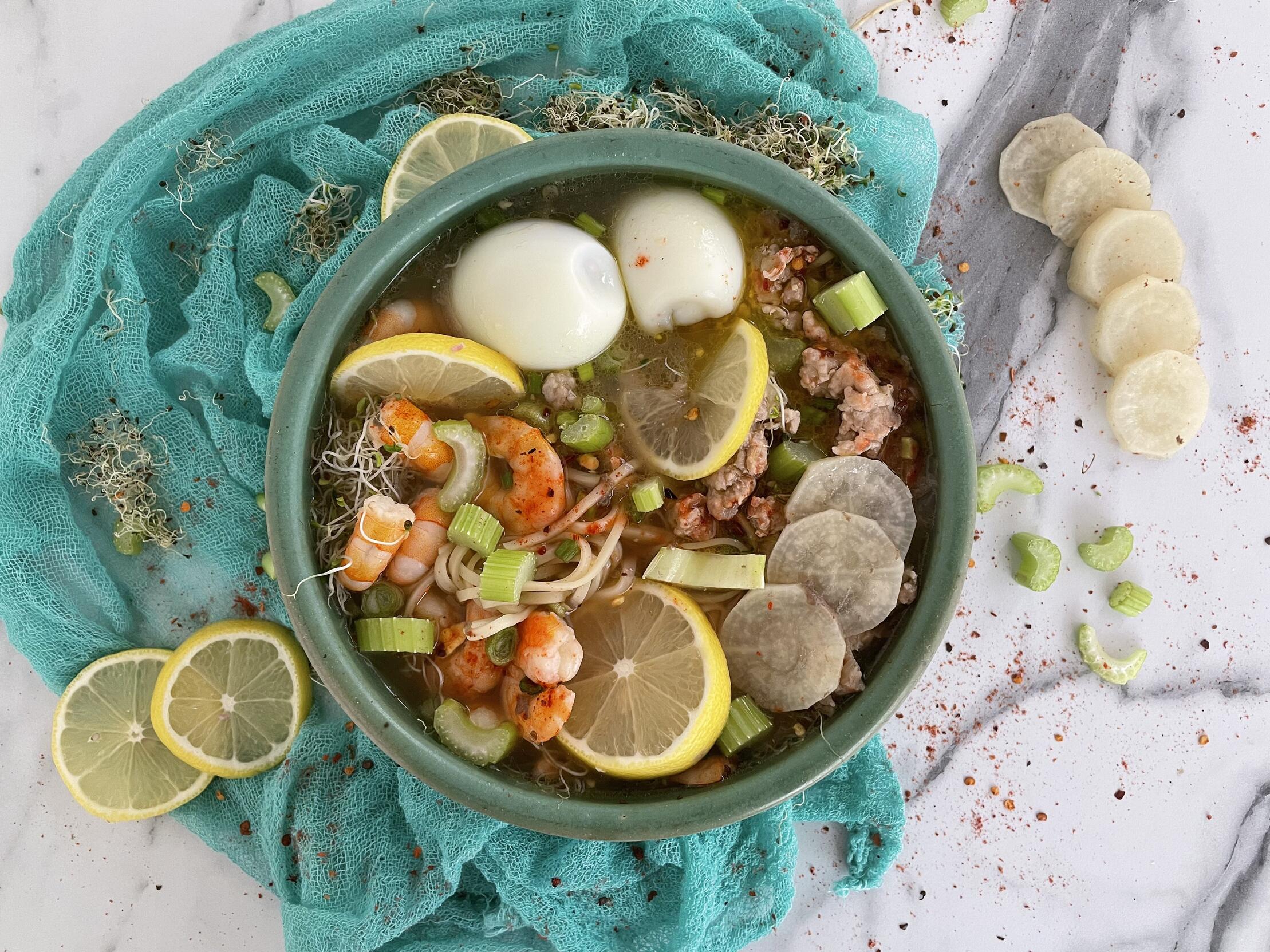 Ingredients
For the broth:
2

lb.

pork neck bones

5

lb.

pork back bones

1

medium daikon radish

peeled and chopped

1

yellow onion

peeled

5-10

rock sugar

sugar candy

1

cup

dried shrimp

soaked and drained

8

quarts

water

3

tablespoons

salt

3

tablespoons

fish sauce
For the topping:
3

tablespoons

oil

1

tablespoon

shallots

minced

1

tablespoon

garlic

minced

1/2

lb.

ground pork

12

quail eggs

boiled

1

bunch chives

chopped

1 1/2

lb.

pork butt

thinly sliced

1

lb.

shrimp

peeled and deveined

3

cups

bean sprouts

1

bunch Chinese celery

chopped

1

dash fish sauce

1

sprinkle chili pepper

3

lime wedges

3

packets dried chewy noodles
Instructions
Cook the pork:
Wash the pork bones under cold water and place in a large pot. Parboil the pork bones to remove any impurities, then rinse them again under cold water and wash the pot.

Transfer the bones back to the pot and add 8 quarts of water. Add the daikon radish, onion, rock sugar, pork butt, and dried shrimp. Bring to a boil and skim off excess foam. Simmer for about an hour on medium heat.
Prepare the toppings:
Place the pork liver in a pot and cover with water. Add a pinch of salt and boil the pork liver until completely cooked (about 15 minutes). Cool the pork liver in an ice bath before slicing.

Add more water to the pot and boil the shrimp. Remove the shrimp and let them cool completely.

Add the oil, garlic, shallot, quail eggs, and ground pork to a small frying pan and stir fry. Season the pork with a little salt and transfer to a serving plate.

Check on the pork butt (in the large pot) to see if it is fully cooked. It should be cooked to an internal temperature of at least 160°F (71°C). You can check this using a meat thermometer. Remove and transfer to an ice bath before slicing it.

Season the pot with salt and fish sauce and cook the noodles according to the package instructions.
Assemble the soup:
Place the noodles in a serving bowl and pour the broth over the noodles.

Add the toppings: shrimp, pork butt, quail eggs, pork liver, and ground pork.

Garnish with the chives, Chinese celery, and bean sprouts.

Top off with a sprinkle of lime juice.
Video
Notes & Tips
This recipe is labor intensive, but it's a labor of love. You will be impressed with your culinary skills after preparing this meal! It does not require any sides or compliments since it stands out on its own.
How to shop for pork
It's important to check the labels when shopping for pork.
Nitrate-free means that the pork is free of sodium nitrate.
No antibiotics means that the animals were not given antibiotics while they were being raised.
You will be unlikely to see "organic" on a pork label since organic pork doesn't have consumer demand and organic feed is expensive.
Certified humane means that the animals were raised in a way that meets farm animal welfare standards.
You are more likely to find "heritage breed" pork at a specialty meat market or a butcher shop, not the local grocery store. Heritage breed pork tends to have more tenderness and flavor than your typical grocery store pork.
Where to find quail eggs
Quail eggs are much smaller (and objectively cuter) than chicken eggs. They are shaped like a chicken egg, but about a third of the size, and are cream-colored with speckles and dots on the shell.
Quail eggs are easy to find at an Asian grocery store or your local farm stand.
Where to find Chinese celery
Chinese celery is thinner, hollower, and crunchier compared to western celery. It has a stronger celery flavor and fragrance. Chinese celery can be found online or from an Asian grocery store.
What does Phnom Penh noodle soup taste like?
Phnom Penh noodle soup sets itself apart from other noodle soups common to the region because of the chewy noodles, ground pork, pork liver, and quail eggs in this dish. This soup has a rich, meaty flavor.
Storage
For best quality, refrigerate the soup within two hours of cooking. Store in covered airtight containers. It will last for three to four days in the refrigerator.
To further extend the shelf life of this soup, freeze it in covered airtight containers or heavy-duty freezer bags. It will maintain its quality for four to six months but remain safe beyond that time.
Cooked soup that has been thawed in the fridge can be kept in the fridge an additional three to four days before re-heating. Soup that was thawed in cold water or in the microwave should be eaten immediately.
History
The soup derives its name from Phnom Penh, which is the capital of Cambodia. Phnom Penh noodle soup actually originated in Vietnam but has since spread not only to Cambodia but Thailand as well.
Phnom Penh is not just the capital but also the cultural heart of Cambodia. According to legend, Phnom Penh was founded by a wealthy woman named Penh, who found a group of Buddha and Vishnu statues inside a tree and took it as a divine blessing for moving the capital from Angkor to Phnom Penh.
Common questions
Why do I need to let the pork meat cool in an ice bath before slicing it?
This lets the meat rest and results in a tender and more complex flavor profile.
What are chewy noodles?
Chewy noodles are noodles made with tapioca starch rather than rice.
Can I use a different type of noodles?
If you can't find chewy noodles, you can use rice noodles instead.
---
Recent Recipes