Simple Homemade Blackened Salmon Sandwich
This Blackened Salmon Sandwich Bomb is dynamite. The first time I tried it, I was hooked and knew I had to make this. The important thing about cooking fish is that it is delicate and does have a very distinct taste. You cannot just wing it with whatever you have in your pantry and hope it works. An interesting thing about fish is that it can be delectable as a humble dish with simple flavors, or it can be an extravagant feast with expensive ingredients and accompaniments and they both work.
This recipe calls for a specific spice blend and it pairs so well with the salmon. I think the "aioli" makes the dish and elevates it and everything else brings in the textures and flavors. This Blackened Salmon Sandwich Bomb is bursting with flavor. It has a bit of tartness, some crunch, some explosive spices, saltiness and buttery richness that all blends together perfectly in this sandwich. Perfect for a summer's lunch, enjoy the Blackened Salmon Sandwich Bomb.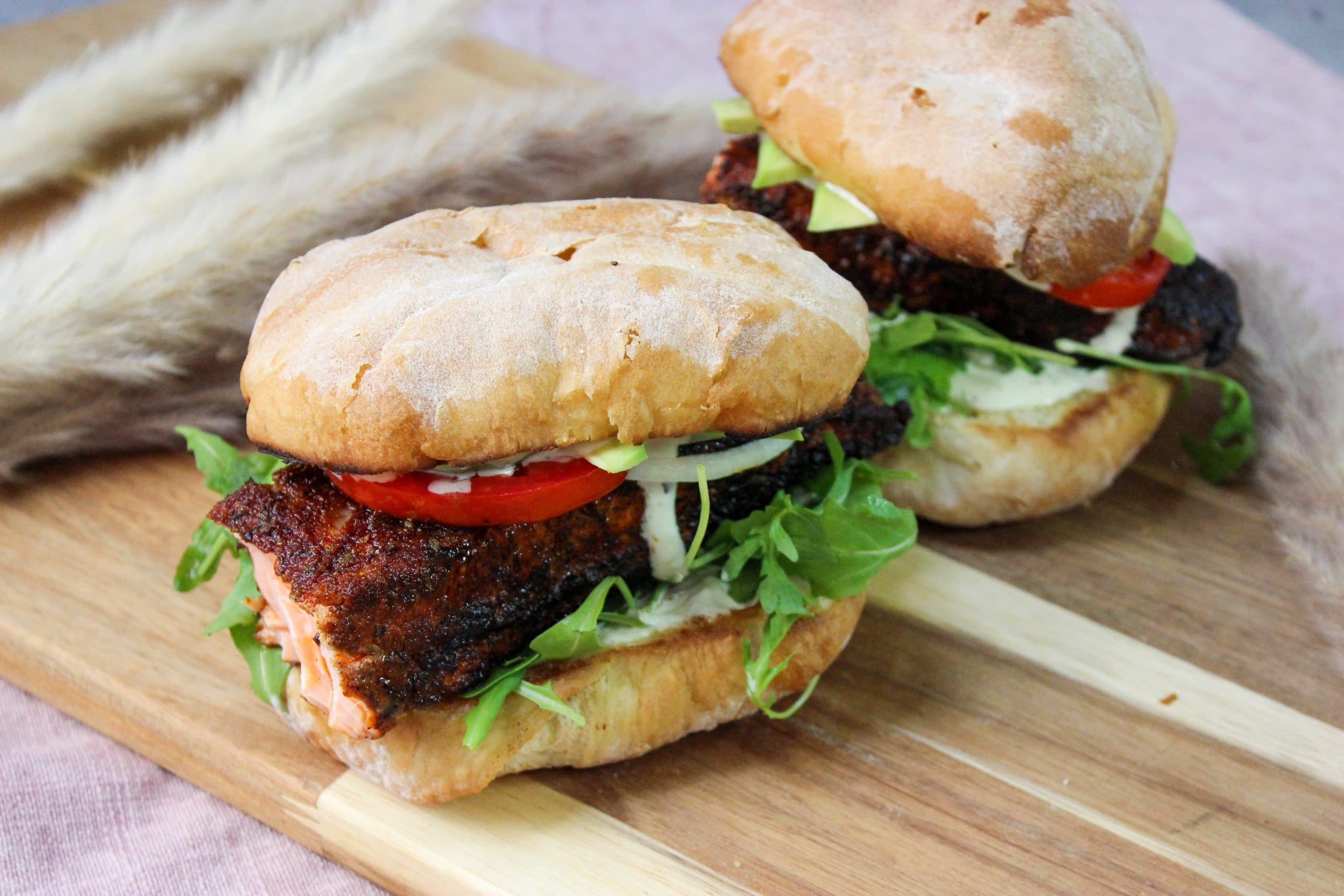 Ingredients
Blackening Seasoning (you can use store bought)
2

tablespoons

paprika

1

tablespoon

cayenne pepper

1

tablespoon

onion powder

1

teaspoon

ground black pepper

1

teaspoon

garlic powder

1

teaspoon

sea salt

½

teaspoon

oregano

½

teaspoon

thyme
Salmon Sandwich
1

pound

salmon

without skin and cut into 4 pieces

4

thin slices of onion

4

thin slices of tomato

2

small avocados

pitted and sliced

1

cup

of arugula

Olive oil

Brioche buns

or ciabatta buns
Homemade Garlic "Aioli"
1

cup

mayonnaise

2

cloves

of garlic grated

2

teaspoons

lemon juice

Salt and pepper
Instructions
Combine together all the seasoning ingredients and rub generously on the salmon until it is completely covered.

Heat olive oil in the skillet.

Place the seasoned salmon and cook until lightly browned and crisp, about 5 minutes. Flip and cooked the other side, another 5 minutes.

Take off the heat and set aside.

In a bowl mix together the mayonnaise, garlic, salt and pepper and finish with the lemon juice. Mix well and set aside.

Toast the insides of the buns and set aside.

Now it is time to assemble the sandwich. Spread a thick layer of the garlic aioli on the bottom bun. Add a few arugula leaves to it. Now add your salmon filet. Then add a slice of onion, one slice of tomato and a few slices of avocado. Add another generous spread of the garlic aioli to the top bun.
Video
Nutrition
Calories:
733
kcal
|
Carbohydrates:
16
g
|
Protein:
26
g
|
Fat:
64
g
|
Saturated Fat:
10
g
|
Polyunsaturated Fat:
30
g
|
Monounsaturated Fat:
22
g
|
Trans Fat:
1
g
|
Cholesterol:
86
mg
|
Sodium:
1000
mg
|
Potassium:
1238
mg
|
Fiber:
8
g
|
Sugar:
4
g
|
Vitamin A:
1257
IU
|
Vitamin C:
25
mg
|
Calcium:
64
mg
|
Iron:
2
mg
Tips & Tricks
Use a high quality, fresh cut of salmon, it makes all the difference.
If you're making your own blackened seasoning, you can play with the spices and measurements but remember paprika is key.
Your salmon just needs a light char, if you want it darker, cook longer.
Alternatively, you can broil it or grill it instead of cooking on the skillet.
Pan frying the insides of the bun with a pinch of salt and mayonnaise, oil or butter is a great way to add more flavor to the buns and this dish.
Storage
None of the ingredients hold up well in the fridge. Of course, the sandwich isn't going to spoil, but refrigerated buns and fish both have an unappealing texture when cold. So, if you are pre-making it, just season the fish and, cover in foil and leave in the fridge till you need to make it. Don't refrigerate for more than a day.
You can freeze the fish, seasoned or otherwise as per specifications. But there is no replacing the taste of fresh fish.
FAQs
Is blackened seasoning same as Cajun seasoning?
No, they are very similar, as is Creole seasoning but Cajun seasoning is a lot spicier, blackened seasoning is comparatively tamer.
How do I take the salmon skin off? Do I need to remove it?
Most people don't like the taste of salmon skin, as it can be a little chewy and rubbery. But there is no harm in eating it, in fact it is not only safe but has some health benefits as well, containing a lot of the same nutrients found in the rest of the salmon.
But if you bought salmon with skin on there are two ways of removing it.
Use a sharp knife and gently cut the skin off. You have to make a thin, precise cut because you don't want to be cutting off chunks of the salmon. This takes practices and requires a bit of precision.
An easier method is to cook the salmon with the skin. Once it is done cooking, the skin peels right off.
Substitutions
Let me start off by saying that except for the blackened salmon, you can substitute everything else in here.
Bun: You can use, any kind of bun or bread or even wrap. You can even do away with the buns completely and just add the salmon to salad greens and toss in some of the garlic aioli.
Arugula: Again, this is my preference, you can add lettuce, or a handful of spring mix or even microgreens. You can also forgo the greens if it is not your thing.
Avocado: You can have it sliced or mashed, mixed in with the mayo or done away with completely.
Onions and Tomatoes: These are standard in most sandwiches now, but you can choose just one or none. Some people don't like the taste of raw onions, so you can use sauteed onions, caramelized onions or pickled onions.
Cheese: What is a sandwich without cheese? But hear me out, the creaminess of the aioli and buttery goodness of the avocados are all you need in this sandwich. Any cheese is just going to make it clunky.
Aioli: While this is not traditionally aioli, as it is made with mayo instead of the olive oil, I think it is the highlight of the dish and adds a lovely tartness to the salmon. But if it is not to your liking, you can use plain mayo or lemon mayo. You can also just used mashed avocado or any other condiment of your choice.
Some other notable alternatives you can add bacon, fried egg, sliced or pickled radish and peppers.
Accompaniments
The Blackened Salmon Sandwich Bomb goes well with a side of roasted greens, like lemon-garlic green beans, roasted broccolini, lemony asparagus and Brussel Sprouts. Honey-paprika glazed carrots are another good accompaniment. And if all else fails, herb-roasted potatoes, mashed potatoes or good old fries.
If you are hankering for more fish, try this Baked Basa or if you're looking to end your meal on a sweeter note, nothing beats this Avocado Chocolate Mousse.
---
Recent Recipes