Historic Haitian Soup Joumou
History has it that when Haiti was under the French rule, the slaves were forbidden from eating much of their food, including this particular beef and squash soup. So, when Haiti gained its independence in 1804 the first thing the freed slaves did was consume this soup, called Soup Joumou. Since them every January 1st, Haitians all over the world make and have this delicious Soup Joumou as a celebration of their freedom.
This Historic Haitian Soup Joumou is tasty and delicious but be warned the deliciousness comes with a fair bit of prep. The dish is not at all complicated to make, just exhaustive as it has a long list of ingredients. It is a lovely, hearty soup with beef, squash, pasta, peppers and a variety of spices and seasonings.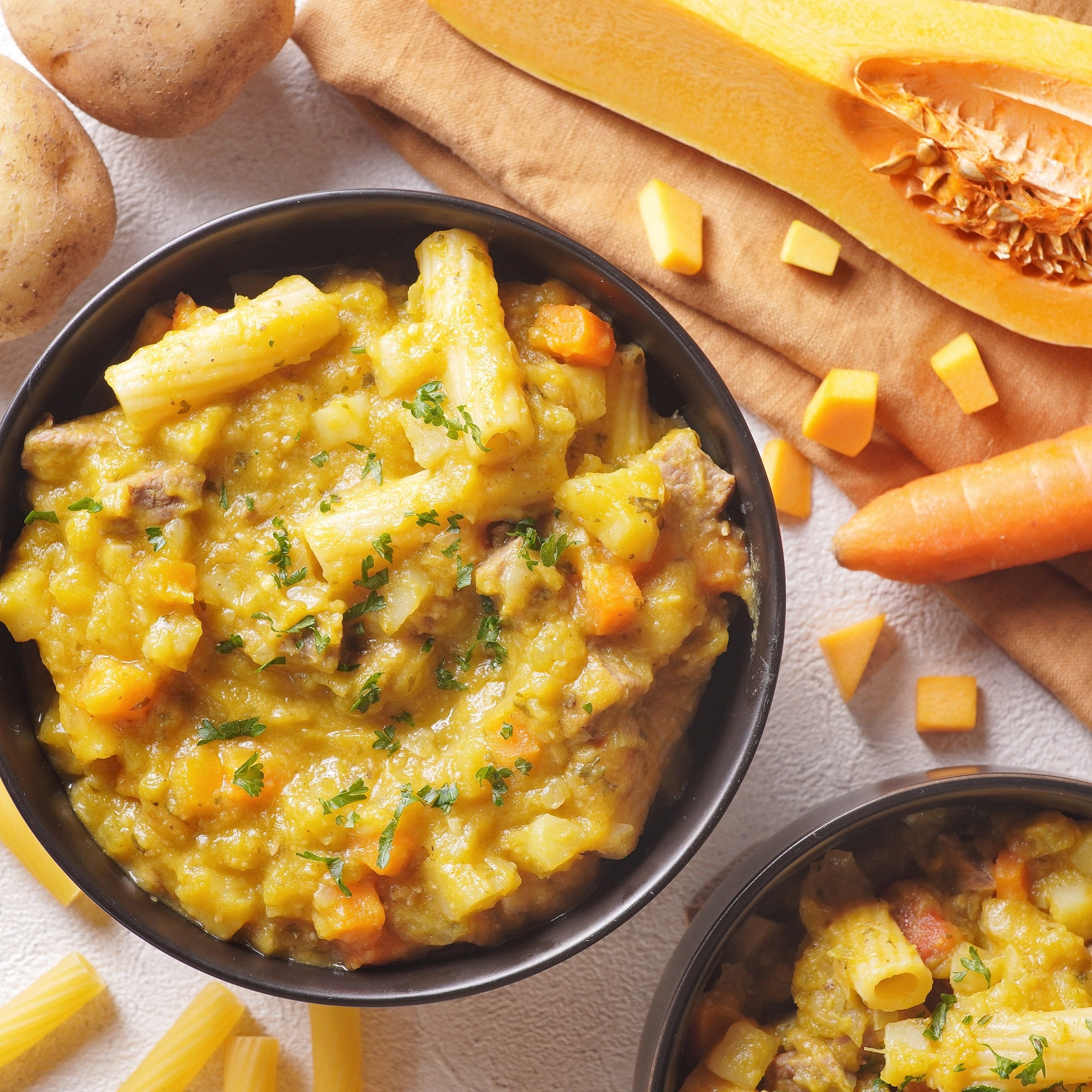 Ingredients
1

lb

beef

cut into cubes

2

butternut squash

peeled and chopped

2

carrots

peeled and chopped

2

sticks of celery

chopped

2

potatoes

peeled and cubed

1

cup

cabbage

cut into strips

1

onion

diced

1

shallot

diced

3

cloves

garlic

minced

3

sprigs of thyme

3

sprigs of parsley

1

cup

Epis

1

Scotch bonnet pepper

2

cups

of uncooked rigatoni pasta

6

cups

of vegetable or beef broth

Salt and pepper

Olive oil

Water
Instructions
In a large bowl, marinate the beef with Epis, onions, shallots, garlic, thyme, parsley, salt and pepper and set aside. This needs to marinate for a minimum of 1 hour to 1 day.

In the meantime, get all your vegetables ready. Peel, chop, wash and dry them.

In a pot boil the peeled and cut butternut squash till it is cooked. Once it becomes soft, drain the water and puree the butternut squash into a smooth paste.

In a large pot, heat oil and add the marinated beef. Cook till the beef starts browning.

To this add the 6 cups of broth and 4 cups of water.

Add all the vegetables: carrots, celery, potatoes, cabbage and the Scotch bonnet pepper.

Cover and let it cook for about an hour.

Uncover and add the two cups of pasta. Add more water if required.

Season with salt and pepper and cook for another 10-15 minutes till the pasta gets cooked.

Stir, take off heat and enjoy.
Video
Nutrition
Calories:
477
kcal
|
Carbohydrates:
49
g
|
Protein:
19
g
|
Fat:
24
g
|
Saturated Fat:
7
g
|
Polyunsaturated Fat:
1
g
|
Monounsaturated Fat:
5
g
|
Trans Fat:
1
g
|
Cholesterol:
43
mg
|
Sodium:
1023
mg
|
Potassium:
1278
mg
|
Fiber:
7
g
|
Sugar:
8
g
|
Vitamin A:
23180
IU
|
Vitamin C:
59
mg
|
Calcium:
188
mg
|
Iron:
4
mg
Tips & Tricks
You can use lemon or lime juice to clean the meat
If you want to make this a vegetarian dish, just eliminate the meat
You can add more vegetables of your choice like turnips, leeks and pumpkins
You can also add 1 or 2 bouillon cubes for more flavoring
Storage
Since this dish is so comprehensive and time consuming it is a great make ahead dish. Marinate the beef the day before. Similarly prep your vegetables and refrigerate in an airtight container. You can also cook and puree the butternut squash ahead of time. You can bring everything together and cook it the day of. Refrigerate this Historic Haitian Soup Joumou in an airtight container for up to 3 – 4 days. You can also freeze this for up to 2 months.
To reheat, let it sit out for about an hour, or in the fridge overnight, if frozen and heat in the microwave or stovetop. You can add some more broth or water to thin it out. This soup does not lose any of its flavor or taste in the fridge, but in fact gets juicier, so be sure to make a big batch of it.
FAQs
This is really time consuming, is there any other way to cook this?
This is a laborious process but very worth it. While there are no shortcuts, there are things you can do to hasten the process. Try and prep ahead as much as you can, as then it is just putting everything together and letting it cook for as long as it takes. You can also make it a one-pot dish, cook everything in the Instant Pot, while this saves on dishwashing, the vegetables and meat need to cook together for a long time to really bring out the flavors. One other thing you can do, is cook the beef separately ahead of time and then add it at the end once the vegetables have stewed together to get the juices flowing.
Can I use any other pasta besides rigatoni?
Certainly. This is the best thing about this dish, it is so versatile. You can use any long or short pasta. From spaghetti to elbow macaroni. They all go well in the Historic Haitian Soup Joumou, as they are just one part of this epic soup.
Substitutions
Beef: Traditionally, the recipe called for beef, you can use whatever meat you do prefer, but it won't be the traditional Soup Joumou. You can also eliminate the beef entirely if you want to make it vegetarian or vegan.
Butternut squash: You can use pumpkins instead.
Vegetables: You can use any root vegetable that you like. I love this Historic Haitian Soup Joumou because you can use turnips, taro, malanga, yucca, leeks or anything that catches your fancy.
Thyme and parsley: Like a lot of Haitian dishes, thyme and parsley play such a critical role in enhancing the flavor that I wouldn't eliminate it, but you can add other herbs like sage, rosemary or oregano.
Scotch bonnet peppers: This is optional. You can use habanero or not use any spice
Epis: This is the quintessential Haitian base you need it for that extra flavor heft.
Accompaniments
This soup is the whole dish, it is going to be the star of the table. This Historic Haitian Soup Joumou can be enjoyed all on its own. But you can have it with some warm rice or with a nice bread.
For more hearty, healthy soups try this Mexican Cabbage Soup or this decadent Baked Potato Soup.
---
Recent Recipes