Simple Italian Minestrone Soup
Minestrone soup may have been invented by Italian farmers using up the varieties of vegetables that were lingering in the fields after a harvest and dates back to the Roman empire. Or, it might have been brought about by home cooks using up leftovers. There are different versions of the origins of this veggie-centric soup.
The word minestrone translates to big soup. It is also often referred to as poor man's or peasant soup. It is a watery soup that generally doesn't have meat but does have some sort of grain or pasta to give it some bulk.
In my home, minestrone is what we call "clean-out-the-fridge soup". On Sundays, I will often take stock of what is in my fridge and pantry and make a big pot of soup to have for the week. I don't like to waste food, so this is a great way to use up vegetables that are just starting to see better days. I don't add meat to the soup, though you can. I keep it vegetarian but not strictly vegan because I like to finish the soup with parmesan cheese.
Since there isn't really a classic minestrone soup recipe, I have tried to keep this one simple, affordable, and made with ingredients that you are likely to have already, or at least most of them. It may look like a lot of ingredients, but don't let that deter you. The recipe really is easy to pull together.
Once the soup is cooked through, serve it right away with simple roasted garlic bread for dunking. I normally serve a dry white wine with vegetarian dishes, but this soup is hearty and pairs nicely with red wine, such as Chianti or Montepulciano.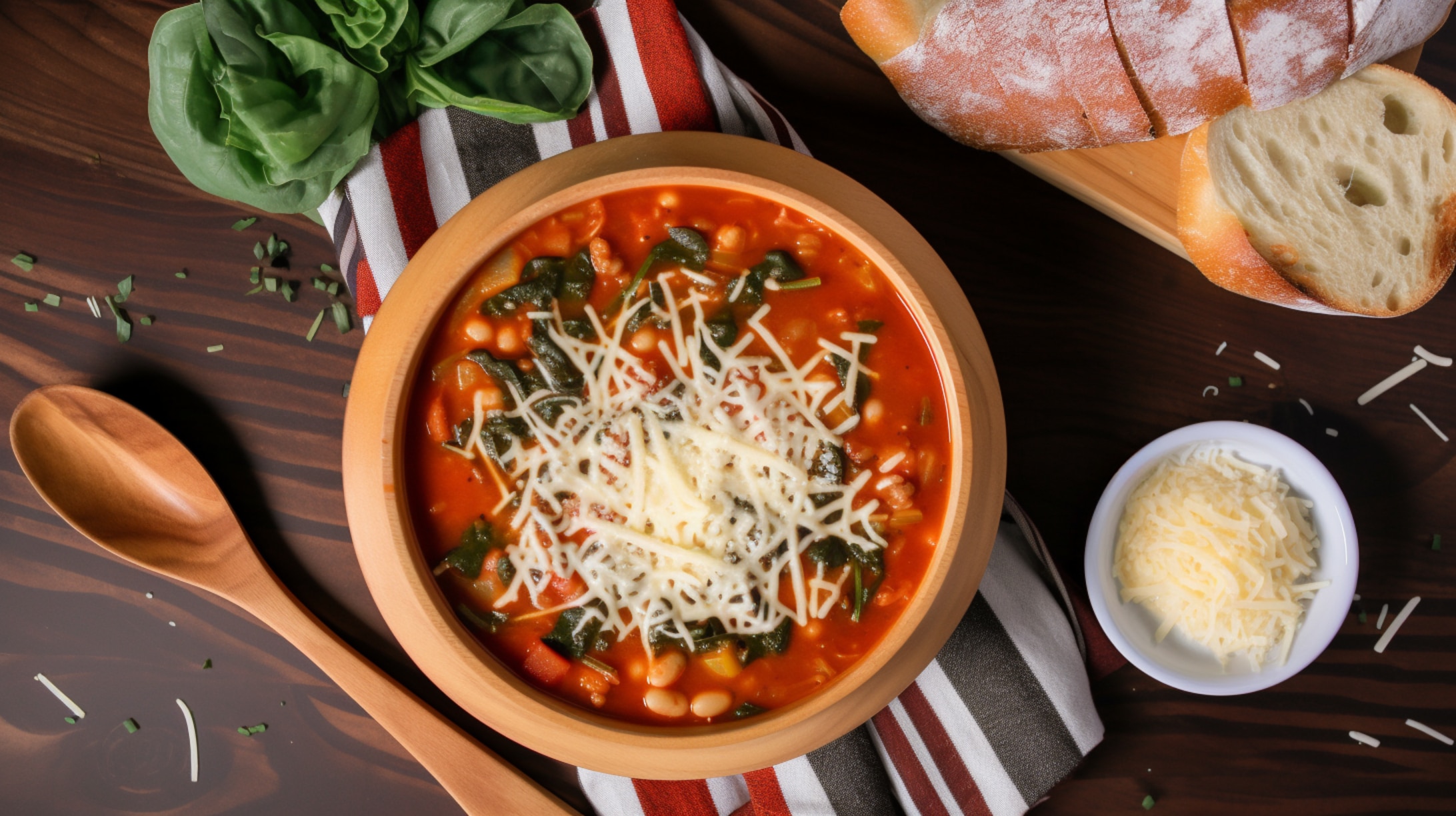 Ingredients
2

Tbsp

good olive oil + more for serving

1-1/2

cups

chopped yellow onions

2

cups

1/2-inch diced celery

2

cups

1/2-inch diced carrots

2-1/2

cups

1/2-inch diced peeled butternut squash

4

cloves

garlic

peeled and minced

1

tsp

dried thyme leaves

One 28-ounce can of diced tomatoes

with juice

6

cups

vegetable broth + more if needed

1

dried bay leaf

1/2

cup

good dry white wine

2

tsp

sea salt

1-1/2

tsp

freshly ground pepper

2

cups

cooked ditalini pasta

One 15-ounce can of cannellini beans

drained and rinsed

10

ounces

fresh baby spinach leaves

2

Tbsp

fresh minced basil leaves

Freshly grated parmesan cheese

for serving
Instructions
In a large soup pot or Dutch oven over medium heat, warm 2 tablespoons of olive oil. Add the onions, celery, squash, garlic, and thyme. Sauté, stirring occasionally, until the vegetables begin to soften, approximately 9 minutes.

Add the tomatoes, broth, and bay leaf to the pot. As soon as the liquid starts to boil, reduce the heat to a simmer. Cook for 20 minutes. At 20 minutes, add the white wine, salt, and pepper. Continue to simmer for 10 minutes or until the vegetables are soft.

While the soup is simmering, cook the pasta according to the package directions minus 1 minute so it is just al dente. Drain and set aside.

Remove the bay leaf from the soup. Add the pasta and cannellini beans and stir gently to combine. If the soup is too thick add a little more broth or just plain water. Adjust the salt and pepper seasoning if needed. Warm through, then add the spinach and basil.

Ladle the soup into individual serving bowls. Top with grated parmesan and a drizzle of good olive oil. Serve right away with garlic bread for dunking.
Nutrition
Calories:
196
kcal
|
Carbohydrates:
30
g
|
Protein:
5
g
|
Fat:
5
g
|
Saturated Fat:
1
g
|
Polyunsaturated Fat:
1
g
|
Monounsaturated Fat:
3
g
|
Sodium:
1813
mg
|
Potassium:
661
mg
|
Fiber:
4
g
|
Sugar:
6
g
|
Vitamin A:
14709
IU
|
Vitamin C:
24
mg
|
Calcium:
101
mg
|
Iron:
2
mg
Notes and Tips
If you aren't going to serve this soup right away, or you want o freeze it for later, make the soup base without the pasta, spinach, and basil. Heat up the soup and add these ingredients right before serving.
Be sure to dice the vegetables to be approximately the same size. Doing this ensures that they will all cook at the same rate and to the same degree of softness.
To save a little time, you can pick up diced onions, celery, carrots, and butternut squash that is packaged and displayed in the produce section of your market.
It makes a difference to use a good quality olive oil when serving the soup. I keep an okay bottle next to my stove for cooking and a smaller high-quality oil in my fridge for drizzling over dishes and for making salad dressings.
Substitutions, Additions, and Variations
Pancetta or Guanciale: If you would like a little more flavor and don't mind this soup being non-vegetarian, you can start the soup by sautéing pancetta or guanciale in the oil until cooked through before adding the vegetables to the pot.
Butternut Squash: Butternut squash is common in Italian cooking. I think kabocha squash would also work in this recipe. Some recipes call for waxy potatoes instead of squash.
Diced Tomatoes: I am a huge fan of a specific brand of fire-roasted diced tomatoes. The char on the tomatoes adds a lot of flavor to minestrone. If you have the opportunity to pick these up, I think you will like the addition.
Vegetable Broth: There isn't any reason you can't use chicken or beef stock as the base for this soup if you aren't keeping it vegetarian. To be honest, you can even make this with plain water if you don't have any broth or stock in the pantry. If using water, I would season more aggressively with herbs, salt, and pepper.
Zucchini and Green Beans: Zucchini is a common ingredient in minestrone soup. If you want to include that, add it when you add the wine. It only takes a few minutes to soften. Green beans are another ingredient that is often found in minestrone. Make sure to cut them into bite-size pieces.
White Wine: If you want to skip the wine, simply add a little extra broth.
Ditalini Pasta: Small tubular pasta is ideal in this soup. You can substitute tubetti or even small shells. Sometimes I just use elbow macaroni. There are minestrone recipes that call for cooked rice as the starch component.
Cannellini Beans: I really enjoy the creamy texture of cannellini beans. Sometimes I want a bean with a little more bite to it. In that case, I substitute with red kidney beans or garbanzo beans.
Pesto: You could skip the basil leaves and add a couple of spoonsful of your favorite jarred or homemade pesto for a more concentrated basil flavor.
Parmesan Cheese: If you happen to have a piece of parmesan rind, toss that into the soup when you add the tomatoes. The additional flavor it imparts is pretty awesome. Any good dry-aged Italian cheese is fine for serving the soup, such as pecorino Romano or asiago.
I feel I need to mention this again. Minestrone soup leaves a lot to the imagination and that is its beauty. Don't get bogged down with the ingredient list or the process. Think of it as an opportunity to make really good use of the veggies and even proteins in your fridge that need to be eaten rather than thrown out. You just need to add some pasta and beans and you have a nutritious, nurturing, and economical meal to feed many.
Storage & Reheating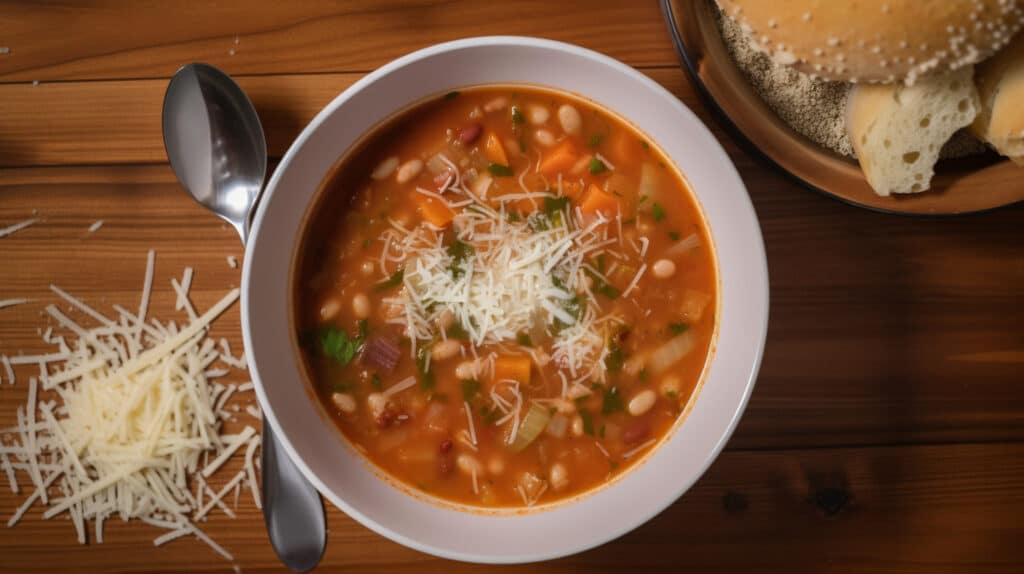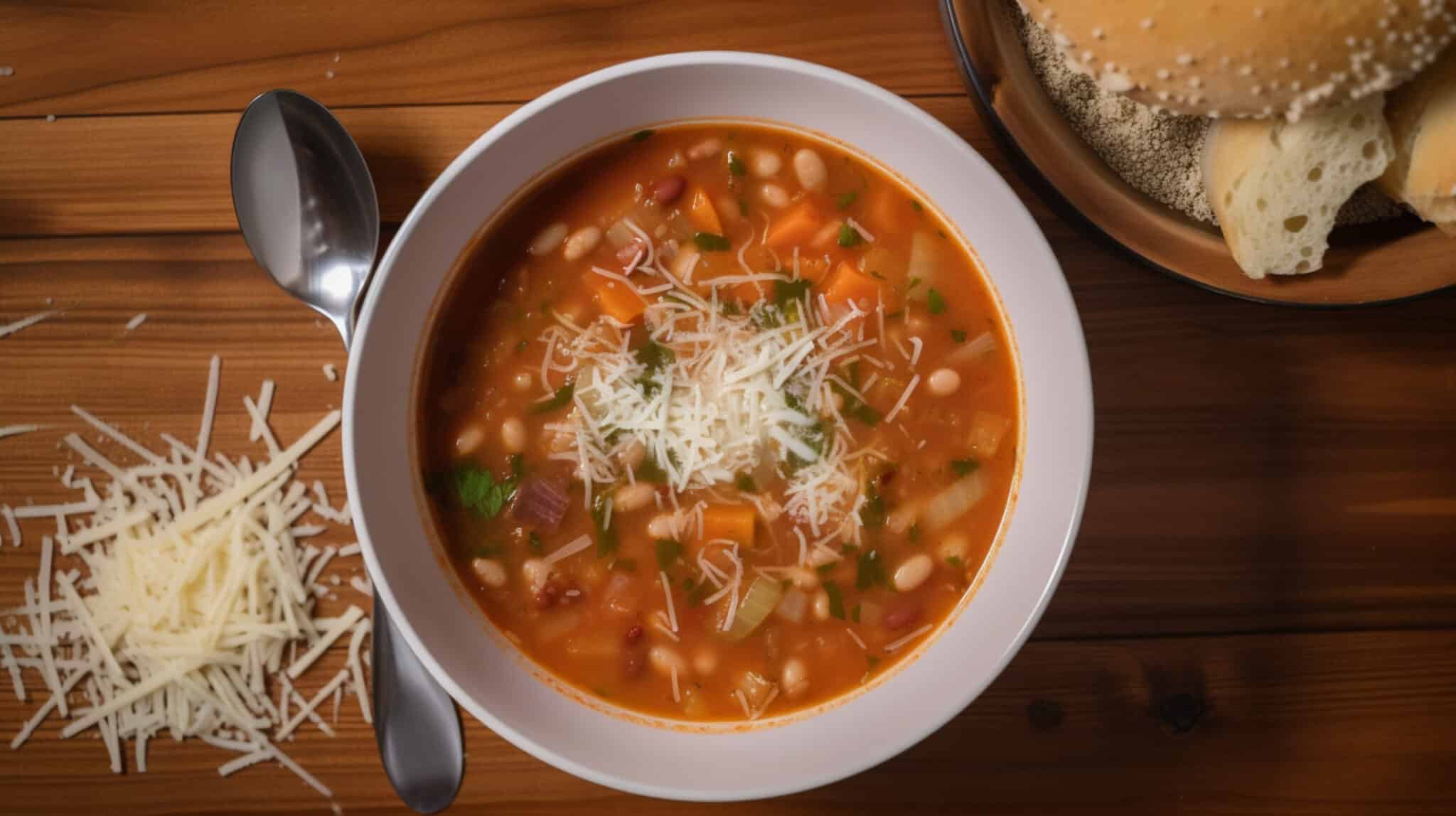 To store leftover minestrone soup, place it in an airtight container and refrigerate for up to 4 days.
To reheat, warm it in a saucepan over low heat until heated through, stirring occasionally to prevent sticking.
If the soup has become too thick after storing, add a bit of vegetable broth or water to thin it out while reheating.
For freezing, let the soup cool down completely and store it in an airtight, freezer-safe container. Freeze for up to 3 months. Thaw in the refrigerator overnight before reheating.
Serving Suggestions
Serve minestrone soup with a slice of crusty bread, such as garlic bread, for dipping.
Accompany the soup with a fresh green salad with a simple vinaigrette to create a well-rounded, healthy meal.
Pair minestrone soup with a glass of red wine, such as Chianti or Montepulciano, for a rich, satisfying flavor combination.
Common Dietary Restrictions
Vegan: Skip the parmesan cheese garnish or use a vegan cheese alternative.
Gluten-free: Use gluten-free pasta or replace pasta with cooked rice or quinoa.
Low-carb: Omit the pasta and add extra vegetables, such as zucchini or green beans.
Common Mistakes
Overcooking the vegetables: Dice the vegetables into approximately equal sizes to ensure even cooking. Add delicate vegetables, like zucchini, later in the cooking process to prevent them from becoming too soft.
Adding pasta too early: Cook the pasta separately until just al dente, and add it to the soup right before serving to avoid overcooking and becoming mushy.
Skimping on seasoning: Adjust salt and pepper to taste, and don't be afraid to use a variety of herbs and spices for more complex flavors.
Health risks & benefits
Benefits:
Minestrone soup is full of vegetables, making it a nutritious and healthy meal option.
The beans in this recipe provide a good source of plant-based protein and fiber.
This soup is low in fat and can be easily adapted to accommodate various dietary preferences and restrictions.
Risks:
If you are sensitive to sodium, be cautious when using canned ingredients, such as diced tomatoes and vegetable broth. Opt for low-sodium varieties or make your own to control the salt content.
Recipe History & Context
Minestrone soup has a long history, dating back to the Roman Empire. Its origins are not entirely clear, but it is believed to have been created by Italian farmers using leftover vegetables after harvest or by home cooks using up leftovers in their kitchens. Minestrone translates to "big soup" and is also referred to as "poor man's" or "peasant soup" due to its humble beginnings.
Common Questions
Can I use other types of beans in this recipe?
Yes, you can substitute cannellini beans with red kidney beans, garbanzo beans, or any other type of bean you prefer.
Can I add meat to this minestrone soup?
Yes, you can add pancetta or guanciale at the beginning of the cooking process for a non-vegetarian version. Just sauté the meat in the oil before adding the vegetables.
Can I freeze minestrone soup?
Yes, you can freeze minestrone soup for up to 3 months. Be sure to cool it completely and store it in a freezer-safe, airtight container. Thaw in the refrigerator overnight before reheating.
---
Recent Recipes