Easy Fried Feta Cheese Balls
Fried feta cheese balls are a classic appetizer that never gets old. It's easy to make, it's delicious, and guests always love them! The feta cheese balls are crispy on the outside with a cheesy center. You can fry them in olive oil or butter and they taste amazing! The best part? You can serve them in many different ways.
Feta is a soft, white cheese that originated in Greece. It has a distinctive salty flavor and a high melting point. Because of this property, feta is the perfect cheese option for making fried cheese balls. One of my favorite ways to serve them is with a simple marinara dipping sauce. However, you can also make different sauces for your feta cheese balls. In addition to the marinara sauce, I love serving them with Tzatziki Sauce or Marinara and Balsamic Glaze. Both are easy dips that taste great on fried foods!
Fried feta cheese balls were first made popular in Greece and have since grown in popularity. They are a must-have appetizer for any party or get-together, but they aren't just limited to those events! You can serve them as dinner alongside some fresh vegetables or bread.
Crunchy on the outside and gooey on the inside, fried feta cheese balls are made using a combination of different types of cheese for the unique texture. In this version of the recipe, I have used three popular types of cheese – feta, gouda, and graviera.
What makes this recipe interesting?
This unique thing about this recipe is that I have used vegetable oil instead of olive oil or butter for frying. Vegetable oil gives the cheese a distinct texture and is great on the taste buds. It is not too spicy but you can sense it as the cheese melts in your mouth. You can always add your preferred amount of saltiness and spiciness to the recipe. I am using all-purpose flour for dredging as it really adds the crunch to the outer layer. With the amount of ingredients I am using, you get 14-16 fried feta cheese balls per serve. Feel free to experiment with ingredients and quantity.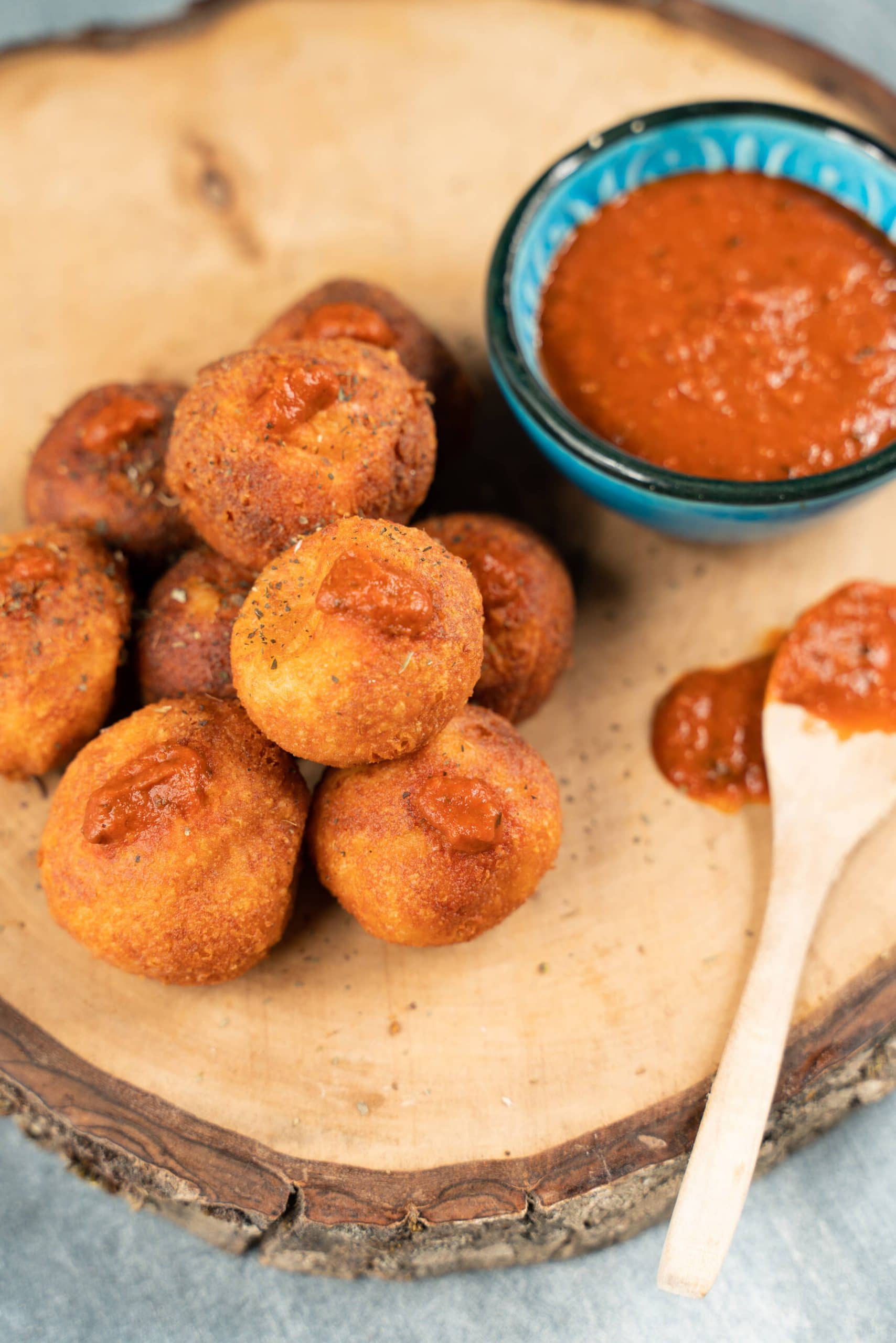 Ingredients
4

oz

Crumbled feta cheese

4

oz

Grated graviera cheese

4

oz

Grated gouda cheese

1

Whole egg

1

Egg white

¼

cup

Milk

½

teaspoon

Paprika

Pepper

to taste

1/2

cup

All-purpose flour

Vegetable oil

for frying

Bread crumbs

optional
Instructions
Take a mixing bowl and the feta cheese, graviera, gouda, and milk.

Using a blender, combine the mixture until you get a sticky paste-like consistency.

While blending, season with paprika and pepper.

If the texture is too runny, add some breadcrumbs and mix well.

Next, you need to allow the mixture to firm up. For this, cover the mixing bowl with plastic wrap and set it aside in the fridge for 30 minutes.

Once the mixture is thick and nice, take it out of the fridge and roll it into balls. The preferred size is that of a golf ball, but it totally depends on you.

Add some flour to a plate and roll the balls into flour. Set aside the cheese balls dipped in flour for 10-15 minutes.

Take a deep frying pan and heat the vegetable oil to 350°F. Once hot, slowly drop the cheese balls into the frying pan. Don't put all the balls at once but in batches. This will allow the cheese balls to cook evenly.

Fry the balls for 2-3 minutes until they turn golden brown.

Remove the fried feta cheese balls from the pan using a slotted spoon and place them over a paper towel to remove any excess oil.

Serve hot with marinara sauce.
Video
Notes
If you don't have graviera cheese at home or cannot find it at your local grocery store, you can experiment with Gruyere, Parmesan, or Romano cheeses.
Nutrition
Calories:
673
kcal
|
Carbohydrates:
32
g
|
Protein:
39
g
|
Fat:
43
g
|
Saturated Fat:
28
g
|
Polyunsaturated Fat:
2
g
|
Monounsaturated Fat:
11
g
|
Trans Fat:
1
g
|
Cholesterol:
250
mg
|
Sodium:
1800
mg
|
Potassium:
270
mg
|
Fiber:
1
g
|
Sugar:
8
g
|
Vitamin A:
1005
IU
|
Vitamin C:
2
mg
|
Calcium:
1009
mg
|
Iron:
3
mg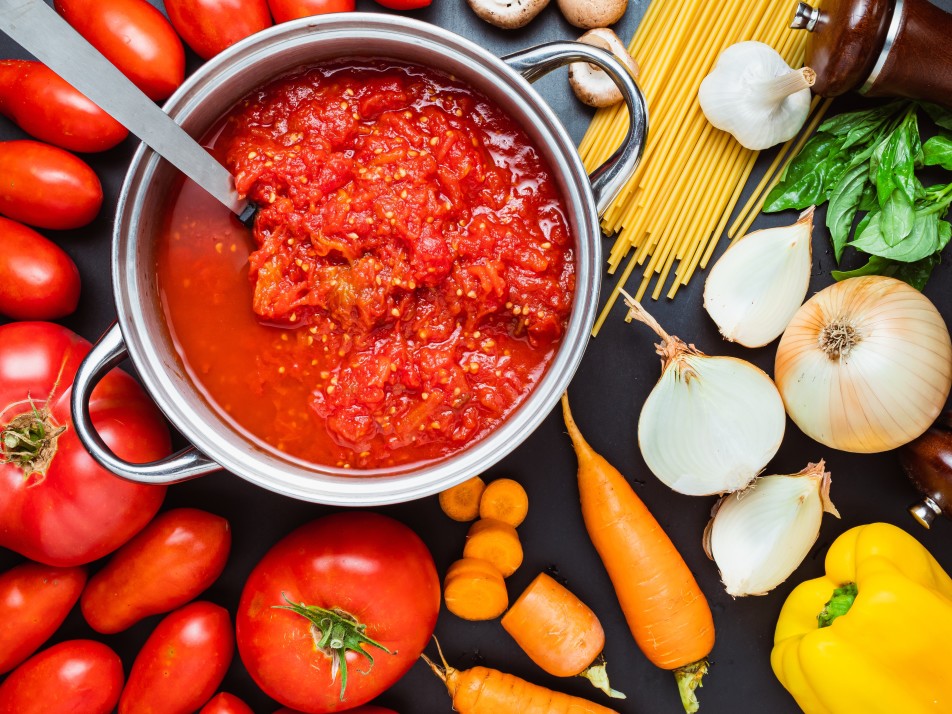 Ingredients
28

oz

Whole peeled tomato

1

Yellow onion

medium, halved, and peeled

2

garlic cloves

2

tablespoons

Extra virgin olive oil

1

teaspoon

Dried oregano

Red pepper flakes

a pinch

Salt

to taste
Instructions
Take a heavy-bottomed saucepan and combine the tomatoes, garlic, onion, red pepper flakes, oregano, and olive oil.

Cook over high heat until the mixture turns to a simmer. Then, lower the heat and cook until you see the oil floating free of the tomatoes. Then using a sturdy wooden spoon, smash the tomatoes.

Once the tomatoes are cooked, remove the pan from the heat, mash the garlic cloves and onion, and stir well. If desired, take an immersion blender and blend the mixture as per your liking.

Add some salt to taste and serve warm.

The marinara sauce will remain unspoiled for 4 days if covered and refrigerated. If frozen, it will remain preserved for 6 months.
Notes
You can also use a can of tomatoes that is BPA-free. Always use high-quality tomatoes.
Nutrition
Calories:
73
kcal
|
Carbohydrates:
7
g
|
Protein:
1
g
|
Fat:
5
g
|
Saturated Fat:
1
g
|
Polyunsaturated Fat:
1
g
|
Monounsaturated Fat:
3
g
|
Sodium:
190
mg
|
Potassium:
280
mg
|
Fiber:
2
g
|
Sugar:
4
g
|
Vitamin A:
155
IU
|
Vitamin C:
14
mg
|
Calcium:
47
mg
|
Iron:
1
mg
How to Store Fried Feta Cheese Balls at Home?
Once made, it is not recommended to store the fried feta cheese balls. However, you can store the mixture in the refrigerator for up to one week. Nevertheless, how long it will take before the mixture is spoiled will depend on the freshness of the ingredients. Store the mixture in an airtight container of a plastic sealed bag. The same goes for marinara sauce. If covered and refrigerated, the marinara sauce can be stored for up to 4 days. In a freezer, it will remain preserved for about 6 months.
Best Substitutes for Marinara Sauce
If you don't like marinara sauce or if this sauce is not available, you can use some alternatives that go well with fried feta cheese balls. They include:
Tomato ketchup
Tomato soup
Tomato juice
Canned tomatoes
Tomato paste
Top Foods to Serve with Fried Feta Cheese Balls
Deep-fried feta cheese balls are only as good as what you serve them with. All that flavor and goodness rolled up inside has the potential to be paired with countless tasty snacks. Some of my favorites include:
Pear and apple slices
Crudite
Pretzels
Halved and toasted mini bagels
Crostini
Roasted potato wedges
Hope you enjoy this recipe, and if you do, please share it with your friends and family. Thank you!
---
Recent Recipes