Easy Guyanese Cheese Roll
Guyanese cheese rolls are so yummy and remind me of childhood snacks. They're pretty easy to make and don't require any unusual ingredients, so they're great for when that random baking urge hits. Cheese rolls are perfect for any audience and any occasion. Sometimes I make them extra small as little appetizers and I serve them alongside spicy cheese and sausage stuffed jalapenos. Regardless, this is a treat for the whole family.
A few things you should know before you get started: the cheese does need to be grated, so if you don't want to deal with shredding an entire block of cheddar, you might want to get it pre-shredded from the store. While prep time is listed as 30 minutes, the dough will need time to chill in the fridge for about an hour as well, so please keep that in mind.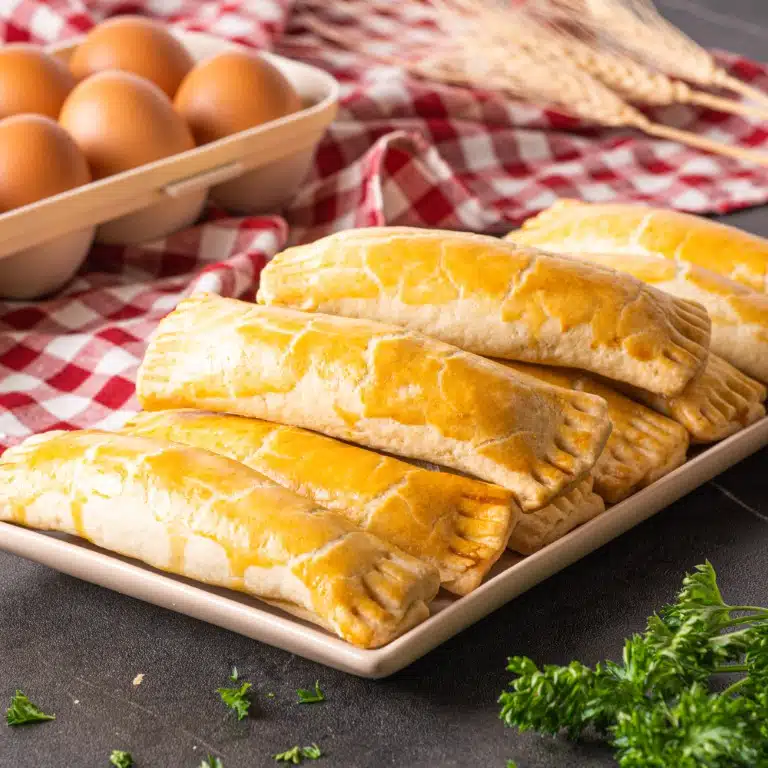 Ingredients
For the pastry:
4

cups

flour

½

tsp

salt

½

cup

cold butter

½

cup

shortening

½

cup

cold water
For the filling:
1 8-

oz

block extra sharp cheddar cheese

¼

tsp

ground pepper

1

tbsp

brown mustard

1

tbsp

flour

½

tsp

garlic powder

1

tsp

dried parsley

1

wiri wiri pepper

1

egg
Instructions
All ingredients ready? Let's begin!

Add the flour and salt to a large mixing bowl and whisk to combine.

Cut the butter into chunks and add the flour. Add the shortening as well.

Using a fork, pastry cutter, or your hands, cut the ingredients together until the butter and shortening are very small, pea-like chunks throughout.

Add roughly ½ cup cold water and mix to combine into a thick dough.

If the mixture is still too dry to stick together, add a tiny bit of water at a time and mix again. If it's too wet, add a little bit of flour.

Flour a clean surface and turn the ball of dough out onto it. Use your hands to knead the dough extra thoroughly, making sure it's a solid ball.

Wrap the dough in plastic wrap and place in the fridge for at least an hour to chill.

When you're ready you can prepare the cheese filling. Grate the cheese and add to a bowl.

Add the ground pepper, mustard, flour, garlic powder, and parsley.

Cut the wiri wiri pepper in half to destem and deseed it. Finely chop it and add it to the cheese.

Mix all the cheese ingredients well.

Preheat your oven to 350F and remove the dough from the fridge.

On a clean, lightly floured surface, roll the dough out to be about 1/8th inch thick. It should be thin enough to cook evenly but thick enough so it doesn't rip when you shape the rolls.

Cut the dough into 16 equal rectangles.

Crack the egg into a small bowl, add a few drops of water, and beat with a fork until mixed.

Use a pastry brush to brush the edges of each dough portion with egg.

Spoon 1-2 tbsp of cheese mixture down the center of each dough rectangle, then fold hotdog-length in half so the edges of dough touch.

Use a fork to press the edges of dough together.

Place the rolls onto a baking sheet lined with parchment paper and brush the remaining egg on top.

Put in the oven and bake for 15-20 minutes. The tops should be golden brown and the edges slightly crispy.

Remove from the oven and allow to cool on the pan for 10 minutes before moving to a wire cooling rack to continue cooling.

Serve warm, but be careful as the cheese inside will be very hot. Enjoy!
Nutrition
Calories:
313
kcal
|
Carbohydrates:
26
g
|
Protein:
8
g
|
Fat:
19
g
|
Saturated Fat:
9
g
|
Polyunsaturated Fat:
3
g
|
Monounsaturated Fat:
6
g
|
Trans Fat:
1
g
|
Cholesterol:
44
mg
|
Sodium:
243
mg
|
Potassium:
60
mg
|
Fiber:
1
g
|
Sugar:
0.2
g
|
Vitamin A:
382
IU
|
Vitamin C:
1
mg
|
Calcium:
130
mg
|
Iron:
2
mg
Notes & Tips
These cheese rolls can be stored in an airtight container in the fridge for up to a week. You can also freeze them for several months.
If you have a food processor, you can make things easier for yourself and mix the dough in that. Pulse the dry ingredients together then add the butter and shortening. Pulse until the butter and shortening break into small, pea-sized chunks. Add the water and run the food processor on low until everything forms into a hard ball.
Covered dough can be left in the fridge for several days. The cheese filling can also be left in the fridge for a day or so, but the cheese might start to dry out.
I like to use a baking tray with a lip because, try as I might, cheese usually leaks out. To somewhat prevent this, you can poke a few holes on top of each roll with a fork before baking.
Substitutions & Additions
As with many recipes that feature peppers, you can adjust the spice level to fit your preferences. If wiri wiri pepper is too hot for you, you can omit it. If you would like more heat, you can add another one. Wiri wiri peppers can also be substituted for scotch bonnet peppers, depending on what's available in your local grocery store or market.
If you want to add more spice without adding more pepper, you can do that too. Try adding a little more ground pepper or even some tabasco sauce. I personally like to add about ½ tsp of curry powder (or sometimes paprika) just because I like the zing and the flavor goes well with the cheese.
As far as cheese goes, sharp cheddar adds to the savory spiciness of these cheese rolls, but if sharp cheddar is too heavy for you, you can use a milder one, though I don't recommend a super mild cheddar. Medium cheddar or a mix with sharp / extra sharp cheddar helps makes the flavor less overpowering while still keeping the spirit of sharp cheddar alive in the dish.
What Cheese Should I Buy?
The short answer is: it doesn't matter as long as it's cheddar. Since you use added spices and bake the rolls, you're not as likely to notice discrepancies between brands. However, if you're really into cheese or want to make the coolest cheese roll ever, check out this list of the best cheddar cheeses to buy.
---
Recent Recipes