This is a ridiculously easy and delicious dessert perfect for any occasion. My mom used to make a variation of these along with peanut butter balls and give portions of them out as Christmas gifts to our teachers and the mailman. She had a hard time reserving enough to give out as gifts because us kids kept trying to snatch them!
It was a good family bonding activity as well because they are so easy to make that kids can do it with you. If you're looking to make something similar but without any milk or dairy, here's some great vegan coconut balls.
These Cuban coconut balls are also called coquito acaramelados if you make them with caramel. I do include how to make these with caramel, but the main recipe uses dulche de leche instead because I think it adds an extra twist.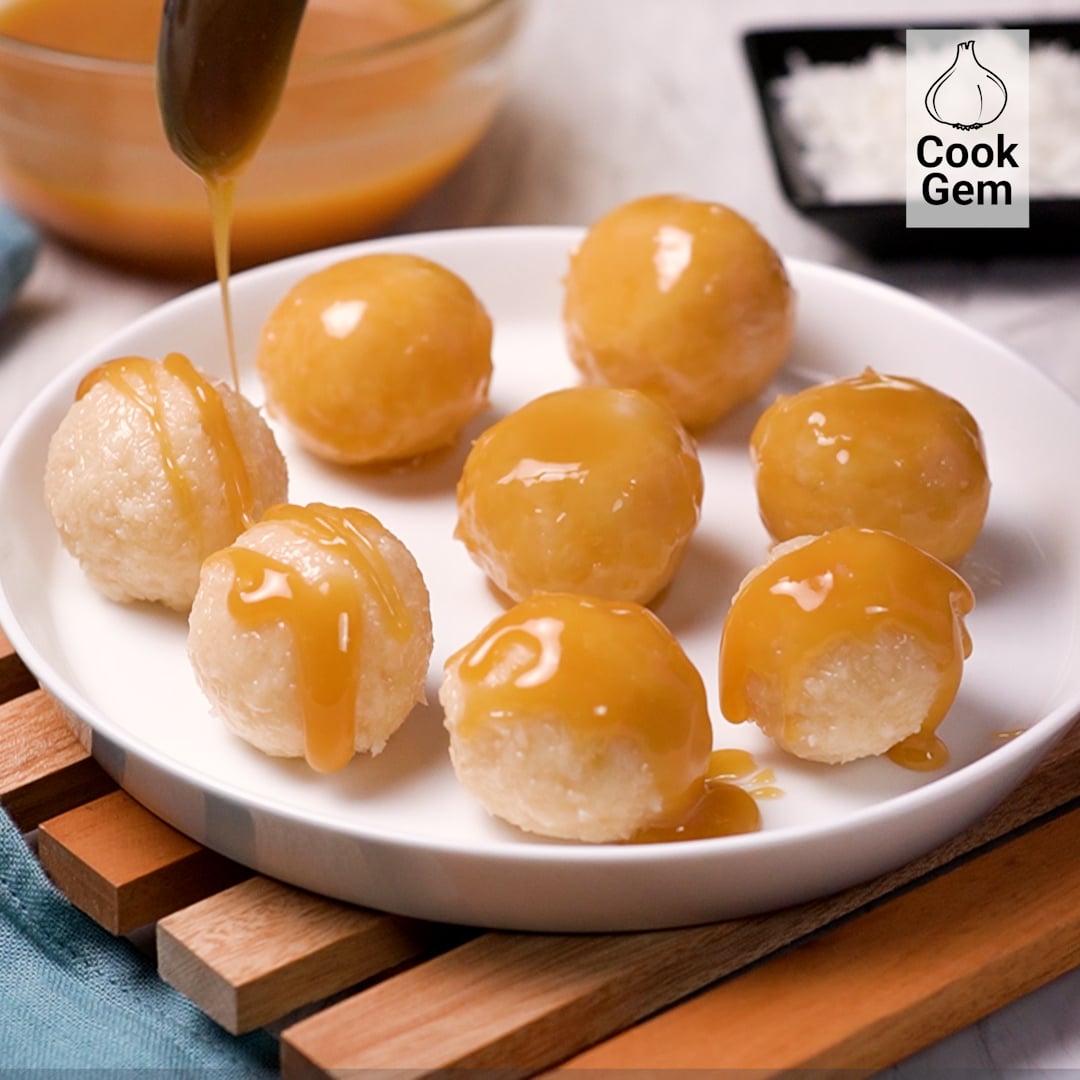 Ingredients
3

cups

shredded

unsweetened coconut

2

14 oz cans of sweetened condensed milk

2

tsp

vanilla extract
Instructions
To make the dulce de leche you first need to pierce the top of one of the cans of sweetened condensed milk. Place the can with the pierced side up in a large pot.

Fill the pot with water until just below the top of the can.

Place the pot over medium heat and let it simmer for a minimum of four hours. While the pot simmers, some of the water will evaporate. Keep adding more water to keep the water level at just below to top of the can. Try not to let the water spill into the can of sweetened condensed milk. Don't leave the can unsupervised! I mean, you can leave the room, but don't leave it alone in the house and keep checking on it.

There's no real way of being able to check the dulce de leche, so I like to leave it going as long as possible. When you've decided it's done, remove it from heat and let it cool enough to touch.

To make the actual coconut balls, add the shredded coconut, other can of sweetened condensed milk, and the vanilla extract to a pan.

Heat the pan over medium heat and stir constantly for 15 minutes. The mixture will begin to thicken and it will be done when it has the consistency of cookie dough.

Remove the coconut from heat and let it cool until it is safe to touch.

Use a small cookie dough scoop or tablespoon, spoon out the coconut into your hands and roll into balls. If it starts to stick to your skin, lightly wet your hands.

Empty the sweetened condensed milk that cooked for hours into a bowl. It should be incredibly thick and a toffee-brown color.

You can dip each coconut ball into the dulce de leche and place them on a parchment lined baking tray, or you can put the plain balls on a parchment lined baking tray and use a spoon to drizzle the dulce de leche over them.

Serve at room temperature and enjoy!
Video
Nutrition
Calories:
115
kcal
|
Carbohydrates:
1
g
|
Protein:
8
g
|
Fat:
8
g
|
Saturated Fat:
5
g
|
Polyunsaturated Fat:
1
g
|
Monounsaturated Fat:
2
g
|
Cholesterol:
30
mg
|
Sodium:
234
mg
|
Potassium:
31
mg
|
Sugar:
1
g
|
Vitamin A:
253
IU
|
Vitamin C:
1
mg
|
Calcium:
189
mg
|
Iron:
1
mg
Notes & Tips
If you have leftover dulce de leche, you can store it in an airtight container in the fridge for 2 weeks. I like to use leftover dulce de leche with fresh, homemade croissants. I don't remember where I learned to combine them, but it's heavenly!
If you have leftover coconut balls (which I highly doubt, you won't be able to stop eating them), you can store them in an airtight container at room temperature or in the fridge for a week. 
What is Dulce de Leche?
Dulce de leche is a superior version of caramel. It can be translated to English as candy of milk. There are a handful of ways to make it, but I've found the easiest to be the method included above.
My version of making it involves slow cooking a can of sweetened condensed milk. It does take a long time, but it's easier than mixing together milk and sugar and everything else.
What Else Can You Use Sweetened Condensed Milk for?
Sweetened condensed milk is used in a variety of recipes, so when I buy it I like to stock up. Another delicious (and Cuban!) treat you can make is Cuban tres leches cake. Tres leches cake can be translated to three milk cake, which is exactly what it is. It is a fluffy vanilla cake that gets soaked in a mixture of cream, sweetened condensed milk, and evaporated milk.
I cannot stress to you how fantastic tres leches cake is. I once worked in a bakery and when one of my Cuban coworkers made this cake it took all my willpower not to steal every piece and eat it in the walk-in freezer.
Another thing you can make with sweetened condensed milk or dulce de leche is milk candies or milk toffee. They're really easy to make and so so yummy!
Substitutions
If you don't want to make dulce de leche, you can also dip these coconut balls in caramel or chocolate.
To make caramel, combine 1 cup of sugar and ¼ cup of water in a saucepan over low heat. Stir it constantly for about 10 minutes. It will become thicker and darker, but keep a close eye on it because it burns super quickly. I cannot tell you how many times I've burned caramel (once three times in a row). Let it cool a little bit before immediately putting it on the coconut balls. It hardens very quickly.
To make a chocolate dip, use chocolate chips or chop a bar of chocolate. Use about ¼ cup of chocolate chunks. Put the chocolate in a microwave safe bowl and microwave for a minute to start with. Keep microwaving in 30 second increments until the chocolate has completely melted.
Whether using caramel or chocolate, dip or drizzle the coconut balls with it as with dulce de leche. Whatever topping you choose, I'm sure these Cuban coconut balls will taste amazing.
---
Recent Recipes