Places Where You Can Buy Caribbean Food Online
Caribbean food is a delight that teases and flirts with all the senses. The variety of flavors is wide, including Jerk, pepper pot, goat stew, chicken with rice, crab and callaloo, and conch fritters. Sure, you can cook your own with the ingredients you scrounged from your local shops. But Caribbean cuisine is a whole lot easier if you find the good stuff online.
There are many excellent places where you can buy Caribbean food online, including baked goods, spices, hot sauces, sorrel, and Eastern Bun.
Caribbean food has so much depth, thanks to the fusion of so many cultures, much to our tastebud's delight. But it is all the more enjoyed when you know where to get quality ingredients, pre-made Caribbean cuisine, and snacks. Thus, we've assembled a list of 11 online suppliers. Most are based in the States, but some are in Europe and the Caribbean too.
11 Places Selling Caribbean Food Online
We've featured many Caribbean recipes, such as Haitian Plantain Porridge, Caribbean Pork Tenderloin, and Jamaican Cornmeal Pudding. Now we are bringing you 11 places where you can buy Caribbean food online and expand your pantry and your stomach.
Sam's Caribbean Marketplace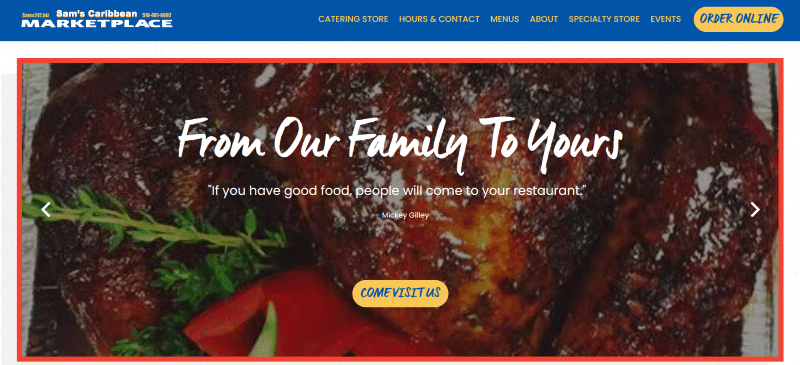 Sam's Caribbean Marketplace is a Long Island fixture and has been operating for nearly 30 years. Their local restaurant is known for its friendly staff, large portions, and delicious food. People rave about their Jamaican beef patties, Jerk Pork, and Fish-Fry Fridays. You can check out their local menus on their Instagram page.
But their market, both in-person and online, is one of those that people come in looking for one item and leave with a week's worth of groceries. They also have a catering store for those hosting large events.
Sam's is reasonably priced both online and in-store. Certain items are available worldwide, including non-food products such as DVDs, music, and books. They've also added a healthy line, including delicious juices. But many customers admit, as much as they adore the food and spices, what they truly love is Sam's ability to source Caribbean candies from their childhood.
For those looking for a way to buy groceries for loved ones in Jamacia, they offer Sam's Bread & Butter Express. Visitors to the island can also make use of the Bread and Butter to receive door-to-door delivery during their stay, so they don't have to hunt down a grocery store.
Jes Afro Caribbean Foods Store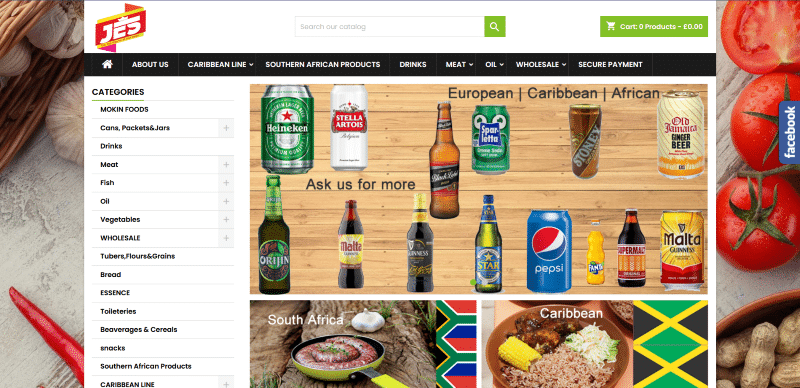 Jes Afro Caribbean Foods Store is an excellent option for people in the United Kingdom and Europe looking for Caribbean food, along with South African, Nigerian, and Kenyan. They have both an in-person location and an online store with guaranteed next-day delivery. You can pay with PayPal, credit card, and even bank transfer.
Their online store sells treats such as Old Jamaica Ginger Beer, Honey Bun, Grace Pumpkin Soup, Jamaican Bulla, Dunn's River Jamaican Jerk, and Wray & Nephew White Overproof Rum. They also sell wholesale fish and a variety of meats and oils. An excellent option for when you find yourself in Europe.
Gold Coast Supermarket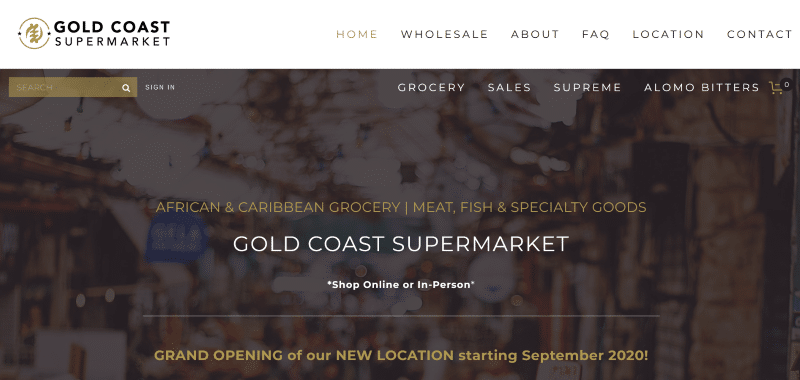 Gold Coast Supermarket has been in operation for 30 years and located in the Bronx for the past 13 years. It is a family-run Caribbean and West African specialty market that also stocks Asian, Latin American, and Middle Eastern foods. Their company philosophy is: "bring good quality products from the best sources across the world to you."
Gold Coast takes pride in providing products that cannot be sourced anywhere else, including their own Supreme brand, which focuses on Wester African and Caribbean items. They also offer weekly and monthly specials that you can easily find on their website, thanks to it having its own tab.
Individual customers shopping online can have their orders delivered. They offer 7 days return on everything but frozen foods and fresh produce. Wholesale buyers have to arrange to ship from their warehouse, but they will work with you throughout the entire process.
One Stop Caribbean Shop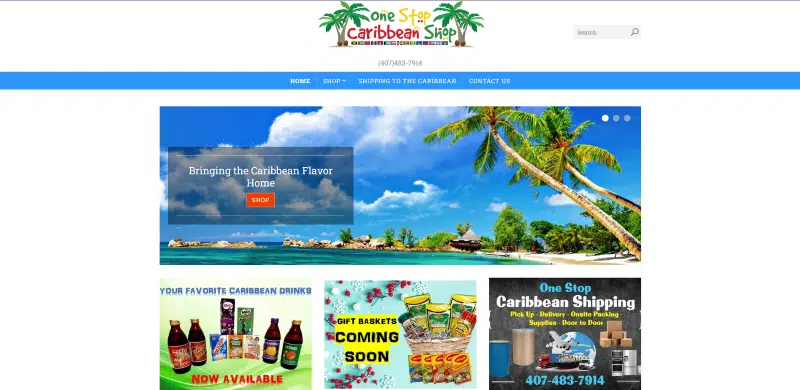 One Stop Caribbean Shop operates out of Florida and has an incredible range. They've got Scotch Bonnet Pepper Sauce, Bajan Pepper Sauce, a plethora of curries, chutneys, and achar. They stock many pantry goods such as teas, beans, noodles, and baking items. There are three gift baskets: Around the Caribbean Pepper Sauce, Spice, and Caribbean Snack.
One Stop also offers shipping from the US to the Caribbean. They'll ship anything, including appliances. Buyers can use One Stop's address, have the items delivered to them, then they'll deal with the package and forms to get them forwarded on to the Caribbean. They will stay in touch with you via email, phone, or WhatsApp.
Islsnac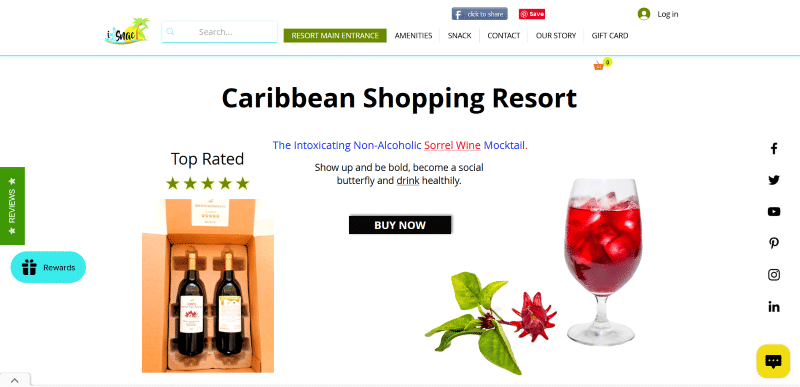 Islsnac is an online Caribbean resort. Their mission is to provide those who cannot be in the Caribbean an affordable "snacation" with Caribbean foods, wines, and desserts, such as Jamaican sweet potato pudding. Islsnac ships across the United States and Canada. US residents have free shipping for orders over $40, and for Canadians, it is for orders over $150.
You can use them as a grocery store, sign up for one of their monthly subscriptions for snacks and other delights, or peruse their wide bakery selection. They stock traditional Jamaican Easter Bun and canned cheese, sorrel wine (Jamaican Roselle Hibiscus plant drink), hot sauces, curries, seasoned coconut milk, rose water, and cornmeal.
Customers rave about their bread pudding, sorrel, and Soursop juice. They also speak highly of the rum cake. In addition, those that ordered online praised the company's prompt delivery and excellent customer service.
My Home Favorites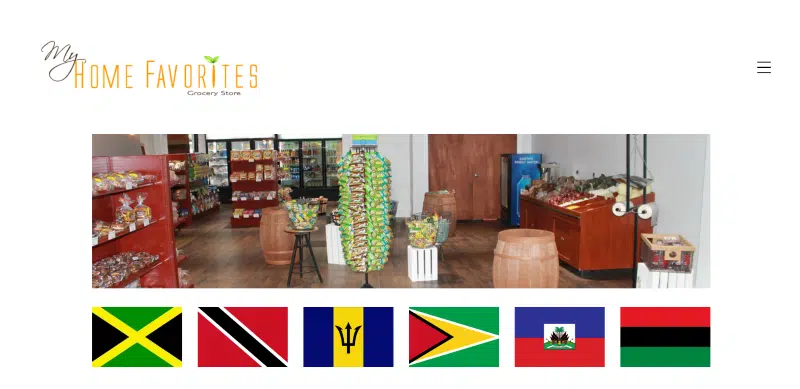 My Home Favorites is in Westbury, New York, and stocks products from around the world. However, their founder, Mika Rose, originally hails from the Caribbean, so she understands the foods people miss from that region. Their online shop provides a substantial range, including meat, coffee, tea, baked goods, snacks, beverages, spices, sauces, and produce.
My Home Favorites will ship perishable items overnight or 2nd-day shipping, depending on the product. They ship most orders the same day if made before 2:00 p.m. Eastern Time. Payment can be made through various credit cards and PayPal. In addition, they accept returns of non-perishable products within 72 hours of receiving your delivery.
Customers who have met Mika in person at the Westbury store call her a gem. People compliment their customer service and highly recommend the Caribbean offerings. Delivery is said to be prompt, packaged with professional care, and the communication meets expectations.
My Trini Grocery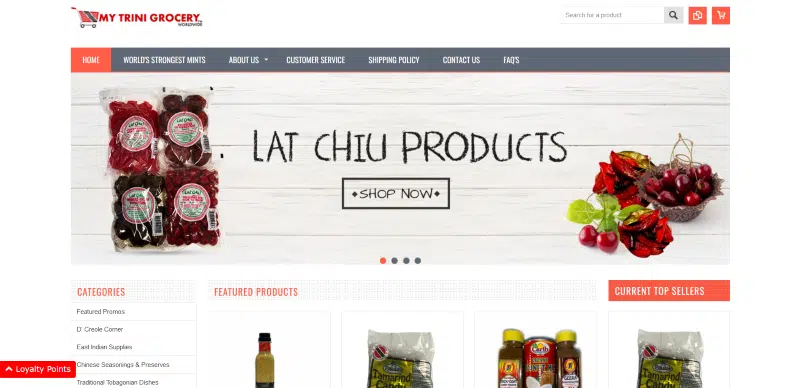 My Trini Grocery is another Florida-based operation, and they offer shipping worldwide. In addition, they proudly provide Diana Candy. The Trinidad and Tobago product is said to be the strongest mint in the world. They feature popular brands such as Karibbean Flavors, Chief, Paula, Tonica, Habanero, and Mudda n Law.
The website is easy to use, and they use payment gateways PayPal and Google Checkout. You can send products to yourself or deliver them to someone else as a gift. If you want to allow others to choose their own items, gift certificates are also available. Customs are pleased with the service and product rangers.
My Trini Grocery also features tasty cuisine suggestions on their Facebook page. Past highlights include a vegan-friendly spinach fritter, Aloo Pie, Amchar Masala, Trinidad Sponge Cake, and Payme. You can also find culinary inspiration from their blog.
IrieMart Jamaican Grocery Store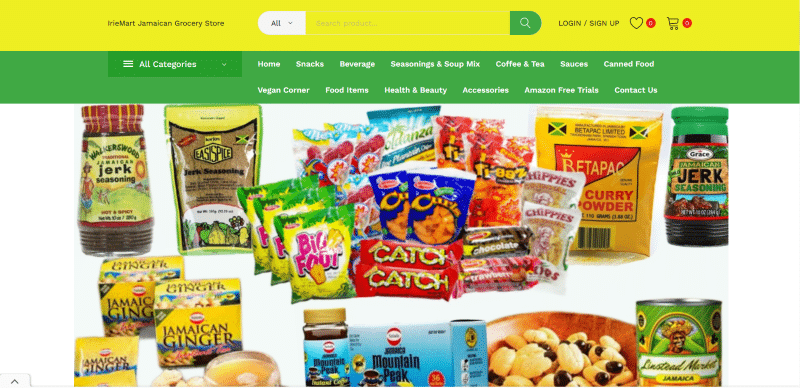 IrieMart Jamaican Grocery Store operates from Jamaica and ships throughout the Caribbean, along with Canada, the United States, the United Kingdom, and other countries around the globe. They use Priority Standard Shipping, which can take up to 21 business days, depending on where you live. However, they also offer DHL Express shipping that takes 3-5 days.
Their website is well categorized and even has its own handy Vegan Corner. The Vegan Corner offers spices, drinks, sauces, baking mixes, canned goods, and biscuits that are all animal-product-free.
Due to custom duties and international taxes, it may be more affordable to buy the bulk of your Caribbean products from a more local supplier (unless you live in the Caribbean, of course). However, if you can't find that special Jamaican item that has been so dearly missed, this is an excellent place to splurge or surprise that special person in your life.
Amigo Foods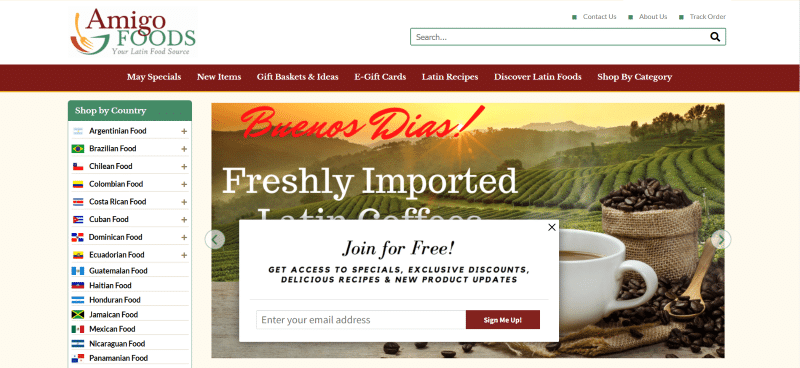 Amigo Foods provides food from all over South and Central America, Spain, and the Caribbean. It began when Amador Garcia left Spain to start a food distribution business in Havana. The business expanded, but political changes made it necessary to restart in New York. Now based in Miami, Amigo Foods are one of the biggest suppliers of Latin food.
Their site is massive, but it is well organized. You can shop by category, specials, and country of culinary origin. For example, you can click on the Jamaican flag on the left and find yourself looking at sorrel tea bags, El Gustazo candies, packets of Fish Tea Soup mix, green Scotch Bonnet, Guava Jelly, Jerk Seasoning, and Loty Coconut Milk Drinks.
The site offers gift baskets that feature an incredible range, including cookies and ham. You can also purchase gift cards, allowing recipients to choose their own treat. The site also features many Latin recipes for you to explore.
Online customers set up an account when purchasing products. From their account, they can track their order and review their history to make reordering simple. Customers can also sign up to receive updates on products, specials, and new features. There are also wholesale account options for those needing to place bigger orders.
First World Imports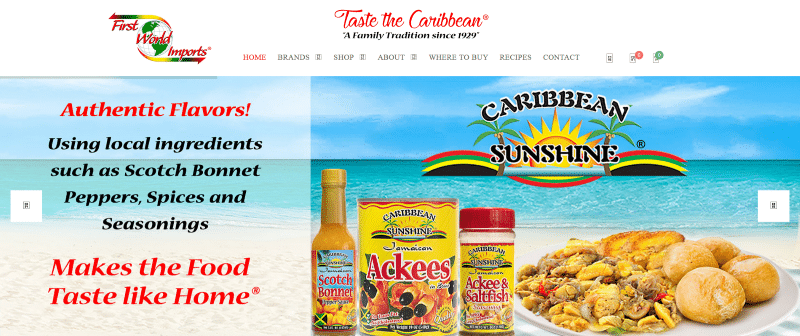 First World Imports has been operating since 1929. It began in Grandma "Dolly" Scott's kitchen, known for her Guava Cheese and Guava Jelly in Kingston, Jamaica. The family began to expand their offerings which led to setting up a manufacturing facility. They continued to grow and now supply many places, such as restaurants and grocery stores, in over 20 US states.
However, you don't need to own a warehouse to shop on their website. They will ship most internet orders via FedEx on the same day if placed before noon, Eastern time. Non-perishables can be exchanged or refunded provided contact is made within 10 days of shipping.
Brands on their site include Baron, Caribbean Dreams, Tia Marie's, Honey Bun, Caribbean Classic, Easispice, Jamaican Ginger, and Caribbean Sunshine. First World Imports sells a massive range of candies, drinks, dough mixes, Jerk, jams, coconut milk, snacks, canned seafood, sauces, teas, marinades, and a plethora of spices and seasonings.
Amazon.com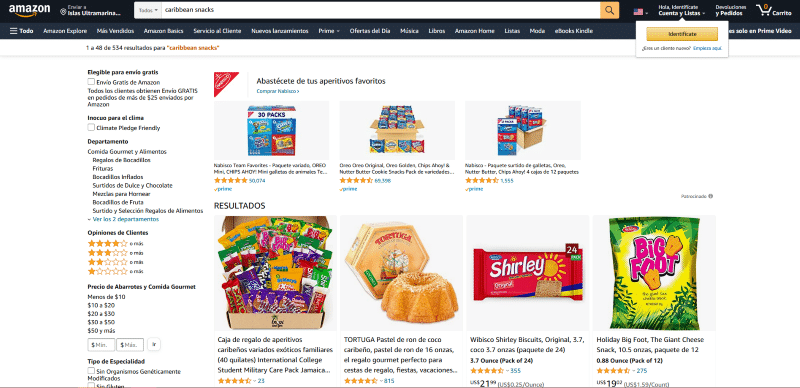 Amazon isn't new to the world of online shopping, but sometimes customers forget that they sell a wide variety of groceries too. Caribbean food is no exception to Amazon's online dominance. Shipping and payment are easy (perhaps too much) if you already have an account. As to their customer service, well, it's Amazon; at least you know what to expect.
Some products are authentic, others perhaps not quite. But all things considered, the selection isn't bad. For example, there are Caribbean Dreams Ginger Tea, Grace Jamaican Dried Jerk, Tortuga Caribbean Pineapple Rum Cake, and Baron West Indian Hot Sauce. There is also Trinidad Scorpion Peppered Beef Jerky, Fannie May Trinidads Chocolates, and Pepper Snow Plum.
Of course, being Amazon, there are cookbooks, novels, memoirs, and biographies all featuring the Caribbean. You can find Caribbean music, Trinidad and Tobago flag onesies, boardshorts, and Jamaican flag earrings too. None of which you can actually eat, but it might be fun for a party (maybe).
So, What Are The Places Where You Can Buy Caribbean Food Online?
There is a variety of places of online Caribbean food stores. The long-established Sam's Caribbean Marketplace or First World Imports is a good place to start. But if you are looking for baked goods or want to give someone a monthly subscription, Islsnac is an excellent option. But with so much choice, it really depends on what you are looking for in a Caribbean food supplier.
---
Recent Recipes