Easy Durian Smoothie Shake
Durian is a unique fruit with a strong flavor and scent. Most people either love it or hate it, but those who love it really love it. If you're one of the people who loves it or someone who wants to try, this smoothie recipe is a great place to start. It's a popular treat in Vietnam and it's super easy to make! If you're put off by the idea of durian but still want a cold smoothie, try this raspberry banana avocado smoothie and come back for the durian later.
This recipe includes an alteration to turn it from a durian smoothie into a durian milkshake, so you can have it as a healthier treat or more of a desert treat (or both), it's totally up to you.
You will need a blender, but other than that the hardest thing to find will be durian, the other ingredients are probably already in your house. It takes two minutes and minimal mess!
Because the recipe is so simple, you can adjust the ratio of all the ingredients to suit your taste and texture preferences. For example: if you want a thinner, more juice-like smoothie, add more milk. If you want it thicker, add more ice and less milk. Either way, you can't go wrong!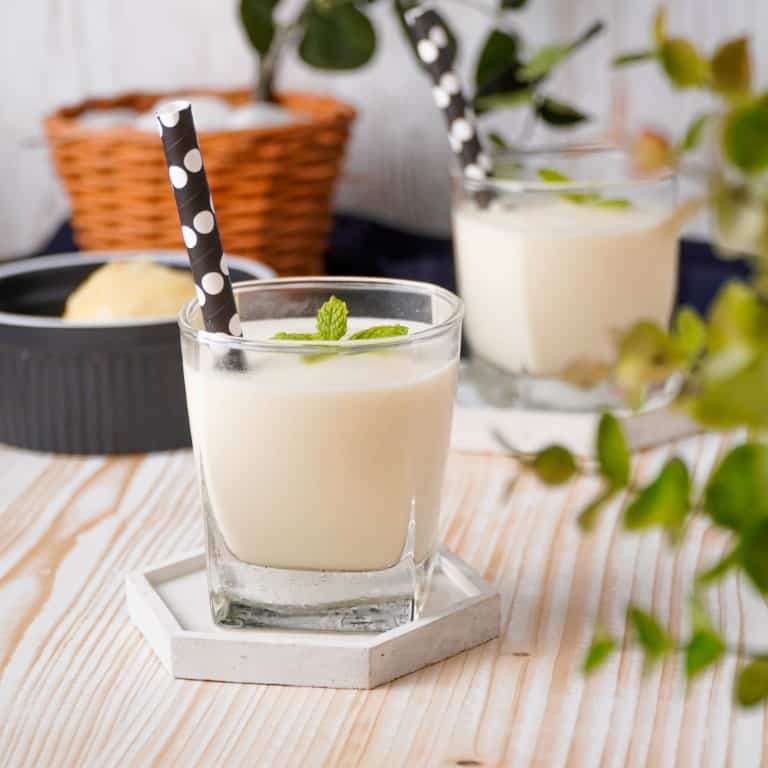 Ingredients
2

cups

durian

¼

cup

milk

1-2

cups

ice

¼

cup

condensed milk

Optional: 2 cups vanilla ice cream
Instructions
To make a smoothie: add all the ingredients except the ice cream to a blender.

Blend on high until everything is smooth.

If making a milkshake: add the durian, milk, condensed milk, and ice cream to the blender. Blend on high until everything is smooth.

If it seems too thick to properly blend, add a bit more milk, stir, and blend again.

Pour into glasses, serve, and enjoy!
Nutrition
Calories:
249
kcal
|
Carbohydrates:
44
g
|
Protein:
4
g
|
Fat:
9
g
|
Saturated Fat:
1
g
|
Polyunsaturated Fat:
0.1
g
|
Monounsaturated Fat:
1
g
|
Cholesterol:
8
mg
|
Sodium:
35
mg
|
Potassium:
624
mg
|
Fiber:
5
g
|
Sugar:
11
g
|
Vitamin A:
129
IU
|
Vitamin C:
24
mg
|
Calcium:
82
mg
|
Iron:
1
mg
Notes & Tip
If you have leftovers, you can keep them in the fridge for up to a day and re-blend them with more ice to regain the right texture, though it won't be quite as good as the first time. Alternatively, you could pour leftovers in a popsicle mold and put them in the freezer so you have an extra cold treat to enjoy later, or you can make sweet and easy flavored ice cubes to use in your next smoothie for a more intense taste.
Substitutions
This recipe calls for fresh durian (because fresh is always a little better), but if you can't find any fresh or simply don't want to go through the hassle of cutting it open, you can use frozen durian and it will still taste delicious.
If you are lactose intolerant, vegan, or don't drink milk for any other reason, you can still enjoy a durian smoothie. Omit the condensed milk and use almond milk, soy milk, or another non-dairy milk in place of regular milk. It will still be delicious!
What is Durian?
Durians are a type of fruit grown from trees native to various Asian countries, but only one species is sold internationally. They are very hard and spiky on the outside with a very strong smell that many people dislike. It has been negatively compared to dirty diapers and other unsavory smells, but some people claim it has a mild, sweet scent. I'm sure you'll find out your opinion when you smell it yourself.
Even if you don't like the smell, it's worth trying anyway as the taste is very different, so try not to give up too soon. As far as taste, durian has both a creamy sweet flavor and a slight nuttiness. It can be consumed at various stages of ripeness for a different experience, though usually a dark yellow flesh, smaller size, and strong smell indicate the fruit is at its sweetest.
Durian is not particularly common in western cuisine or shops, so you will need to look further afield than your regular grocery store. Your best bet for finding durian is looking in your nearest Asian food store, though depending on the size of the shop, you might need to keep looking. If they don't have any fresh durian, check the freezer section to see if there's any frozen. If they do have fresh durian, you'll probably be able to smell it when you walk in.
How to Know if Durian is Ripe?
Due to its thick, prickly exterior, it is not as easy to determine the ripeness of durian the way it is with other fruits. Luckily, there are a few tried and true methods to help make sure you're choosing the best fruit. One of the methods is to use your fingernail to scratch a layer off the stem. Ideally, you'll reveal a green color (similar to if you scratch a growing tree branch). If the stem shows lighter and brighter green underneath, it should be very fresh.
Check all over the fruit to make sure there are no cracks or cuts that may have damaged anything. You can also try smelling it. Despite the thick skin, because durians smell so pungent, you should still be able to get a whiff if you sniff near the stem. Go for a smaller fruit as opposed to a larger fruit, because they lose a little bit of flavor as they grow.
All that being said, the best way to check a durian's ripeness is to cut off a small section of skin to see the flesh underneath. The more pungent and dark yellow, the riper the fruit.
How to Open Durian?
How will you ever get to experience the bliss of durian if you can't get it open? Due to its very thick rind, durian can be difficult to crack open. There are a handful of methods you try, but the main thing is that you will need a large, sharp, and sturdy knife.
Durian has divides on the inside, so you may not be able to cut straight through. Instead, you should try to cut a triangle shape into one side and pry that piece of the rind off (carefully) with the knife. You may have to repeat on the other side as well. Once you've opened the durian, scoop out the flesh with your hands or a spoon.
---
Recent Recipes