Growing up in the Northeast, we had some pretty epic snow days where the school bus couldn't navigate the roads. We lived on a hill, so of course, we went sledding. But, before we could do that, we were tasked with shoveling the driveway and walkways around the house. While we shoveled and played, my mother baked bread pudding that we would have warm out of the oven with hot chocolate.
To be perfectly transparent, mom's hot chocolate was Swiss Miss with tiny marshmallows that she added to warm milk. It tasted great because that is all we knew.
There is a way to elevate your standard mug of hot chocolate by adding homemade hot cocoa bombs to it. These are balls of chocolate filled with cocoa mix and marshmallows that you drop into your mug for amazing creamy and rich hot chocolate. These little orbs also make great holiday gifts. Plus, they are fun to make with and for kids.
If you have ever made candy, you know that the ingredients can be temperamental and you do need to pay attention, especially when heating chocolate. So, gather all your equipment and ingredients before you start the recipe so you can concentrate.
You will need a microwave-safe bowl as well as silicone cocoa bomb molds. These are like small muffin tins with round cups that are specifically used for making bombs or candy. The ingredients you will need are semi-sweet chocolate chips, any hot cocoa mix, mini marshmallows, and white chocolate chips for decorating.
To use the bombs, you simply place one in a mug and pour warm milk around it. The bomb will spin and then open up and the cocoa mix and marshmallows will flavor the milk. These are really fun and will make everyone smile.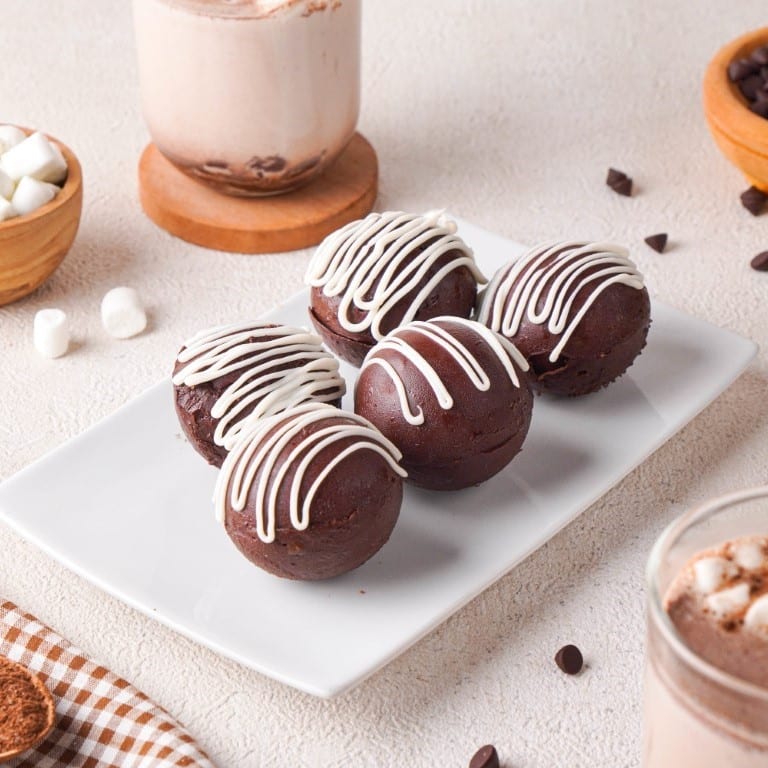 Equipment
12 ounces semi-sweet or milk chocolate chips

15 ½ Tbsp hot cocoa mix

1/4 cup mini marshmallows

6 ounces white chocolate chips

Milk for serving
Ingredients
12

ounces

semi-sweet or milk chocolate chips

15 ½

Tbsp

hot cocoa mix

1/4

cup

mini marshmallows

6

ounces

white chocolate chips

Milk for serving
Instructions
Gather all of your equipment and ingredients. You will need a microwave, microwave-safe bowl, spoon, and silicone chocolate bomb molds for making 12 half spheres.

In a medium microwave-safe bowl, add the chocolate chips. Microwave them on high for just 30 seconds. Stir the chips and return the bowl to the microwave and heat again for 30 seconds. Stir the chocolate to make sure it has all melted.

Working quickly, use the back of a large soup spoon to thinly coat the inside of 12 hot chocolate bomb mold cups.

Place the molds in the freezer for about 7 minutes until the chocolate hardens and sets.

Remove the molds from the freezer. If there are any bare areas or holes in the chocolate bombs, patch them up with a little more melted chocolate and place the molds back in the freezer for a few more minutes. Once set, gently remove the chocolate from the molds. Fill 6 of the bombs with 2-1/2 tablespoons of cocoa mix. Add a few mini marshmallows on top of the cocoa mix.

Warm a plate in the microwave for about 45 seconds. Take an empty bomb or sphere and rub the seam side on the warm plate so the edge melts a little. Place the warmed edge over the edge of the filled sphere to close up the bombs and form little balls. Repeat until you have 6 round bombs. You may have to warm the plate again while doing this. You can use any extra melted chocolate to seal gaps in the seams. You want solid balls.

Place the bombs back in the freezer for another 5 minutes until they are set.

Melt the white chocolate chips in a small bowl in the microwave, just as you did for the chocolate chips. Transfer the bombs from the freezer to a plate. Drizzle the white chocolate over the bombs in any pattern you like to decorate them. Place them back in the freezer for a few more minutes until the white chocolate sets.

The bombs can be stored in a container with a lid until ready to use.

To serve the cocoa bombs, place one in the bottom of a mug.

Pour warm milk around the outside of the bomb and watch as it melts and the marshmallows pop up. Stir to mix well and enjoy.

Once set, gently remove the chocolate from the molds. Fill 6 of the bombs with 2-1/2 tablespoons of cocoa mix. Add a few mini marshmallows on top of the cocoa mix.
Nutrition
Calories:
622
kcal
|
Carbohydrates:
86
g
|
Protein:
4
g
|
Fat:
32
g
|
Saturated Fat:
20
g
|
Polyunsaturated Fat:
0.3
g
|
Monounsaturated Fat:
3
g
|
Trans Fat:
0.1
g
|
Cholesterol:
11
mg
|
Sodium:
372
mg
|
Potassium:
304
mg
|
Fiber:
2
g
|
Sugar:
76
g
|
Vitamin A:
79
IU
|
Vitamin C:
0.1
mg
|
Calcium:
186
mg
|
Iron:
1
mg
Notes & Tips
As I mentioned, you do need to be a little speedy when working with melted chocolate. And, you might have to reheat the chocolate to patch up holes and seams in the bombs.
If you don't have a microwave, you can melt the chocolate chips in a saucepot over low heat. A double boiler would work even better to keep the chocolate warm and melted.
If you don't have silicone molds, I think you could use small muffin parchment paper cups set inside a muffin tin. These won't be round, but they will taste the same.
Substitutions & Additions
Hot Cocoa Mix: There are so many mixes for hot chocolate to choose from. Some are better than others. You could also make your own by combining cocoa powder with sugar If you want to control the sweetness. You could also add a little espresso powder to the cocoa mix for an adult spin.
White Chocolate Drizzle: While I like the contrasting white and brown chocolate, you could definitely use the regular chocolate chips to melt and drizzle over the bombs. If doing that, you could sprinkle a little coarse sea salt or colorful sprinkles over the warm drizzle.
Milk: You could add a little heavy cream to the milk for extra richness. If you are vegan, make this with almond, oat, or coconut milk and use vegan chocolate.
Toppings and Additions: I like topping my hot chocolate with a spoonful of whipped cream and then a sprinkle of ground cinnamon. For the holidays, add a small candy cane to the mug for stirring the cocoa into the milk. For an after-dinner drink, add some Kahlua or crème de menthe to your hot chocolate.
---
Recent Recipes