Foul (or ful) mudammas is a delicious and filling vegan meal straight from Egypt to your kitchen. It comes together in less than half an hour. This is perfect for when you are in a hurry but want something hearty to eat. Foul mudammas is typically served for breakfast or lunch in the Middle East, but you could just as easily serve it for dinner too.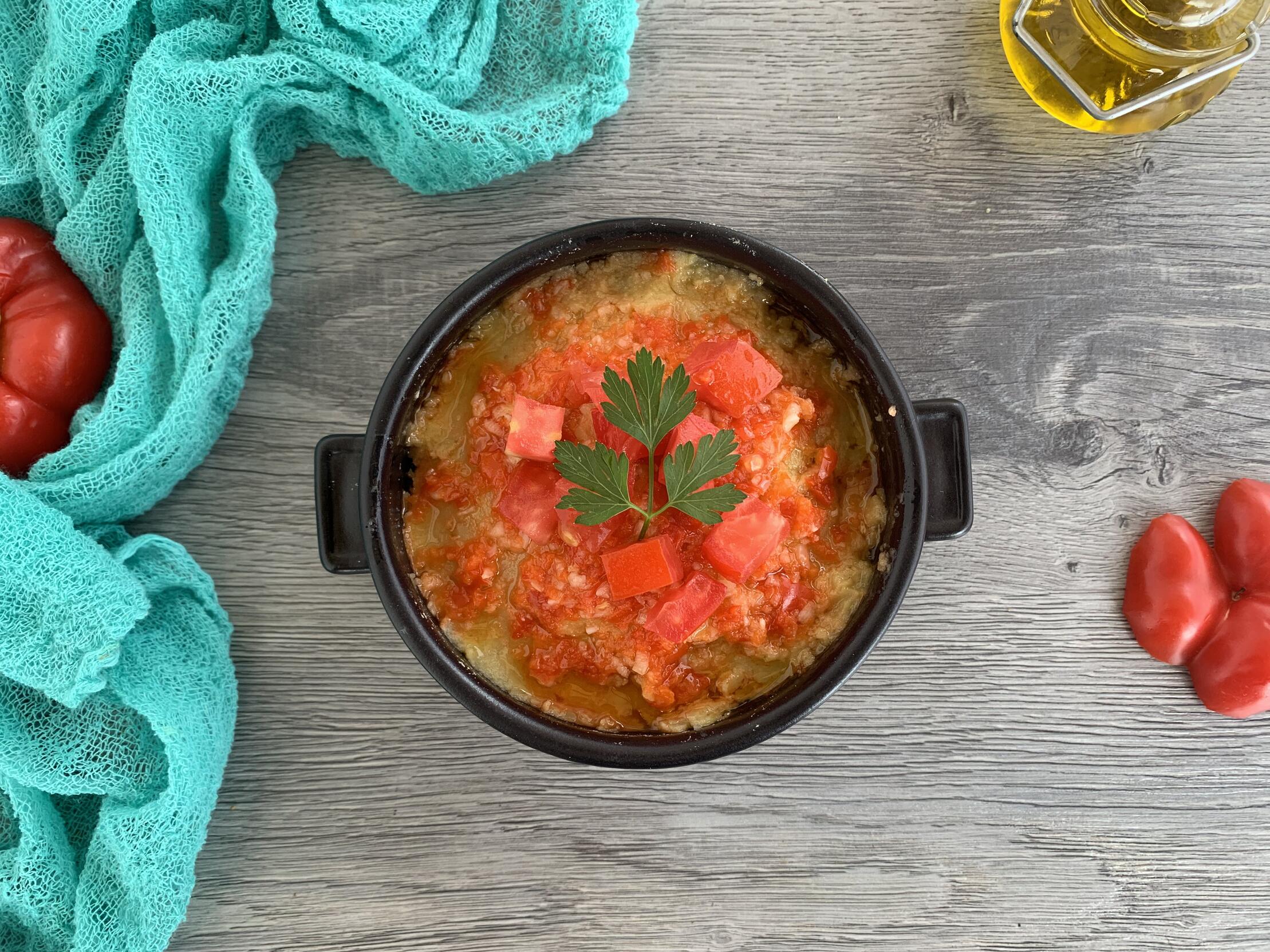 Ingredients
2 13-15

ounce

cans fava beans

1/2

cup

water

Pinch

Kosher salt or to taste

1/2 to 1

teaspoon

ground cumin

1-2

hot peppers

chopped

2

garlic cloves

chopped

Juice from one large lemon

Generous drizzle

1-2 tablespoons olive oil

1

cup

parsley

chopped

1 to

mato

diced
Instructions
In a large cast-iron skillet or saucepan, add the fava beans and 1/2 cup water. Warm over medium-high heat, then season with a little kosher salt and cumin.

When the fava beans are soft, use a potato masher or dinner fork to mash the beans.

Smash the hot peppers and garlic using a mortar and pestle. Add in the juice from one lemon and stir to combine.

Pour the garlic and hot pepper sauce over the fava beans.

Add a generous drizzle of olive oil, then garnish with the chopped parsley.
Video
Nutrition
Calories:
198
kcal
|
Carbohydrates:
36
g
|
Protein:
13
g
|
Fat:
1
g
|
Saturated Fat:
1
g
|
Polyunsaturated Fat:
1
g
|
Monounsaturated Fat:
1
g
|
Sodium:
12
mg
|
Potassium:
552
mg
|
Fiber:
10
g
|
Sugar:
4
g
|
Vitamin A:
319
IU
|
Vitamin C:
17
mg
|
Calcium:
70
mg
|
Iron:
3
mg
Notes & Tips
To make this recipe from dry fava beans, start with one cup of dry fava beans and soak them in water overnight. Drain and discard the soaking water. Place the beans in a large pot and add about five cups of water. Bring the beans to a boil over medium-high heat. Cover partway and allow to simmer for one hour. Drain and discard the water, then proceed with the recipe as normal.
You can choose to peel the beans but be aware that this will remove a lot of the earthy flavor that makes fava beans so tasty!
You can choose what kind of hot peppers to use. Jalapenos would work well for this recipe.
The beauty of this recipe is not just how good it tastes but also how adaptable it is. There are several optional toppings you can try in addition to or instead of the chopped parsley:
Diced tomatoes
Sliced hot peppers
Sliced hard-boiled eggs (omit if you're vegan)
Raw onion chopped into rings
Paprika
Tahini sauce (this is made from toasted ground sesame)
How to buy fava beans
Fava beans are a staple of Middle Eastern and Mediterranean kitchens. These beans have a creamy, buttery texture and a slightly nutty flavor.
You can use canned fava beans as a shortcut in this recipe. Alternatively, you can use dry fava beans.
Canned fava beans are typically shelved near other canned beans or in the international aisle of many grocery stores.
Dry fava beans are usually shelved in the bulk goods section. If you can't find dry fava beans in your grocery store, you can buy them online from any health food retailer.
Optional sides or compliments
Foul mudammas is pretty filling on its own, but you can add a few sides to turn it into a full feast.
Falafel
Hummus
Warm pita bread is usually used to soak up the beans, but if you are gluten free, you can enjoy this dish just fine without it!
Kalamata olives
Tahini
Roasted cauliflower
What does foul mudammas taste like?
This is a hearty dish loaded with flavor. The ground cumin, fresh herbs, and lemon garlic sauce add a kick that is full-bodied but not spicy.
Storage
Store leftover foul mudammas in a tight-lid glass container and it will be fine in the fridge for two to three days. Bring it to room temperature and enjoy with some pita bread (or another side if you are gluten free). Foul mudammas will not store very well in the freezer.
History
Foul mudammas is a historical Middle Eastern recipe. It has been cooked and served in Egypt and the Mediterranean region for thousands of years. The Jersualem Talmud mentions a fava bean porridge with garlic and oil.
Research suggests that, because meat was considered a luxury in ancient times, people probably ate a diet that was largely vegetarian and included some grains.
Because this dish is so filling, it is often eaten before sunrise during Ramadan in Muslim countries so fasting during the day is easier.
Common questions
Can I leave the beans whole instead of mashing them?
Yes, you can leave them whole if you prefer.
What should I use to mash the hot peppers and garlic if I don't have a mortar and pestle?
A mortar and pestle are a classic piece of kitchen equipment. The mortar is a bowl that holds the item to be ground, while the pestle crushes the object and grinds it. If you don't have this, other common kitchen tools can serve as a stand-in.

Rolling pin: chop the herbs or spices into small pieces, then crush them with the rolling pin.

Blender: this will grind up spices and other ingredients and form them into a small powder.
Unfortunately, you will need a larger quantity of spices for this to work, since the herbs or spices will need to completely cover the blades.

Spice grinder: this will grind up the herbs or spices into powder for convenient cooking.
Can I use roasted garlic instead of raw garlic in this recipe?
Yes, you can use roasted garlic instead. Raw garlic will have a stronger flavor in the finished foul mudammas.
---
Recent Recipes