Simple Chicken Sausage Salad
We are always looking for ways to mix up salads, right? Salads can become pretty redundant for being a meal that has so much versatility. It's easy to make the same salad over and over again, but it can get rather boring.
Why not mix up the ingredients a little bit? Have you ever considered adding chicken sausage to your salads? Chicken sausage might not seem like a typical salad ingredient, but it's worth a shot.
Chicken sausage is a great source of protein that is easy to find and prepare. Add the chicken sausage to a bowl of already nutritious fresh vegetables, and you're taking the right steps to maintaining a healthy diet.
We know that salads are a great meal option if you're trying to lose weight. Salads are also known to play a great deal in increasing daily nutrient intake. Of course, it all depends on the ingredients that you put into the salad. And, of course, avoid dressings that are high in calories.
This chicken sausage salad is incredibly easy to put together and is a great option for a meal on the go. The ingredients are wholesome, delicious, and good for you.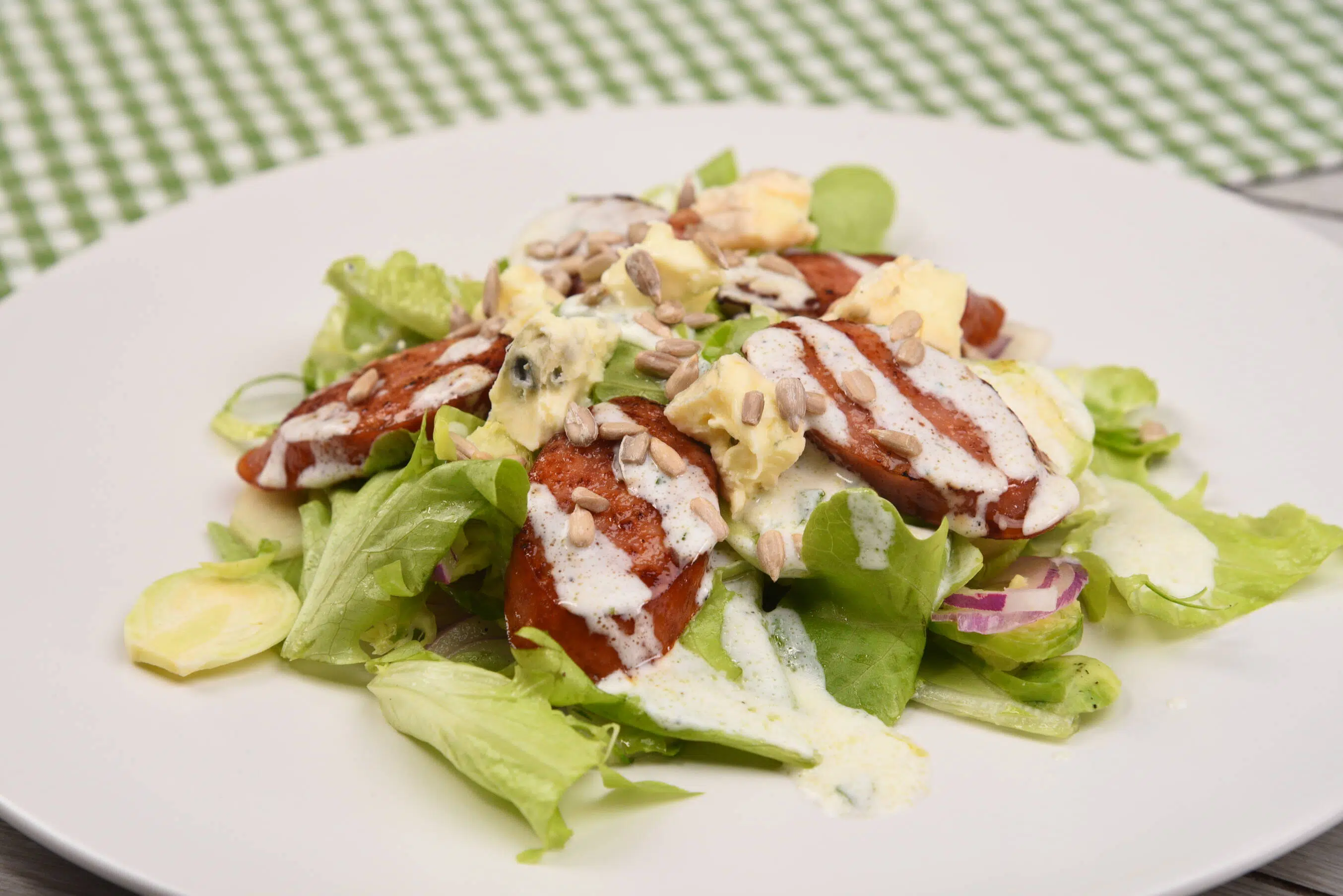 Ingredients
2

chicken sausage links

pre-cooked

1

tablespoon

extra-virgin olive oil

1

Asian pear

sliced thin

½

small red onion

sliced thin

2

cups

Brussels sprouts

shaved thin

2

cups

Romaine lettuce

chopped into 1" pieces

½

lemon

Olive oil

Salt and pepper

¼

cup

crumbled blue cheese

¼

cup

sunflower seeds
Dressing:
1

teaspoon

apple cider vinegar

½

lemon

1

tablespoon

extra-virgin olive oil

2

tablespoons

plain greek yogurt

1

teaspoon

maple syrup or honey

¼

teaspoon

fresh garlic

minced

3-4

sprigs fresh parsley

chopped fine

Salt and pepper
Instructions
To make the salad dressing, combine all of the ingredients in a small bowl.

Using a whisk, combine all of the ingredients so that the dressing has a smooth consistency. If the dressing is too thick for your liking, simply add a little water to thin it out.

Set the dressing aside, or refrigerate it if you made it ahead of time.

Now, it's time to cook the sausages. For tasty chicken sausage slices with crispy edges, we're going to saute the sausage.

Slice the sausage links into ½ inch slices on a bias.

Heat a non-stick skillet on medium-high heat. Pour the olive oil into the skillet.

Once the skillet is hot, add the sausage slices. Cook until they are heated through and have browned on the edges.

Set the sausage slices aside and allow to cool down a bit.

Next, prepare the salad ingredients. For shredded brussels sprouts, it's best to use a mandolin. Or, you can use a sharp knife and slice them into thin strips.

Combine the sliced pear, red onion, brussels sprouts, and romaine lettuce in a large bowl.

Squirt half of the lemon, a drizzle of olive oil, and a pinch of salt and pepper over the salad greens. Gently toss together so that they are evenly coated.

Pile the greens onto two plates. Then top the greens with the cooked sausage.

Drizzle the creamy yogurt dressing over the top of the entire salad. Garnish with blue cheese crumbles and sunflower seeds.

Serve immediately.
Video
Nutrition
Calories:
536
kcal
|
Carbohydrates:
25
g
|
Protein:
26
g
|
Fat:
40
g
|
Saturated Fat:
9
g
|
Polyunsaturated Fat:
6
g
|
Monounsaturated Fat:
15
g
|
Cholesterol:
74
mg
|
Sodium:
1141
mg
|
Potassium:
726
mg
|
Fiber:
8
g
|
Sugar:
7
g
|
Vitamin A:
5216
IU
|
Vitamin C:
109
mg
|
Calcium:
193
mg
|
Iron:
4
mg
Notes & Tips
A mandoline is one of the best (but also most dangerous!) kitchen tools out there. This is especially true with salad prep. It will cut your chopping time down significantly. You can find sets that have a guard and safety gloves. For this salad, you could use a mandoline for the Brussels sprouts, onions, pear, and even the sausages.
Salads are all about the "goodies". Salads with an equal amount of fruits/vegetables to lettuce greens are going to fill you up more and taste the best.
Two dressings are more work but result in the best flavor. For this salad, we did a little shortcut by simply dressing the greens with the lemon juice, salt, and pepper. But the combo of the two (seasoned greens and creamy yogurt dressing) really do make for the ultimate salad. You'll feel like you're eating a restaurant-quality meal.
What other ingredients go well in chicken sausage salad?
The best thing about salads is that you can mix and match ingredients quite easily. Keep in mind that some ingredients work better than others.
For example, while I wouldn't suggest using breakfast sausage in this salad, you could easily substitute a sweet pork sausage or even a vegan option.
Most chicken sausage recipes are paired with apples, but for this recipe we are using pears. That doesn't mean you can't add apples or swap out the pear. The pear pairs beautifully with the brussels sprouts and blue cheese. Apples would do just the same. Fuli and granny smith apples would be the best option for this salad.
Are you out of romaine lettuce? No worries. You can easily substitute any other green like arugula, mixed spring greens, or iceberg.
Some other great additions to this salad would be walnuts, dried cranberries, feta cheese, or shaved parmesan.
Can you make chicken sausage salad ahead of time?
This chicken sausage salad would be a great meal to prepare ahead of time for lunch on the go. You would just need to alter a few things about the recipe.
Make the creamy yogurt dressing per the instructions and store in a mason jar or other air-tight container. Prep all of the other ingredients except the pear. It's ok to go ahead and toss the dry salad ingredients (minus the pear) ahead of time and place in a meal prep container.
You can season the greens prior to eating the salad by bringing along a lemon wedge. It's always handy to keep a little salt and pepper shaker nearby when eating on the go or you can simply omit it this time around.
It's best to keep the chicken sausage and pear separate if you're planning on eating the salad later. The chicken sausage may release juices that will make the greens soggy. The pear will oxidize and turn brown if you slice it too far ahead of eating the salad.
Instead, slice the pear right before eating. Also, simply store the sausage in a separate container and place on top of the salad right before serving.
What would pair well with chicken sausage salad?
While this salad can be a meal in itself, there's no reason you can't pair it with some other delicious entree options. In fact, pairing some of these recipes together would make the ultimate brunch or lunch menu.
---
Recent Recipes