Super Simple Mediterranean Chicken Wings
The first time I tried making Chicken Wings, it was a disaster. It was under seasoned, unevenly cooked and barely edible. I have since then gotten better and marinating the chicken, learnt after much trial and error not to overcrowd the baking pan. I know that in hurry and to get things done quickly it is easier to just throw everything in the oven and bake. But this is the cooking mistake that could cost you dearly. You can always add or adjust spice levels or make accompaniments that hide any flavor flaws but if your chicken is dry or overcooked or unevenly cooked it is difficult to course correct.
Which is why this Super Simple Mediterranean Chicken Wings is the best, it can be baked, grilled or fried and it turns out amazing every time. It is also extremely easy to make, you can throw it together last minute or plan ahead and prep a day or two in advance. It also makes a tasty, filling appetizer or a delicious meal with the right accompaniments. I make these chicken wings spicy and like to pair it either to with warm Basmati rice or a nice, rich yogurt dip. For your next meal, make this Super Simple Mediterranean Chicken Wings and you will not be disappointed.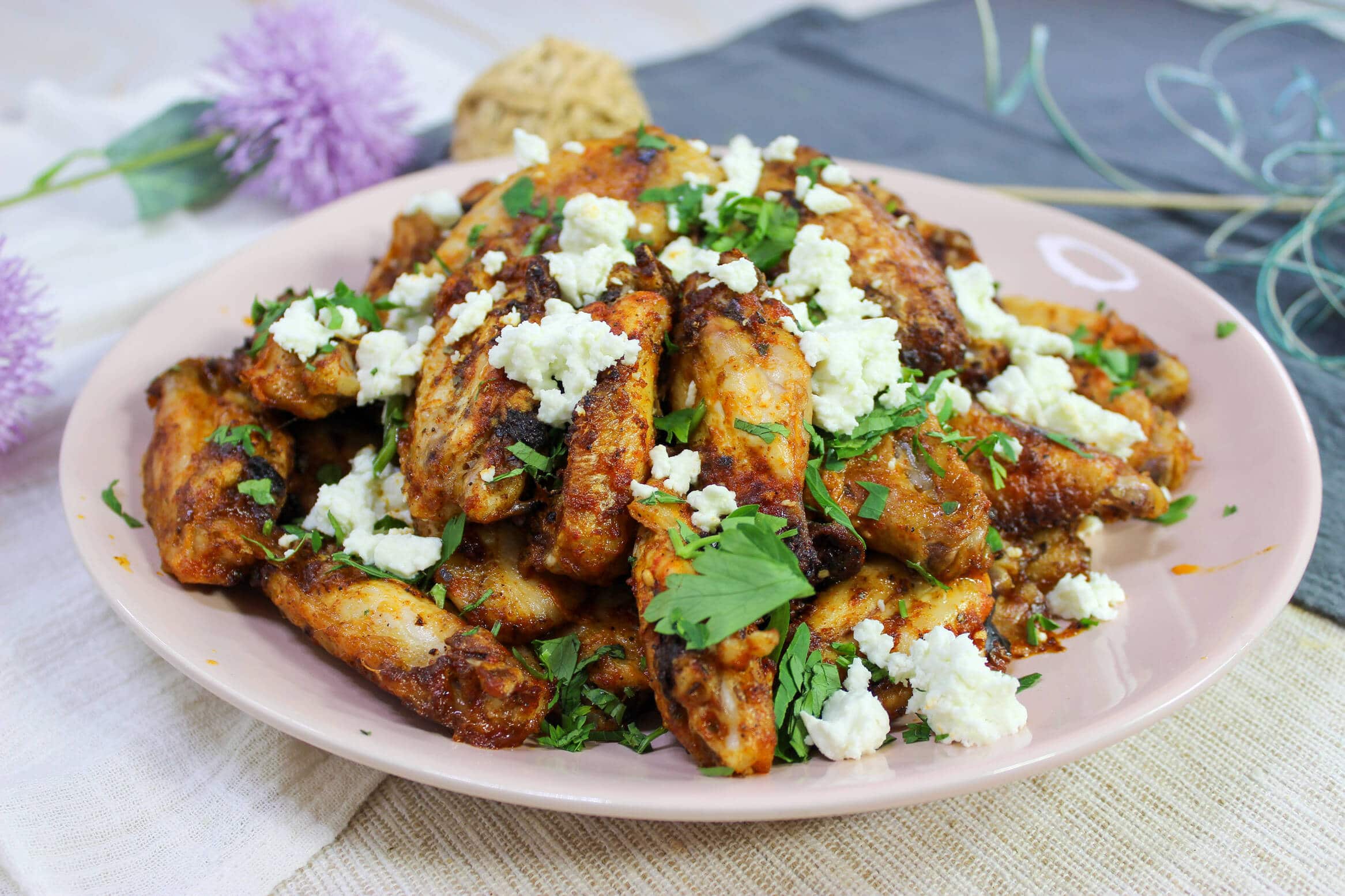 Ingredients
3

lbs

chicken wings

½

cup

extra virgin olive oil

3

cloves

of garlic

minced or crushed

1

teaspoon

paprika

1

teaspoon

oregano

1

teaspoon

cumin

1

large lemon

juiced

½

teaspoon

cayenne pepper

optional

Salt and pepper

Fresh parsley for garnish

Feta cheese for garnish
Instructions
Preheat the oven to 400 degrees.

In a large bowl or Ziplock bag add the extra virgin olive oil, garlic, paprika, oregano, cumin, lemon juice, cayenne (if adding), salt and pepper. Mix well till all the ingredients are well combined.

Now add the chicken to the bowl or bag of marinade and mix till the chicken is well coated. Set aside. Marinate for an hour or even overnight.

Line a baking sheet tray with baking sheet and spray with oil. Place the chicken wings in a single layer. Don't overcrowd them.

Place the tray in the middle rack. Bake for 40 minutes, turning them over halfway.

If you want a crispier, browned finish broil the chicken for 5-8 minutes. It gives it a nice char on top. Just be sure to watch them so they don't burn!

Take out of the oven and garnish with parsley and sprinkles of feta cheese
Video
Nutrition
Calories:
436
kcal
|
Carbohydrates:
1
g
|
Protein:
23
g
|
Fat:
38
g
|
Saturated Fat:
8
g
|
Polyunsaturated Fat:
6
g
|
Monounsaturated Fat:
21
g
|
Trans Fat:
1
g
|
Cholesterol:
94
mg
|
Sodium:
91
mg
|
Potassium:
212
mg
|
Fiber:
1
g
|
Sugar:
1
g
|
Vitamin A:
285
IU
|
Vitamin C:
3
mg
|
Calcium:
26
mg
|
Iron:
2
mg
Tips & Tricks
Get precut chicken wings from the store, saves time and hassle
The longer you let the chicken marinate in the spices, the more flavorsome and juicy it gets.
Don't overcrowd the pan when baking, the chicken will cook unevenly.
Cayenne pepper is optional, as it can make the chicken extra spicy
Storage
These Super Simple Mediterranean Chicken Wings are perfect for making ahead as they remain juicy and tasty for days after. Just make sure they don't dry out. The chicken can be marinated for up to 48 hours. So, you can marinate it and stick it in the oven on the day of.
You can also make the chicken ahead and keep it in the fridge. It retains flavor and remains fresh for 2-3 days. Foil-wrap them and place in air-tight container. Let it sit out for about 30 minutes before you heat it up. To heat bake for 10-15 minutes in the oven at 350 degrees.
Questions
Do the Mediterranean Chicken Wings have to the be baked?
Not at all. They come out just as tasty if you grill them or fry them. Follow the same steps to marinate the chicken.

To grill them, grease the grill and then add the chicken wings. It takes about 15-20 minutes. Keep flipping them over till both sides are well done and the chicken is cooked through. Cooked chicken has an internal temperature of 165 degrees. Keep them on the heat a little longer if you want them more crisp.

You can also air fry the chicken. It takes about 18-20 minutes, flip them halfway through. Make sure you don't over crowd the air fryer and that they are laid out in a single layer. You will have to do it in batches to get them well and evenly cooked.
Are there any other herbs or spices I can use?
Of course. Chicken wings can be made in a variety of flavors, but if you want to retain the Mediterranean vibe and flavor, you can add thyme, fresh, ground coriander seeds, or sweet paprika. You can also add sumac, cloves, fennel, bay leaf, basil, mint and rosemary. Follow the same marinating method. Extra Virgin Olive Oil is essential to bind and bring out all these lovely flavors. Remember cayenne pepper is optional, as it makes the chicken extra spicy, but if you like a bit of heat in your food, go for it.
Substitutions
Chicken: Remember to get store-bought, pre-cut chicken wings. You can also use boneless chicken breasts and thighs and serve it over a bed of rice or wrapped in flatbread, pita bread or naan.
Spices: If you are looking for authentic Mediterranean flavors, go with all the spices mentioned. You can also get premixed Mediterranean spice blends; you can add a combination of other spices and herbs if you so choose. One thing I would urge you not to skimp on is the lemon juice. That tang gives the chicken an infusion of acid that works well with the spices.
Garnish: I have kept the garnish simple here, but feel free to expand on it. A sprinkling of feta tastes great. Lemon and lime wedges add a delightful twist to this spicy dish. You can also sprinkle some freshly ground black pepper or sumac on top.
Accompaniments
Super Simple Mediterranean Chicken Wings go well with Tzatziki, yogurt dip with dill and/or cucumber and hummus. It can be a filling appetizer with just dips and sauces or you can make it a main course. Serve it over a bed of basmati rice, preferably flavored or herbed. It can also be served with pita bread.
A fresh Mediterranean salad with juicy tomatoes and fresh cucumber pairs perfectly with this. A couscous salad or pasta salad will finish this meal off nicely. For more exciting sides for his dish try these Greek Lemon Fries and Olive Oil Popovers.
---
Recent Recipes